Chicago is getting an early look at a new holiday production from Cirque du Soleil – the group's first-ever Christmas show.
It's called "'Twas the Night Before …" and we visited the day before it opened.
TRANSCRIPT
Phil Ponce: Acrobats warm up on stage so they can tumble through precise moves like these.
It's an unusual setting for a Cirque du Soleil show: the historic Chicago Theatre.
James Hadley, artistic director, Cirque du Soleil, North America: It's new for us to be performing in theaters. We mostly will perform in big tops or in theaters that are built specifically for the shows, so it was something that we were really thinking of in advance when we put the show together, knowing that it was going to be much more of a theatrical environment for this kind of production.
Ponce: With performers doubling as reindeer, it's a show that's more kid-friendly than a typical Cirque performance.
And when it all comes together it will look something like this.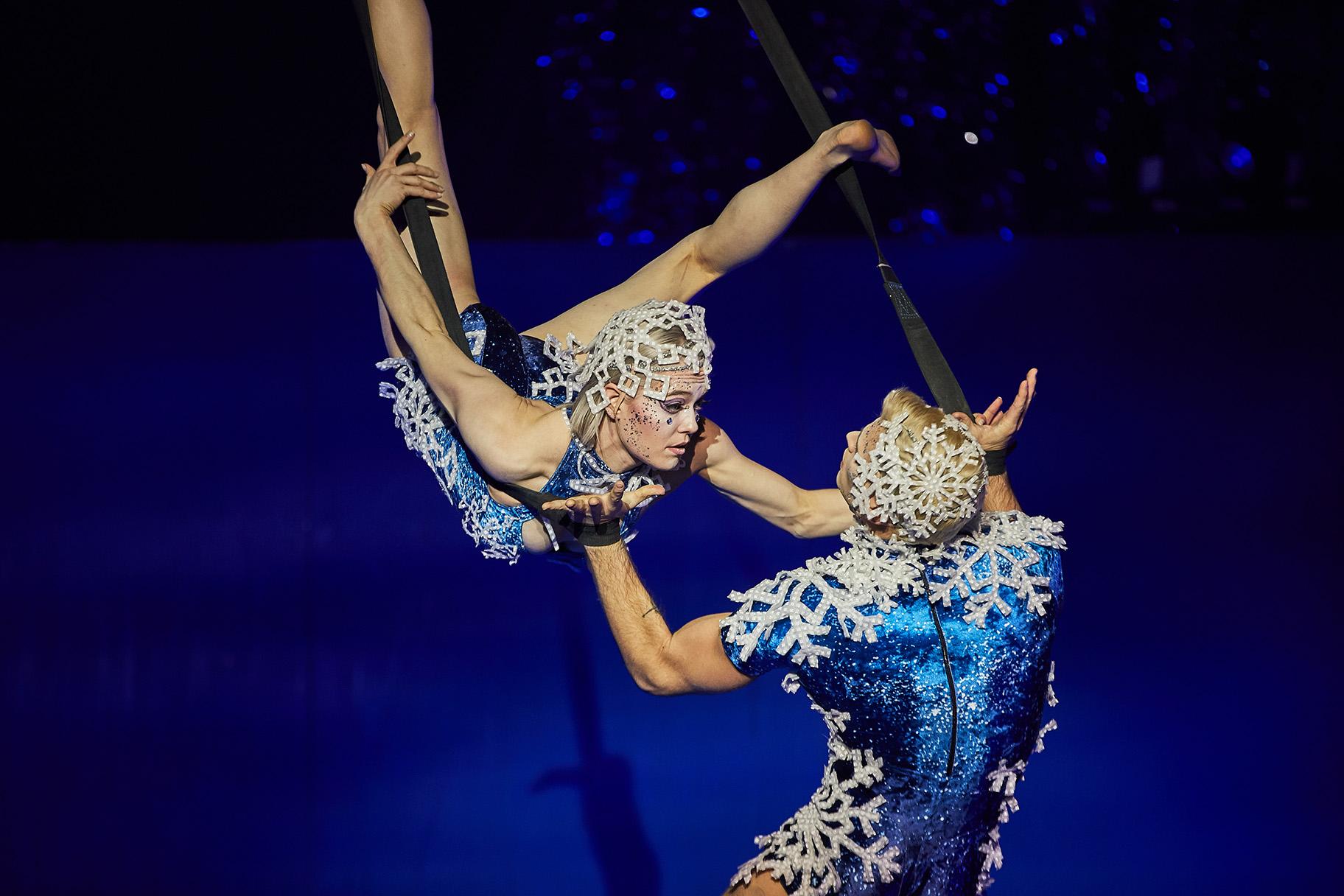 "'Twas the Night Before …" (Credit: Errisson Lawrence)
Hadley: When we first started to work on this show – it's actually under a different brand we call Cirque du Soleil Family, and the thing that was foremost in my mind, I wanted to make sure that it was something that could be enjoyed by not only children but families coming together and starting this new Christmas tradition.
Ponce: At rehearsal, they jump through a lot of hoops to assemble the act. And even when things falls apart … they try, try again.
The show draws inspiration from the 200-year-old poem "A Visit from Saint Nicholas."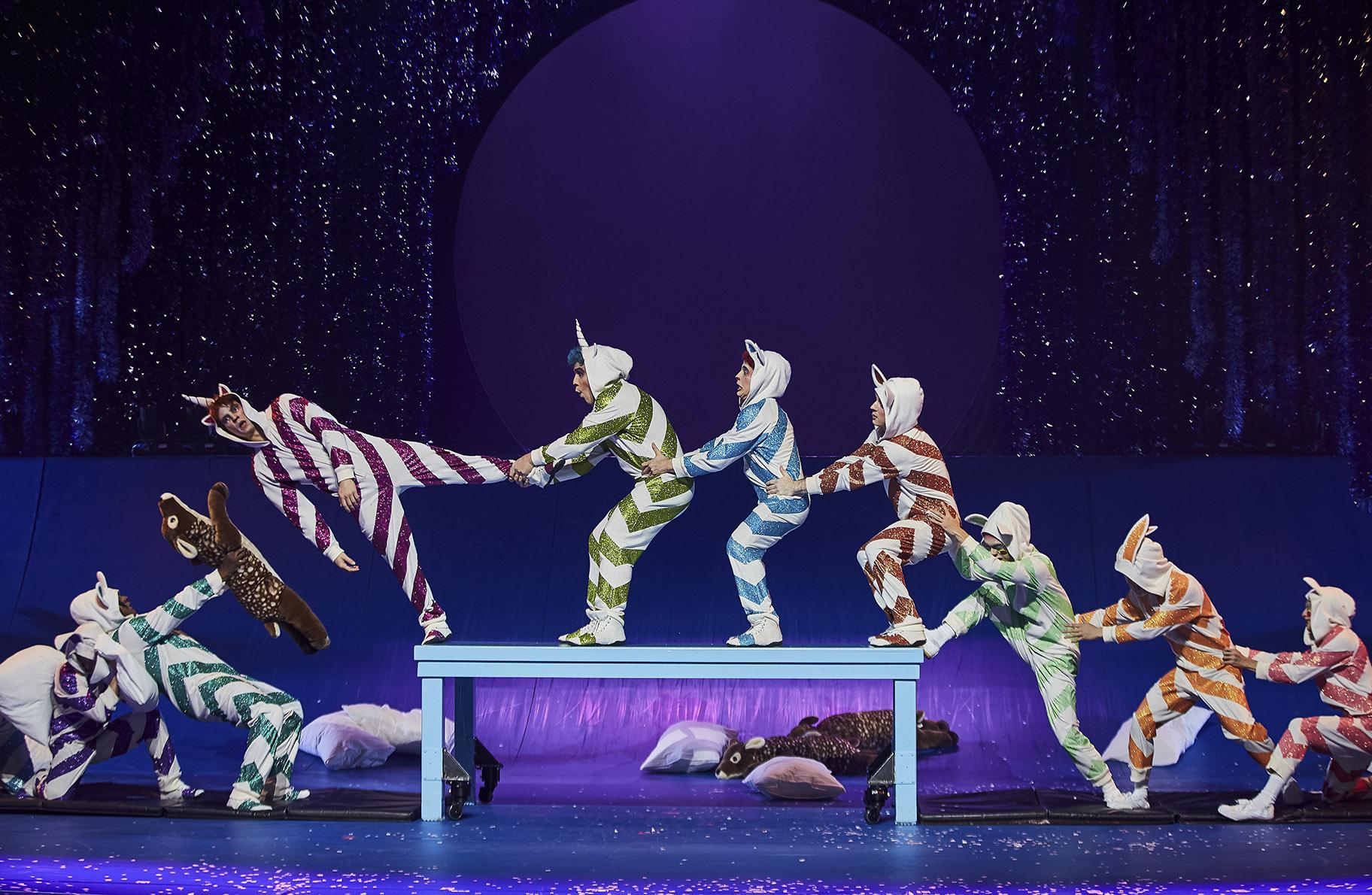 "'Twas the Night Before …" (Credit: Errisson Lawrence)
Hadley: I knew from the beginning that I didn't want to do a literal telling of the poem, so I think for me creatively what was the most fun was sort of deconstructing the poem and finding these different images and linking them to different acrobatic acts that we pulled actually from all over the world.
Ponce: The writer/director is a onetime Broadway dancer who is now artistic director for Cirque du Soleil in North America. We asked him about the stress of putting together a new show.
Cirque du Soleil's world premiere show "'Twas the Night Before …" (Credit: Errisson Lawrence)
Hadley: Are you trying to put a little extra pressure on me? Yes, definitely it's always something that we're thinking about. People have very high expectations when they think of coming to see a Cirque show, so we're always thinking how can we surprise people? How can we do something different that we've never done before?
So I think we've got a lot of it sorted out, and we're really excited to share it with the Chicago audience, which has always been a big supporter of Cirque shows in the past.
More on this story
"'Twas the Night Before …" runs through Dec. 8 at the Chicago Theatre before it heads to New York. Find ticket information here.
---
Related stories:
Delightful Designs of Chicago and the Holidays by Artist David Lee Csicsko
Ladysmith Black Mambazo Reunites with Steppenwolf for 'Lindiwe'
'The Wickhams' Puts a Beguiling Twist on a Jane Austen Sequel
---