Cirque du Soleil has visited Chicago every other year since 1989. This year, for the first time, the internationally minded "Circus of the Sun" has a performer with local roots.
Chicago Tonight met him when he returned to his old high school.
TRANSCRIPT
Paris Schutz: At the Chicago Academy for the Arts, dance students prepare for an instructional visit by an alum.
Kevin Beverley, performer, Cirque du Soleil: It's pretty amazing, it's very nostalgic, you know. I walked into this dance studio and it has the exact same smell of 10 years ago, it's crazy. It smells like old wood and dust and … I love it.
This school, I got here in my junior year, so I did two years in public school in Grayslake and then I came here and it completely changed my view on dance, but also the art world. I felt at home, like it felt like I was at my place.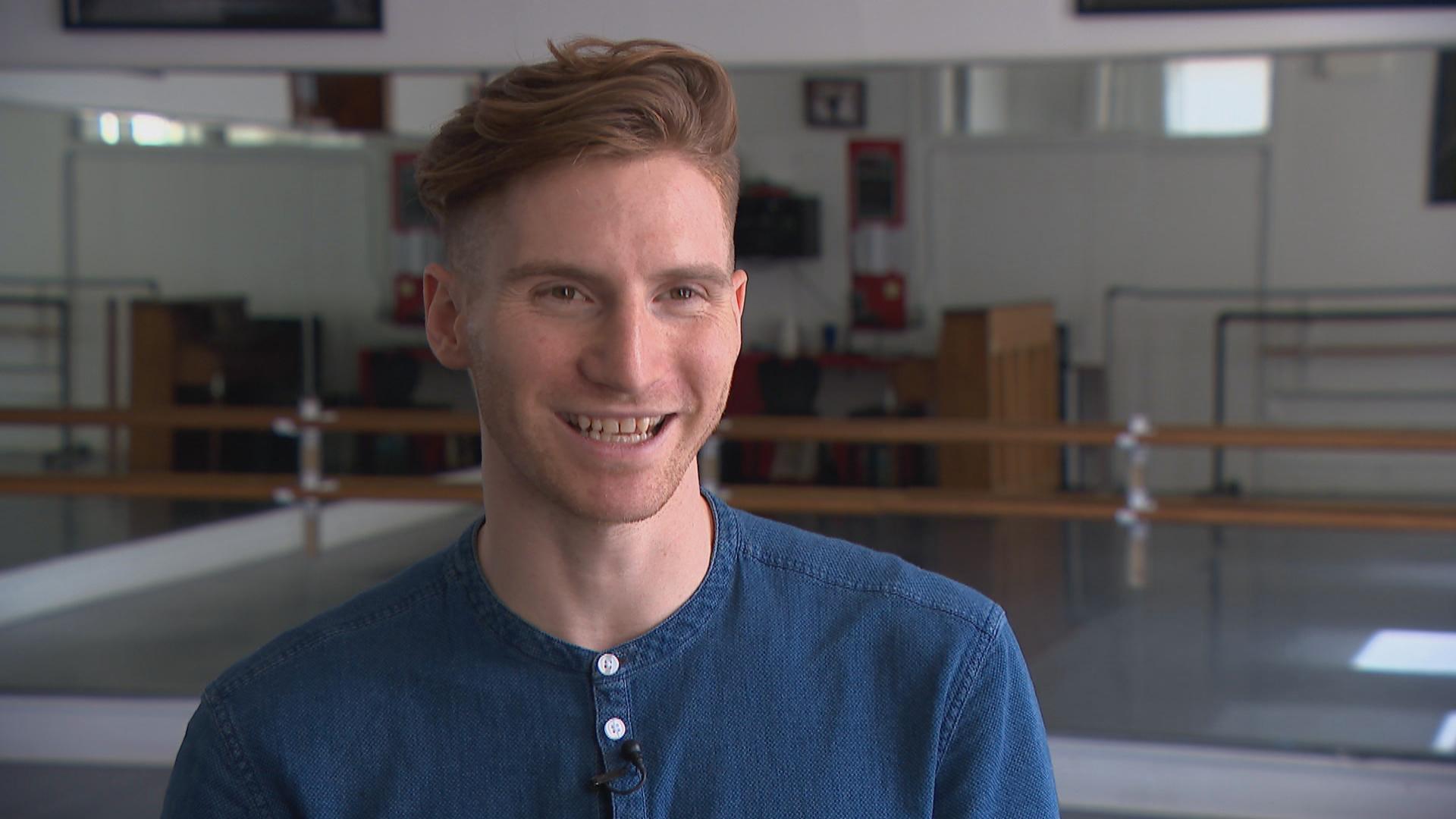 Kevin Beverley speaks with WTTW News.
Schutz: He was welcomed by his former teacher Randy Duncan, chair of the school's dance department, who warmed up the students – and Kevin.
Randy Duncan, Chicago Academy for the Arts: Kevin Beverley, wow, this little redhead, he was absolutely something else. He always had a desire to be the best he can possibly be. I remember Kevin when he could not even do a split, let alone be able to do what he's doing today but he worked and worked until he got that, and anything else that was thrown his way. He worked at it and got it, so Kevin was always a favorite when he was here.
Beverley: Randy asked if I could come in and teach a little bit of this ending solo contemporary dance solo that I do in "Volta" when I play the main character.
And it's pretty special for Cirque du Soleil because you don't often see that, you don't see one dancer onstage. There's not people flying through the air it's, it's pretty special.
Schutz: "Volta" is the new show from Cirque du Soleil, the theatrical circus and entertainment company based in Montreal, Quebec.
Kevin Beverley is the understudy for the main role. He also dances and performs as a so-called "shape diver."
His interest in acrobatics began in his hometown, Grayslake, Illinois, north of Chicago.
Beverley: When I was a kid I started in gymnastics, and so I did gymnastics for a couple years, competing, and I had one of my close friends in gymnastics that switched to dance so I followed him along in that pathway.
And I danced at a studio in the suburbs for 6-7 years very competitively … doing all kinds of dance. I started out doing tap jazz and hip-hop and the teacher started with, "If you want to be good you better start taking ballet," so I jumped into that.
It was really hard, you know, two hours of ballet every single day is a pretty intense schedule, but at the same time that I came to this school, which was 2006, I started taking circus classes in Evanston at the Actors Gymnasium. And after my first class that I had, I knew that this was for sure what I wanted to do.
Schutz: For the past two years he has been one of 42 artists from 19 countries who appear in "Volta" – which blends extreme sports and acrobatics with eye-catching costumes and visual spectacle.
All of it is linked by the story of a free spirit who tries to find his place among like-minded companions.
Back at the Academy, a pair of French-Canadian performers wow the students with feats of strength and balance.
Beverley: I saw Cirque du Soleil on TV, and that was a big eye-opener for me. It was like, oh, there's the dance, there's the circus, there's the flips, there's the theater. One big ball of creativity. I got really excited watching it so … it was my first inspiration, and then, from there I definitely saw a bunch of shows live and it just kept growing and growing.
Schutz: Now the first local person to join a touring Cirque du Soleil team is ready for his homecoming.
Beverley: It's a feeling of full-circle that I left Chicago 10 years ago to chase this dream and now I get to come back and I get to share it with my people, with my Chicagoland people, which is, I think, such a beautiful thing.
Duncan: I am so incredibly proud of Kevin and coming from the Chicago Academy for the Arts and knowing that there's somebody out there who has reached this height in his career just makes such a huge difference for kids who are looking to do the same thing … whether it's with Cirque or with other companies or Broadway shows. He's brought back something that they can actually aspire to.
---
More on this story
For the first time, Cirque du Soleil is on the Soldier Field campus, where the big top is in the South Parking Lot. "Volta" opens Tuesday and runs through July 6. For more information, visit the event website.
Note: This story was first published May 21, 2019.
---
Related stories:
Clowning Around as a Kid Leads to Lifelong Dance Career
Meet the Athletic Artists Behind Cirque du Soleil's 'Luzia'
Saul Bellow's 'Augie March' Inspires a Theatrical Masterpiece at Court Theatre
---