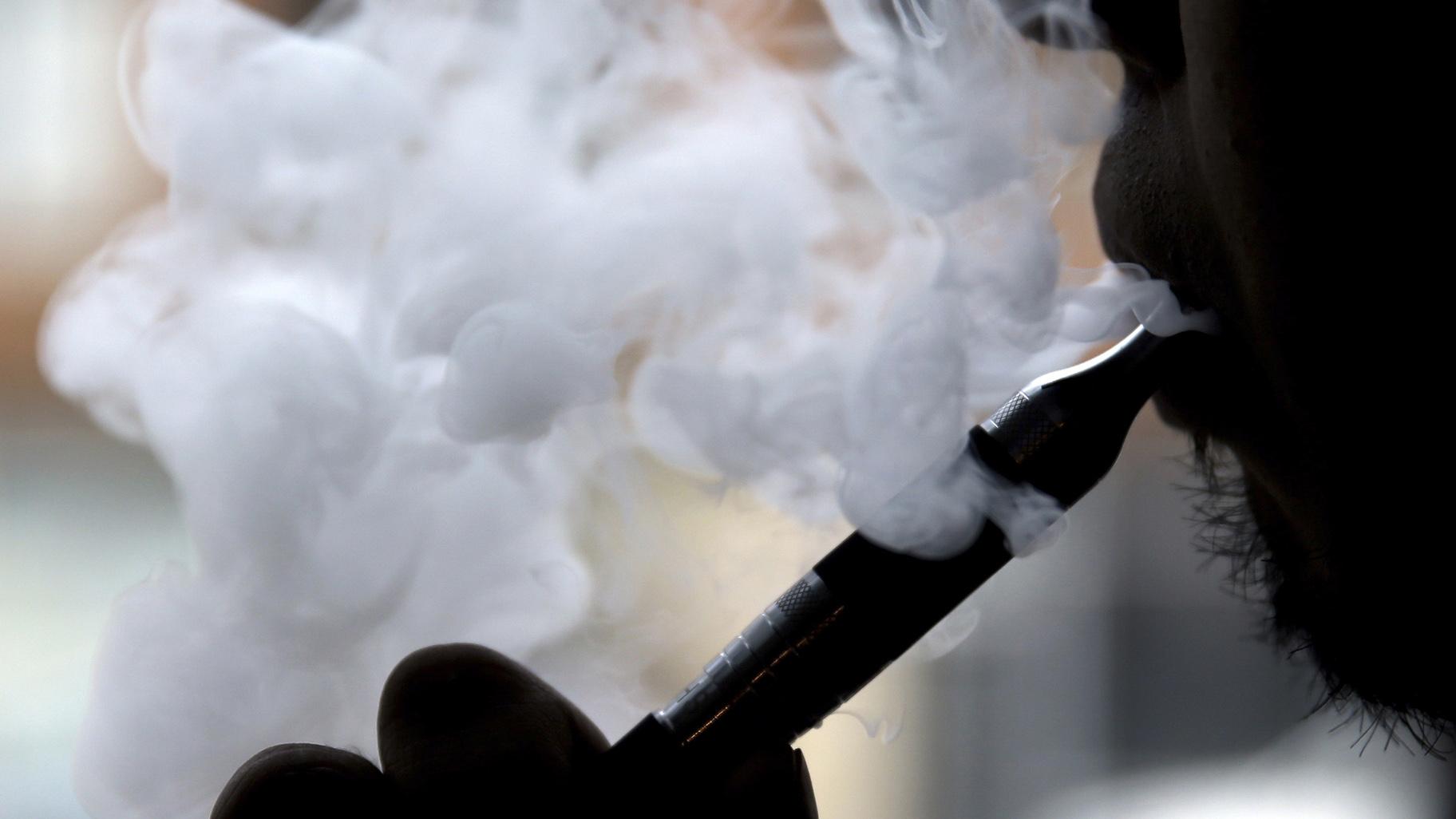 In this April 23, 2014 file photo, a man smokes an electronic cigarette in Chicago. (AP Photo / Nam Y. Huh, File)
A third death in Illinois this year has been attributed to a vaping-related illness, health officials announced Thursday.
The death toll from the illnesses across the country is now 37, according to the Centers for Disease Control and Prevention. The deceased range in age from 17 to 75, with a median age of 53, a CDC analysis found.
Since March, there have been 1,888 confirmed and probable lung injury cases in the U.S. associated with the use of e-cigarettes. In Illinois, 166 cases have been reported in Chicago and 32 counties, according to the Illinois Department of Public Health, which says those affected range in age from 13 to 75 years old, with a median age of 22. An additional 42 cases are under investigation in Illinois.
"The unfortunate death of a third Illinois resident underscores the seriousness of these lung injuries," said IDPH Director Dr. Ngozi Ezike in a statement. "New cases continue to be reported in Illinois and across the country."
All of those affected reported using e-cigarettes or vaping devices within 90 days of getting sick, and officials have not been able to attribute their symptoms to another cause. Reported symptoms have included coughing, shortness of breath, diarrhea, fatigue and vomiting, which worsen over a period of days or weeks before hospital admission.
State health officials are working with local health departments and the CDC to investigate the cases. At this time, officials have not identified a single product, substance or device connected to all cases. "IDPH is urging Illinoisans not to vape or use e-cigarettes products, especially illicit THC based products, while we continue to investigate this outbreak," said Ezike.
More than 80% of patients who got sick in Illinois reported using products containing tetrahydrocannabinol – THC, the chemical that gives marijuana its high – primarily obtaining them from friends or on the street, according to IDPH. About half of those affected in Illinois reported also using nicotine products.
IDPH has been sending products and devices to the Food and Drug Administration for testing since August and recently received information on 46 of those samples. About half of the test results were positive for THC, and of those, approximately 40% contained evidence of vitamin E acetate. (Vitamin E is safe as a vitamin pill or to use on the skin, but inhaling vitamin E droplets into the lungs can trigger pneumonia.)
Officials advise anyone who is experiencing any type of chest pain or difficulty breathing after vaping to seek immediate medical attention, even if symptoms arise weeks later. Health care providers caring for patients with unexpected serious respiratory illness should ask about a person's history of vaping.
Contact Kristen Thometz: @kristenthometz | (773) 509-5452 |  [email protected]
---
Related stories:
Want to Quit Vaping? Start Small, Says Chicago Psychologist
2nd Illinois Resident Dies from Vaping-Related Illness
Illinois Leads Nation with 137 Vaping-Related Illnesses
Illinois Officials Launch Anti-Vaping Campaign as More Illnesses Reported
102 Cases of Vaping Illnesses in Illinois, Health Officials Report
CDC Study Links Vaping Illness in Illinois, Wisconsin to THC Cartridges
US Vaping Illness Count Jumps to 805, Deaths Rise to 13
US Official Expects 'Hundreds More' Cases of Vaping Illness
Illinois Considers Banning Flavored E-Cigarettes
---