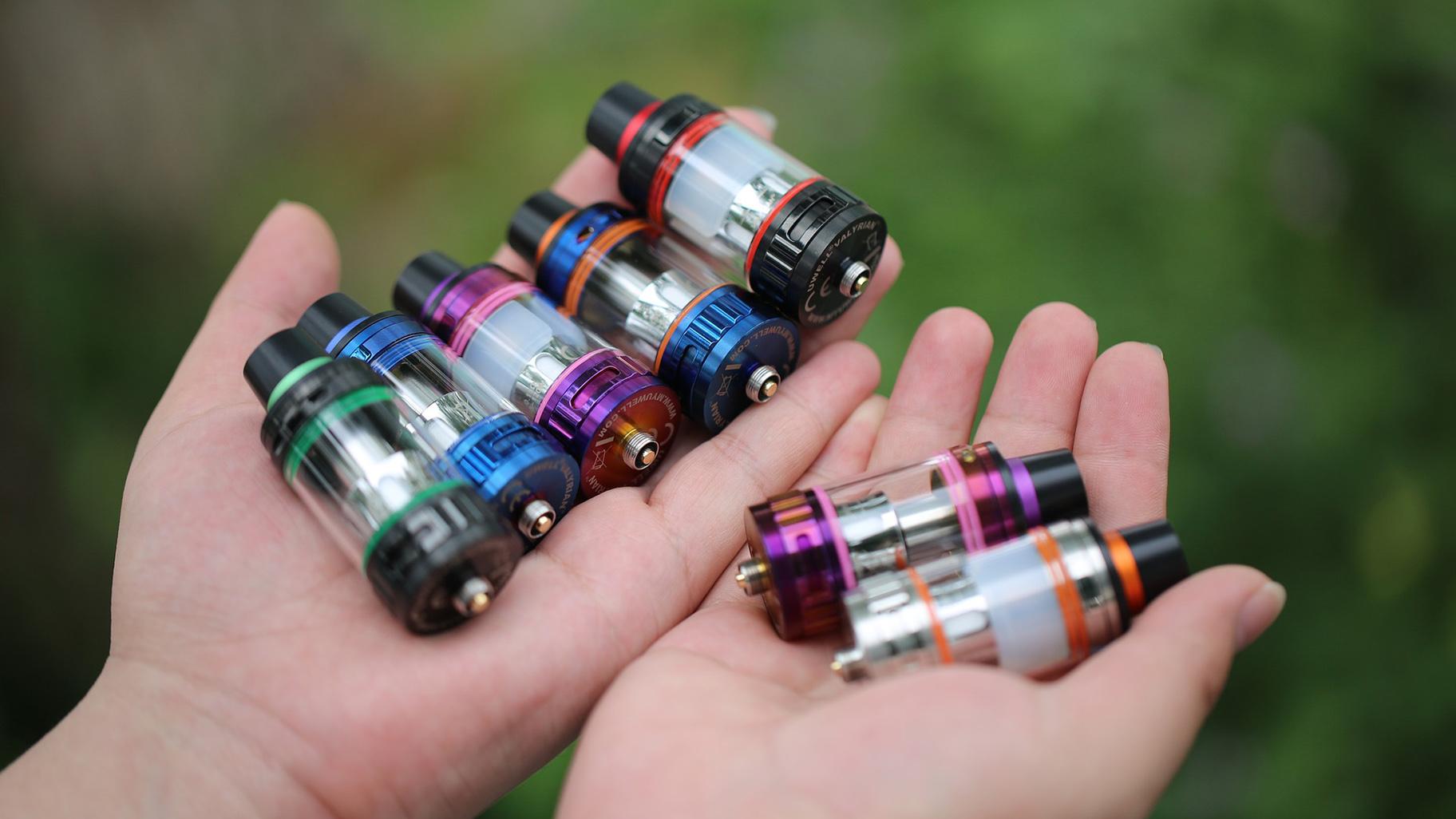 (haiberliu / Pixabay)
Health officials say nearly 1,300 people across the U.S. have experienced serious vaping-related illnesses since March 31. The new total released Thursday by the Centers for Disease Control and Prevention represents both confirmed and probable cases. It's up by more than 200 since last week.
At this point, illnesses have occurred in every state except Alaska, as well as the U.S. Virgin Islands. There have been 26 deaths in 21 states, including one in Illinois.
"This is a critical issue, and even while we learn more, we need to take steps to prevent additional cases," said Dr. Anne Schuchat, principal deputy director of the CDC. "We are not seeing a meaningful drop off in new cases, and unfortunately, many more people have been hospitalized with lung injury since we first advised the public about the national outbreak."
As the number of illnesses continues to rise, the Illinois Department of Public Health is trying to illustrate the dangers of vaping through a new social media campaign. Across the state, more than 120 people have been hospitalized for severe breathing illnesses related to e-cigarette use, the agency reports.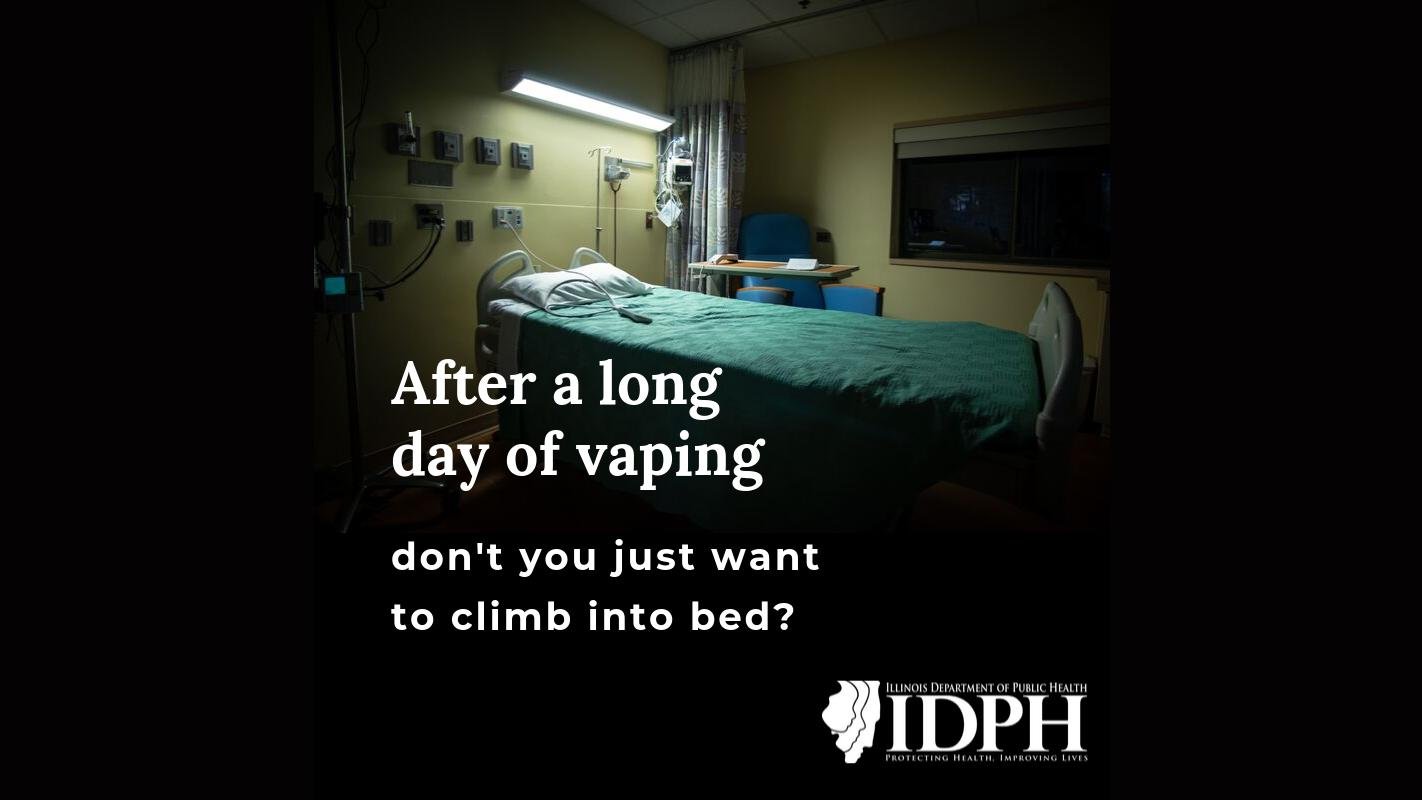 Illinois Department of Public Health officials are warning residents of the dangers of vaping in a new social media campaign. (Courtesy of the Illinois Department of Public Health)
Reported symptoms have included coughing, shortness of breath, diarrhea, fatigue and vomiting, which worsen over a period of days or weeks before hospital admission.
Children in particular don't understand the severity of the illnesses, said IDPH Director Dr. Ngozi Ezike, who has spoken with youth across the state about vaping.
The agency's campaign was inspired by those discussions, Ezike said. "They want the truth and want to know how dangerous it is," she said. "They didn't want things sugarcoated."
The campaign includes a photo of an empty hospital bed with the words: "After a long day of vaping, don't you want to climb into bed?"
Ezike says there's "nothing disingenuous" about the image, which some Twitter users criticized as harsh. "Across the country over 1,200 people have fallen ill, and many have ended up in a hospital bed," she said.
Ezike says some of the youth she spoke with didn't know those hospitalizations included time spent in intensive care, or that some people required the use of breathing machines. "I didn't want that to be missed – how serious this was," she said.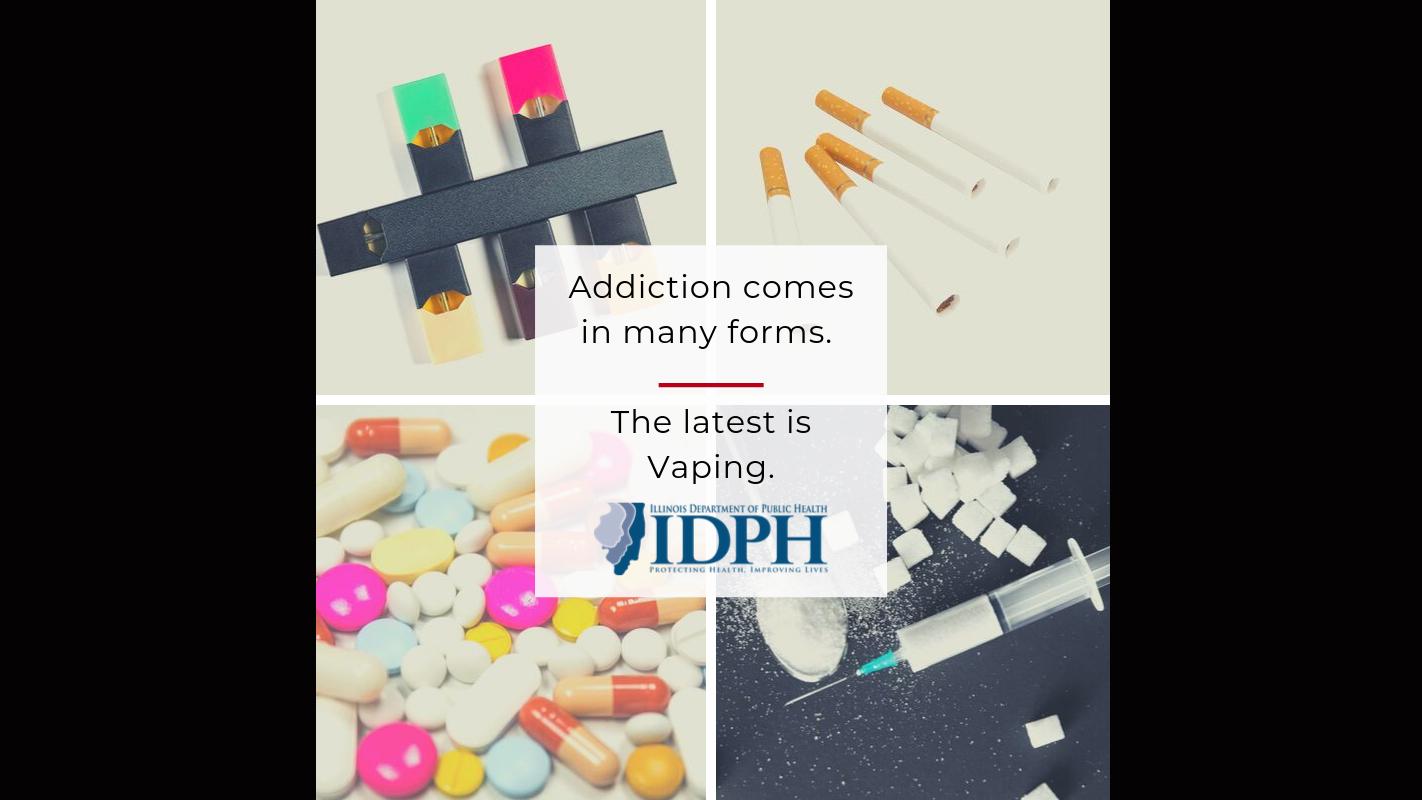 Illinois Department of Public Health officials are warning residents of the dangers of vaping in a new social media campaign. (Courtesy of the Illinois Department of Public Health)
Many Twitter users criticized the IDPH campaign for not differentiating between e-cigarette products containing nicotine and tetrahydrocannabinol – THC, the chemical that gives marijuana its high.
"I'm ashamed to see this," wrote @Vaper_Skip. "Did you research before creating this? The deaths and sickness was caused by illegal THC black market cartridges. Nicotine Vaping has had 0 deaths. We need to keep Nicotine Vapes out of the hands of Children #ivapeivote."
But health officials have yet to identify a single cause for the illnesses. "We can't give any more specific advice than just to refrain from vaping," Ezike said.
The Food and Drug Administration says it has collected more than 725 samples, including e-cigarette and vaping devices and liquids, from 23 states and the U. S. Virgin Islands. Preliminary results have found products have contained THC and vitamin e acetate, but a specific substance has yet to be identified in all the samples that have been tested, according to Mitch Zeller, director of the FDA's Center for Tobacco Products.
On Friday, federal officials also reported that a handful of patients had been readmitted to the hospital following treatment for vaping-related illnesses. Readmission ranged from five days to 55 days, according to Schuchat.
Federal officials are now recommending health care providers follow up with patients within two weeks of discharge in newly released guidelines for treating and evaluating patients with vaping-related illnesses, which officials are now calling EVALI, or e-cigarette or vaping product use-associated lung injury. Clinicians are also advised to initiate discussions about cessation while patients are hospitalized, as well as during follow-up visits.  
All of those affected reported using e-cigarettes or vaping devices 90 days prior to their illness, and officials can't attribute their symptoms to another cause.
Contact Kristen Thometz: @kristenthometz | (773) 509-5452 |  [email protected]
---
Related stories:
102 Cases of Vaping Illnesses in Illinois, Health Officials Report
CDC Study Links Vaping Illness in Illinois, Wisconsin to THC Cartridges
US Vaping Illness Count Jumps to 805, Deaths Rise to 13
US Official Expects 'Hundreds More' Cases of Vaping Illness
Illinois Considers Banning Flavored E-Cigarettes
---