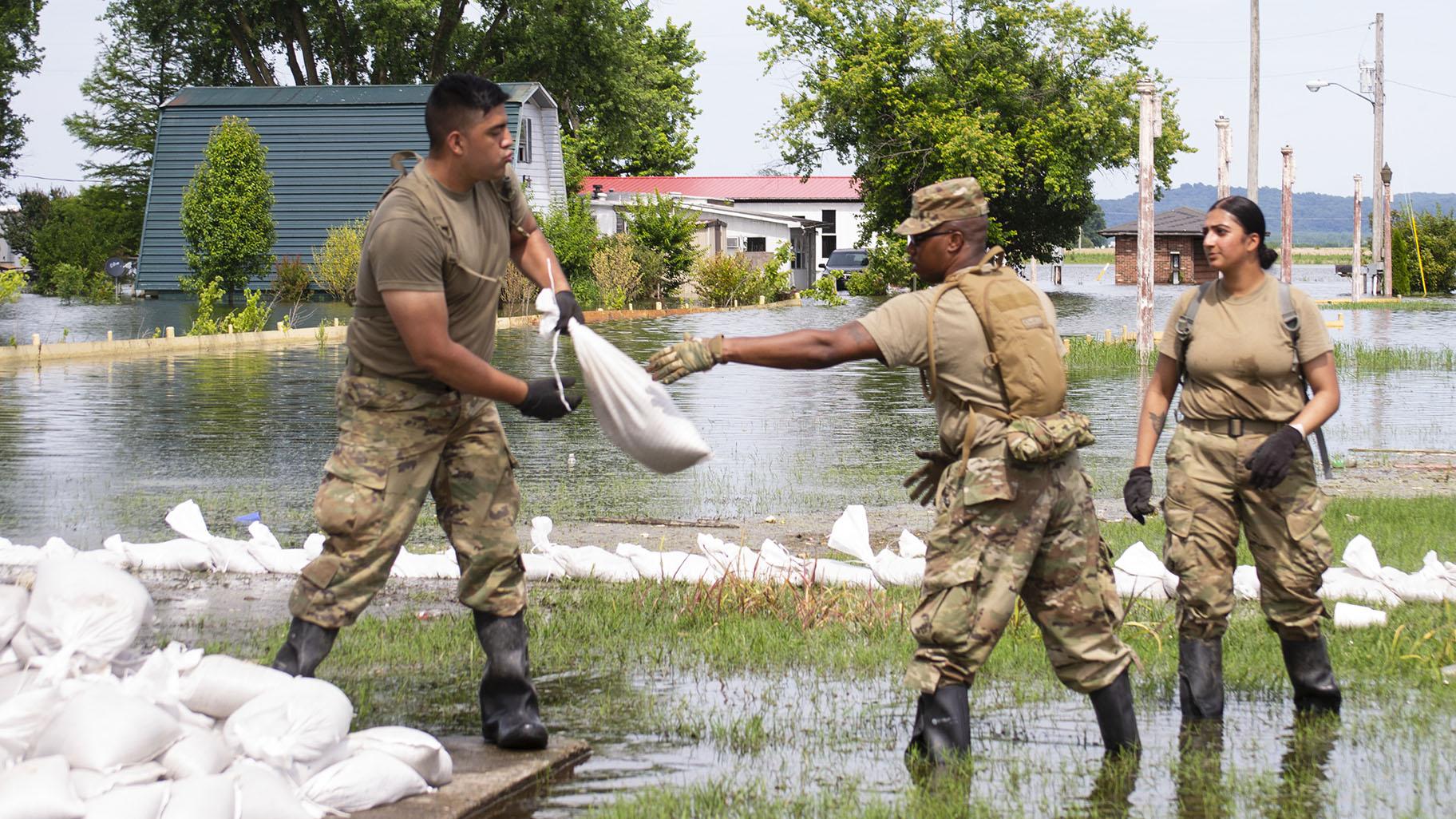 Illinois National Guard soldiers move sandbags through flood waters at East Cape Girardeau, Illinois, on June 12, 2019, as they construct a sandbag levee to control flooding in the community. (Barbara Wilson / Illinois National Guard)
Gov. J.B. Pritzker is asking the federal government to reconsider its decision to deny monetary aid to residents and businesses affected by near-record levels of flooding that hit Illinois this spring.
The Federal Emergency Management Agency informed the state last month that it would not be granting federal assistance to residents and businesses in 22 counties along the Illinois and Mississippi rivers that were impacted by flooding.
In a letter detailing the decision, FEMA Associate Administrator Jeff Byard said the agency "determined the impact to individuals and households from this event is not of such severity and magnitude to warrant the designation of Individual Assistance."
Pritzker filed an appeal of the agency's denial last week, saying the federal government is withholding assistance from 1.4 million Illinois residents affected by the flooding, which the Illinois Emergency Management Agency determined was the state's worst in more than 25 years. The conditions caused delays for farmers planting spring crops, including corn and soybean, and prompted the U.S. Department of Agriculture to declare an agriculture disaster in the state in August. 
In his original request for federal assistance, Pritzker said the flooding had caused more than $69 million in direct losses, including $8.2 million in losses to individuals and damage to more than 1,400 homes.
The state's appeal includes additional documentation of ongoing impacts to individuals and community infrastructure as a result of the flooding, and states that an effective recovery is "not likely to occur" without federal assistance to residents and businesses.
"My administration is aggressively appealing these decisions because we are committed to pursuing every opportunity to secure the federal funding that will help our communities recover," Pritzker said in a statement. "We are more than three months removed from this disaster and individuals, businesses and local governments are still feeling its impact."
Illinois' request for federal aid was submitted shortly after FEMA enacted a new rule outlining how the agency evaluates request for assistance to residents and businesses following flooding and other events. The rule came out of legislation passed in the wake of Hurricane Sandy, which hit the eastern U.S. in 2012 and led to the deaths of more than 200 people.
The new rule instructs FEMA to consider six factors in awarding federal assistance, including the number of casualties, the fiscal capacity of the state affected and the "population profile" of impacted communities.
Seven people died as a result of the flooding that hit Illinois earlier this year, according to recent comments made by IEMA Acting Director Alicia Tate-Nadeau.
FEMA did approve the state's request for financial assistance to local governments in 27 counties affected by the flooding. FEMA officials have been in Illinois to evaluate claims for public assistance as part of a vetting process before that funding is released.
Contact Alex Ruppenthal: @arupp | (773) 509-5623 | [email protected]
---
Related stories:
Report Details Human and Economic Costs of Flooding in Illinois, US
27 Illinois Counties Eligible for Federal Aid After Near-Record Flooding
USDA Declares Agriculture Disaster in Illinois Following Floods
Pritzker Announces Help for Flood-Hit Farmers, Aims for Emergency Declaration
May 2019 Sets Record as Chicago's Wettest
Midwest Rivers Recede, But Flooding Danger Lingers
---