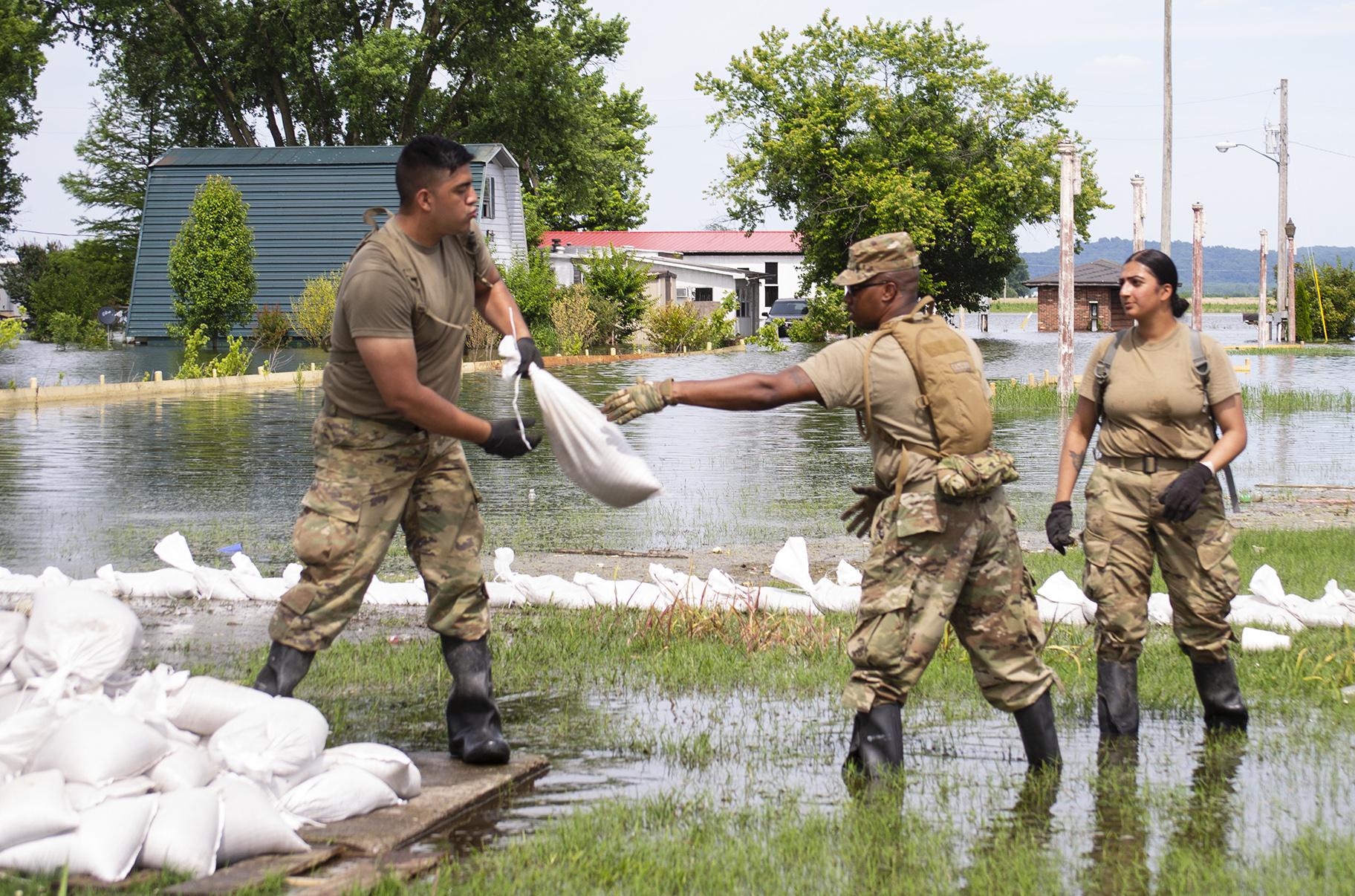 Illinois National Guard soldiers move sandbags through flood waters at East Cape Girardeau, Illinois, on June 12, 2019, as they construct a sandbag levee to control flooding in the community. (Barbara Wilson / Illinois National Guard)
Following near-record levels of flooding across the state this spring, 27 Illinois counties can now apply for federal funding to help with recovery efforts.
Gov. J.B. Pritzker announced last week that the federal government had approved his request for federal assistance, which enables local governments to access grants or loans to help with flood-related losses or costs incurred from responding to the historic floods.
Steady rain throughout much of the spring led to the state's worst flooding in more than 25 years, according to the Illinois Emergency Management Agency.
The conditions caused farmers to experience delays in planting spring crops, including corn and soybean, and prompted the U.S. Department of Agriculture to declare an agriculture disaster in the state last month.
"My administration stands with every resident and business impacted by this year's flooding, and we will help our communities rebuild stronger and more resilient," Pritzker said in a statement. "I want to thank our Congressional delegation for their advocacy, as well as our state and federal partners, for their help securing the additional resources I requested."
Local governments have 30 days to submit documentation for funding through the Federal Emergency Management Agency's Public Assistance program. The program reimburses governments for up to 75% of costs associated with removing debris, implementing emergency protective measures and restoring infrastructure damaged by flooding. 
Although the program applies only to local governments, Illinois has also requested federal aid to individual homeowners and business owners. That request remains under federal review, said Alicia Tate-Nadeau, IEMA's acting director, in a statement.
Under the federal aid approved last week, funding will be available in the following counties: Adams, Alexander, Bureau, Calhoun, Carroll, Cass, Fulton, Greene, Hancock, Henderson, Henry, Jackson, Jersey, Knox, Madison, Mercer, Monroe, Morgan, Pike, Randolph, Rock Island, Schuyler, Scott, St. Clair, Stephenson, Union and Whiteside.
According to IEMA, Pritzker has also directed the agency to work with affected areas outside of the 27 counties covered by the federal aid to further evaluate damages and identify other sources of funding. 
Contact Alex Ruppenthal: @arupp | (773) 509-5623 | [email protected]
---
Related stories:
USDA Declares Agriculture Disaster in Illinois Following Floods
Pritzker Announces Help for Flood-Hit Farmers, Aims for Emergency Declaration
May 2019 Sets Record as Chicago's Wettest