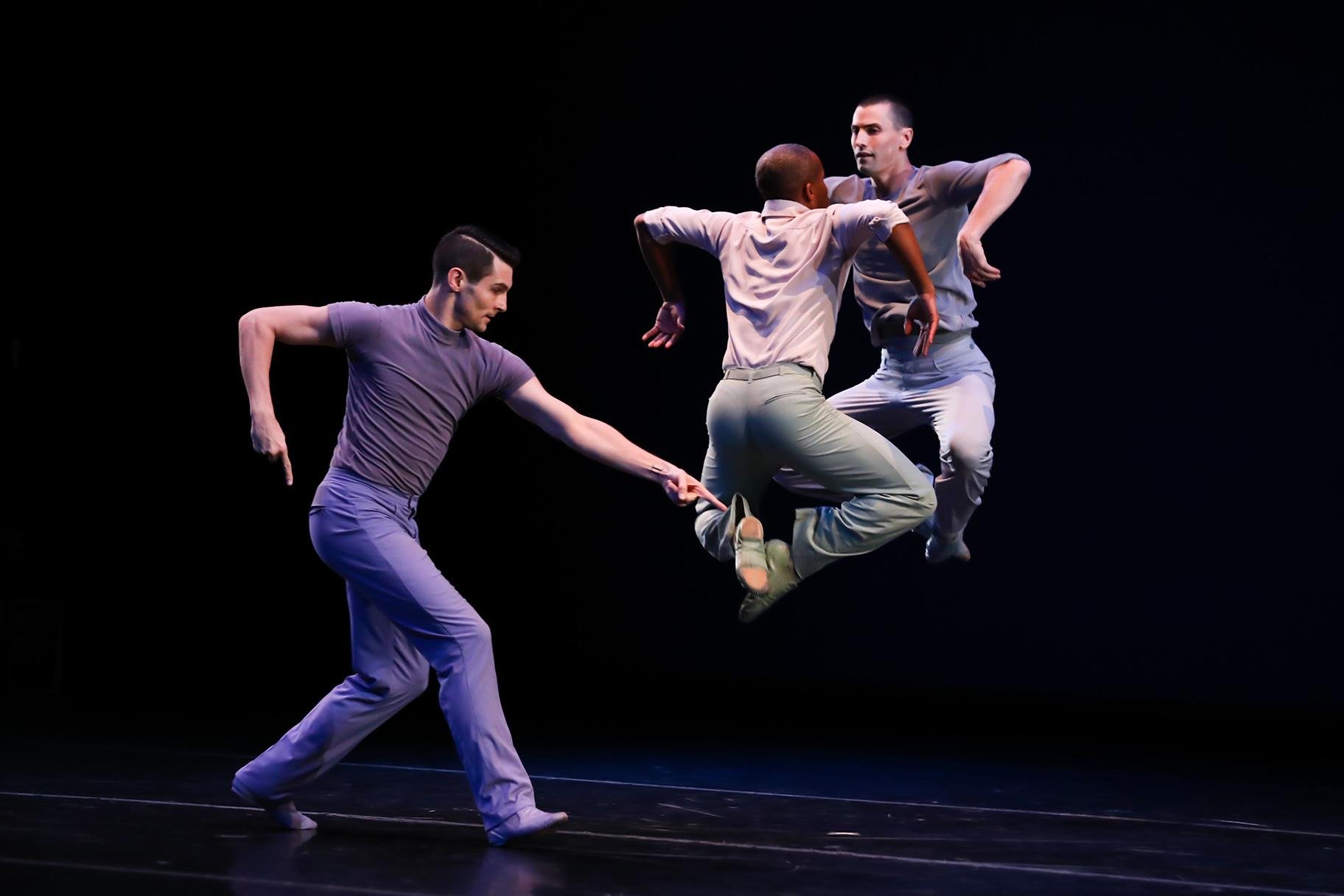 Craig Black, Jonathan Alsberry, Andrew Murdock in Lar Lubovitch's "Little Rhapsodies." (Photo by Kyle Flubacker)
The City of Chicago and the League of Chicago Theaters declared 2019 "The Year of Chicago Theatre." But anyone who has been following dance in Chicago in recent years will attest to the fact that it is now time to declare a "Year of Chicago Dance."
The evidence could be found in three different concerts on Chicago stages this past weekend. And that is just the beginning. There is much more to come throughout the fall and beyond – from Chicago-based companies to "imports" from around the world. But let's start with the most recent examples of excellence:
Cerqua Rivera Dance Theatre and Ensemble Espanol Spanish Dance Theater at the Auditorium Theatre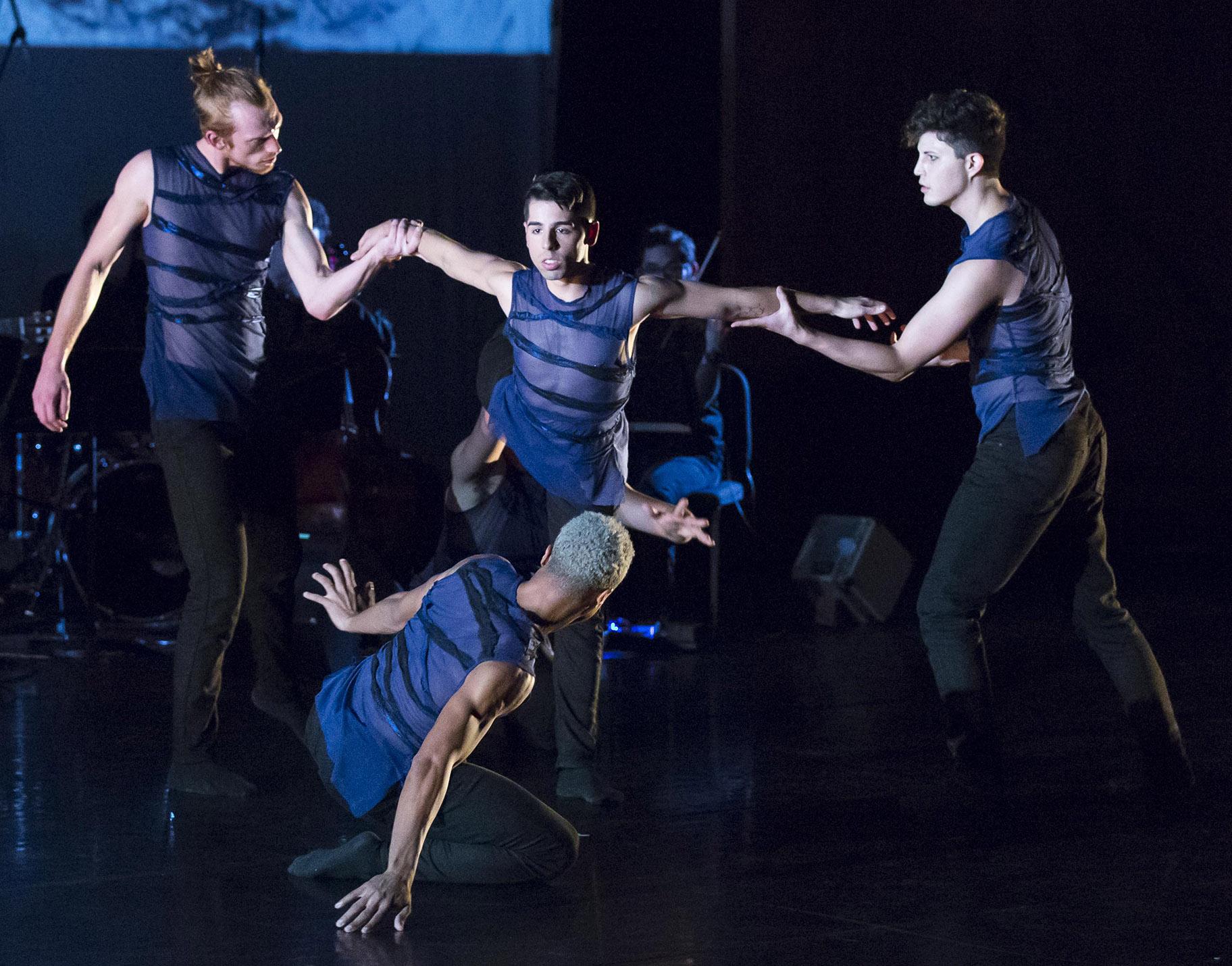 Cerqua Rivera Dance Theatre (Photo by William Frederking)
As the latest installment in its "Made in Chicago" Dance Series, the Auditorium Theatre presented a double bill featuring two Latinx companies deeply rooted in the city: Cerqua Rivera Dance Theatre (celebrating its 20th anniversary), and Ensemble Espanol Spanish Dance Theater (founded in 1975 by the late Dame Libby Komaiko, to whom the program paid homage).
The first half of the concert was devoted to "American Catracho," an epic, profoundly moving work about the plight of Latin American immigrants seeking refuge in the U.S. ("Cartracho" is a pejorative, discriminatory word of Honduran origin.)
Created and directed by Wilfredo Rivera (with additional choreography by Noelle Kayser and Christian Denice), and featuring a stunning score by Joe Cerqua superbly performed by the nine-piece Cerqua Rivera Jazz Band, the work is an elaborate, richly evocative, at moments sharply satirical evocation of the many stages in the process of immigration.
It begins with a lyrical, push-pull sequence conjuring memories of the towns left behind, and then moves on to suggest the many dangers and challenges on land and water of "The Crossing," the tension at the border, the eye-opening experience of America (with the haunting refrain, "My tongue is divided in two"), and finally, a celebratory dance club scene, "Land of Dreams."
The company of 12 dancers is highly polished as well as dramatically sharp, and featured a notably blistering rendering of "Yankee Doodle" by Fernando Rodriguez. And there was beautiful design work by Simeon Carpenter (projections), David Goodman-Edberg (lighting) and Jordan Ross (costumes).
"American Catracho" has all the signs of a classic and should be seen on stages far beyond Chicago.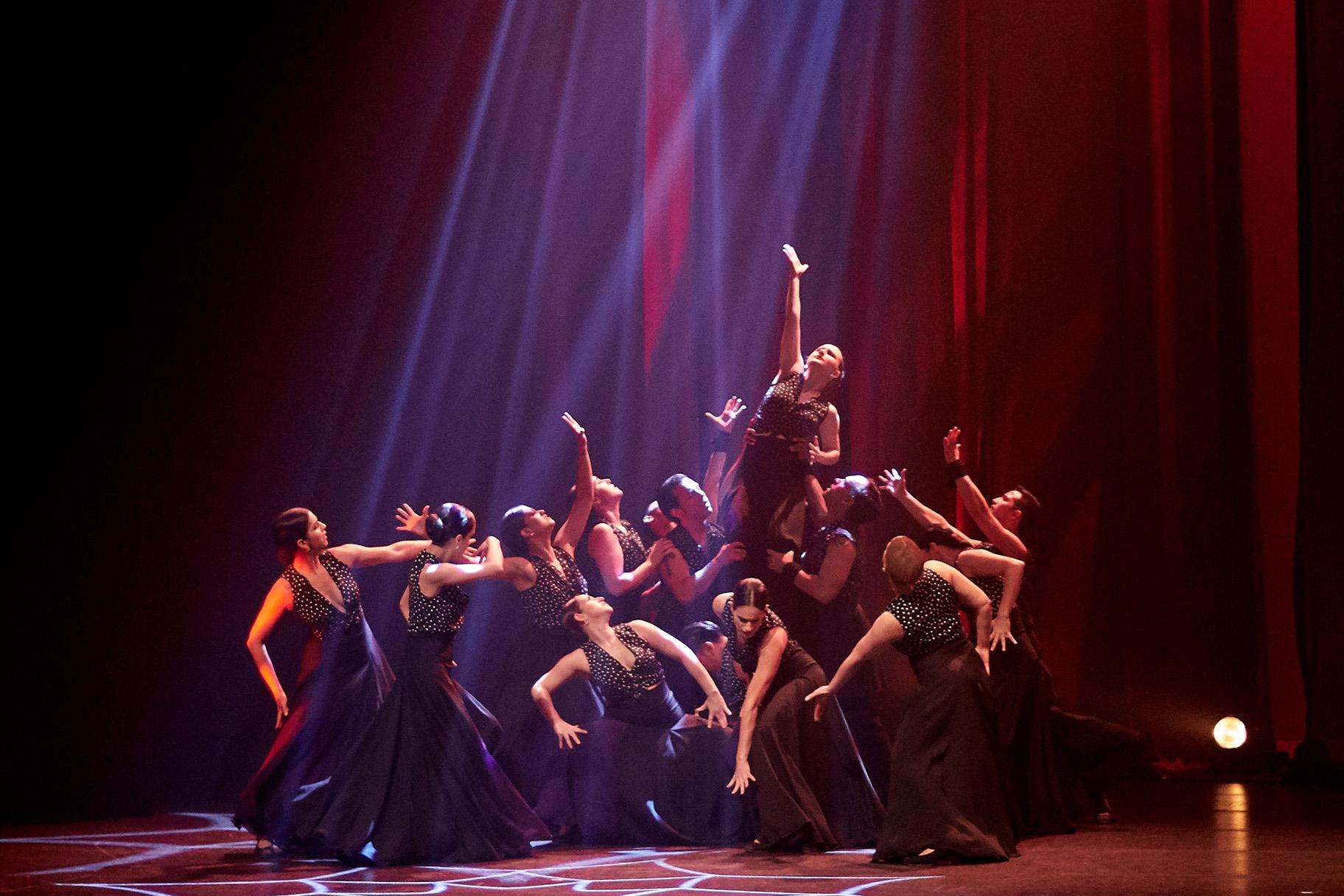 Ensemble Espanol Spanish Dance Theater (Photo by Dean Paul)
The dancers of Ensemble Espanol (accompanied in many works by five sensational musicians) never fail to demonstrate a grand theatricality, precision-tooled technique and flamenco-based fire. It is there when capturing the spirit of Spain in Komaiko's "Ecos De Espanol (Echoes of Spain")," with its mix of classical and exuberant folk dances; in the evocative footwork of "Deshojando Flores (Stripping Petals"); in the heated interplay of a woman and four male dancers, or the solo dancing of two very different female soloists (Claudio Pizarro and artistic director Irma Suarez); or in the wonderfully celebratory finale that was dedicated to Komaiko (Jose Barrios' "Triana," a feast of flamenco tangos, with the full company dressed in colorful contemporary street clothes). Ole to them all.
Visceral Dance Chicago at the Athenaeum Theatre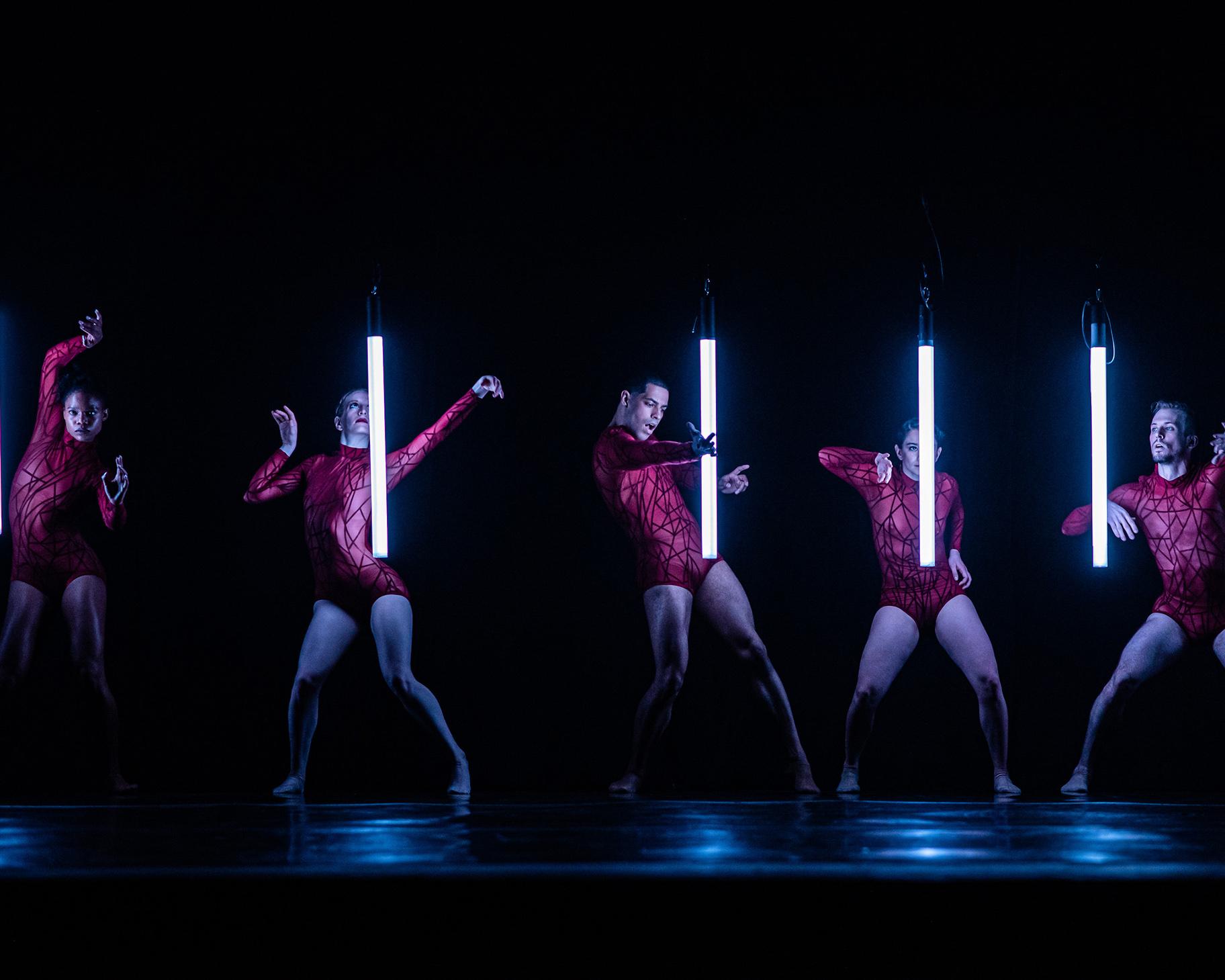 "Synapse" by Nick Pupillo (Photo by MREID Photography)
Visceral Dance Chicago has been a company to reckon with from the moment of its founding in 2013 by choreographer and teacher Nick Pupillo. And from the start it has been marked by the exceptional technique of its dancers, the feverish choreography of Pupillo and others, and a meticulous attention to design.
For a number of seasons the company performed at the Harris Theater for Music and Dance, and more recently it staged an intriguing environmental work in a large industrial space. But last weekend, with a roster of 11 exceptional dancers (many of them in their first season with the company) they arrived on the stage of the Athenaeum Theatre with a program of four riveting works by Pupillo, plus a world premiere by the fiercely gifted Spanish choreographer Monica Cervantes. And they blew the roof off the place in a way that suggested the powers that be at the Athenaeum might want to name Visceral its resident dance company.
Pupillo (whose choice of music, and collaboration with such lighting designers as Brian Sidney Bembridge and Nathan Tomlinson are invariably inspired), has a great gift for carving out space, creating distinctive moods and shaping relationships in his dances. All this was visible in "Impetere" (meaning "attack" or "assault"), the hard-edged yet often lyrical, sexually charged, technically challenging piece set to music by various electronic composers that opened the program.
Pupillo used another electronic composer, Goldmund, for "She Three," a trio with just a hint of both Beckett's "Happy Days," and the classical sculpture, The Three Graces, that was danced by the always impressive Caitlin Cucchiara and Meredith Harrill and Michelle Meltzer. Harrill and the excellent Braeden Barnes joined forces for "Keep," an exquisite duet (Pupillo's specialty), set to music by Trent Reznor and Sigur Ros. And the evening closed with Pupillo's intriguing "Synapse," which features the appearance of ascending and descending neon tube lights on this otherwise dark, intriguing piece set to music by Darryl Hoffman.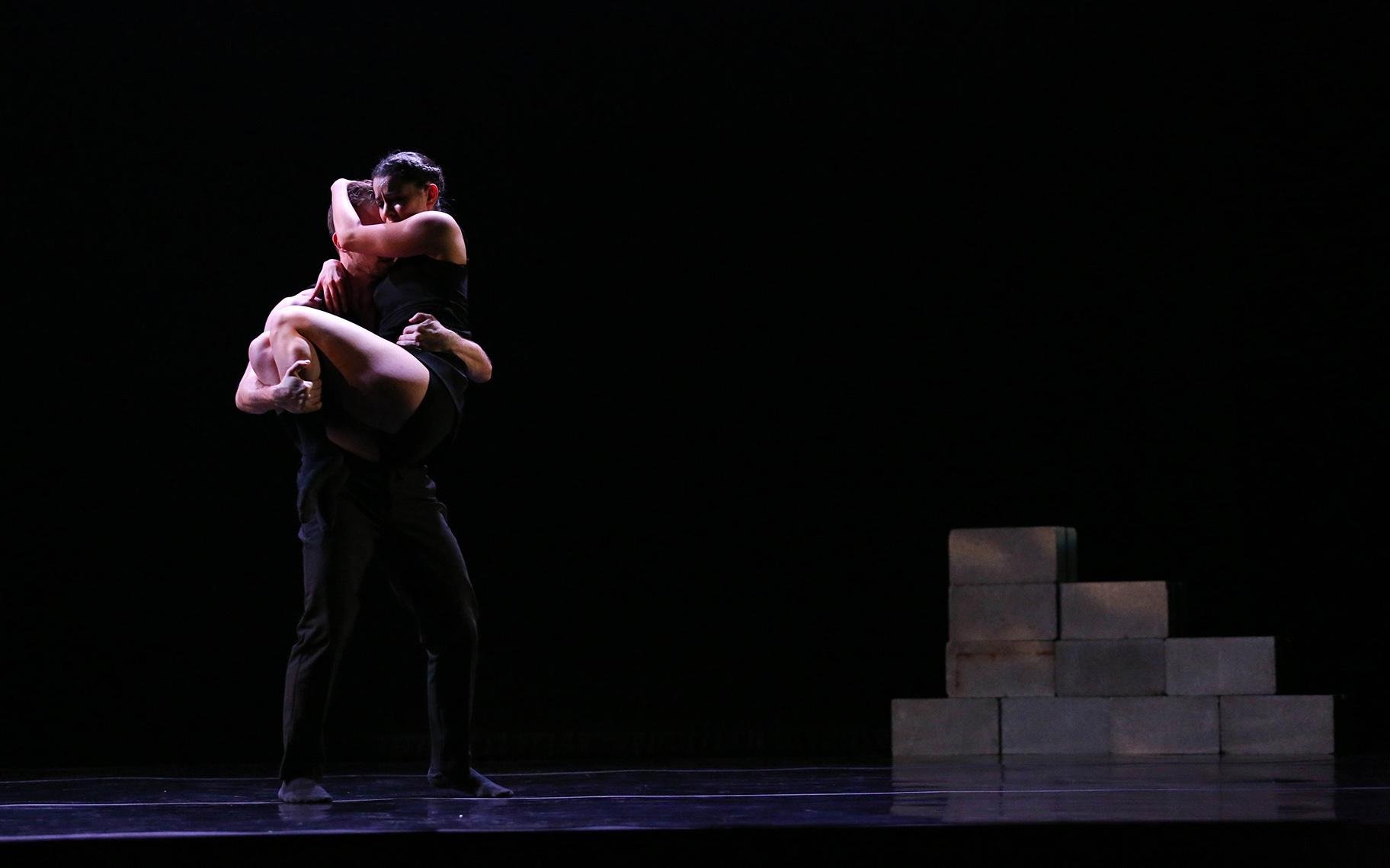 "Homage" by Monica Cervantes (Photo by KTMILLER Photography)
In her mesmerizing new piece, "Homage," set to a lush score by Joaquin Rodrigo and Manolo Escobar, Cervantes suggests a broken love affair in a series of scenes that initially finds a man carrying cement blocks that he piles into a small structure that could be a grave. The man engages in a passionate push-pull relationship with a woman who might just be re-envisioning the whole history of their troubled love affair, with the outstanding dancers including Barnes, Cucchiara, Harrell, Meltzer, Alana Jones, Morgan Williams, Meagan Cubides, Eddieomar Gonzalez, Mathis Joubert, Luis Vazquez and Samantha Weeks.
A Celebration of Lar Lubovitch at the Harris Theater for Music and Dance
Choreographer Lar Lubovitch was born in Chicago but has spent most of his life in New York, where, in 1968 he founded his own dance company for which he has created more than 120 works. His connection to Chicago was powerfully re-established when in 2007 he joined forces with Jay Franke and David Herro to create and curate the Chicago Dancing Festival, which, for 10 unforgettable summers, brought free performances by world-renowned dancers and companies that attracted many tens of thousands of people to Millennium Park and other venues.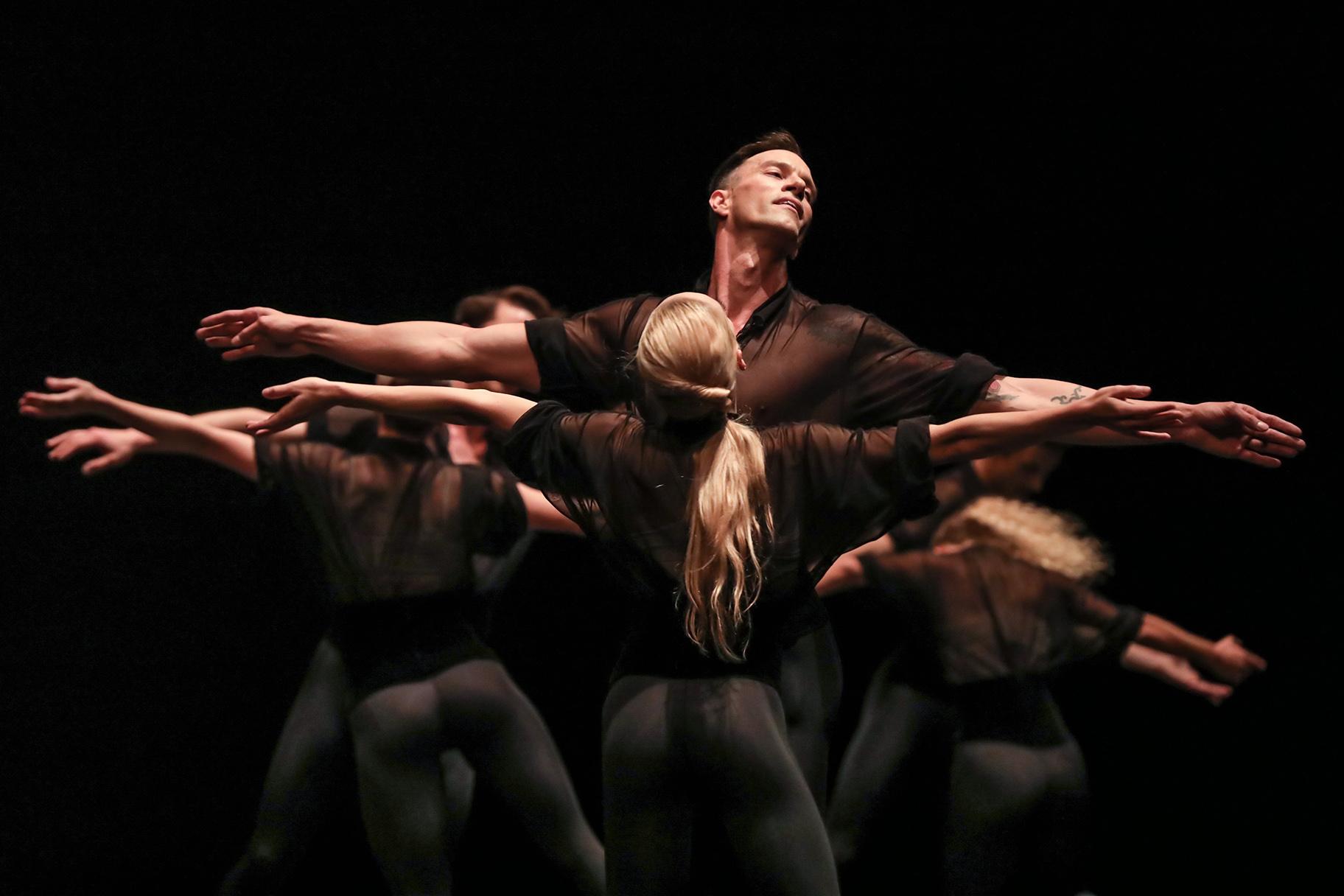 Martha Graham Dance Company in Lar Lubovitch's "Legend of Ten." (Photo by Kyle Flubacker)
To celebrate Lubovitch's lifelong passion for dance, members of four companies – the Joffrey Ballet, Hubbard Street Dance Chicago, the Martha Graham Dance Company and Ballet Austin – brought four of his works to the stage of the Harris Theater last weekend.
Lubovitch has always had great taste in music, and three of the pieces on the program demonstrated that, including his "Dvorak Serenade" (danced by Ballet Austin), "Little Rhapsodies" (set to Robert Schumann's "Symphonic Etudes," and expertly performed by Hubbard Street's Andrew Murdock and Craig Black, but above all, by the phenomenal dancer Jonathan Emanuel Allsberry, who also is Lubovitch's rehearsal director; and the exuberant "The Legend of Ten," to Brahms' "Quintet for Piano and Strings in F Minor."
Lubovitch is deft at combining classical and modern technique and often infuses his work with Russian-inflected folk dance patterns and steps. The problem is that he too often seems like a slave to the music, with a step to match every beat that can grow tedious. That might be one reason why his finest work is "Othello," a full-length ballet set to an original score by Elliot B. Goldenthal and memorably danced here in 2013 by the Joffrey Ballet.
Having the narrative and characters of Shakespeare's tragedy to focus his choreography Lubovitch is at his best, as demonstrated in the three scenes performed brilliantly by members of the Joffrey company. The dancers were Fabrice Carmels as the Moorish general consumed by jealousy; Victoria Jaiani as Desdemona, his falsely accused wife; Temur Suluashvili as Iago, the evil instigator of trouble; and Rory Hohenstein as Cassio, another victim of Othello's rage. Lubovitch even devised an inspired twist on Othello's mode of murdering Desdemona and it had the audience audibly gasping.
---
Coming up
Here is just a small sampling of the many dance events headed to Chicago stages in the coming months.
• The Joffrey Ballet in the Chicago premiere of British choreographer Cathy Marston's "Jane Eyre," a full-length work based on the Charlotte Bronte novel; Oct. 16-27 at the Auditorium Theatre.
• Giordano Dance Chicago in its Fall Series, featuring a world premiere by Peter Chu, along with Randy Duncan's "Can't Take This Away" (featuring the glorious vocal harmonies of the Bourne Family), Marinda Davis' "Flickers" and Alberto Arias' "Surrender"; Oct. 25-26 at the Harris Theater for Music and Dance.
• Natya Dance Theatre, the Chicago-based Indian classical dance company, in "INAI- The Connection," a collaboration between Hema Rajagopalan, Natya's director, and Astad Deboo, an Indiana modern dance pioneer; Oct. 7-9 at the Dance Center of Columbia College.
• Hubbard Street Dance Chicago in "Forge Forward," a program that will include world premiere works by Kyle Abraham and company member Rena Butler, plus the brilliant Crystal Pite's "Grace Engine"; Nov. 7-10 at the Harris Theater for Music and Dance.
• Bangarra Dance Theatre, an Aboriginal and Torres Strait Islander company from Australia that pairs ancient stories and song lines with contemporary movement, visual art and music; Nov. 22-23 at the Harris Theater for Music and Dance.
Follow Hedy Weiss on Twitter: @HedyWeissCritic
---
'A Man of Good Hope' Captures Immigrant's Plight with Stunning Artistry
'Oslo' An Enthralling Exploration of How Personal Diplomacy (Almost) Worked
In 'Every Brilliant Thing,' A List Becomes a Reminder of Why Life is Worth Living
---