Are you a cat person? A gamer, too? We've found your new favorite hangout.
The Catcade is a cat rescue shelter, cat café and arcade rolled into one. The nonprofit is located in Chicago's Lakeview neighborhood.
Co-founders and partners Chris Gutierrez and Shelly Casey came up with the idea for their business in late 2016.
"Whenever we'd go on vacation we'd go to cat cafés, cat sanctuaries, cat rescues," said Gutierrez. "We were at a cat café in Mexico and I just said, 'Hey, I really feel like we need to solidify this and move forward with it,' and eight months later we opened."
For $15, visitors can spend an hour in Catcade's cat lounge and mingle with felines, play free arcade games and watch movies while sipping soft drinks.
If you click with a cat, you can apply to adopt it. Or you can just hang out – no pressure.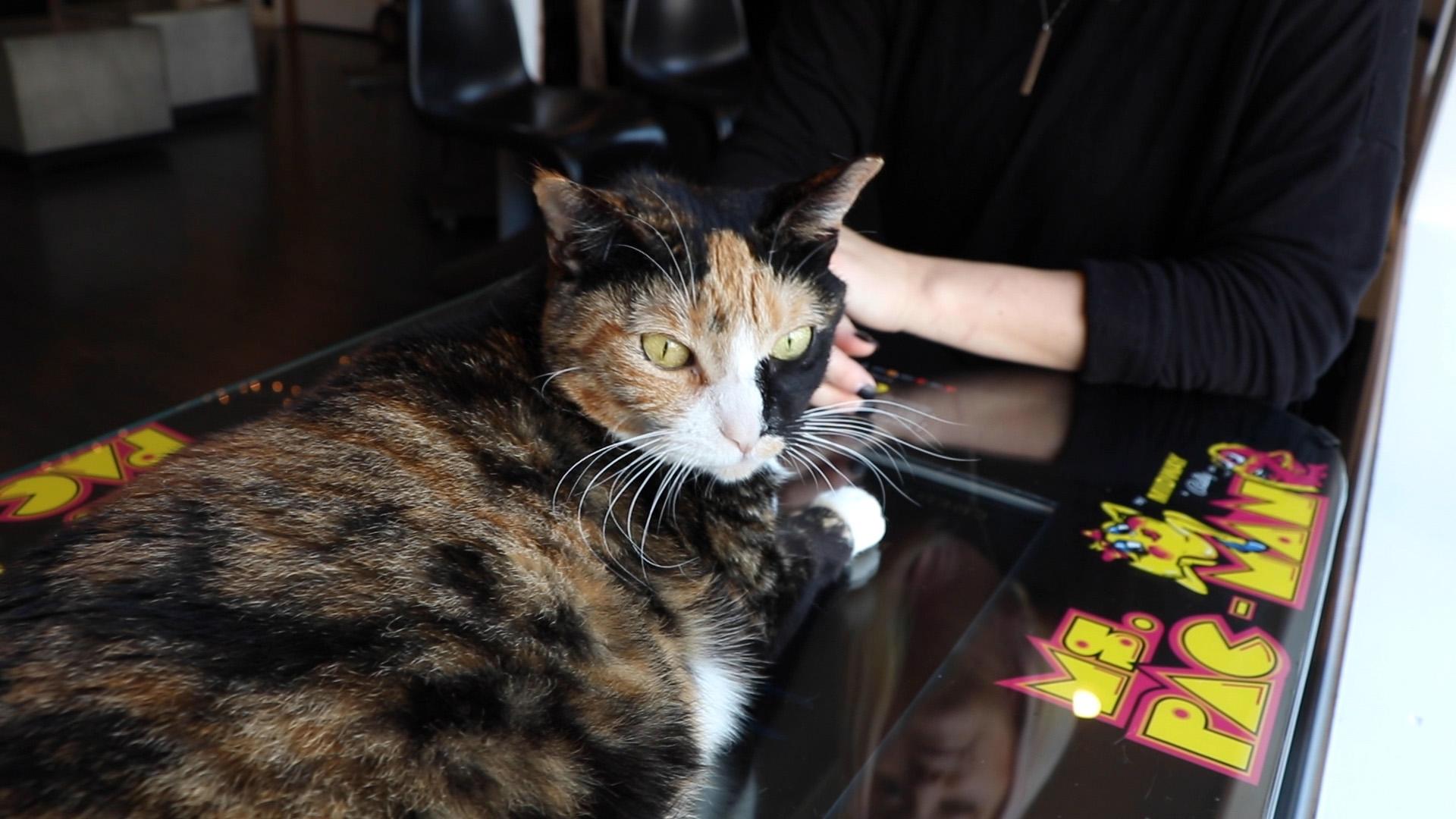 Spring, a cat rescued from the U.S. Virgin Islands, rests on a Ms. Pac Man game at Catcade. (Evan Garcia / WTTW News)
"There's not many places where you can just go and hang out with cats," said Casey. "With most shelters, you have to be interested in adopting to go in – so here you get to just come and hang out without that stipulation and the arcade games mixed with it makes it a really fun, interesting way to hang out with your friends."
Since Catcade opened in August 2017, Gutierrez said they've adopted out more than 800 cats rescued from numerous places, including the Chicago area, the U.S. Virgin Islands and southeastern Kentucky, where Gutierrez said there are high rates of euthanasia at animal shelters.
Follow Evan Garcia on Twitter: @EvanRGarcia
Note: This story was first published Oct. 8, 2019. It has been updated.
---
More from Evan Garcia: 
Growing Giant Pumpkins 'A Tough Hobby' for Illinois Enthusiasts
The Story of Mold-A-Rama, Chicago's Very Own Souvenir Machine
Bald Eagles, Owls and Other Birds Rehabilitated at Illinois Raptor Center
Meet the YouTube Botanist with a Thick Chicago Accent and Foul Mouth
---