Inside a barn about 60 miles southwest of Chicago, six giant pumpkins were hoisted by forklift onto an industrial scale and weighed, one by one, so their growers could claim cash prizes for the heaviest – and bragging rights.
The giant pumpkin weigh-off took place last month at Heap's Giant Pumpkin Farm in Minooka, Illinois. It was hosted by the Illinois Giant Pumpkin Grower's Association.
"I founded this with a bunch of local growers about 15 years ago. So in Illinois, there's probably maybe 10 to 15 serious, competitive growers," said George Janowiak, president of the IGPGA. "And that varies year to year. It's a tough hobby, so a lot of people will drop out after a couple of years if there's not success."
The giant pumpkins are from a pumpkin seed variety called the Atlantic Giant, which is cultivated by Nova Scotia farmer Howard Dill after 30 years of careful selection and crossbreeding.
Growers say giant pumpkins can take about 140 days to mature and put on 30 to 50 pounds a day during the peak summer growing season.
The current world record is held by Mathias Willemijns of Belgium. His 2,624-pound pumpkin was officially weighed at the 2016 Giant Pumpkin European Championship in Germany. 
Competitors hoping to tip the scales in their favor will spend top dollar on seeds descended from champion pumpkins like Willemijns'.
"They can be very expensive – I've seen seeds go for over $1,500 for one seed," said Joe Adkins, a competing pumpkin grower from Wheaton, Illinois. "They sell them at auctions and that's actually the way they create revenue, they generate money for their clubs, including prize money, to encourage people to come from out of state and weigh their pumpkin at your event."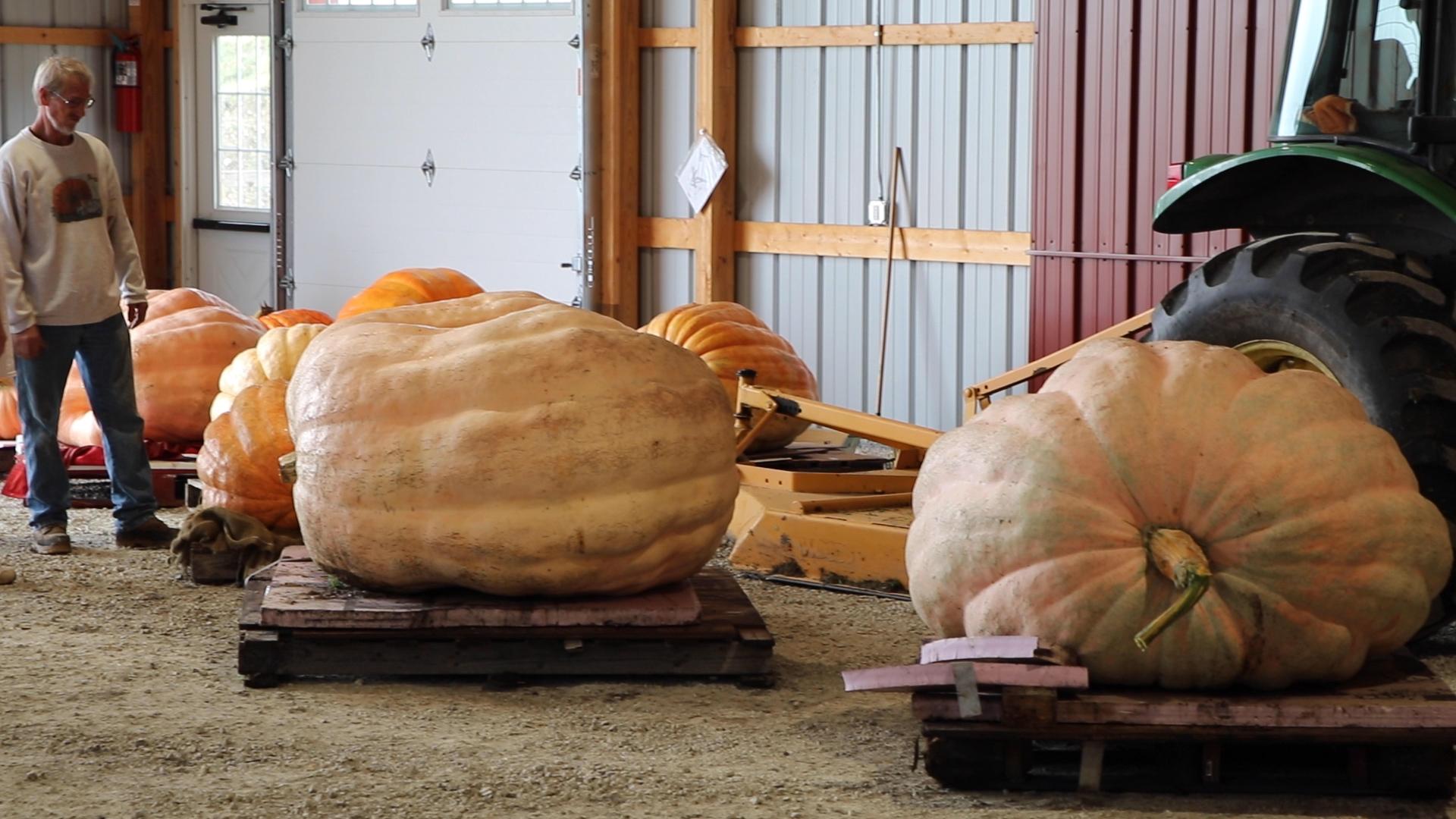 Giant pumpkins are lined up before they're weighed at Heap's Giant Pumpkin Farm in Minooka, Illinois. (Evan Garcia / WTTW News)
Adkins ended up winning the $500 top prize with a pumpkin weighing 1,258 pounds – 50 pounds heavier than the runner-up, belonging to Janowiak.
"I'm pretty happy about that weight; I was shooting for 1,300 but you can't get too greedy," Adkins said with a chuckle.
For the next year, Adkins will hold onto a championship belt inscribed with previous giant pumpkin-growing winners – it's his fourth year in a row with the belt.
When it comes to growing pumpkins in general, Illinois harvests more than any other U.S. state – by a lot. 
In 2017, Illinois harvested more than 15,000 acres of pumpkins – between three to five times more than the other top pumpkin-growing states, according to Department of Agriculture statistics. 
Follow Evan Garcia on Twitter: @EvanRGarcia
Note: This story was first published on Oct. 4, 2019. It has been updated.
---
Related stories:
Find Pumpkin Patches in Chicago and the Suburbs
The Story of Mold-A-Rama, Chicago's Very Own Souvenir Machine
After Nearly 100 Years, Chicago Stock Yard Kilty Band Marches On
Bald Eagles, Owls and Other Birds Rehabilitated at Illinois Raptor Center
---