Every year, the Illinois Raptor Center cares for hundreds of injured, sick or orphaned raptors on its 25-acre facility along the Sangamon River in Decatur, Illinois, about 180 miles southwest of Chicago.
Raptors, or birds of prey, include powerful predators like the golden eagle, which uses its speed and large, sharp talons to snatch up small- and medium-sized mammals like rabbits and ground squirrels. 
Birds brought to the Illinois Raptor Center's wildlife hospital undergo an extensive physical exam, which includes a blood test to check for lead poisoning.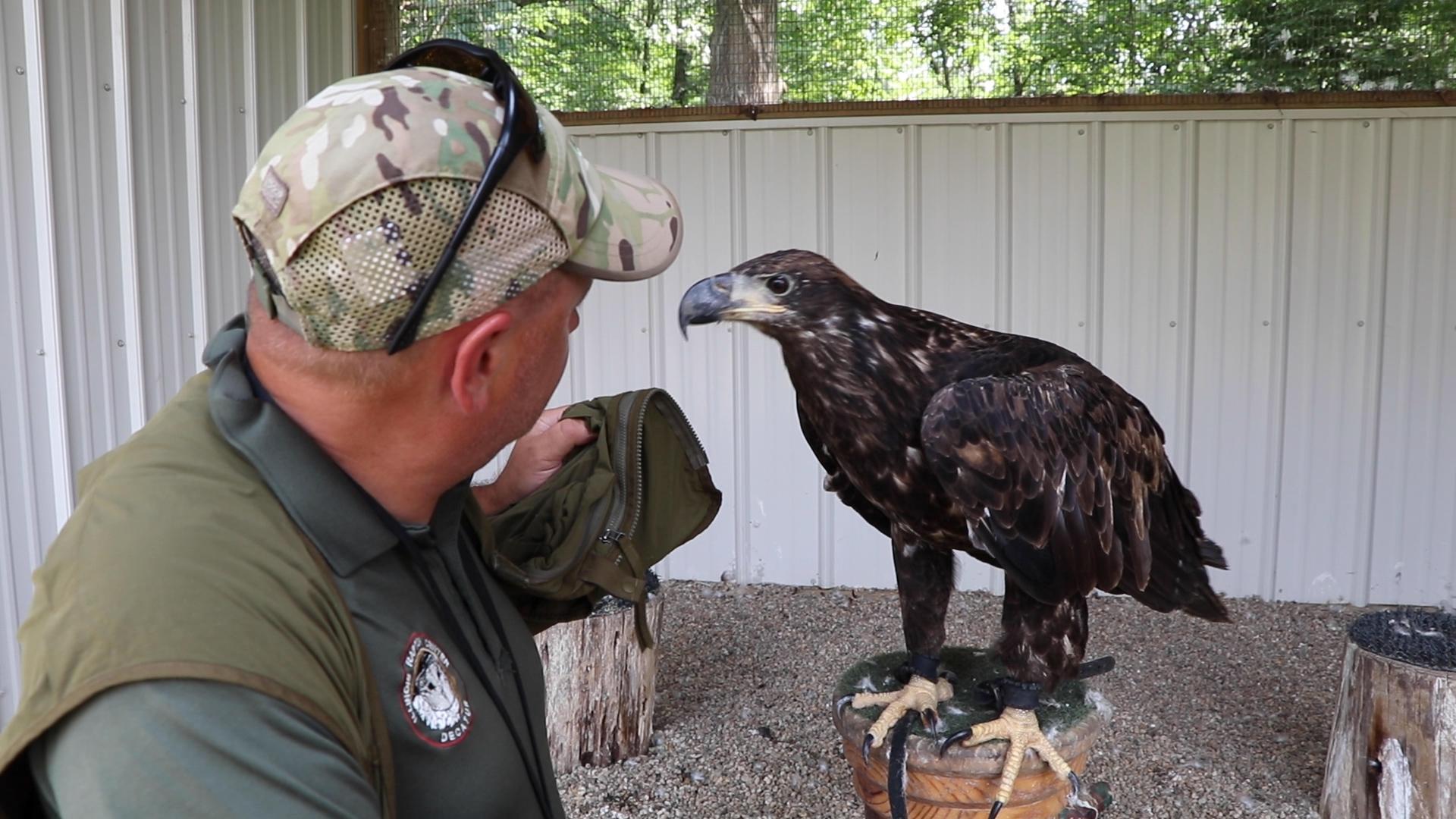 Illinois Raptor Center Program Director Jacques Nuzzo visits Laura, a two-year-old bald eagle that tested positive for West Nile Disease. Bald eagles don't get their white-feathered heads until they're about 5 years old. (Evan Garcia / WTTW News)
The center also keeps raptors on site for educational purposes, including Kenny the bald eagle, who's blind in one eye due to lead poisoning.
"Kenny is one of our old residents," said Jacques Nuzzo, program director at the Illinois Raptor Center. "He's been with us since he was a juvenile. We take him on a lot of our programs."
Nuzzo said many of these permanent resident raptors are either physically disabled in some way, like Kenny, or were raised in captivity, making their chances of surviving in the wild slim to none.
"He has no depth perception, but we also don't want to see him stressed in captivity," Nuzzo said. "So if we have a bird that's doing that, we won't keep him. But you have to train him. Kenny's been trained; he's literally one of our favorite birds."
U.S. law prohibits the public from keeping raptors as pets, but there are a few exceptions: With the appropriate state permits, those who practice falconry can keep raptors. Likewise, rehabilitative wildlife centers like the Illinois Raptor Center need special permission from the U.S. Fish and Wildlife Service and the Illinois Department of Natural Resources to keep permanent residents like Kenny; special permits are also needed to keep birds in its hospital for more than 180 days.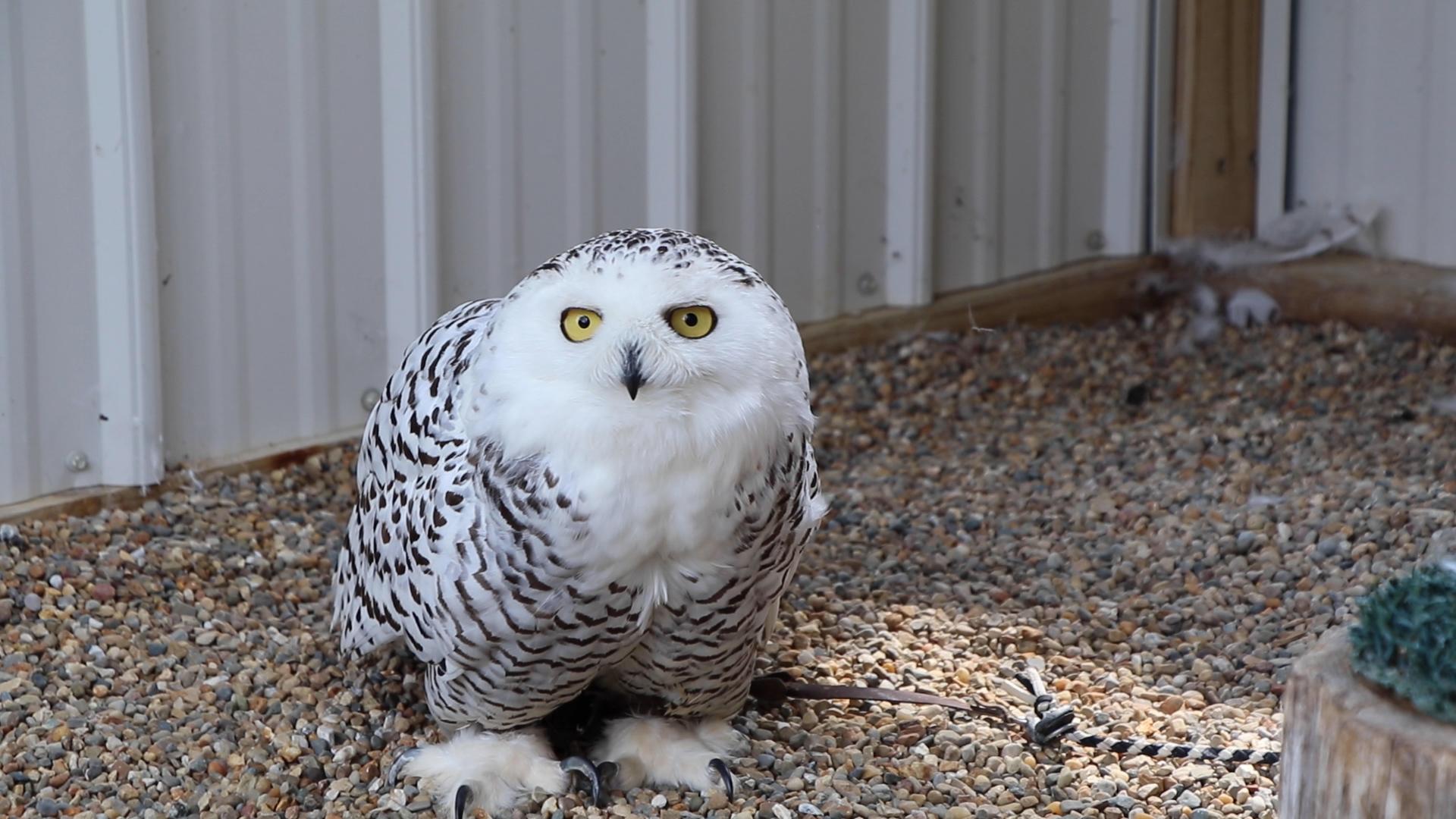 This snowy owl was bred in captivity in Canada and brought to the Illinois Raptor Center as a permanent resident. Unlike most owls, which are nocturnal, the snowy owl is active during the day. (Evan Garcia / WTTW News)
Among its 18 or so volunteers, Nuzzo is the center's only full-time, paid employee. He said the nonprofit, founded in 1991, relies on public donations and the occasional grant for funding.
"It's just kind of amazing how powerful some of these creatures are and some of the maneuverability that they do, and some of the tactics they use," Nuzzo said. "So I find them extremely calculated and I also find them as interesting risk-takers and they're beautiful to me."
Follow Evan Garcia on Twitter: @EvanRGarcia
---
Related stories:
Meet the YouTube Botanist with a Thick Chicago Accent and Foul Mouth
Mamby on the Beach Festival Canceled Amid Dispute Over Endangered Birds
Beekeeping Behind Bars: Inmates Raise Bees at Cook County Jail
---