If you've visited a museum or zoo in the Chicago area, chances are you've encountered a Mold-A-Rama machine. 
For $3, the space-age looking machine injects melted plastic into a mold created by two aluminum plates. A blast of air removes excess plastic, hollowing out the model. It's cooled and hardened before the plates part, revealing a unique plastic souvenir after less than one minute.
Poll: Which Chicago-area attraction has your favorite Mold-A-Rama machines?
A model's design depends on its location. At the Field Museum, five Mold-A-Rama machines mostly create different dinosaurs. At Brookfield Zoo, 13 machines sell different animals based on the exhibit in which they reside – the figurine of a blue dolphin leaping over a wave is apparently a best seller.
The last Mold-A-Rama machine was built in the 1960s, but one Chicago-area family is keeping the vintage technology alive.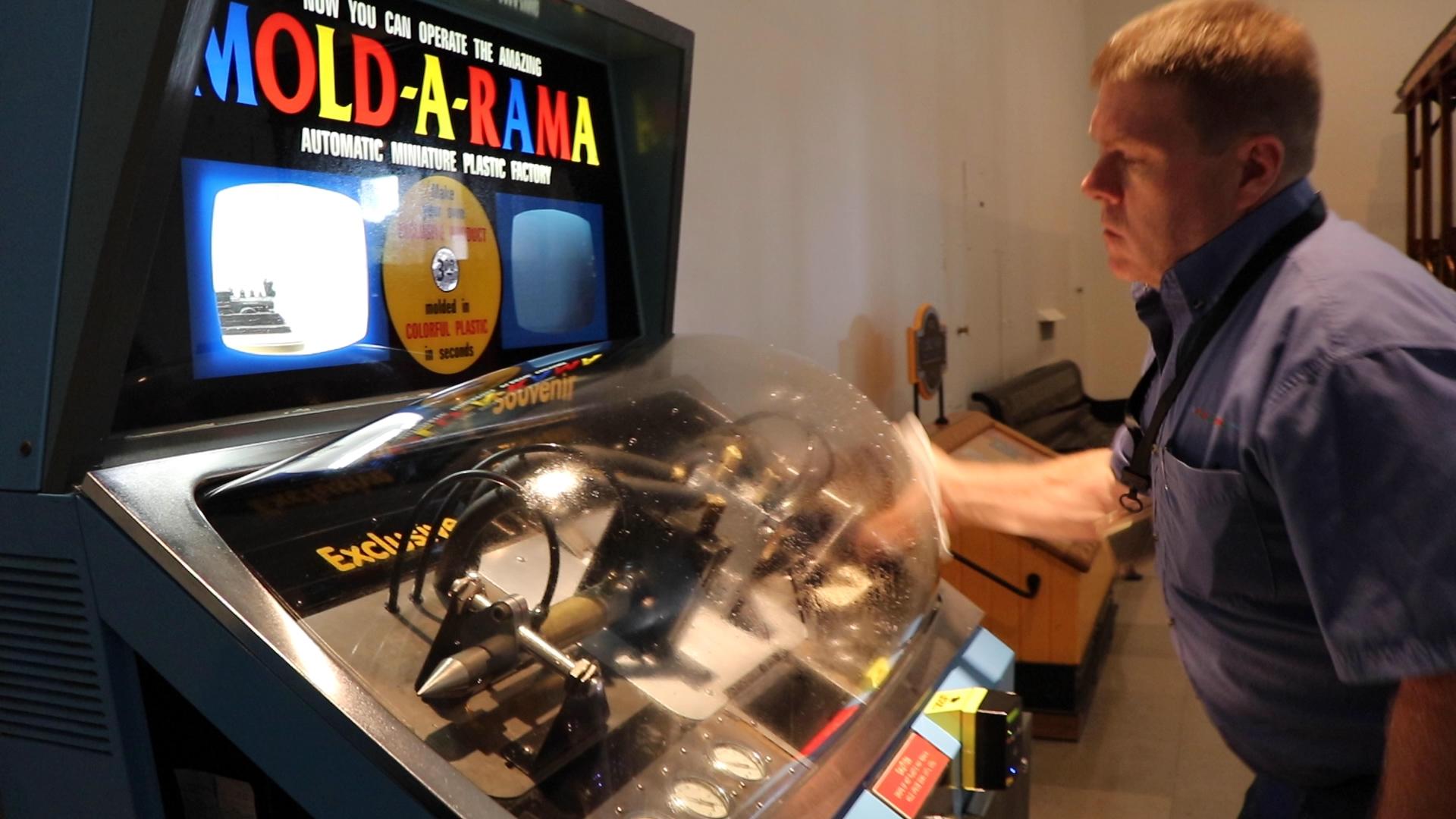 Paul Jones of Mold-A-Rama Inc. checks on a souvenir machine at the Museum of Science and Industry. (Evan Garcia / WTTW News)
As the president of Mold-A-Rama Inc., Paul Jones is following in the footsteps of his father Bill Jones, who started purchasing Mold-A-Rama machines in 1971. The Chicago-area company now operates 63 machines in five states.
"My dad's family thought he was a little crazy to give up a steady accounting office job for this," Paul Jones said, gesturing to a Mold-A-Rama inside the Museum of Science and Industry. "But the machines were six years old then, it was 1971 and he took a risk."
The Mold-A-Rama story starts in Quincy, Illinois, where inventor J.H. "Tike" Miller was developing the plastic injection molding process in the 1950s.
The J.H. Miller Company created several plastic figurines of things like dinosaurs and aliens before eventually declaring bankruptcy in 1959. 
However, Miller licensed his machine's technology to the Automatic Retailers of America, now known as Aramark, which produced hundreds of Mold-A-Rama machines in the 1960s.
The machines debuted at the 1962 Seattle World's Fair, gained even wider attention at the 1964 New York World's Fair and in 1966, were first installed at Brookfield Zoo, according to company records.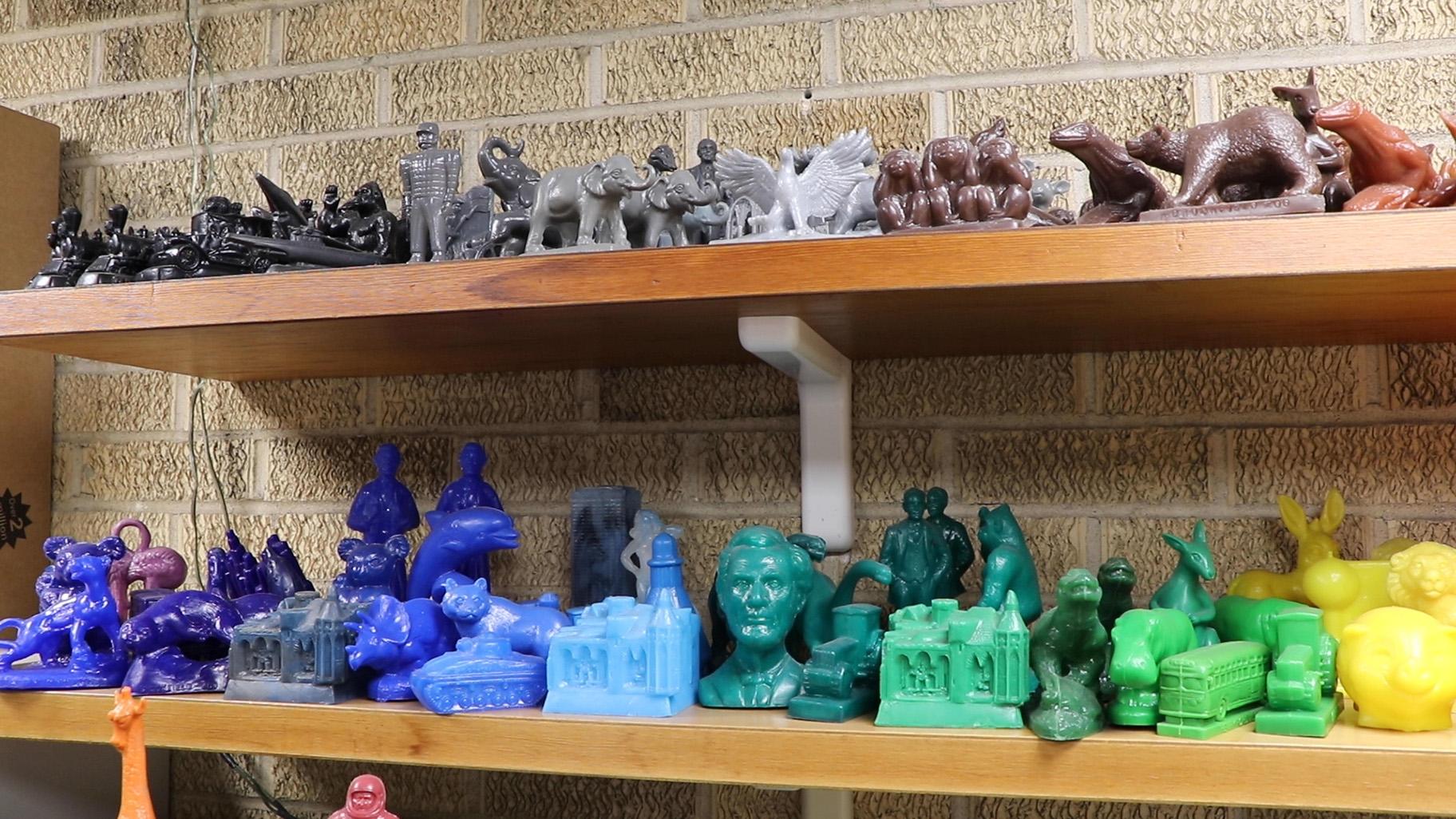 A collection of past and present plastic Mold-A-Rama models inside the mechanical shop of Mold-A-Rama Inc. in the west Chicago suburb of Lyons, Illinois. (Evan Garcia / WTTW News)
In 1971, Mold-A-Rama changed hands again when ARA sold its machines to independent operators like Bill Jones, who purchased a dozen of the machines that year: 10 in Brookfield Zoo and two in the Museum of Science and Industry. 
Along with several machines over the decades, Mold-A-Rama Inc. eventually acquired the Mold-A-Rama trademark. 
The 63 machines they operate are located in Illinois (26), Wisconsin (15), Michigan (10), Texas (8) and Minnesota (4). For a full list of locations and models, visit Mold-A-Rama's website.
Follow Evan Garcia on Twitter: @EvanRGarcia
---
Note: This story was originally published Sept. 26, 2019.
---
Related stories:
After Nearly 100 Years, Chicago Stock Yard Kilty Band Marches On
Remember Chicago's Last Waterfall? It Looks Much Different Now
Bald Eagles, Owls and Other Birds Rehabilitated at Illinois Raptor Center
Meet the YouTube Botanist with a Thick Chicago Accent and Foul Mouth
---