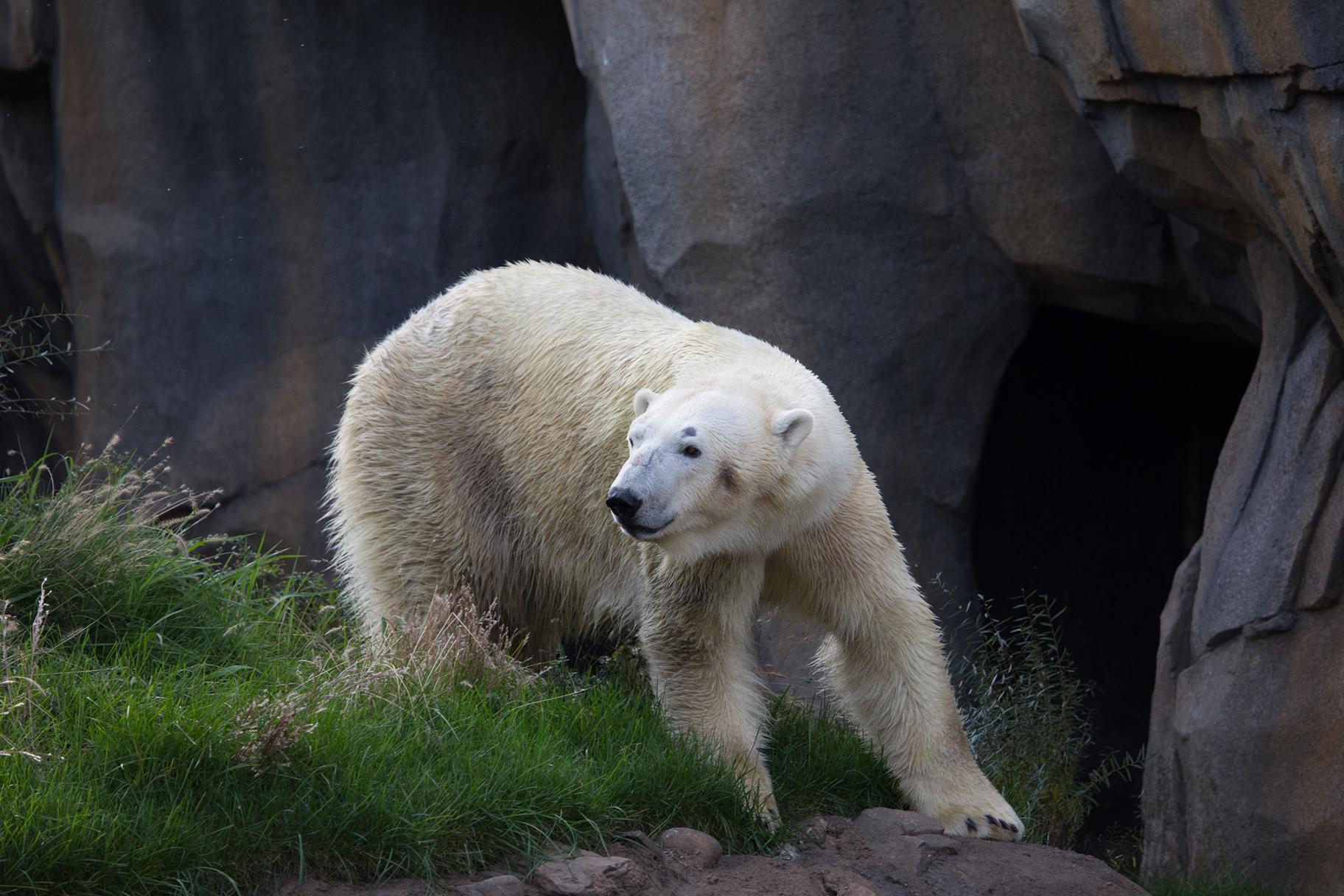 Siku, a male polar bear at Lincoln Park Zoo, pictured in 2016. (Julia Fuller / Lincoln Park Zoo)
A polar bear at Lincoln Park Zoo recently participated in a blood test that the zoo says was "voluntary," marking the first time one of the zoo's polar bears has done so.
Veterinary and animal care staff had been working with Siku, the zoo's 9-year-old male polar bear, for about a year to train him on behaviors that would help staff collect his blood.
After becoming comfortable with a certain space within his habitat, Siku had to learn to lie down, extend his paw through a small "paw door," get used to a staff member touching his paw and then allow a needle to be inserted into the paw while also keeping still.
During the training – which the zoo says relies on the same type of positive reinforcement it uses with all of its animals – Siku received treats for completing each of the required steps. 
"First he's rewarded for coming to that area, and then he's rewarded for lying down in that area, and any time he would lay his paw down for where he needed to be [for the blood test], he would be rewarded for that," said Michael Murray, the zoo's curator of mammals. "It's up to Siku. If he doesn't want to participate, that's completely OK."
In a video of the blood collection posted to the zoo's website, trainer Shannon Layne can be seen feeding Siku a series of treats on the end of a stick – raw fish like herring and capelin, along with carrots and some other produce – while veterinarian Kate Gustavsen draws blood from the bear's paw.
By allowing staff to collect his blood, Siku is helping the zoo monitor his health without having to sedate him, Murray said.
"Any time you incorporate anesthesia, obviously, it's a very large procedure," he said. "Although our veterinary staff have established a great process for that, just to get a blood draw, that would not be a reason [to sedate the polar bear]. This is something we can do in a few minutes, and it will give us a lot of info."
Zoo staff collected a few milliliters of blood from Siku, which they will use to track different indicators of the polar bear's health – similar to how doctors analyze blood collected from humans, Murray said.
The zoo says the milestone is another example of animals participating in their own health care. Talini, the zoo's female polar bear who was brought in from the Detroit Zoo as a potential mating partner for Siku, voluntarily participated in her own X-ray several months ago, according to the zoo.
The zoo's eastern black rhinos and seals have also participated voluntarily in blood collection.
With Siku, who came to Chicago from Kentucky's Louisville Zoo in 2016 to inhabit a new 11,483-square-foot habitat that cost more than $15 million, the zoo will now be able to contribute to broader research studies examining the behaviors of polar bears and their participation in efforts to track their health, Murray said.
Contact Alex Ruppenthal: @arupp | (773) 509-5623 | [email protected]
---
Related stories:
Photos: Lincoln Park Zoo Welcomes New Polar Bear Talini
Polar Bear Makes a Splash at Lincoln Park Zoo's Newest Exhibit
Buy Toys for Animals from Lincoln Park Zoo's Enrichment 'Wish List'