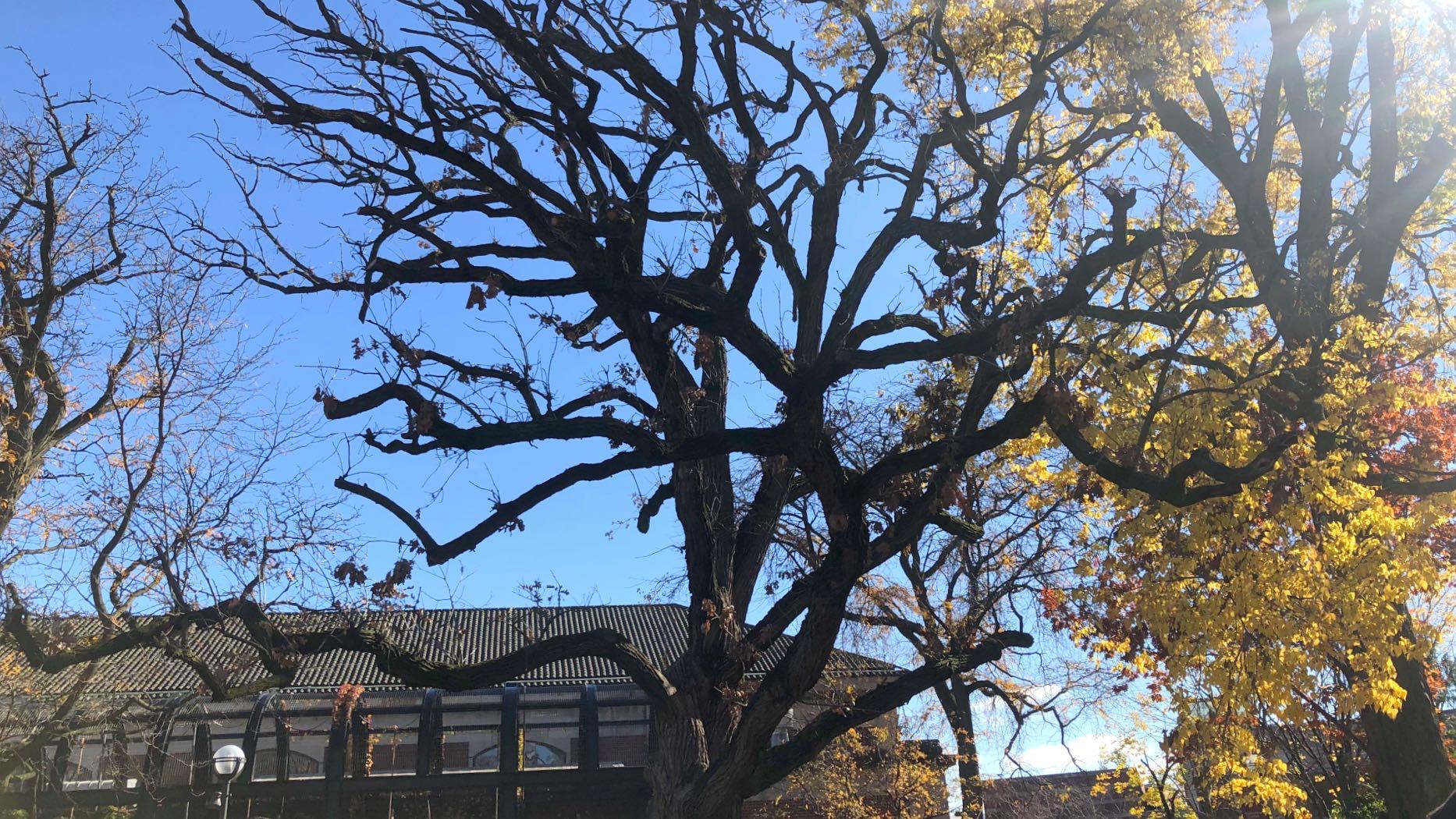 Lincoln Park Zoo's ancient bur oak, seen in fall 2022. (Patty Wetli / WTTW News)
After flying under the radar for most of its estimated 250-300 years, a towering bur oak in Lincoln Park Zoo has enjoyed a burst of celebrity in recent months. All thanks to an announcement its days were numbered, as the tree neared the end of its life.
Now the clock is really beginning to tick, with crews scheduled to begin removal of the tree on May 1. But not before the zoo throws the oak one last party.
During the zoo's Arbor Day celebration on April 28, visitors will be able to write thank-you notes to the tree and participate in other activities. The zoo's horticulture experts will be leading tours of the grounds — a certified arboretum — with points of interest to include the more than 40 other bur oaks on site. (The tours are free, but advance registration is required.)
People are also welcome to say goodbye to the tree on their own time, zoo officials said. Look for the oak on the zoo's south lawn, opposite the primate house.
The horticulture team is working with the Morton Arboretum to propagate the tree, whose lifespan predates not only the founding of the zoo, but the founding of the United States of America. 
If possible, pieces of the tree will be repurposed, be it as art or for use in animal exhibits, though there's a chance the oak is hollow.
"If you want to come see a beautiful structure, a majestic bur oak tree, please do it," Katrina Quint, director of horticulture, told WTTW News last fall. "Please come out to the zoo and see it."
Run, don't walk.
Here's what else caught our attention this week.
Climate
The World Meteorological Organization (WMO) released its annual State of the Climate report for 2022 on Friday. We're not going to lie — it's a downer.
Among the lowlights: Greenhouse gas emissions continued to rise — including the largest increase on record in methane emissions — and glaciers continued to melt at an unprecedented rate.
"Drought in East Africa, record-breaking rainfall in Pakistan and record-breaking heatwaves in China and Europe affected tens of millions, drove food insecurity, boosted mass migration, and cost billions of dollars in loss and damage," said WMO Secretary-General Petteri Taalas.
---
Birds
There's really no elegant segue from climate gloom and doom, so we're just going to do a hard shift and pivot 180 degrees to the feel-good story of the week. 
"Adorable" and "heart-warming" aren't normally adjectives we'd associate with bald eagles, but there's no other way to describe the behavior of Murphy, the 31-year-old male eagle who really, really wanted to be a dad.
Murphy lives at the World Bird Sanctuary in Missouri, and back in March he became a viral sensation when his keepers noticed Murphy was attempting to incubate ... a rock. Well guess what? RockBaby, as sanctuary staff dubbed the object, has now been replaced by a real eaglet.
No, an actual bird didn't miraculously hatch from Murphy's stone. An orphaned eaglet was brought to the sanctuary after its nest was blown down in a storm, and Murphy has taken over parenting duties. We're not crying, you're crying.
---
Mammals
Think you're tired? Try being a northern elephant seal.
Scientists have long wondered about the seal's sleep habits and recently developed the technology needed to measure the animal's behavior when it's out on the ocean for months at a time foraging nearly continuously for food.
Turns out the seals average just two hours of shut-eye a day — in total — snatched intermittently during 10- to 20-minute power naps taken while deep diving, researchers recently revealed. Unlike sharks and other marine creatures, which more or less sleep with one eye open, seals shut down completely during their short-lived siestas. 
The seals make up for the sleep deprivation when they hit land, snoozing for up to 11 hours a day.
---
Forests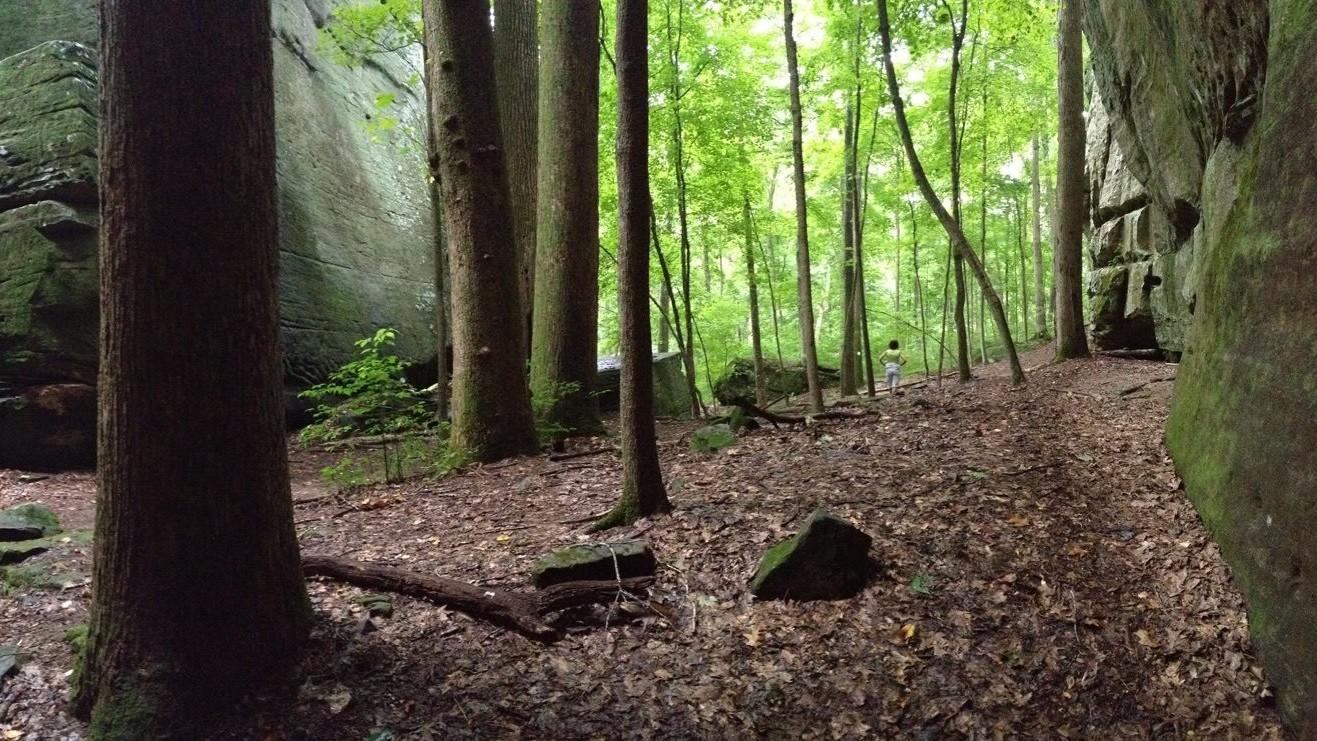 Shawnee Hills. (U.S. Forest Service Easter Region / Flickr Creative Commons)
The U.S. Forest Service has just released its first-ever inventory of old-growth forests on federal lands, as ordered by the Biden Administration in 2022. Which begs the question: What exactly are old-growth forests?
Essentially, they're forests with a mix of trees, including many older trees — not forests that have never been logged. And "older" trees is a relative term depending on the species involved, the Forest Service said. 
"Old-growth sequoias in California can be thousands of years old and upwards of 250 feet tall with a 30-foot or greater trunk diameter, while an old-growth stand of dwarf pitch pine in New Jersey may include trees that are hundreds of years old, roughly 14 feet tall and only several inches in diameter. These differences underscore the complexity of defining old-growth and mature forest," the Forest Service noted in its report.
Illinois is part of the Forest Service's "Eastern" region, where oaks are among the dominant old-growth species.
Now that the scope of the nation's old-growth and mature forests has been identified — some 110 million acres — the next steps include developing strategies to protect, sustain and restore these valuable stands.
With the ink barely dry on the report, the political tug-of-war has already begun, with logging interests butting up against conservationists.
---
Human-Nature
After an uncommonly wet and snowy winter, California is awash in colorful flowers — a so-called "superbloom" — as seeds that lay dormant during years of drought explode with life. The superbloom is so massive that it's visible from space.
Californians are heading out in droves to enjoy the show and snap a few selfies, but they're encountering long lines to enter parks. Officials even proactively closed one natural area outside of L.A. to protect the area from the kind of trampling that occurred during a previous superbloom in 2019.
---
Tweet of the Week
Remember last spring's midge swarms along the lakefront? They've already hit Lake Erie.
Midge invasion, Day 2.
No wind at all and they are so heavy, they are showing up on weather radar.
There are millions just in this area.
Quite the spectacle. @MurphTWN @StormhunterTWN pic.twitter.com/jW0hAsuGIg

— STORM WATCH- Lake Erie (@StormsOnErie) April 21, 2023
---
Contact Patty Wetli: @pattywetli | (773) 509-5623 |  [email protected]