Recent vandalism at LaBagh Woods. Fencing designed to protect native shrubs from deer was torn apart. (Chicago Ornithological Society / Twitter)
A mystery vandal is once again undoing ecological restoration work at LaBagh Woods.
The damage was first noticed in fall 2022 when volunteer stewards discovered fencing cages — placed to protect plantings of native shrubs — had been systematically destroyed at the North Side Cook County forest preserve. The vulnerable plants were then devoured by deer, setting back efforts to establish a shrub layer at LaBagh.
Shrubs are often considered the "missing link" in restoration projects, providing food and habitat for birds looking to split the difference between grassland and trees. Stewards at LaBagh have been ahead of the curve in terms of recognizing the need to provide birds with a native substitute for all the invasive buckthorn shrubbery that's being removed from parks and preserves.
The vandalism at LaBagh came to a halt over the winter but has since resumed, the Chicago Ornithological Society reported via social media. Once again, the perpetrator has targeted protective enclosures designed to give young shrubs a fighting chance against deer.
The vandal's actions jeopardize the delicate ecosystem volunteers have nurtured at LaBagh, where they've spent nearly $100,000 on thousands of native shrubs. In some instances, the damage is irreparable, the society said.
Anyone who sees suspicious activity in progress should call the Cook County Forest Preserve Police at 708-771-1001. People are reminded not to place themselves at risk of confrontation. 
Here's what else caught our attention this week.
Flooding
Communities along the Upper Mississippi River have been in "flood fight" mode for nearly a month as officials braced for near-historic crests, fed by rapid snowmelt in Minnesota and Wisconsin that was the equivalent of a storm dumping 4 to 5 inches of rain, according to meteorologists with the National Weather Service.
But a repeat of 2019's catastrophic flooding is unlikely for a number of reasons. The snowmelt hasn't been accompanied by rain; tributaries in states like Illinois aren't contributing to the surge; and towns are better prepared, having shored up defenses.
More and more cities are giving floodplain back to the river, said Colin Wellenkamp, executive director of the Mississippi River Cities and Towns Initiative. In some instances, FEMA has offered buyouts to move people out of the river's path.
Though the floodwaters are expected to recede sooner than in 2019, there could still be a ripple effect in the supply chain. Close to 20 locks have been closed along the upper Mississippi, leaving barges treading water. It's difficult to predict when the locks will be able to reopen — each lock has its own parameters — and even when they come back online, others further downstream could close, officials said.
---
Museums
The Gilder Center, a new wing of the American Museum of Natural History in New York City, is set to open May 4. 
Designed by Chicago-based Studio Gang — the firm founded by Jeanne Gang — the building is drawing rave reviews for its interior "canyon" and exhibit spaces that give visitors a clear look at specimen collections and active research projects.
$465 million Richard Gilder Center for Science, which looks stunning pic.twitter.com/cGlfHDBts4

— garçon (@boymolish) April 26, 2023
Another unique feature: The windows were designed with bird-friendly glass to keep the city's avian residents from crashing into the building. 
Gang is one of the most high-profile architects pushing for bird-friendly design, having incorporated it into her buildings, including Chicago's Aqua Tower. She has also lent her support to Chicago's bird-friendly ordinance.
---
Space Exploration
What is it with rocks?
Last week we brought you the story of Murphy, the bald eagle who was incubating an egg-shaped rock. This week, the big news out of NASA is that its Mars rover Perseverance lost its "pet rock," a stone that lodged in one of the vehicle's wheels more than a year ago.
Other pebbles came and went, but this one lone rock stubbornly clung to the rover through thick, thin and several jarring maneuvers that would have shaken lesser stones. Now that's perseverance.
Farewell "Rock Friend"
We found out in latest Hazcam we have lost our pet rock in the front left wheel of @NASAPersevere
It spent 427 Sols with us (more than an Earth year!), and traveled about 10 km since Sol 341
Farewell Rock Friend, you will be missed! pic.twitter.com/C0WywiwicP

— Dr. Gwénaël Caravaca (@GCC_Mars) April 20, 2023
---
Carbon Capture
Illinois is fast becoming a battleground state when it comes to carbon capture, specifically proposals to run carbon-carrying pipelines underground and then inject the carbon dioxide into Illinois sandstone.
Activists and state legislators, including state Rep. Ann Williams of Chicago, are planning to sound the alarm next week and rally support for legislation crafted to fill regulatory gaps in the carbon capture and storage processes.
---
A Tree-mendous Sendoff
Lincoln Park Zoo is preparing to say goodbye to its oldest resident, an ancient bur oak that's reached the end of its life.
People came to pay their last respects on Friday — Arbor Day, fittingly — before the tree's date with a chainsaw on Monday. Beck Damron was among those who penned a final love letter to the tree: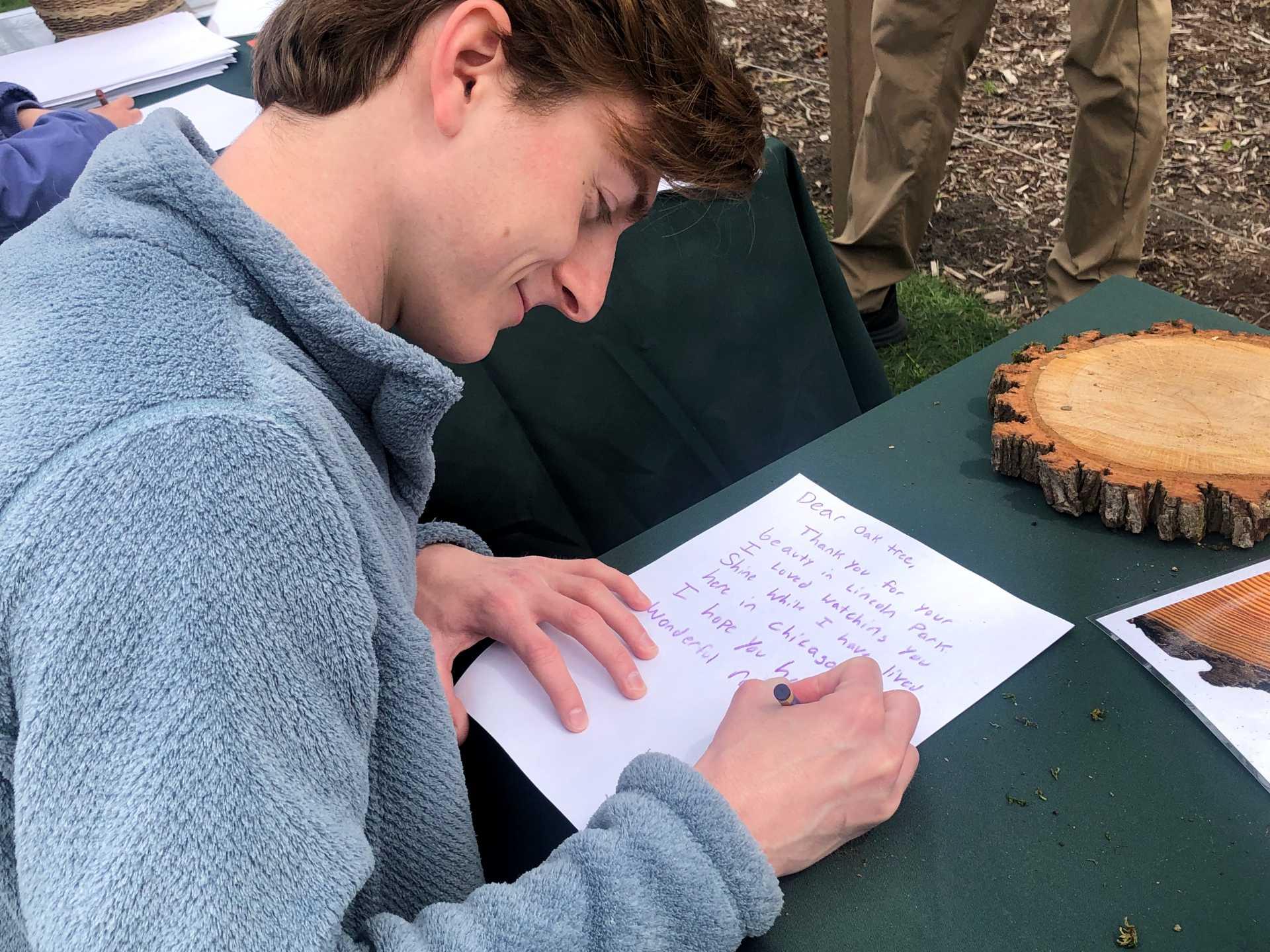 (Patty Wetli / WTTW News)
Look for more of WTTW News' coverage of the tree's final moments next week online and on "Chicago Tonight."
Tweet of the Week
It was never not going to be the piping plovers.
New reality dating show just dropped https://t.co/7goVB0Jd3U

— British Manfriend (@whatthefidd) April 27, 2023
---
Contact Patty Wetli: @pattywetli | (773) 509-5623 |  [email protected]