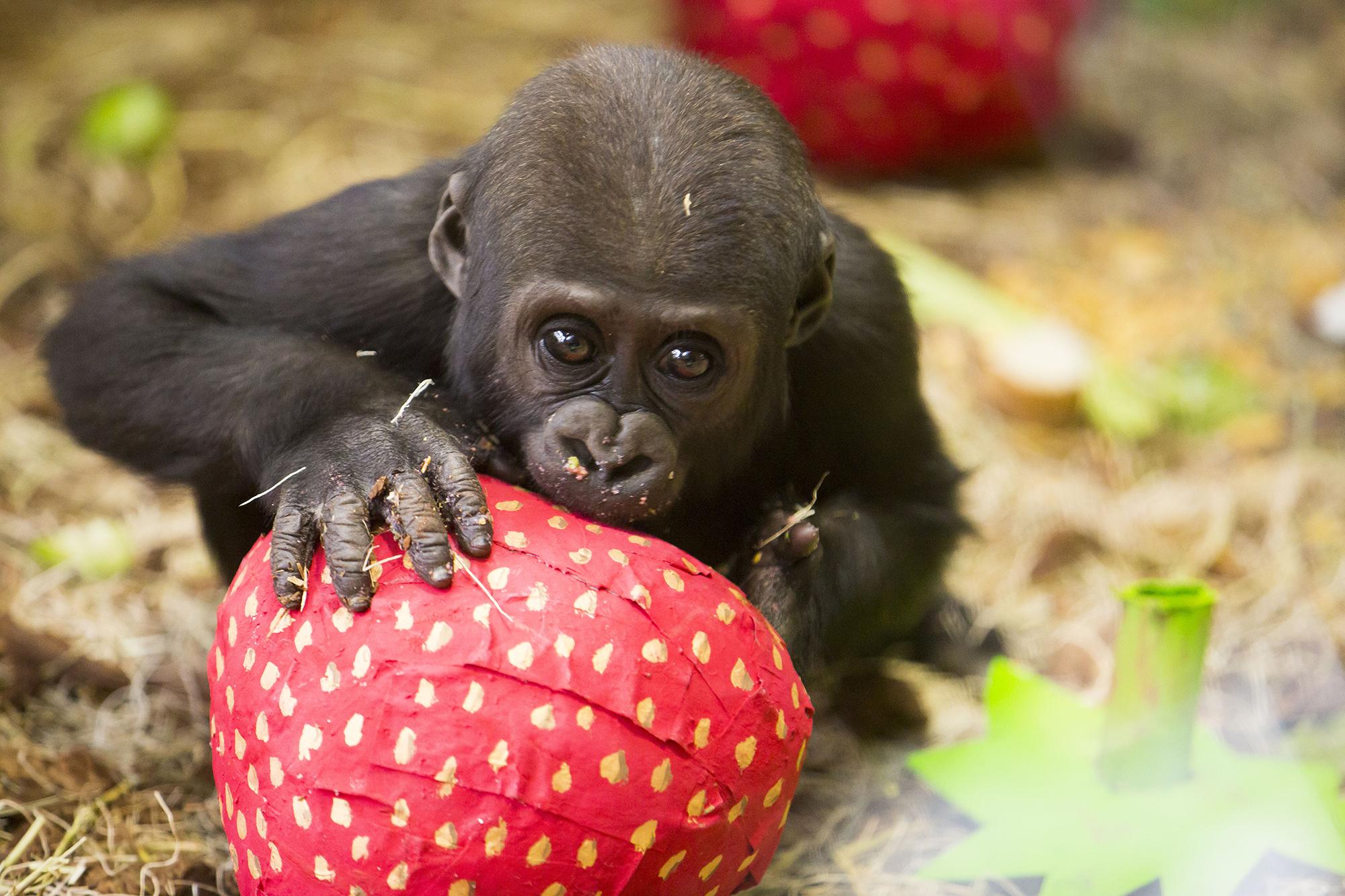 (Todd Rosenberg / Lincoln Park Zoo)
Siku the polar bear wants a floating stone. Bella the baby gorilla wants carrots. Red panda parents Phoenix and Leafa want a tightrope for themselves and their two panda kids.
The holiday season has passed, but animals at Lincoln Park Zoo are still hoping for gifts from their wish list.
Several years ago, the zoo began publicizing a full "Wish List" of enrichment items that visitors and fans can purchase for animals.
"Basically, it's anything we can give our animals to encourage natural behavior and stimulate them mentally," said Allison Kao, the zoo's manager of enrichment and behavioral husbandry, the practice of observing animals' behavior to improve care based on their needs.
The zoo gets some items from companies that specialize in animal enrichment materials, Kao said, and they're usually expensive.
Other items are built by staff and animal enrichment volunteers, who use PVC pipe, papier-mache, fire hose and other materials to make puzzle feeders and squeaky toys, among other things.
"It's not just the money; it's also the time to put all that stuff together," Kao said.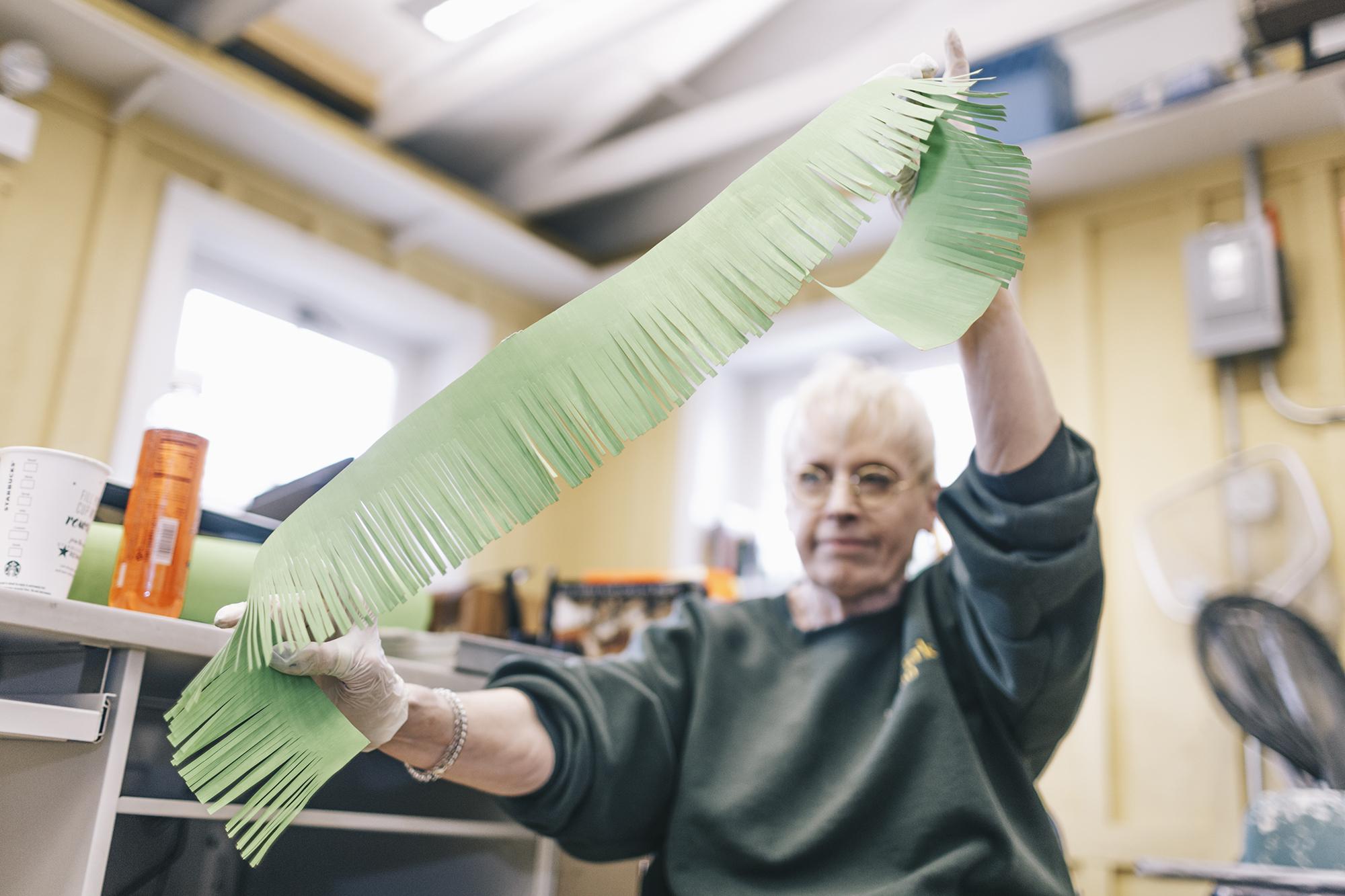 (Lenny Gilmore / Lincoln Park Zoo)
Currently, 12 enrichment toys are available for purchase on the zoo's website. Gifts range in price from $5 for a "fox lunch" (a blend of fruit, including tomatoes) to $13 for the polar bear's oblong floating stone.
The site also lists how many of each item is needed. For example, there is high demand now for "Looky-Loo" plastic mirror devices (52 needed) for Akira, Ono and the zoo's other snow monkeys, highly intelligent animals that teach scientists about primate cognition and social behavior.
Kao said many enrichment toys are designed to challenge animals to find their food, like they would in the wild. 
"For a carnivore, their playing behavior is based on their hunting instinct," she said. "It's called contrafreeloading. It's been proven that humans and animals enjoy working for their food rather than just getting free food."
Some items on the wish list are ones staff have designed but still need to build. Kao said she's constantly searching for stores or companies willing to donate PVC pipe, rain barrels and burlap.
"A big setback is [not] having the materials to make them up with," Kao said about her effort to update the zoo's enrichment items. "I think we're still hoping to make people more aware of [the wish list]. We do get a good response, but we're trying to increase the amount of [donations]."
Volunteers who help build enrichment toys for the zoo also learn about behavioral research and how it applies to animal enrichment.
Since starting in her job two years ago, Kao has been working to adjust the zoo's enrichment strategy to focus more on goals as a way of encouraging natural behavior.
"We try to be a little bit more natural in our enrichment," she said. "In the past, we were enriching because we know we need to enrich our animals. But there weren't specific goals."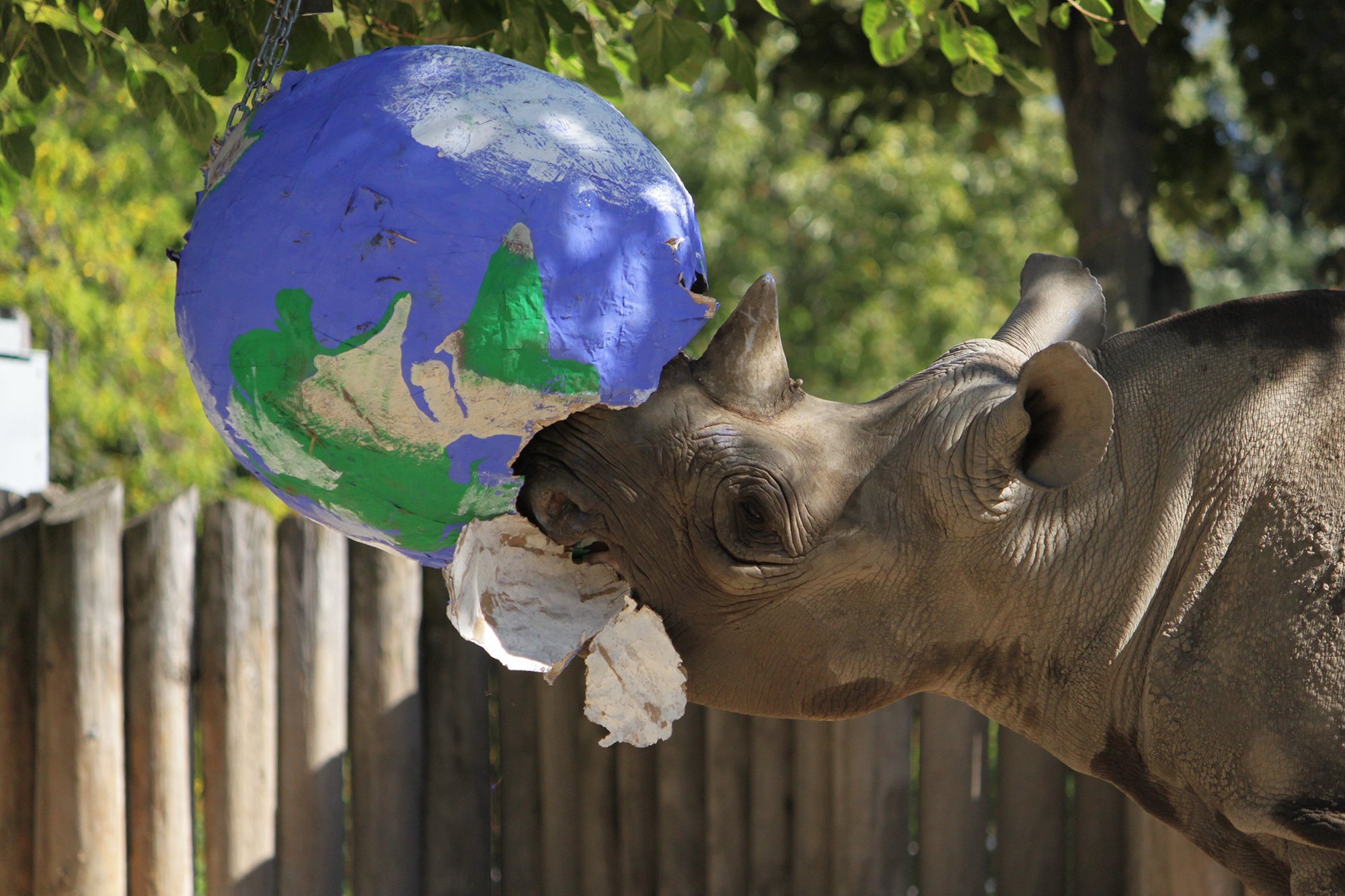 (Lincoln Park Zoo)
Toys are one part of the zoo's efforts to promote behaviors that animals would exhibit in the wild. That's why you can purchase a food ball with holes to help the zoo's clever African penguins "hone their problem-solving skills," or a mushroom-shaped toy for the zoo's meerkats, who will knock it around until a treat falls out.
"A lot of the animals do just like to play," Kao said.
Follow Alex Ruppenthal on Twitter: @arupp
---
Related stories: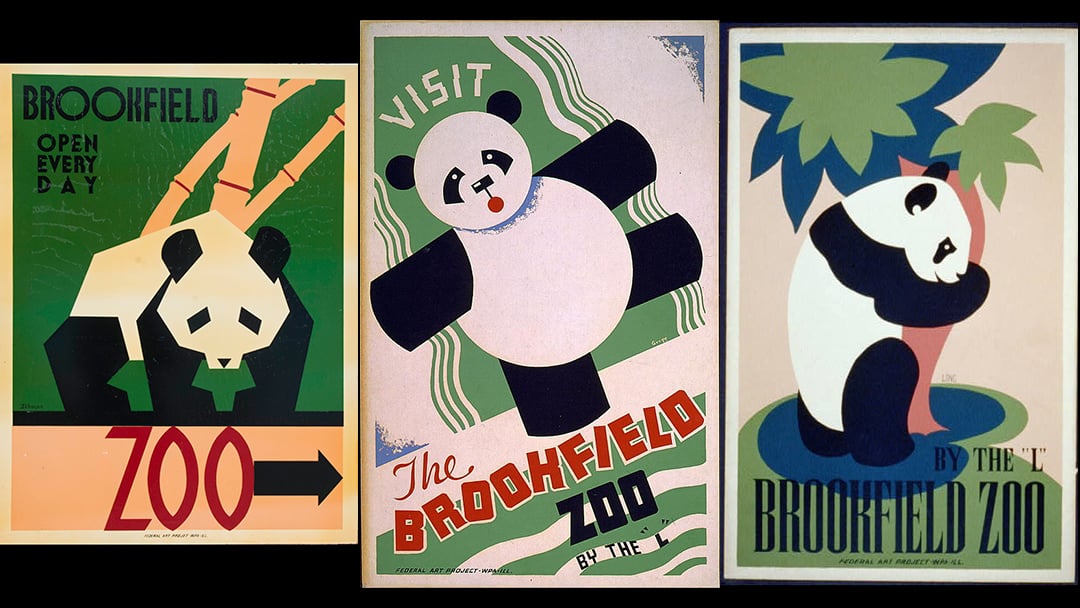 Ask Geoffrey: Was There a Panda at Lincoln Park Zoo?
Jan. 25: Geoffrey Baer solves the mystery of a viewer's "vague memory" from the 1940s, revisits an exhibit at the Century of Progress and opens the door to the Evanston History Center.
---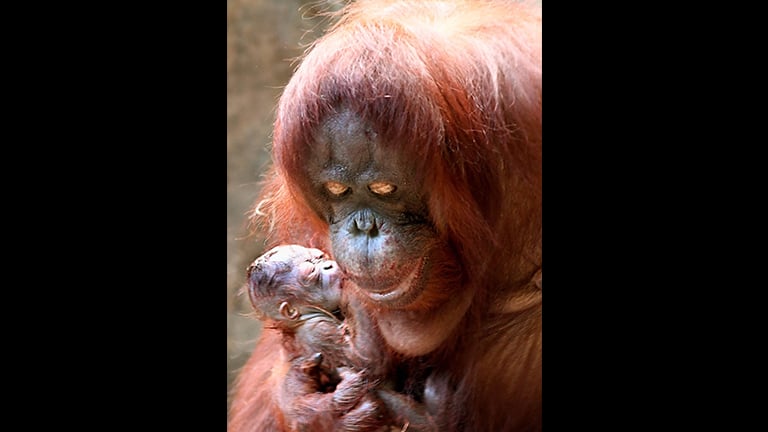 Critically Endangered Ape Born at Brookfield Zoo
Dec. 28: The newborn female Bornean orangutan joins five other orangutans living at the Brookfield Zoo.
---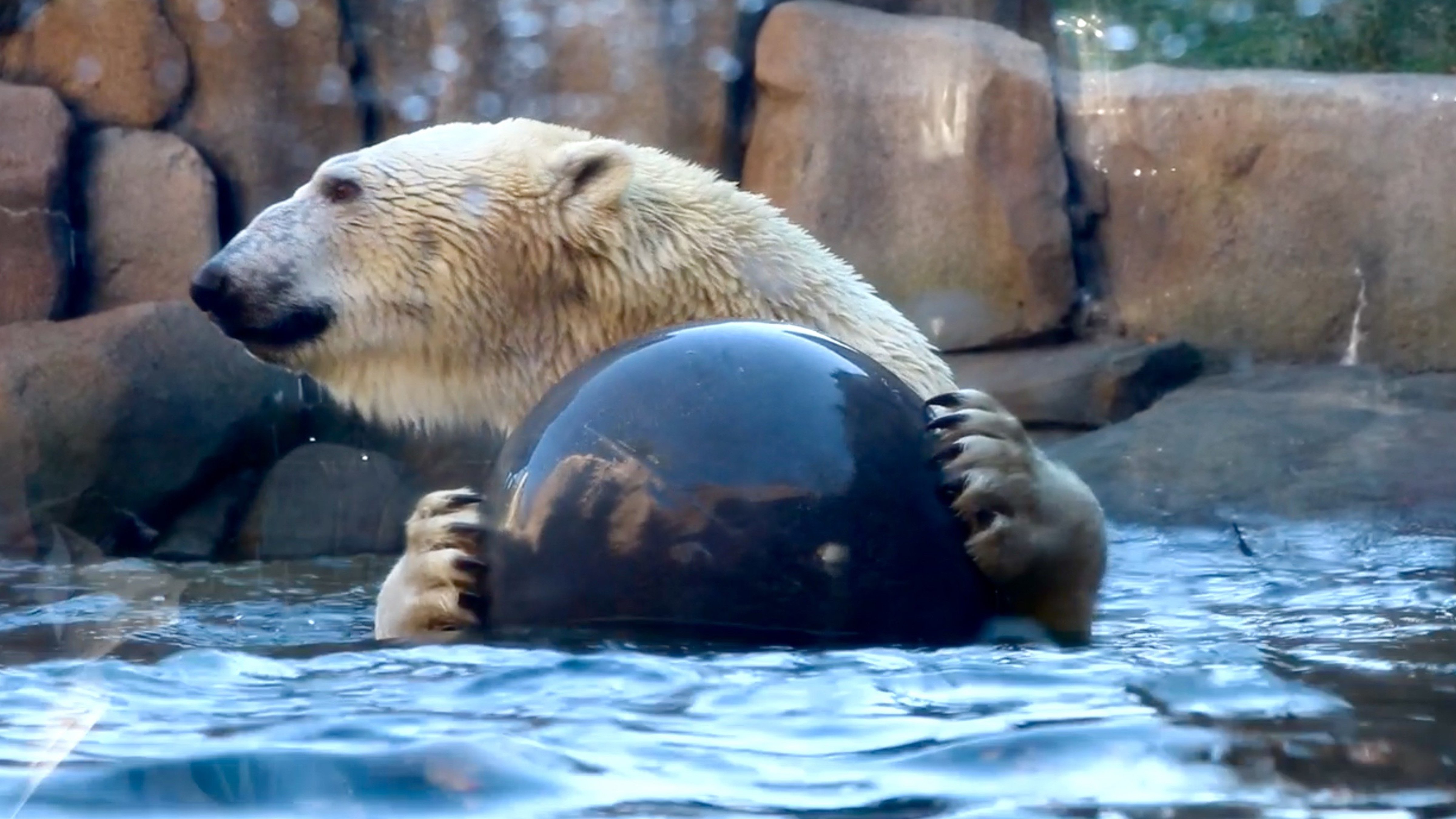 Polar Bear Makes a Splash at Lincoln Park Zoo's Newest Exhibit
Nov. 10: The newest resident of the Lincoln Park Zoo weighs 1,000 pounds and stands 9 feet tall. Meet Siku, a 6-year-old polar bear.
---