It took less than three hours on Tuesday to bring down a tree that's stood guard over Lincoln Park Zoo since before there even was a zoo.
As the sound of a chainsaw echoed across the grounds, staff and visitors watched crews dismantle the stately bur oak, believed to be 250 to 300 years old and now almost entirely dead.
"It's very bittersweet because we obviously don't want the tree to go," said Katrina Quint, director of horticulture at the zoo. "We're here to cultivate and to make these beautiful gardens, and to have to see something reach its natural end of life has been difficult." 
While the bur oak spent the majority of its years living in anonymity, in recent months it gained a kind of celebrity status, matched only by the zoo's baby lions.
Read More: Lincoln Park Zoo's Oldest Resident Has Been Hiding in Plain Sight for About 300 Years. Its Days Are Now Numbered.
Quint said there was a surge in people flocking to pay their respects following the zoo's announcement last fall of the tree's age, state of decline and imminent removal.
"It was kind of a joke with the team, 'What's the most common question you're getting?' and it's people are asking, 'Where's the oak tree?'" she said.
On Arbor Day, just days before the oak's pending date with the chainsaw, the zoo threw a farewell party of sorts, encouraging people to swing by and write thank-you notes to the tree or just spend a moment saying goodbye.
"I think that, if nothing else, hopefully this has spurred some curiosity in people to really look around, see what we have here, see the lakefront, see the beautiful trees we have — there's some beautiful massive trees along our lakefront, not even 100 yards from where we're standing — I think that's where it starts," Quint said.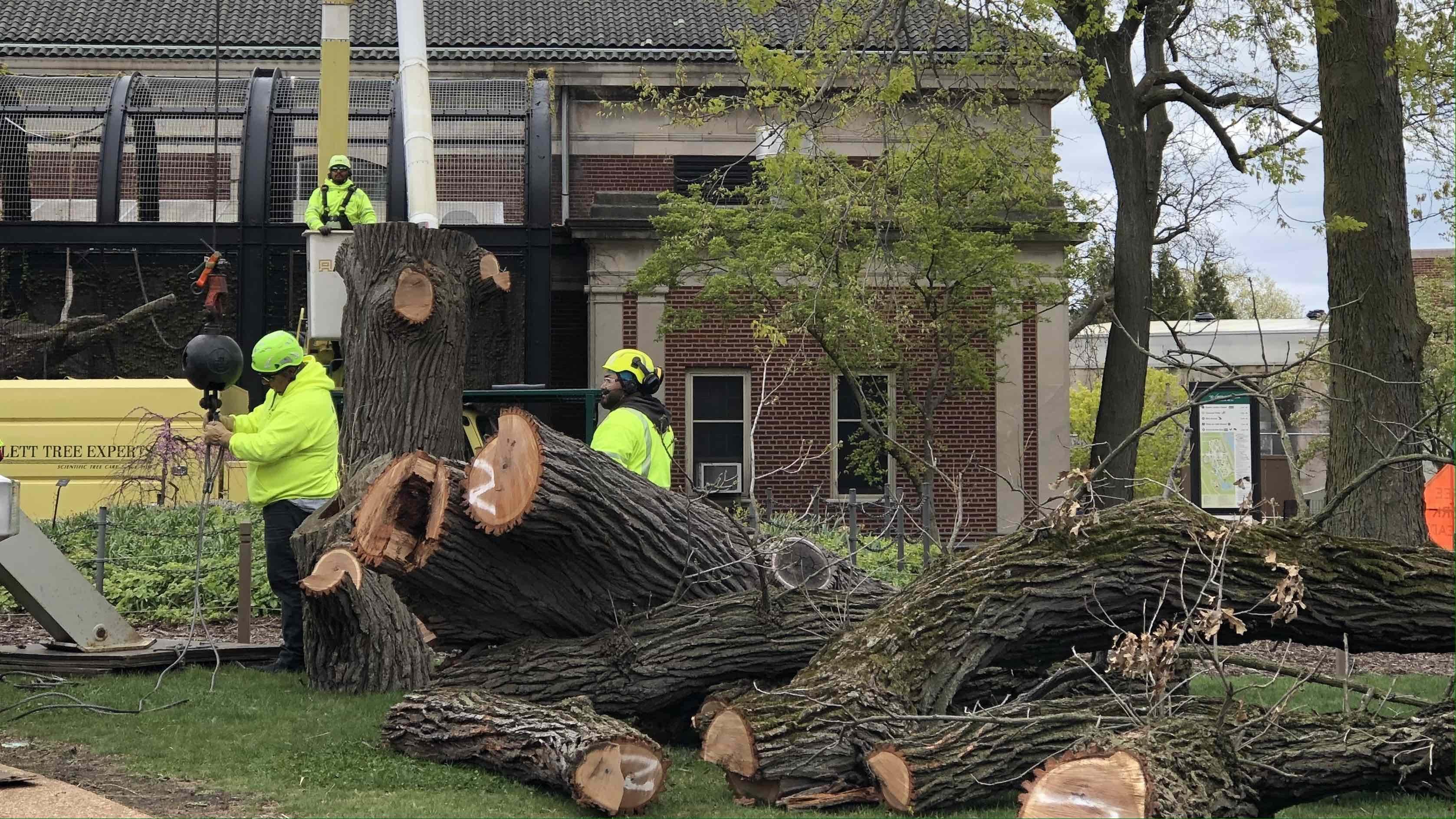 A bur oak, estimated at 250-300 years old, is dismantled at Lincoln Park Zoo, May 2, 2023. (Patty Wetli / WTTW News)
Though the oak has now been reduced to a stump, staff has made plans to ensure the tree enjoys a second life.
Morton Arboretum is propagating small cuttings "to hopefully have the next generation of this bur oak," said Maureen Leahy, vice president of animal care and horticulture at the zoo.
And the wood — including the tree's 7,400-pound base — will all be repurposed.
"We're going to make artwork with it and we're working with some of our partners in the community to make art pieces. We're also going to use a portion of it for interpretation, so relating it back to the history of the city, and other natural history and the history of Lincoln Park Zoo, which will be really fun," said Quint. "We're also thinking to use some it for children's play structures. Literally no piece of this tree will go into a wood chipper. It's all going to be reused."
In an exciting development, the tree's core, which Quint had feared would be hollow, proved to be solid. This means arborists will be able to count the tree's rings and determine a definitive age.
More importantly, the intact core will also contribute to scientists' understanding of long-lived trees in general, and more specifically the effects of climate change.
A team from the Illinois Archeological Survey will be tackling this aspect of the research, Leahy said.
"I'm hopeful this tree can tell us stories of how the climate, how the surroundings, have impacted its life the last 250 to 300 years," she said.
For Quint, the silver lining to be found in the loss of the bur oak is the emotional connection the tree made with people, a connection often found between people and animals at the zoo but not so much the grounds.   
It's harder, she acknowledged, to feel an attachment to "something you can't see physically breathe." But the bur oak brought the zoo's flora to life for people.
"It's just this whole awareness that you now get from one single tree," she said. "Now maybe your eyes are opened to something bigger than just one tree.
Contact Patty Wetli: @pattywetli | (773) 509-5623 |  [email protected]
---