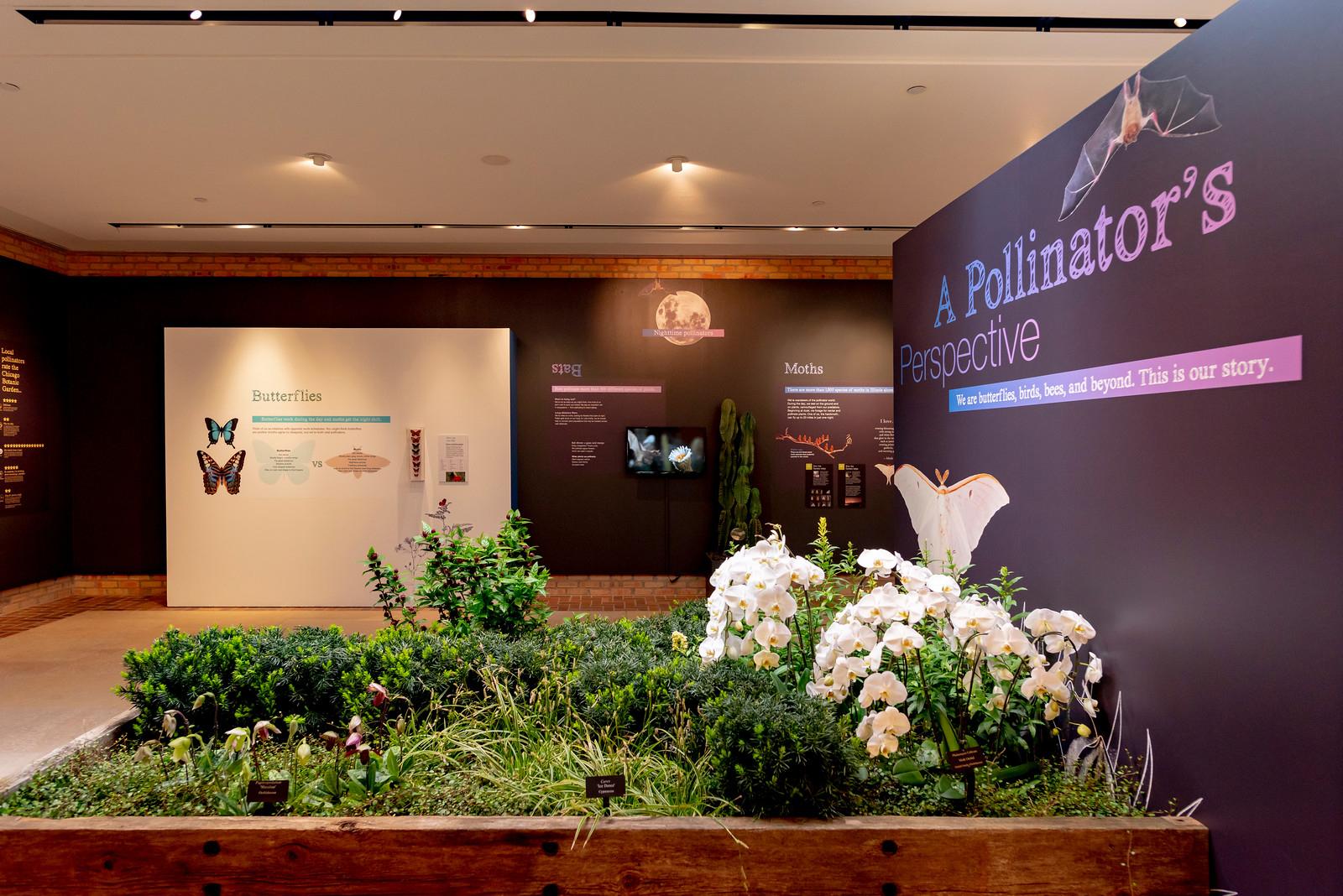 Chicago Botanic Garden's new exhibit, "Bees & Beyond," highlights the role of pollinators in sustaining a diverse ecosystem. (Courtesy Chicago Botanic Garden)
Let's hear it for the pollinators.
That's the spirit behind the Chicago Botanic Garden's newest exhibit, "Bees & Beyond," which examines the insects, birds, bats and other small mammals that allow flowering plants to reproduce by transporting pollen from one plant to another.
Told from the perspective of a pollinator, the exhibit uses illustrations, videos and short, digestible texts to explain how pollination works, trace its evolutionary history – scientists think the process started with a magnolia-beetle interaction nearly 100 million years ago – and demonstrate how pollinators impact humans' daily lives.
Although their work is invisible to most of us, humans rely on pollinators – a lot. Pollinating animals account for an estimated one out of every three bites of food that we eat. In financial terms, pollinators contribute $217 billion to the global economy, and honeybees alone generate up to $5.4 billion in agricultural productivity in the U.S.
By serving as couriers of the genetic material that most flowering plants need to reproduce, pollinating animals also help sustain diverse ecosystems that are needed to keep the air clean, stabilize soils, protect against severe weather and support other wildlife.
"Pollinators are like all the rage these days," said Krissa Skogen, a conservation scientist who helped create the new exhibit.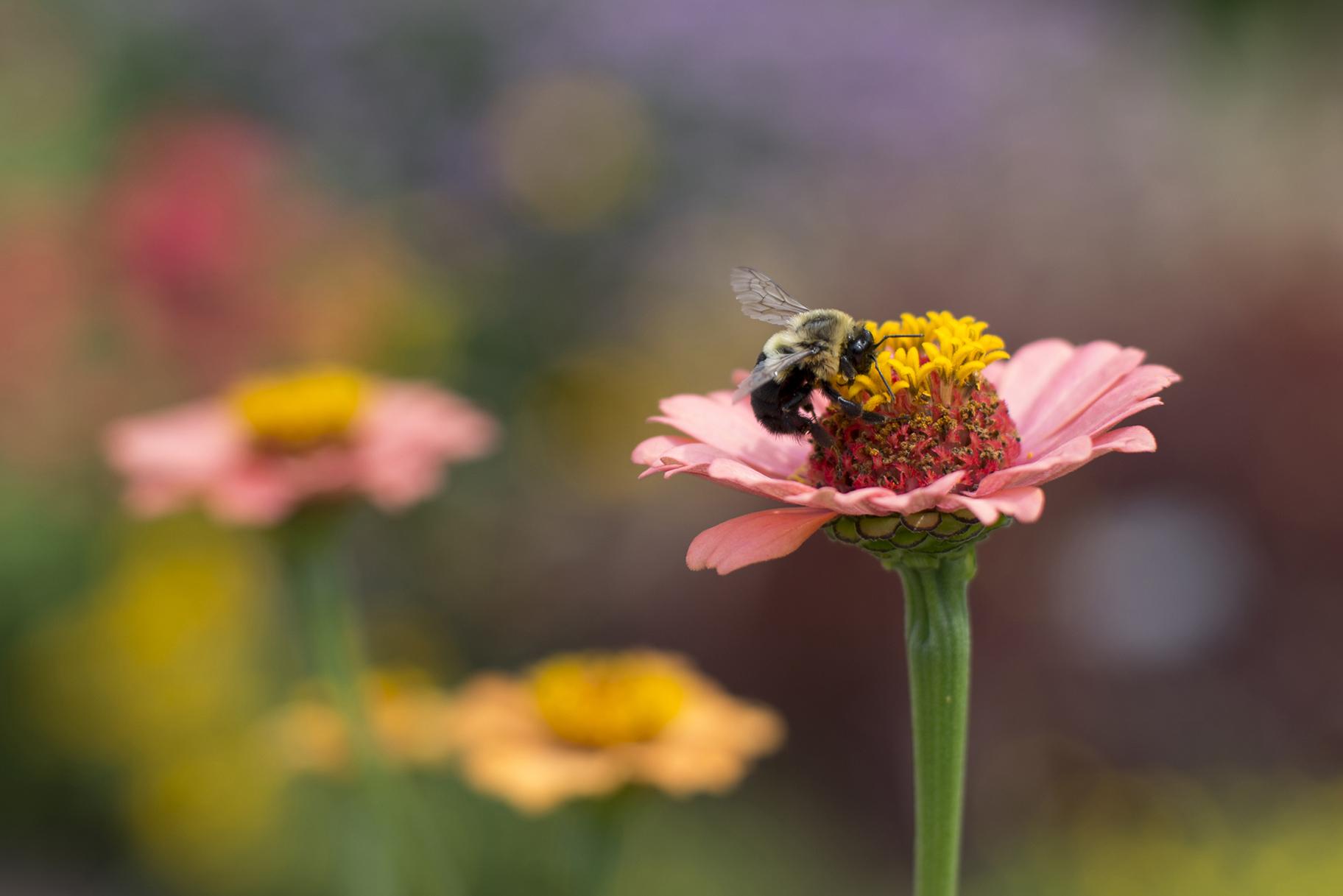 A bumblebee lands on a flower. (Courtesy Chicago Botanic Garden)
One reason for the increased attention might be that pollinators are facing major threats that could have an impact far beyond your backyard garden. Many pollinator populations are in decline, the result of habitat loss, pollution, chemicals, climate change and other factors.
In fact, research published earlier this year in the journal Biological Conservation found that up to 40 percent of all insect species – many of which are pollinators – could be endangered over the next several decades. The researchers found that the collective weight of all insects on Earth is dropping by about 2.5 percent every year.
One pollinator struggling locally is the rusty patched bumblebee, which is the only of the roughly 500 bee species native to Illinois that is listed as endangered.
Andrea Gruver, a graduate student working with the Botanic Garden, recently found a rusty patched bumblebee near the Rogers Park Metra station, one of the spots where she had set up pan traps and nets in hopes of catching one of the bees. The discovery figures to help local scientists learn more about the endangered bees and how to sustain their populations, especially in cities.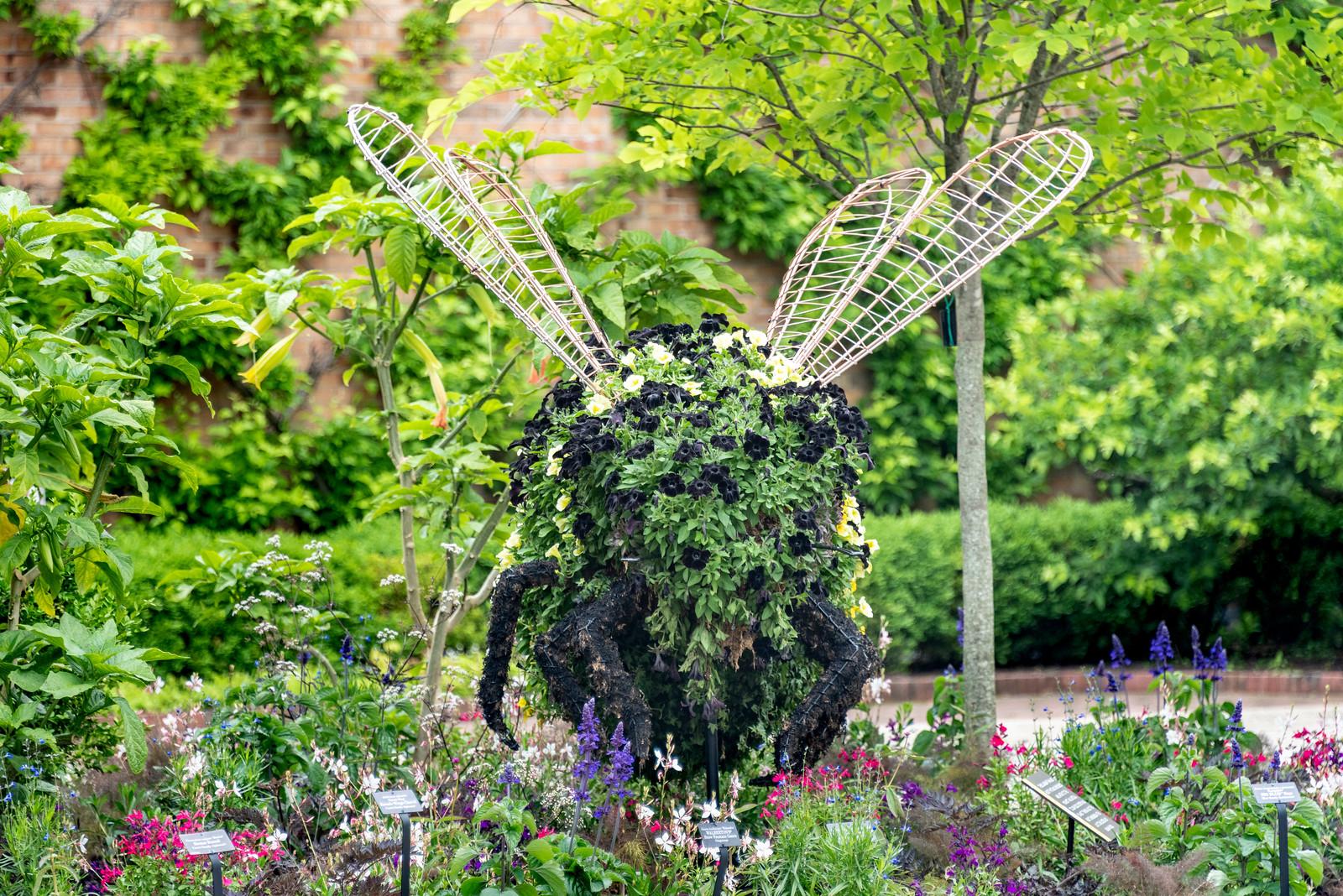 The "Bees & Beyond" exhibit features two rusty-patched bumble topiaries outside the Visitor Center. (Courtesy Chicago Botanic Garden)
Gruver's discovery is detailed in the new exhibit, which includes a series of "how the garden helps" explainers highlighting the work of Botanic Garden scientists studying different pollinators.
In "Bees & Beyond," visitors also learn about conservation scientist Paul CaraDonna, who conducted research showing that warmer temperatures caused by climate change could lead to the extinction of mason bees native to the southwestern U.S.
Another panel details the work of Nyree Zerega, whose research includes the pollination of jackfruit, a nutritious fruit from tropical trees that could increase global access to food.
"With all the work the scientists are doing, it was kind of a no-brainer," said Jodi Zombolo, the Botanic Garden's associate vice president of visitor events and programs, about the decision to dedicate an entire exhibit to pollinators.
Visitors can also pose for a photo between a set of enlarged hawkmoth and bat wings displayed on the exhibit's rear wall.
"Stand here. Be one of us," the text reads.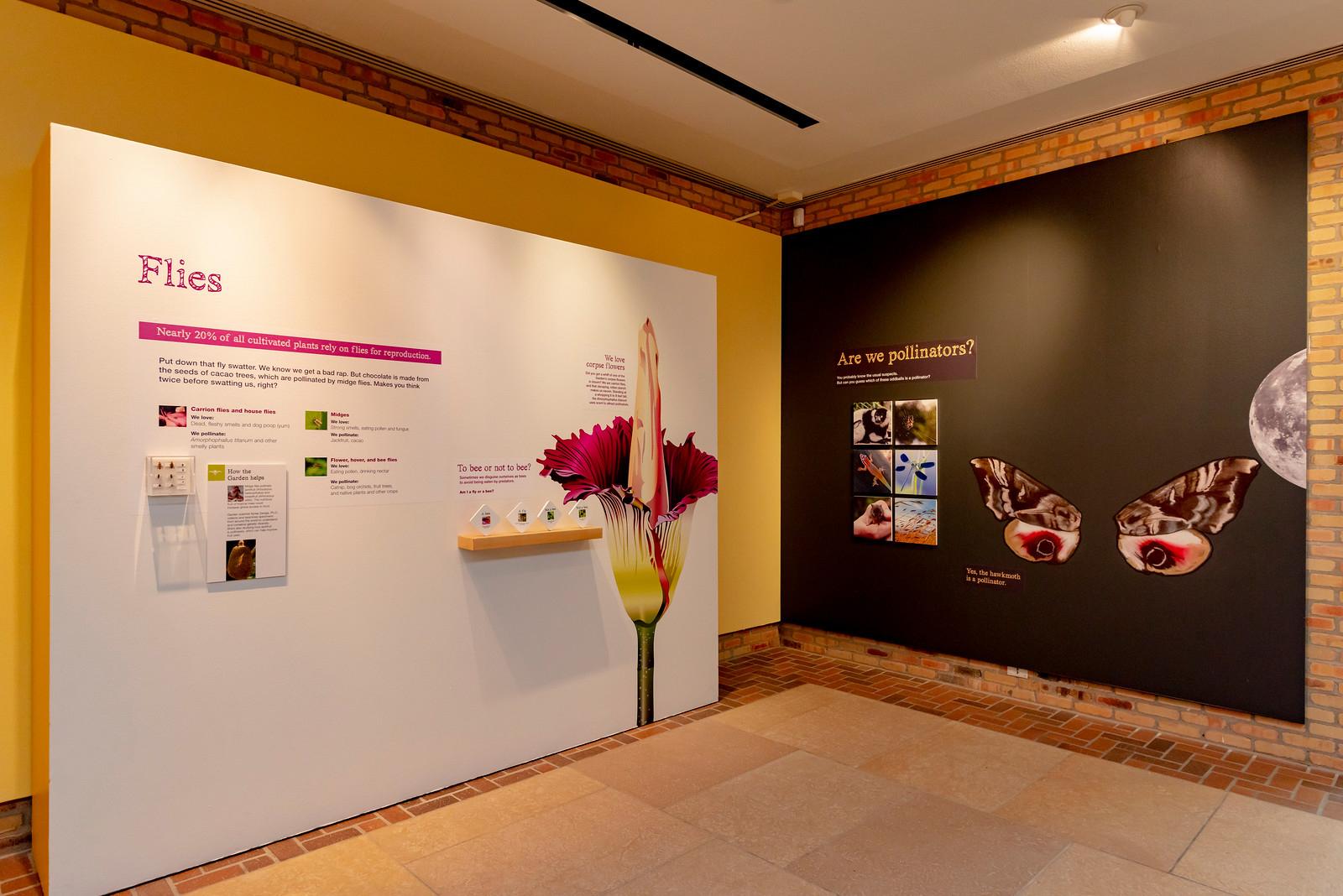 Inside the Chicago Botanic Garden's new "Bees & Beyond" exhibit (Courtesy Chicago Botanic Garden)
Finally, the exhibit, which opened earlier this month and runs through September, leaves visitors with a set of instructions on how they can help pollinators in their own yards.
"A lot of gardeners want to know, 'What can I do? How can I plan this so that the benefit is more than [only] for me visually?'" Skogen said.
To start, grow native plants – which promote biodiversity and provide food to birds, bees, butterflies and other pollinators – and avoid pesticides, which can kill pollinators if they consume pollen or nectar that contains pesticides.
Home gardeners should also create nesting habitat for pollinators, including the 90 percent of bees that are solitary.
"Because most of them are not social, they just need like some dead sticks, some bare ground," Skogen said. "So not mulching every single area for those ground nesters. Letting there be some debris in your yard. Delaying your spring cleanup until there are some things flowering."
For more info about "Bees & Beyond," including upcoming events with scientists who study pollinators, visit the Botanic Garden's website.
Contact Alex Ruppenthal: @arupp | (773) 509-5623 | [email protected]
---
Related stories:
Cities Can Play Key Role in Saving Monarch Butterflies, Studies Find
10 Prime Spots to See Butterflies in Chicago
Corpse Flower Java Blooms Again, Setting 2 Botanic Garden Records