Following House Speaker Nancy Pelosi's announcement of a formal impeachment inquiry into the actions of President Donald Trump the White House on Thursday released a reconstructed transcript of Trump's conversation with the president of Ukraine.
According to that transcript, Trump urged President Volodymyr Zelenskiy on a July 25 call to contact U.S. Attorney General William Barr about the activities of former Vice President Joe Biden after the U.S. and other western nations encouraged Ukraine to remove a prosecutor they said was too soft on corruption.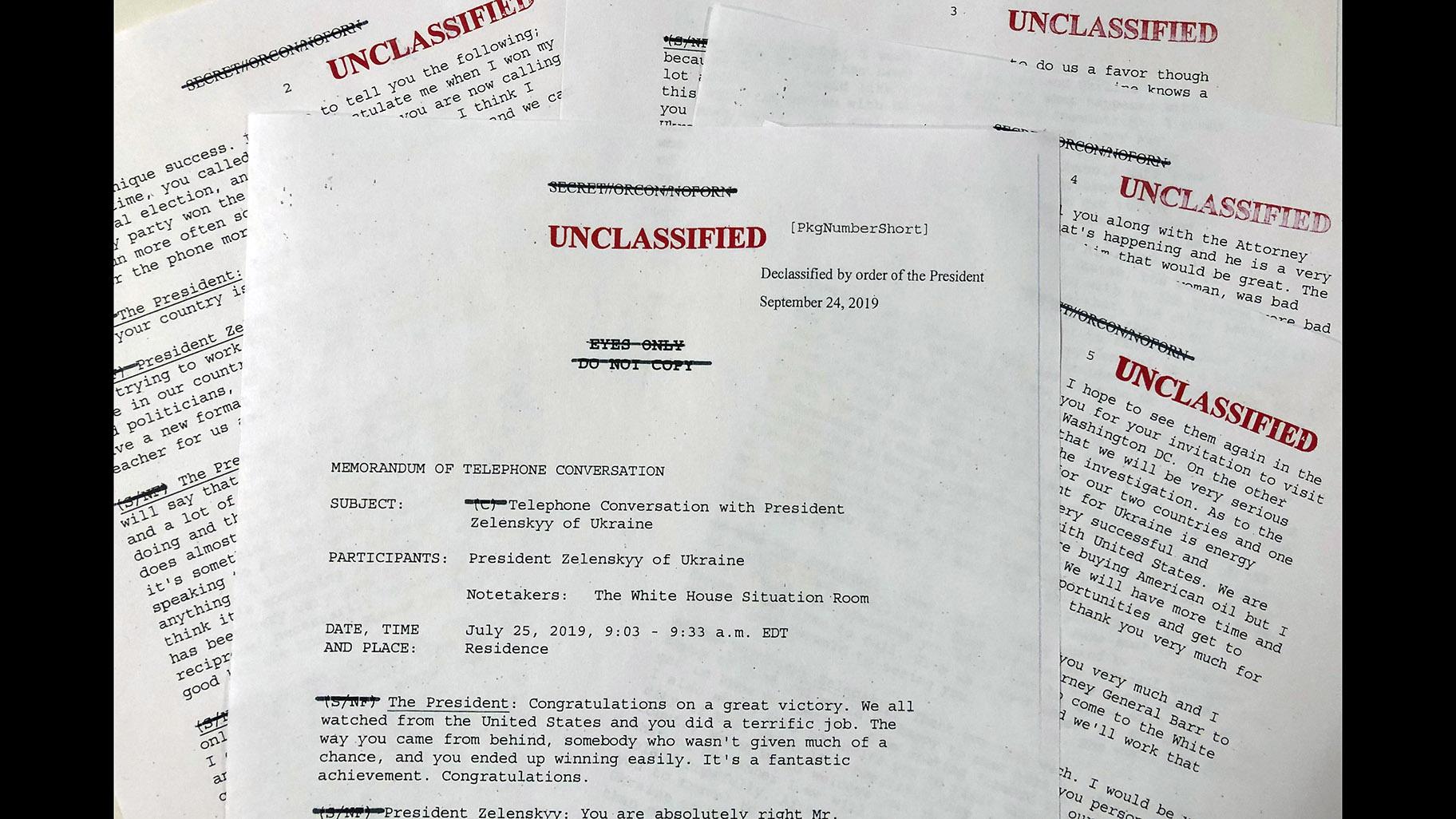 Document: Read the reconstructed transcript.
"There's a lot of talk about Biden's son, that Biden stopped the prosecution and a lot of people want to find about that, so whatever you can do with the attorney general would be great," Trump told Zelenskiy, according to the transcript.
Biden's son Hunter was hired by Burisma Holdings, a Ukrainian gas company, in 2014 to be on its board but stopped working for the company earlier this year. A Ukrainian investigation into the company reportedly found no evidence of wrongdoing.
So how is a formal impeachment inquiry likely to play to voters?
Tom Bowen of New Chicago Consulting has worked on numerous Democratic campaigns, including the 2008 presidential campaign of then-Sen. Barack Obama.
Bowen believes that Pelosi came to the decision to launch an impeachment inquiry reluctantly.
"This is the first time in modern American history a first-term president has faced these type of allegations," said Bowen. "I think (Pelosi) believed that what the American people were telling her and her members was deal with this at the ballot box."
But Bowen says allegations that the president had been potentially withholding aid to a U.S. ally as they were battling Russian-backed rebels moved Pelosi's caucus and forced her hand.
"Those members, especially those ones that released that opinion editorial in the Washington Post who have national security backgrounds – those members brought to the speaker's attention this is using the power of the presidency to have a foreign government potentially violate the civil liberties of an American citizen in order to help him win a campaign," said Bowen. "Those members are what moved the speaker … You can't solve this at the ballot box if the president is going to poison the ballot."
Jennifer Nevins, a self-described pro-Trump conservative activist who was a Trump delegate to the 2016 Republican National Convention, says she thinks the impeachment inquiry will backfire for Democrats.
"Of course I think it's galling," said Nevins. "But I think my overall impression is that it is only going to be of benefit to Trump. So actually to be honest I'm happy about it, as strange as that sounds, because this is kind of like a train that has been sitting in the depot. We've been waiting for it to leave the station so now we are getting it over with. And I think it's not going to be to the Democrats' benefit in the end."
Nevins believes the impeachment inquiry will result in increased scrutiny of Biden – not just from Republicans but from members of the media, who, she says, would prefer a more progressive presidential candidate anyway.
"It shines a spotlight on Biden in a negative way. He's the front-runner and people like Pelosi would like him to remain the front-runner," Nevins said.
"I think it also cements Trump's status with his base and I think it binds us even more tightly to our president," she added.
But Bowen says that even if impeachment is unlikely to go anywhere in the Senate, led by longtime Republican Sen. Mitch McConnell, the mere fact of the investigation is going to have an impact on the American people – even if they're suffering from scandal fatigue.
"I do think this will break through," said Bowen. "The facts of this are extraordinary in a way that I think people will pay attention."
He added that a formal impeachment inquiry would allow Democrats in the House to use all the powers at their disposal to get at the truth.
"The House has resisted using some of its powers to compel testimony and I think that was done because it was not a four-alarm fire yet -- but we are now there," said Bowen. "They have enormous powers and I think that is the most important consequence of the speaker's actions and of the formal impeachment inquiry is that it signals a new phase. … The House will use every tool they have."
Bowen and Nevins join "Chicago Tonight" in conversation Wednesday.
---
Related stories:
Memo: Trump Prodded Ukraine Leader on Biden Claims
Pelosi Orders Impeachment Probe: 'No One Is Above The Law'
Trump Denounces 'Partisan' Whistleblower But Says ID Unknown
---