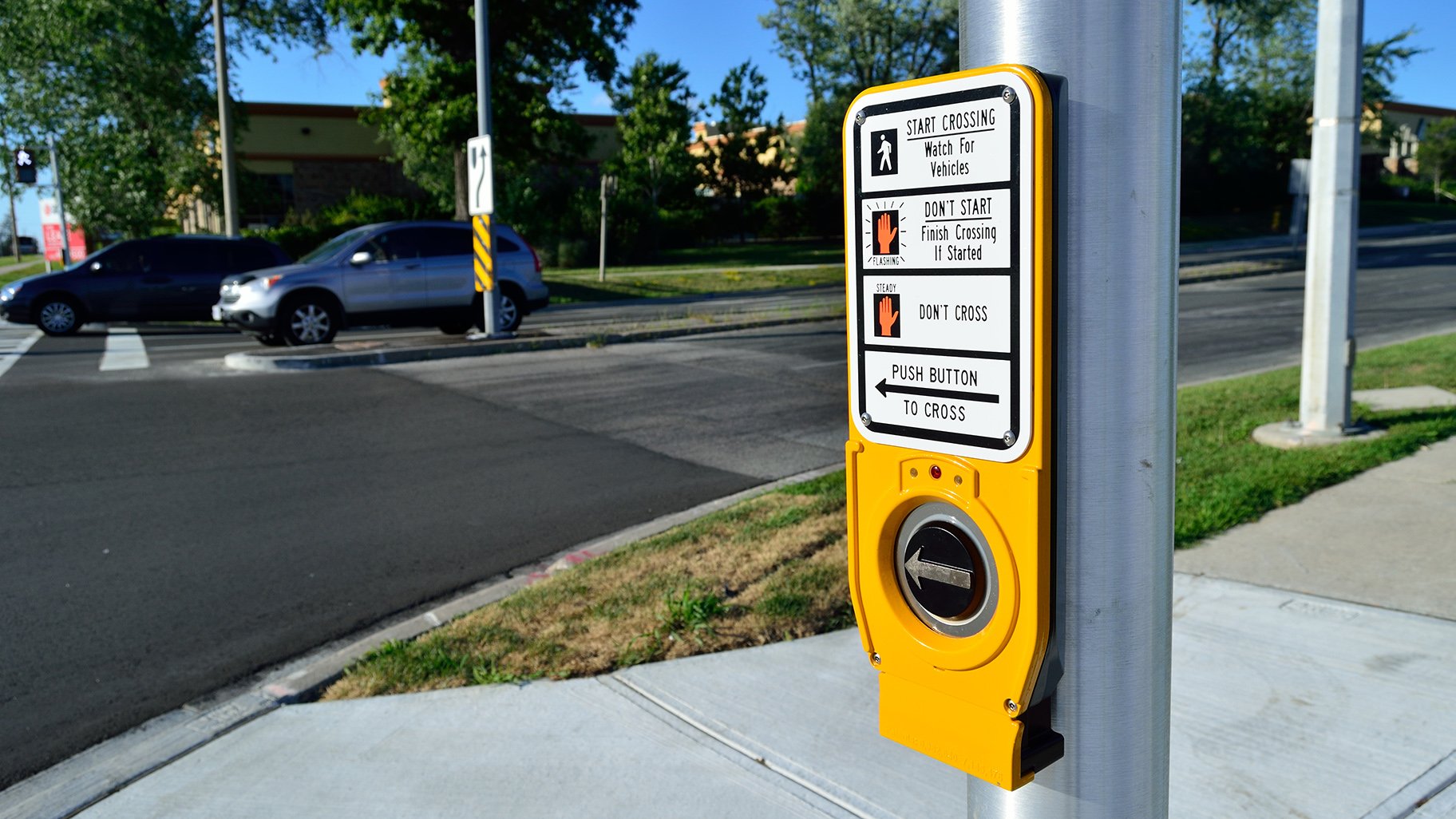 (Wikimedia Commons)
Mayor Lori Lightfoot this year said she hopes to make Chicago the "most inclusive and accessible city in the nation," in part through the expansion of audible crossing signals that make it easier for blind pedestrians to safely traverse busy intersections.
But a class-action lawsuit filed this week claims Chicago may currently have the lowest rate of blind-accessible traffic signals of any major city in the U.S., and current efforts won't be enough to quickly solve the problem.
"Indeed, abysmally few of Chicago's signalized intersections have pedestrian signals that are usable by blind pedestrians," the plaintiffs claim in a 24-page complaint. "Out of about 2,672 signalized traffic intersections in Chicago, only 11 – less than half of one percent – offer signals that convey any information at all to people with vision-related disabilities. Such systemic failure dangerously diminishes blind pedestrians' ability to navigate street crossings safely and independently."
This, the plaintiffs claim, is a violation of the Americans with Disabilities Act.
The lawsuit was brought by the American Council of The Blind of Metropolitan Chicago – a nonprofit advocacy group for blind residents – and three blind Chicago-area residents.
Filed in federal court Monday, the lawsuit charges Lightfoot, Chicago and the city's Department of Transportation with "systemically discriminating against blind residents and visitors" by failing to equip bustling intersections with accessible pedestrian signals (APS), which make an audible noise informing pedestrians when it is or isn't safe to cross.
With so few APS signals in the city, the plaintiffs say blind pedestrians are forced to rely on difficult and sometimes dangerous workarounds to get to their destinations. Those include asking strangers for assistance, attempting to follow people through intersections or waiting several traffic cycles until someone helps them across the road.
Others may take indirect and longer routes, the lawsuit states, just to avoid the busiest intersections.
"Collectively," the complaint states, "these obstacles severely compromise blind pedestrians' ability to move about the City like their sighted counterparts do: Safely, independently, expeditiously, and without fear."
One of the plaintiffs who works downtown said she was nearly hit by a bus in 2017 while crossing West Madison and North Jefferson streets. Another was hit by a car in 2004 at North Milwaukee and North Austin avenues when she inadvertently crossed against the light, according to the complaint.
They claim the city is "consistently ignoring the needs of blind pedestrians" as recent policy changes have placed no requirements on engineers to install APS signals on existing signals unless the existing device is being totally replaced.
Learn about Chicago's plan to install up to 100 Accessible Pedestrian Signals over the next two years - announced today by @chicagosmayor - https://t.co/C4h8IH2tnN pic.twitter.com/BfS60rmauW

— CDOT (@ChicagoDOT) July 26, 2019
---
Lightfoot in July said the city will add up to 100 APS signals at locations across the city over the next two years – an announcement that came 29 years to the day after the Americans with Disabilities Act took effect.
The CDOT will begin incorporating these signals into new traffic signal installations, roadway reconstruction projects and signal modernization projects. That will account for about half of the new signals, while the rest will come as part of a federally funded pilot program.
Even with those additions – and the city's plan to add an additional 15-20 APS signals per year going forward – the plaintiffs claim much more must be done to protect blind pedestrians.
"At that rate," the complaint states, "Chicago's street crossings will not be accessible for another hundred years."
Rather than financial damages, the lawsuit asks that an order be placed on the city requiring it to take the necessary steps to equip traffic crossings with APS signals.
A spokesman for the city's Law Department did not immediately respond to a request for comment on the lawsuit Tuesday.
Contact Matt Masterson: @ByMattMasterson | [email protected] | (773) 509-5431
---
Related stories:
Disability Rights Community Mourns Loss of Pioneer Marca Bristo
On 25th Anniversary, City Official Addresses Chicago's ADA Advancements
The Power of Scuba Diving for People with Disabilities
New Card Helps Disabled Communicate with Police in Stressful Situations
---