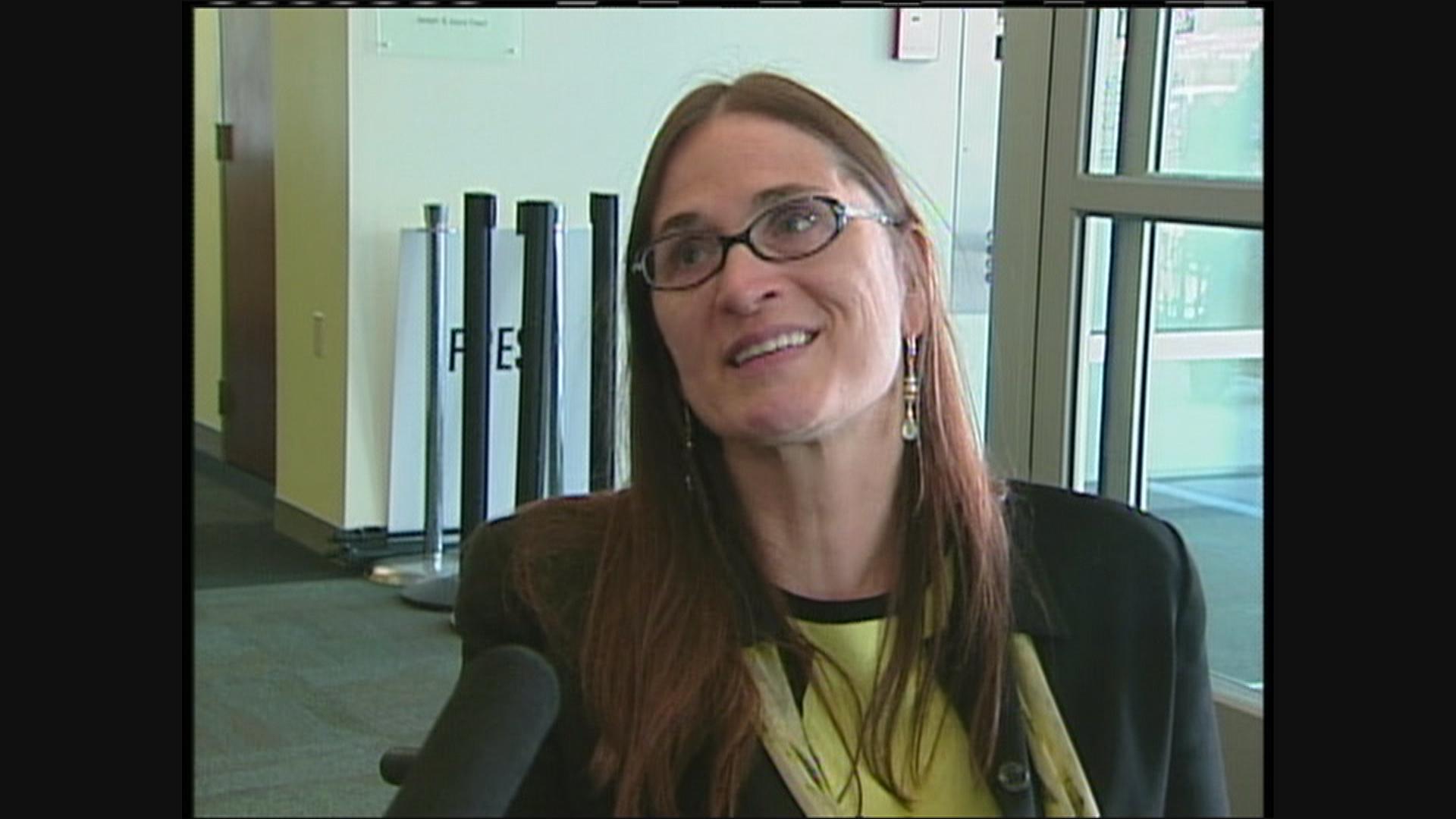 Marca Bristo appears in a "Chicago Tonight" story in May 2007.
A diving accident when she was 23 years old changed the course of Marca Bristo's life – and that of many others.
After the accident, Bristo – who was left paralyzed from the neck down – became a fierce, nationally recognized advocate for disability rights who, as former President Barack Obama tweeted Monday "had a remarkable way of bringing out the best within us. For me, she was a trusted voice and a persistent, buoyant spirit – an example that progress can be slow, but it's always possible."
Bristo died from cancer Sunday morning, according to Chicago's Access Living, the organization she founded in 1980. She was 66 years old.
Since then, Access Living has played a central role in making Chicago Transit Authority buses wheelchair accessible, getting funding to make Chicago Public Schools more accessible, helping disabled individuals secure independent housing, drafting the Americans with Disabilities Act and advocating for the creation of the Office of Disability Policy within the U.S. Department of Housing and Urban Development.
"Marca physically blocked Chicago Transit Authority (CTA) buses during protests in 1984 and filed a lawsuit that forced the agency to install lifts on buses and improve accessibility," Access Living's Bridget Hayman wrote in a release announcing Bristo's passing.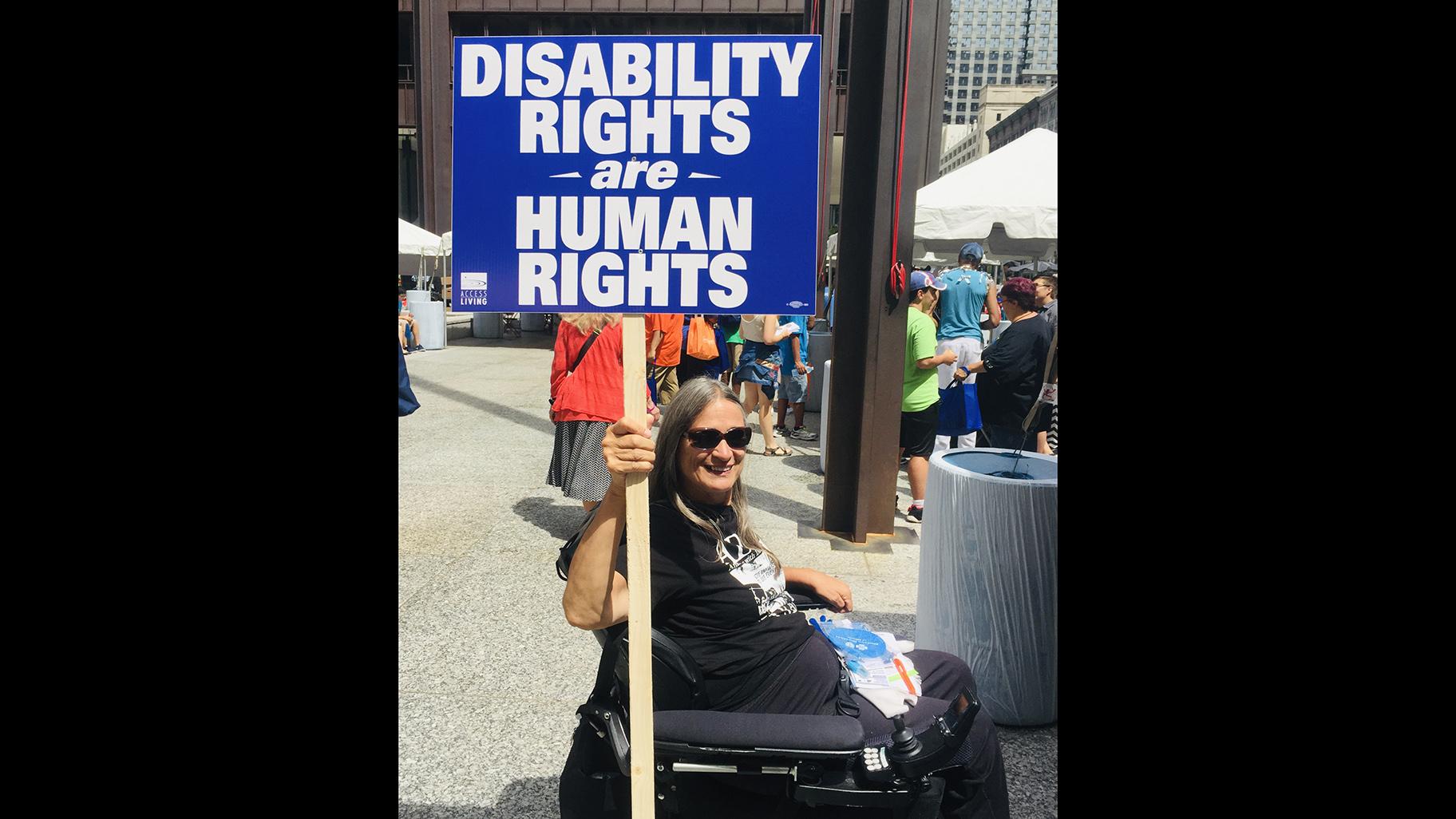 Marca Bristo attends the Chicago Pride Parade. (Courtesy Access Living)
As recently as 2017, Bristo was arrested in Washington D.C. as part of a protest against cuts to Medicaid, according to Access Living advocacy director Amber Smock.
"She was both a brilliant strategist and a fearless human who showed, over and over again, what it meant to speak truth to power," Smock wrote in an email. "Marca believed that people with disabilities were our country's largest untapped source of political power. To that end, she constantly worked to ensure that all people with disabilities could engage in our democracy: vote, testify in hearings, meet with elected representatives, and get elected to office. In the disability advocacy world, we often say, "nothing about us without us" – meaning that, wherever decisions about people with disabilities are made, people with disabilities should be central in the process of that decision making. She believed, fiercely, in the development of a rights-bearing attitude among people with disabilities."
Bristo also served on the Obama Foundation's Diversity and Inclusion Council and the Human Rights Watch Disability Advisory Committee; she was president of the National Council on Independent Living and the U.S.  International Council on Disabilities; and was appointed by former President Bill Clinton to chair the National Council on Disability from 1994-2002.
Her advocacy was unceasing.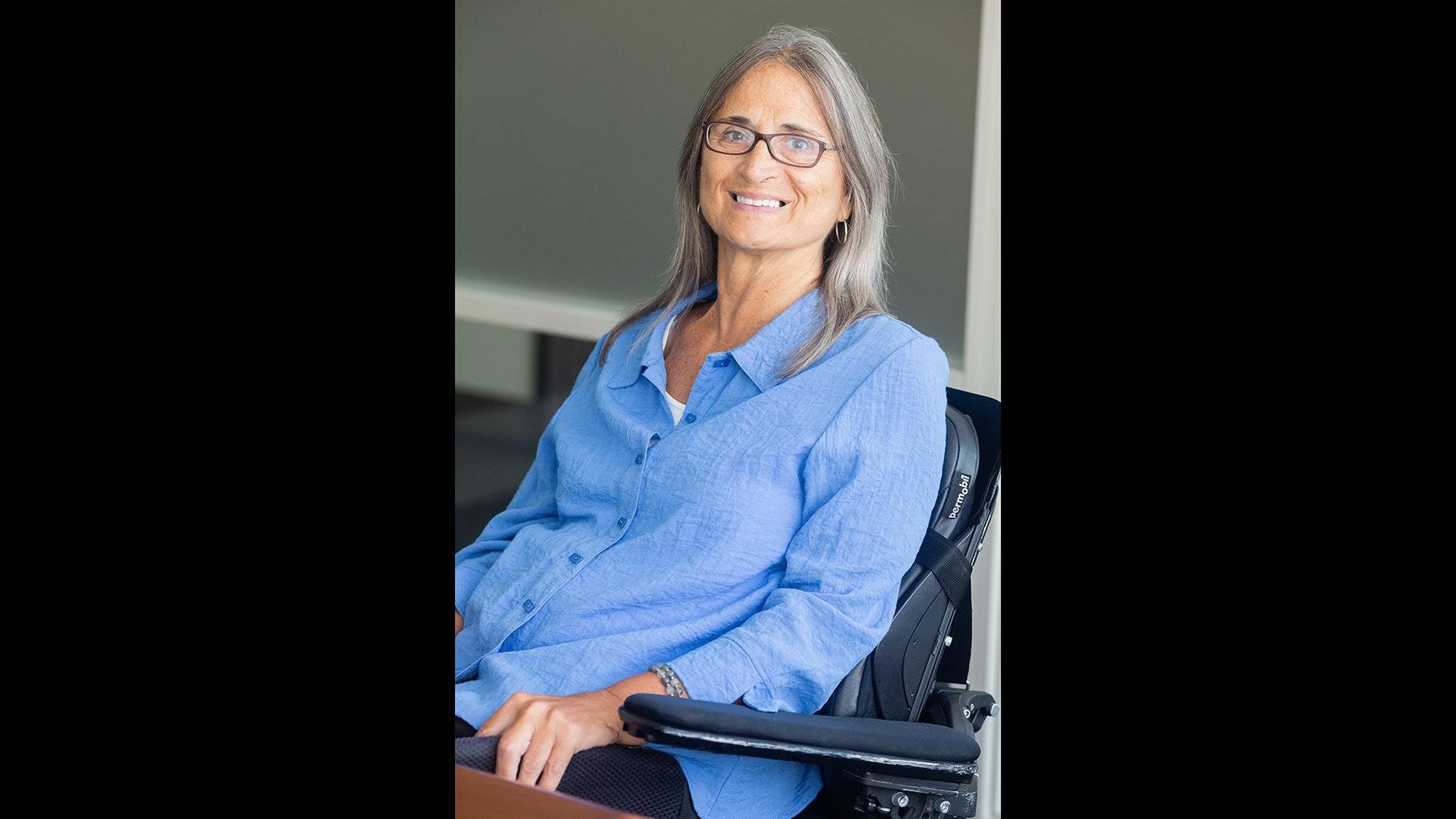 Marca Bristo (Courtesy Access Living)
It was only in late August that Bristo stepped down as Access Living's CEO (the organization said it has begun to search for a new chief executive).
Prior to her pioneering work as a disability rights advocate, Bristo graduated from Beloit College and the Rush School of Nursing and briefly practiced as a nurse.
"Marca was also a recovering addict and alcoholic, which greatly influenced both her personal and professional life and helped drive her disability advocacy efforts," Hayman wrote in her tribute. "Near the end of her life, Marca said she had no bucket list – that she had done what she set out to do and seen what she wanted to see. She also shared her firm belief that the disability activism work she started was in good and capable hands to be carried on by the staff at Access Living."
Prominent political leaders and disability rights advocates publicly mourned her passing.
Saddened to hear of the passing of Marca Bristo, a fierce advocate for disability rights who changed lives through the nationally-recognized nonprofit she founded, @accessliving. Her leadership will be missed. Keeping her family in my prayers during this difficult time. https://t.co/L4vdHn2ovP

— Mayor Lori Lightfoot (@chicagosmayor) September 8, 2019
---
Marca Bristo leaves an incredible legacy of making the world most just and accessible for everyone in her community. Her work will live on with the countless friends and colleagues she inspired, including me. My thoughts are with Marca's family at this sad time.

— Governor JB Pritzker (@GovPritzker) September 8, 2019
---
"A legent in the #disabilityrights community Marca Bristo has passed away," Ford Foundation President Darren Walker wrote on twitter. "Marca's superpower was in building bridges across movements & people. Her legacy lives on in the lives she's touched & the movements she's shaped."   
"The world has lost a true visionary and leader. I will forever hear Marca Bristo's clear and firm voice in my ear with patience and love urging us all to make this world better for persons," wrote Tina Tchen, Chicago attorney and former assistant to Obama.
Advocates who count Bristo as a mentor vow to hold those very politicians accountable.
"Marca left us with great expectations," Smock said. "She expected that the City of Chicago will address affordable, access housing for people with disabilities, and the needs of the thousands of students with disabilities in CPS. She expected that our state will address the dire needs of thousands of Illinoisans with disabilities who count on the social safety net. She expected that at the federal level, we will push to see Congress enact laws that ensure people with disabilities can get supports to live in our own homes. Her passing should galvanize every civic leader to ask: what can I do to bring people with disabilities into the center of our society?"
Bristo is survived by her husband, two children and a granddaughter.
Follow Amanda Vinicky on Twitter: @AmandaVinicky
---
Related stories:
Psychiatrist Dr. Carl Bell Dead at 71
Former Supreme Court Justice John Paul Stevens Dies at 99
On 25th Anniversary, City Official Addresses Chicago's ADA Advancements
---