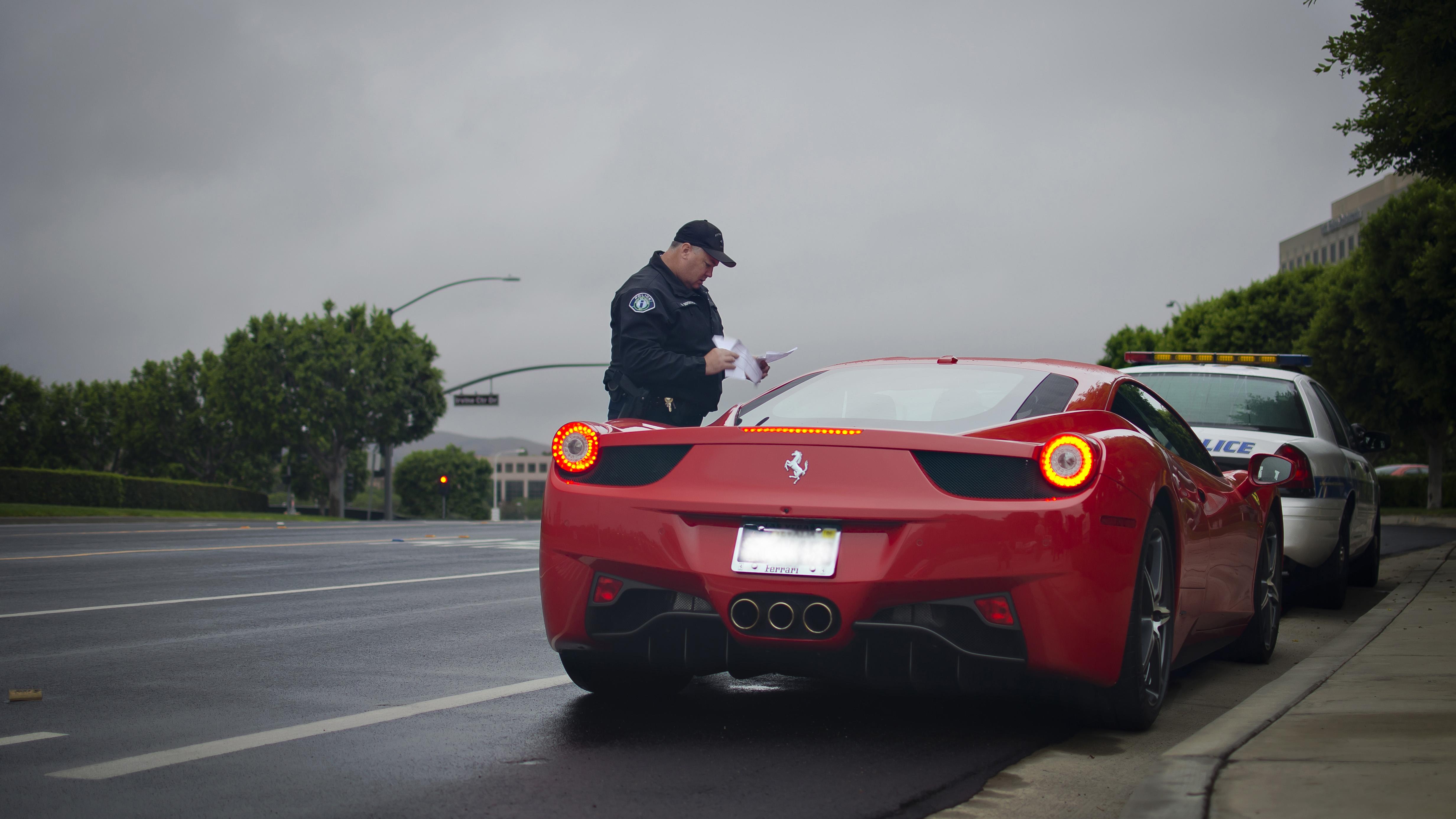 (Axion23 / Wikimedia Commons)
Like most parents teaching their children to drive, Aurora resident Lori Price had some advice for her son, Colin.
"As a parent, you correct your kids and tell them, 'You didn't make a complete stop, or you're going over the speed limit,'" Price said.
As Price was correcting Colin during one of their driving lessons, he began to argue with her. Not as a form of teenage rebellion, Price said, but because in his mind he believed he was right.
"It came to me that if he were stopped by a police officer ... an argument might ensue" because law enforcement officials may not be familiar with how people with autism, like Colin, process and respond to information, Price said.
"If you and I were pulled over by police, it's a stressful situation but we can talk through that and we know what we need to do and how to communicate effectively and coherently," she said. "He may shut down. He may not know what to say."
Concerned that law enforcement officials may misinterpret Colin's silence or self-stimulatory behavior – such as clapping – Price reached out to Illinois Rep. Stephanie Kifowit, D-Oswego, to see if the state could create a disability awareness card that could be used to prevent a situation from escalating unnecessarily.
"During this time there seems to be miscommunication with police officers and offenders, [and things] could escalate quickly," Price said.
Kifowit sponsored legislation that went into effect Jan. 1 creating an awareness card that people who have been medically diagnosed with an intellectual, developmental or mental disability can carry with them.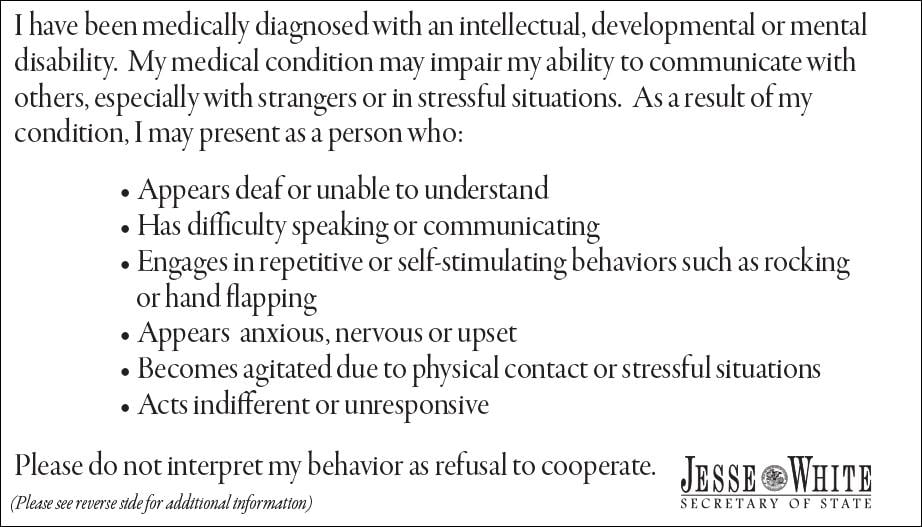 Document: Read the card. One side of the card states the person in possession of the card has a disability which may impair their "ability to communicate with others, especially strangers or in stressful situations." The card also details some behaviors the person may exhibit.
"On the back of the card, there's also an emergency contact name. If officers or first responders come into contact with an individual who is not responsive or agitated or is showing signs of nonconforming, they can call the number of the back of the card," Kifowit said.
"And that person can come and assist officers or give them an idea of how to handle the person. The whole point of the card is really to reduce any situation that could escalate unnecessarily."
Price agrees.
"This is not a get out of jail free card. It's not a pass. This just explains my behavior that I exhibit might be something you're not familiar with," Price said. "If they're speeding, they're speeding and should be ticketed for that but not for something else where it escalates."
At the start of the year, 100,000 cards were distributed to Illinois Secretary of State offices statewide and were made available at no cost to individuals with disabilities who fill out an application.
While 19-year-old Colin Price needs some more time behind the wheel before getting his license, Price is "relieved" that he will have this card with him.
"It's a tremendous relief because my son has a hard time communicating, especially when he's under pressure or stress," Price said. 
Follow Kristen Thometz on Twitter: @KristenThometz
---
Related stories: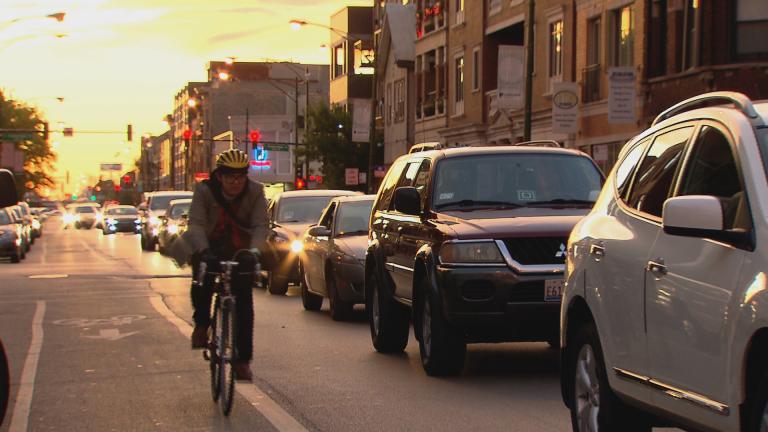 Study: 'Idaho Stop' Could Make Chicago Streets Safer for Cyclists
Dec. 14, 2016: A new DePaul University study suggests that it may be safer for bicyclists to roll through stop signs and red lights rather than coming to a full stop. The practice, legal in Idaho, is known as an "Idaho stop."
---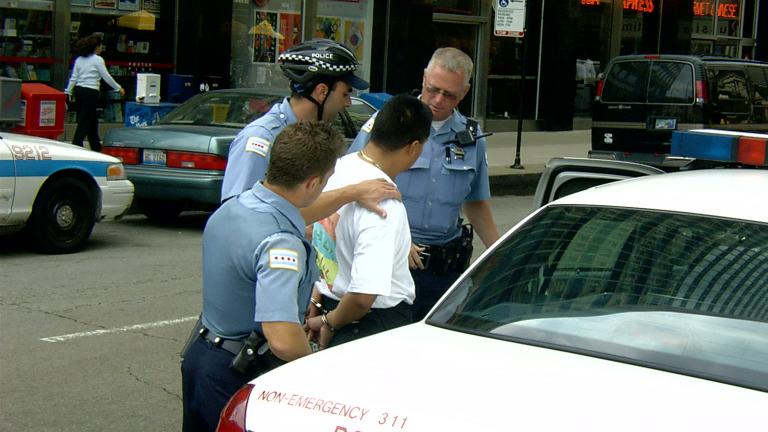 New Law Requires Student Drivers to Learn How to Interact With Police
Sept. 9, 2016: A new Illinois law mandates that driver's education instructors teach students how to behave if pulled over by law enforcement.
---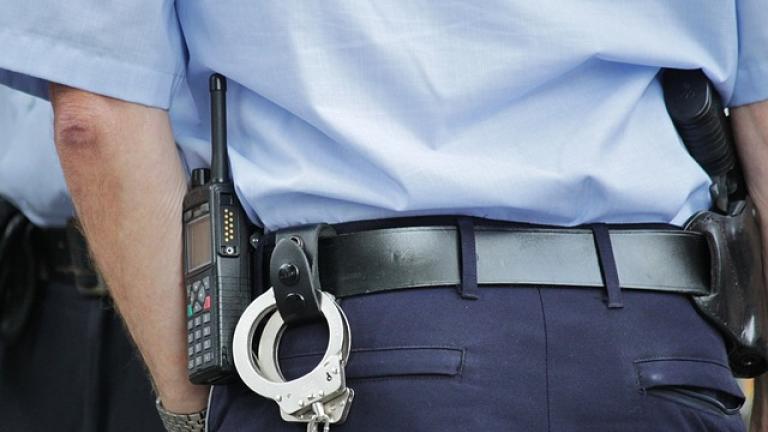 How to Interact with Police if You're Pulled Over or Detained
Aug. 4, 2015: The family of Illinois motorist Sandra Bland files a lawsuit against law enforcement officials in Texas. We'll take a closer look at motorists' rights, as well as the right way to act when getting stopped by police.
---