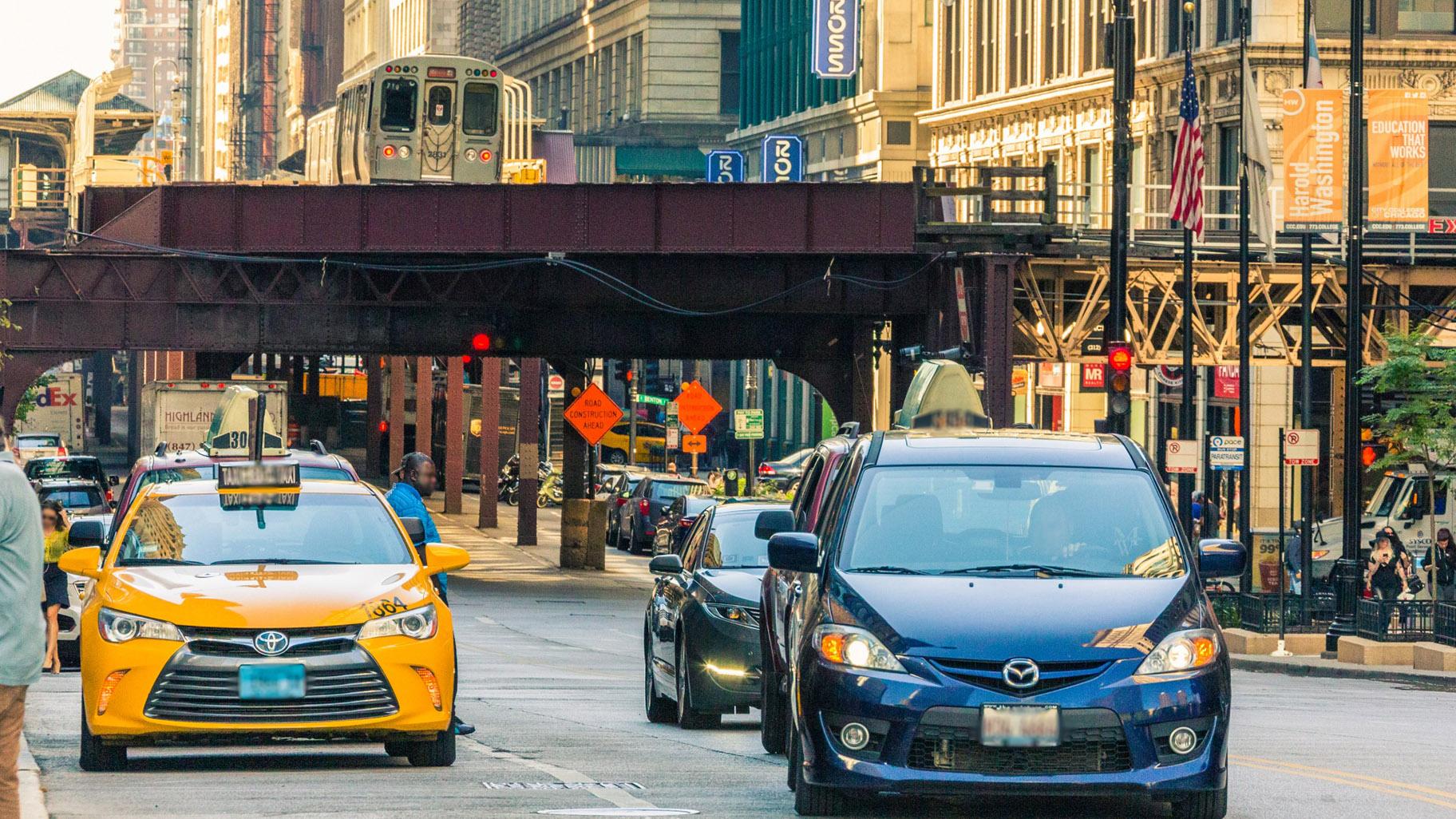 Can Chicago eliminate deadly traffic crashes? It's trying. (Petr Kratochvil / Public Domain Pictures)
Bright yellow bollards stick up from a cement island midway through the crosswalk at the intersection of Madison Street and St. Louis Avenue in Garfield Park – the early stages of a $6 million plan for safety slated for the West Side of Chicago. It's part of the city's Vision Zero safety plan, aimed at bringing to zero the number of traffic-induced serious injuries and deaths.
"A traffic crash is not an accident. It's a preventable incident," Tom Carney, acting commissioner of the Chicago Department of Transportation, said Thursday at a press conference unveiling the plan, which came to fruition after a series of community meetings, field observations at 70 locations and an analysis of crash and census data.
Vision Zero will focus first on Austin, Garfield Park and North Lawndale, and will be rolled out on the South Side next year.
Officials say data shows that seven of the eight highest-crash areas in Chicago are on the West and South sides (the eighth area is downtown, where there are more cars and commuters), and that residents living in impoverished communities are three times more likely to die from a traffic crash than those living in more well-to-do areas.
"No traffic … death is acceptable when we as a city have the tools and know the strategies" to prevent them, Mayor Lori Lightfoot said. "It's unacceptable that if you are poor or low income you're more likely to be involved in a fatal crash."
Lighfoot said the city plans to act with a sense of urgency by taking relatively quick and low-cost measures like repainting crosswalks, putting in bollards and adding temporary sidewalk "bumps" that induce cars to slow down when turning and give pedestrians more room.
The mayor was noncommittal as to whether Chicago will add video cameras to track motorists' speeds.
They're not "universally loved," Lightfoot said.
They're "not loved by me either" Lightfoot added when pressed by reporters.
Lighfoot said the city is taking a "comprehensive look" at speed cameras, given that, she said, many residents question whether they effectively slow traffic or whether they're a tool to generate revenue for city coffers.
"Basic mobility is a civil and human right," said Melody Geraci of the Active Transportation Alliance. "Transportation is the great underlying – but often invisible – connector between people and opportunities, and even people and survival."
Imagine, she said, the challenge of an elderly person who can't quickly cross a busy street like Madison Street.
Prioritizing safety is a "bold step," Geraci said, given that Chicago has for too long prioritized "automobile travel over everybody else, for the sake of cars moving as quickly as they can, and watching other folks die as a result."
Vision Zero is an international campaign; Chicago's action plan was first introduced in 2017.
Follow Amanda Vinicky on Twitter: @AmandaVinicky
---
Related stories:
Congestion Charge a Tough Sell for 'Overtaxed' Chicagoans
What Congestion Pricing Could Look Like in Chicago
Bus Driver Fired, CTA Sued After Cyclist Struck by Bus in River North
New Study Finds Chicago Scooter Rides Peak During Rush Hour
---