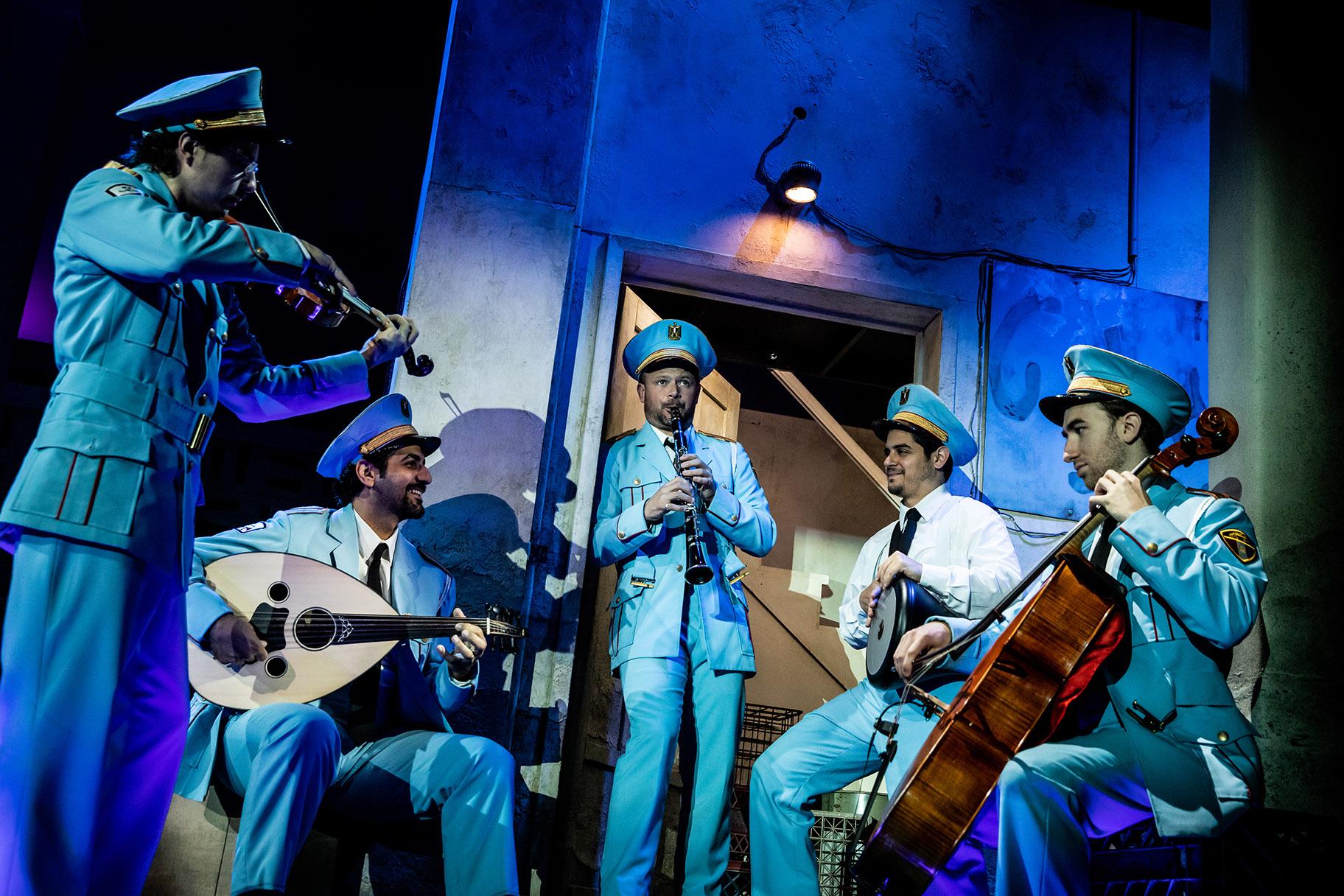 A scene from "The Band's Visit." (Photo by Matthew Murphy)
Expect no flashy spectacle, lavish dance numbers, belted-out anthems of self-worth, or any of the other standard ingredients of Broadway musicals. But be assured that "The Band's Visit" – now making a brief stop at the Cadillac Palace Theatre as part of its national tour – comes with its very own unique magic. And in the course of just 95 captivating minutes it casts its spell by means of a wholly rapturous score, a spot-on goulash of languages and accents, and a brilliant depiction of the authentic and absurdly tragicomic aspects of human interaction as they occur on the most intimate (and by natural extension) the most global scale.
Based on the popular 2007 Israeli movie of the same name, the musical – with a tone-perfect book by the Jewish American playwright Itamar Moses, a transcendent score by David Yazbek (an American composer of Lebanese, Italian and Jewish descent), and pitch-perfect direction by the wizardly David Cromer, who grew up in Skokie and forged his career in Chicago – the show began as an off-Broadway production in 2016. It moved to Broadway the following year, and proceeded to win 10 richly deserved Tony Awards. And as dreamy a notion as it might be, it should easily have gone on to win a Nobel Peace Prize.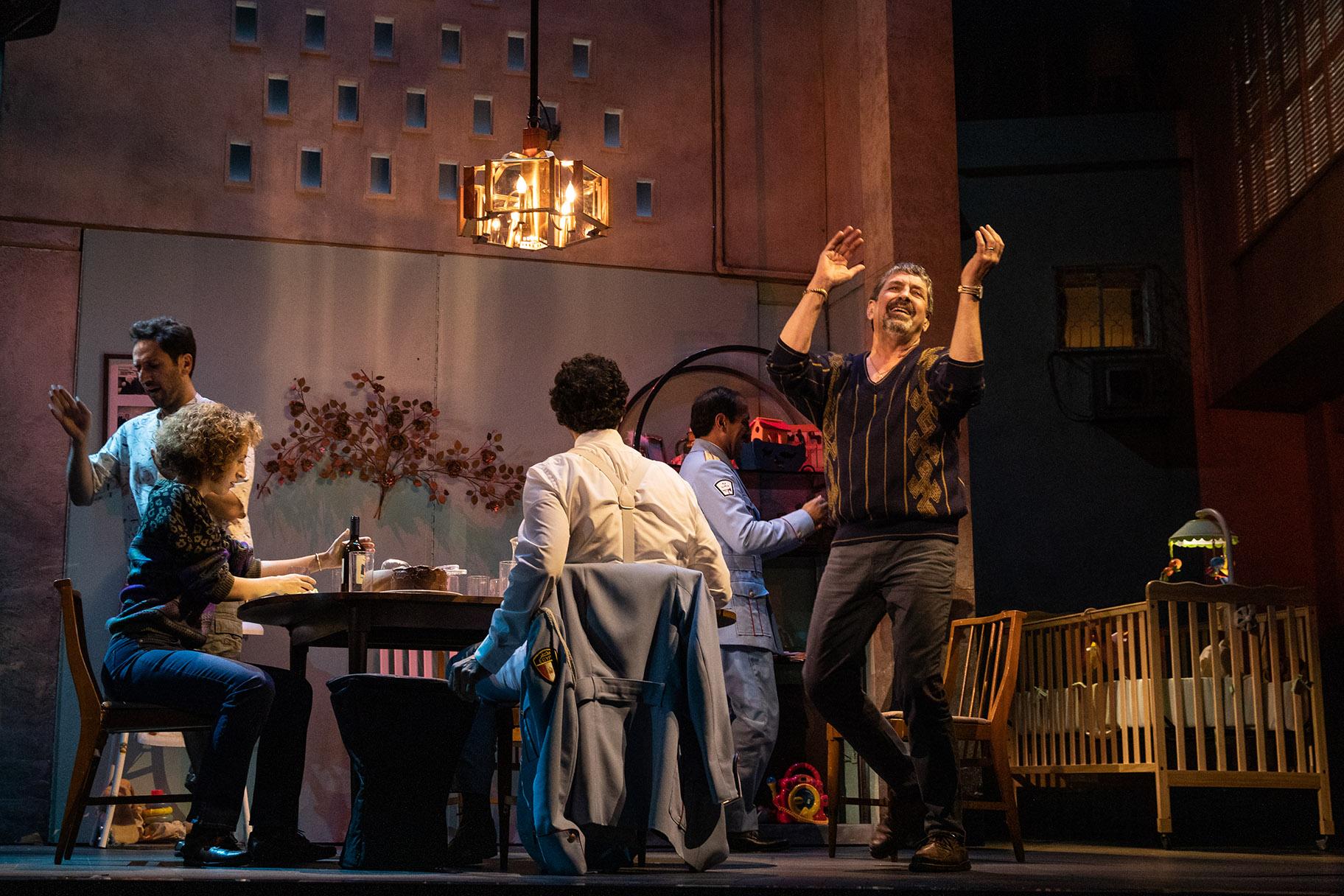 The company of "The Band's Visit." (Photo by Matthew Murphy)
The time is 1996, not long after the signing of the Oslo Accord between Israel and the PLO, although politics are never mentioned in the show. The place is Bet Hatikvah, a quasi-fictional Israeli town in the Negev Desert where a group of Egyptian musicians from the Alexandria Ceremonial Police Orchestra have mistakenly arrived as the result of a linguistic mix-up at a bus station in Tel Aviv. As it happens, the we're invited to perform at the opening of an Arab Cultural organization in the (actual) city of Petah Tikvah.
It is too late for the men to catch another bus, and there is no hotel in this boring "nowhere" town of bleak cement-block buildings. So Dina (Chilina Kennedy), the beautiful, bitter, openly seductive, but unhappy woman who runs the local cafe, invites the eight men, including the rather formal Capt. Tewfiq (Sasson Gabay, reprising the role he played in the movie) to stay at the cafe and in the homes of several neighbors, for the night. And during the hours till morning a little bit of everything and nothing happens as they all get to know each other, and as music subtly serves as the language that suggests their yearning, and their often disappointed and despairing quest for love in various stages of life.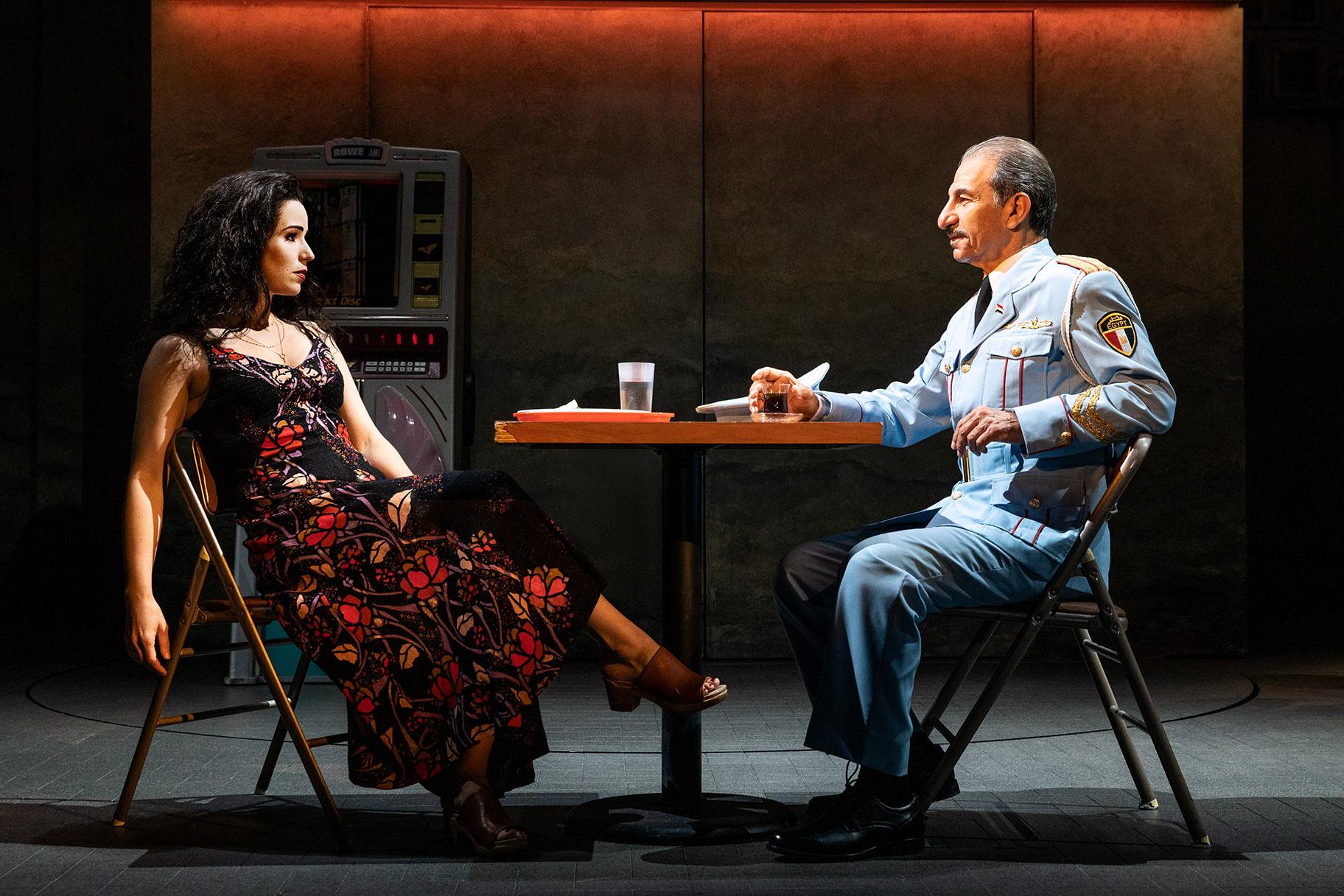 Chilina Kennedy and Sasson Gabay in "The Band's Visit." (Photo by Matthew Murphy)
The relationship between the formerly married Dina and the mournfully widowed Tewfiq unfolds during an evening stroll to a nonexistent park marked only by a single bench, where Dina rapturously recalls the Arabic music she listened to on the radio in her youth, as well as her dreamy crush on Omar Sharif. Kennedy's beautiful voice is ideal for the show's already iconic song about the film star, and with her perfect Israeli-accented English, she captures her character's tough-as-nails attitude ("life is what it is"), as well as her well-cloaked vulnerability. At the same time, Gabay effortlessly embodies the very proper Tewfiq, a shy, sensitive man who is nervous about doing anything that might embarrass his country, and is cautious about revealing his private life.
Moving all around these two, and letting us get to know their quirks, are the other inhabitants of the Israeli town as well as the members of the band.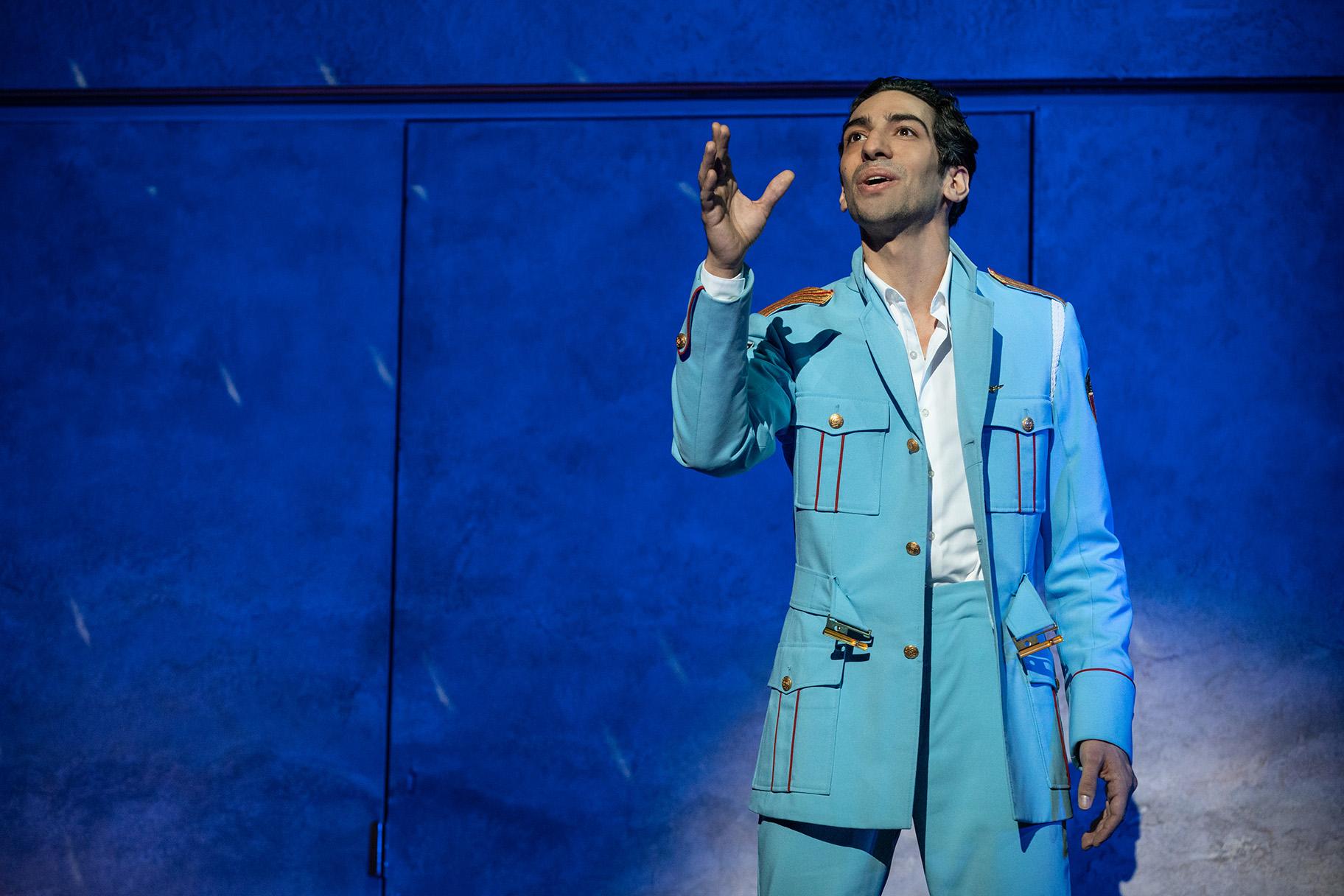 Joe Joseph in "The Band's Visit." (Photo by Matthew Murphy)
There is Haled (the sweetly mischievous Joe Joseph), a young horn player with a passion for jazz great Chet Baker, and a hunger to visit a disco and meet a girl before returning to an arranged marriage. (His initial encounter with the bus station ticket-seller is priceless.) There is the boyish Telephone Guy (Mike Cefalo), who waits endlessly in front of the town's only pay phone fir a call from his long-silent girlfriend. And there is Simon (most winningly played by James Rana), the Egyptian clarinetist and composer who has yet to complete his concerto.
Simon spends the evening with one of Dina's employees, Itzik (Pomme Koch), a ne'er-do-well husband and new dad with an angry wife, whose father-in-law, Avrum (a lovely turn by David Studwell), recalls how he met his own wife while working as a pianist. Simon and Avrum even play a riff from the Gershwin classic "Summertime" as musical roads meet. All this, along with a couple of other playful young relationships, are caught in their often laughable stages of success and clumsiness.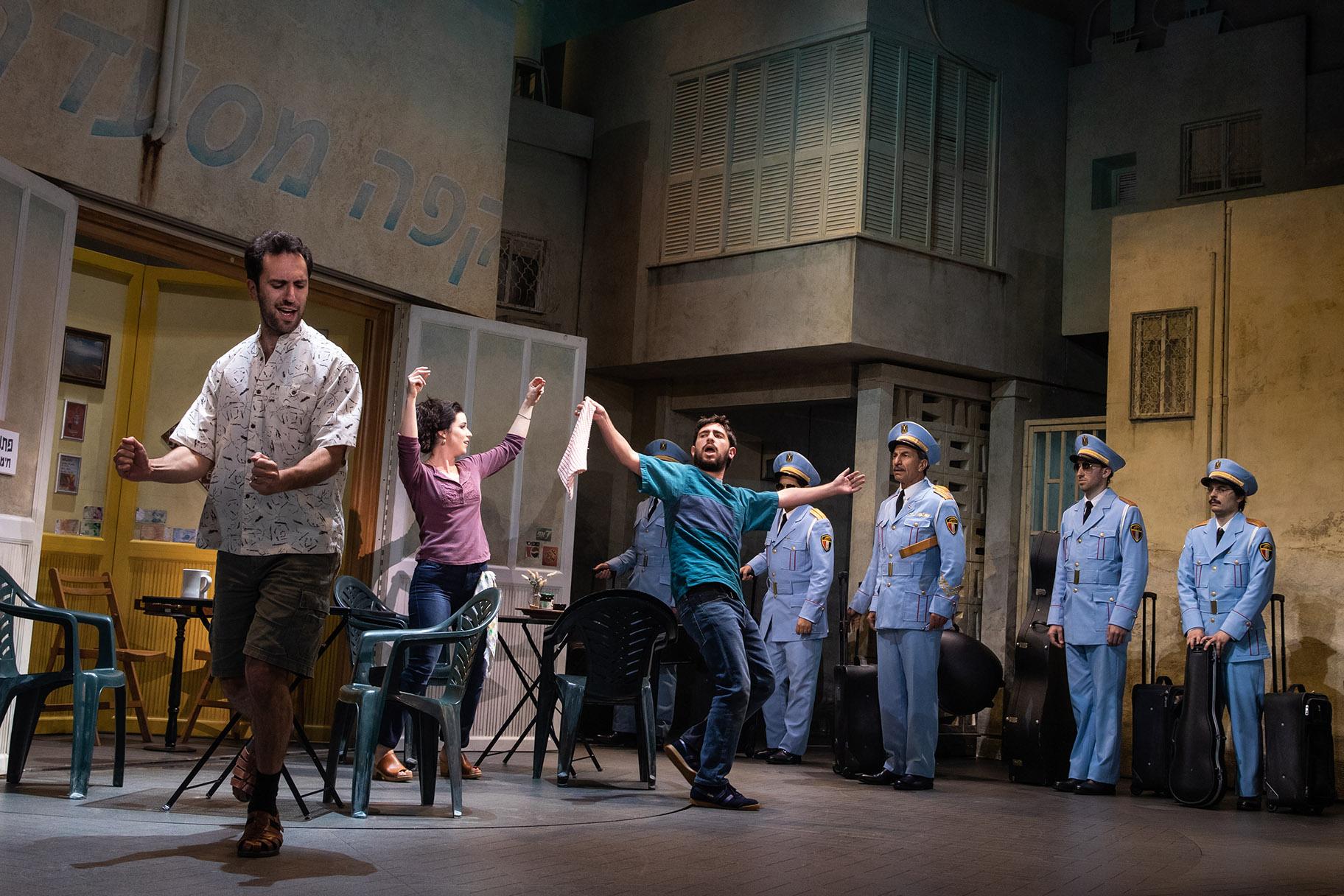 The company of "The Band's Visit." (Photo by Matthew Murphy)
And of course there is the sensational eight-piece band led by keyboardist Rick Bertone, that ideally mixes Middle Eastern and Western instruments and includes onstage performers Tony Bird (violin) George Crotty (cello), Evan Francis (clarinet, saxophone and flute), Roger Kashou (on darbouka drum and tambourine-like riq), and Ronnie Malley (oud and guitar), with backup from Adrian Ries (keyboard), Mark Van Ziegler (electric and acoustic bass) and Shai Wetzer (drums and Arabic percussion), who work behind a scrim.
Scott Pask's set (with its cleverly employed revolving platform) perfectly evokes its time and place, as do Sara Laux's costumes, with the Egyptian band's meticulously pressed pale blue uniforms and caps in contrast to the casual outfits of the Israeli locals. The single flaw in the production is the rather uneven miking of the actors that results in the blurring of some of the wonderful dialogue and lyrics.
A rare jewel of a musical in its bittersweet sadness and identifiable looniness, "The Band's Visit" deals with universal problems on a most captivating and intimate human scale. You would be well-advised not to miss it.
"The Band's Visit" runs through Sept. 15 at the Cadillac Palace Theatre, 151 W. Randolph St. For tickets ($39-$106) call (800) 775-2000 or visit www.broadwayinchicago.com. Running time is 95 minutes with no intermission.
Follow Hedy Weiss on Twitter: @HedyWeissCritic
---
Jeff Award Nominations a Reminder of the Season Spotlighted as 'Year of Chicago Theater'
'Into the Woods' a Musical Reminder to Be Careful What You Wish For
At Teatro Zinzanni, Life is an Old-World Cabaret, Circus, Comedy and Restaurant
---