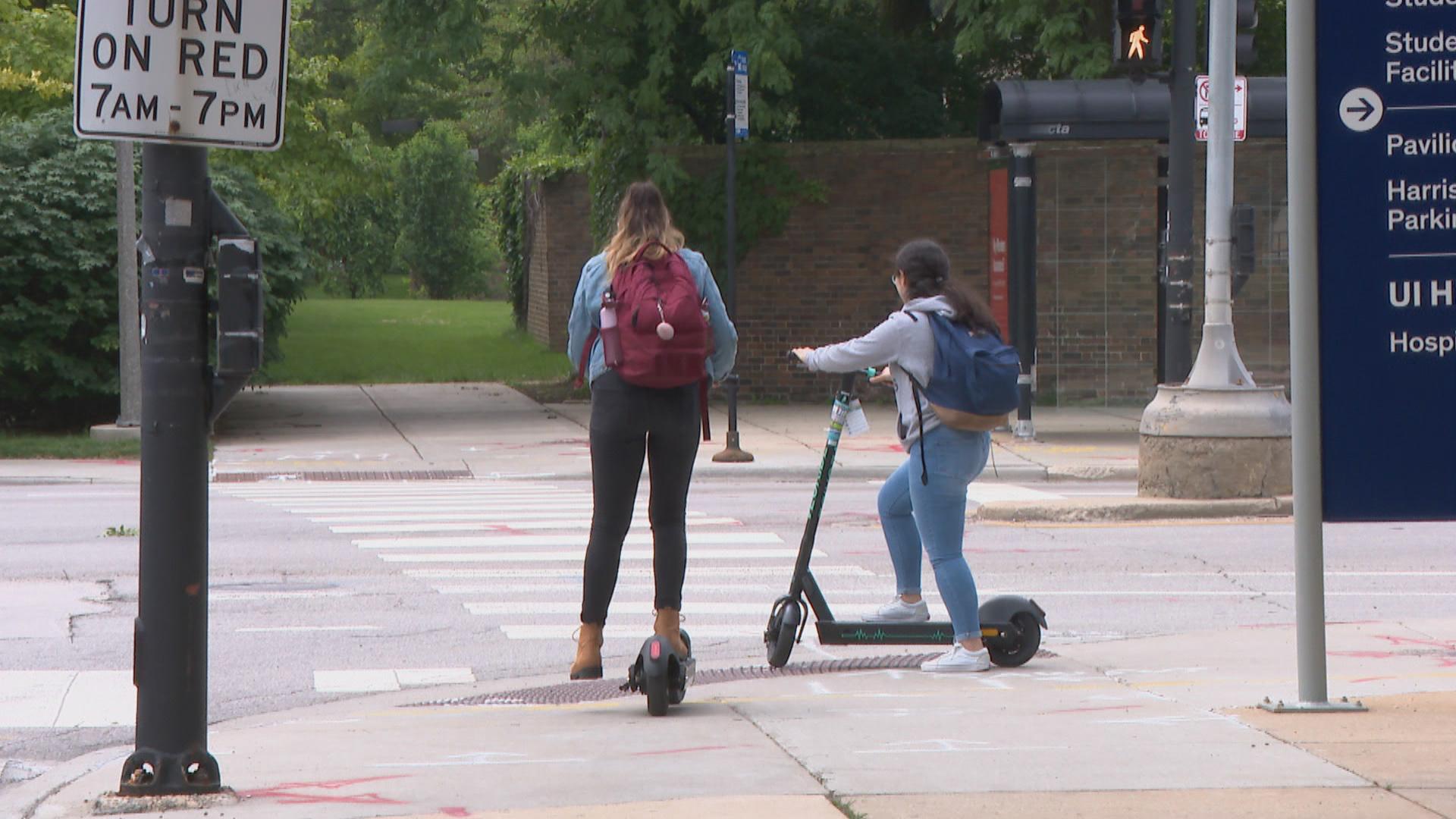 In this file photo, riders use electric scooters on the campus of the University of Illinois at Chicago. The city started its four-month scooter pilot program in June 2019. (WTTW News)
A new "snaphshot" study conducted by DePaul University researchers finds electric scooters in Chicago are proving popular, especially during morning and evening commutes.
Conducted by C. Scott Smith and Joseph P. Schwieterman of DePaul's Chaddick Institute for Metropolitan Planning, the study collected 12 hours of scooter data from a single day last month.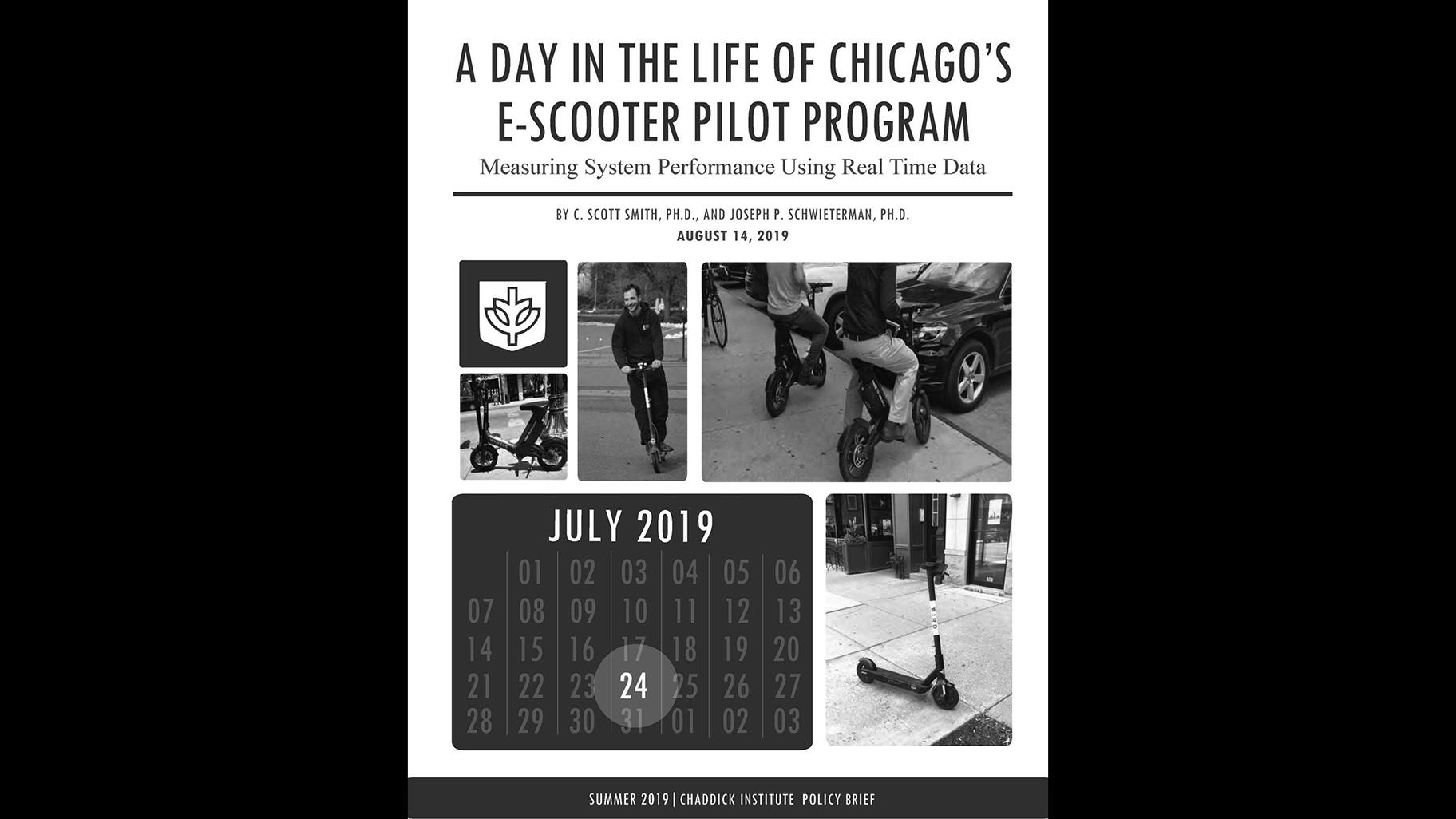 Document: Read the study The results show that over 2,000 scooter trips were taken by Chicagoans between 7 a.m. and 7 p.m. on Wednesday, July 24. A majority of those rides occurred during morning and evening rush hours, with 37% happening between 7-9 a.m., and 23% between 5-7 p.m.
"I thought perhaps scooters were a novelty and people would use them in their leisure time, to make their social activities a little easier, but what we found is that rush hour is when most of the money is being made," Schwieterman said. 
Chicago launched its electric scooter pilot program in mid-June in neighborhoods across the West and Southwest sides. Ten scooter companies were invited to participate by the Department of Business Affairs and Consumer Protection (BACP) and the Chicago Department of Transportation.
Within the pilot zone, the city established two priority areas to which at least 50% of each company's fleet must be returned each night.
The study also found that the number of scooters in the pilot zone "remained well below the maximum level" authorized by the city, which is 2,500, or 250 scooters per company. The daily average for available scooters as noted by the study was closer to 1,500.
A spokesperson for the BACP says that finding isn't entirely accurate, but it does hit on a previous issue the pilot faced.  
"Some of the low deployment depicted in the DePaul study was due to issues with the data feeds and are not indicative of low scooter numbers. That being said, some companies did have fleet sizes below the maximum earlier in the program. We have followed up with those companies and they have increased their fleet size."
Over the past few years, the rising popularity of electric scooters has raised serious safety concerns as injuries and even deaths have been reported across the country. In July, local transportation site Streetsblog Chicago reported that at least 21 scooter-related emergency room visits occurred during the first two weeks of the pilot program.
Schwieterman says no injuries were logged during the study period on July 24. But researchers did find that a little over 2% of scooter use occurred outside the pilot zone, which is against city rules.
The pilot program runs through Oct. 15. The BACP says "any decision about the future of scooters in Chicago will not occur until after the pilot program ends and it is thoroughly evaluated."
---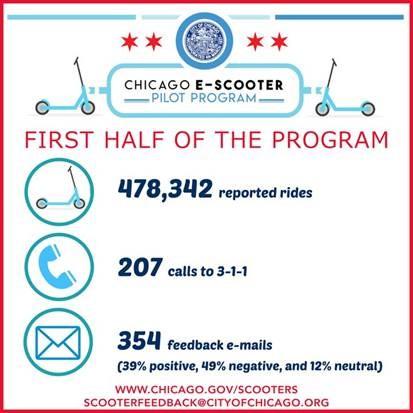 Update: Data released Thursday by the Chicago Department of Business Affairs and Consumer Protection shows over 478,000 electric scooter rides were taken during the first half of the city's pilot program, from June 15 to Aug. 15, averaging over 7,700 rides per day.
The department says it has received 354 feedback emails from residents, about half of which were negative.
---
Note: This story was originally published Aug. 20, 2019. It has been updated to include new data from the city.
Follow Quinn Myers on Twitter: @rquinnmyers
---
Related stories:
Electric Scooters in Chicago: Are They Here to Stay?
Electric Scooters Are Popular in Chicago, but Safety Concerns Linger
Ready or Not, Electric Scooters Arrive on Chicago's West Side
Will Chicago's Shared Electric Scooters Cut Emissions? It Depends, Experts Say
---