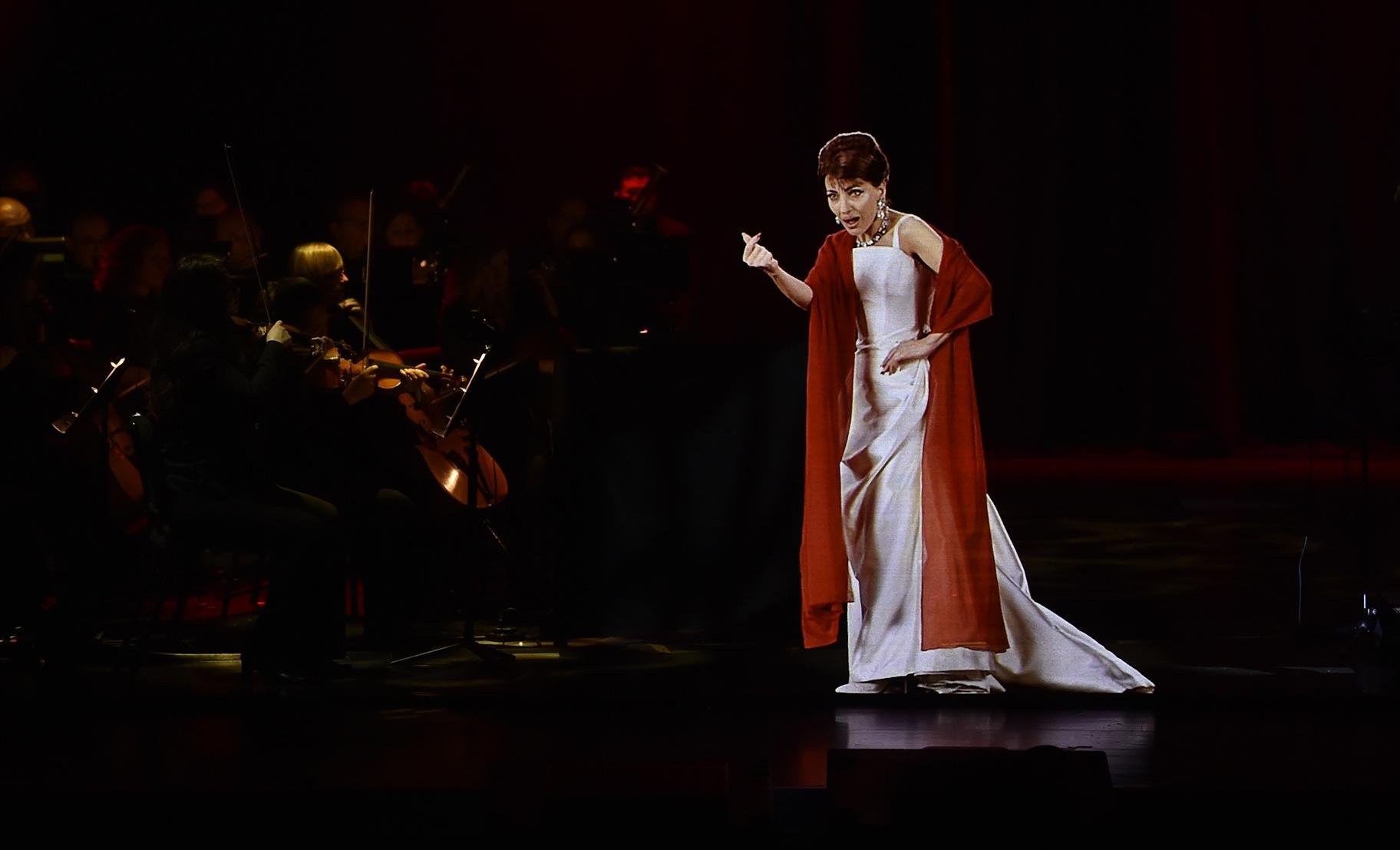 (Credit: BASE Hologram)
At once eerie, astonishing and altogether fascinating, "Maria Callas in Concert," a technological marvel devised by the Base Hologram company, brought the legendary diva back to life Saturday evening for what was a singular and wholly uncanny performance on the stage of Lyric Opera.
The event – in many ways a quintessential 21st century existential experience – was an example of virtual reality in its most sophisticated, artful form. And the lustrous accompaniment of the flesh-and-blood musicians of the Lyric Opera Orchestra, along with a fully entranced live audience, served as welcome reminders that "real life" continues to flourish, too.
Yet more than anything, "Maria Callas in Concert" captured the extraordinary artistry of one of the greatest vocal actresses of the 20th century, and gave electronic rebirth to an icon of the stage whose tumultuous life too often eclipsed her remarkable talent.
You really had to be in the Lyric audience to understand the full impact of this dazzling experience. Suffice it to say that when the svelte and glamorous Callas first walked onto the stage in a lemon yellow gown (with even the subtle click of her heels audible) the audience erupted in applause and a collective gasp of stunned delight and amazement.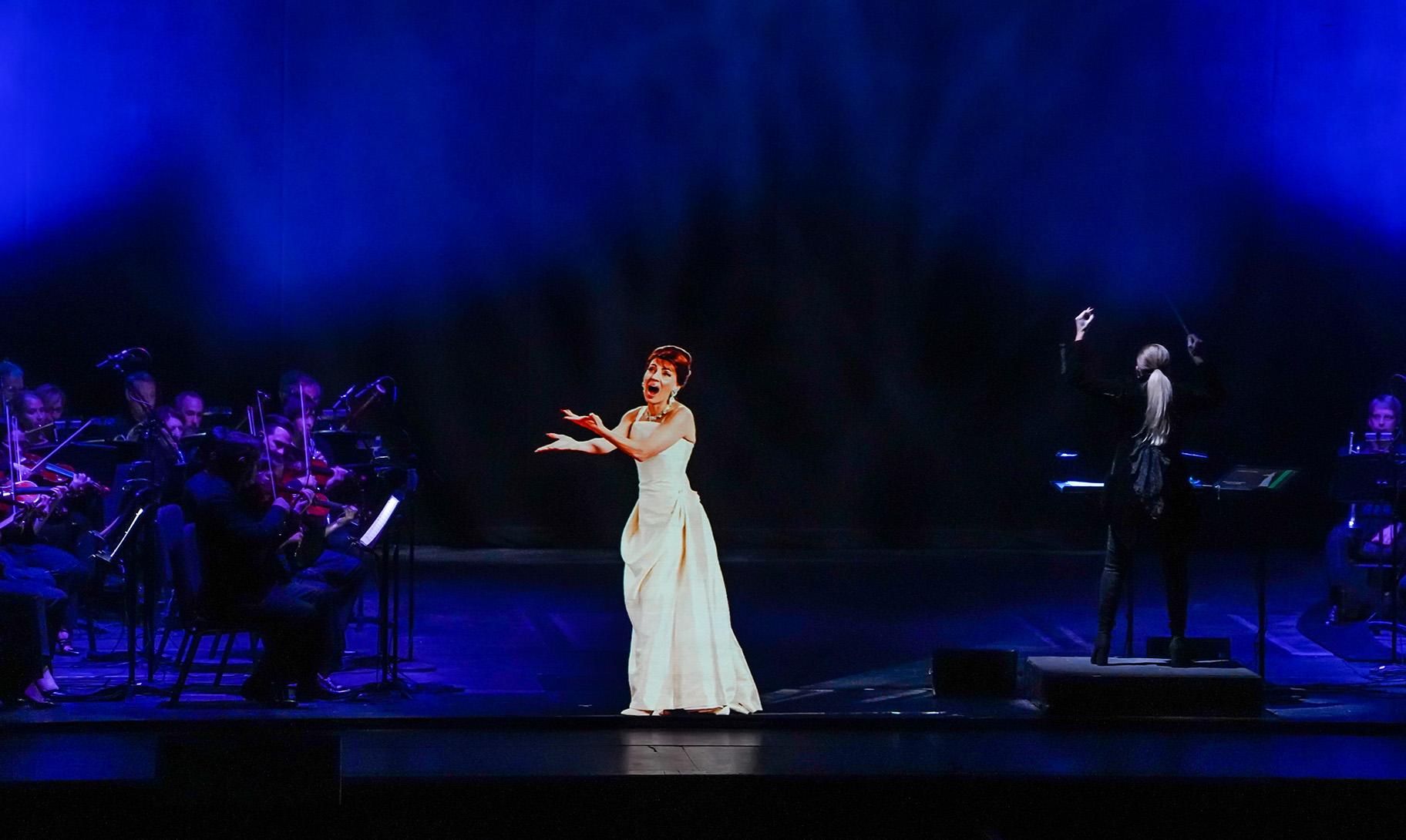 (Credit: Won J. Park / Korean Broadcasting)
The divide between hologram and live performance was instantly bridged by the singer's interaction with Eimear Noone (the young, Irish-born, California-based conductor and composer known for her award-winning work on video game music), and the notably theatrical way in which the singer is seen gathering her forces before launching into a series of arias (and, of course, a couple of encores) in which her voice is inextricably intertwined with her theatricality. Any sensation of disbelief quickly ceded to an enthralling connection forged by the meticulously synchronized mix of voice, gesture, live music, lighting and a few perfectly enacted diva-esque antics. And by the end of the evening it was clear that all the fuss about Callas during the course of her legendary career between the mid-1940s and mid-1960s was fully justified.
An actress every bit as much as a singer whose remarkable vocal range shifted from coloratura soprano to dusky mezzo in order to fit her character's personality and emotional state, Callas' use of her hands, arms, tilt of head, body position, manipulation of long shawls, interplay with the conductor, and meticulously timed moments of sustained stillness and silence before launching into an aria remains unique. It could easily be parodied, but the truth is it echoed the grandeur and intensity of opera itself, and it worked. Callas could set a scene as brilliantly as any stage director.
---
This Callas "concert" uses the vocal soundtrack that comes courtesy of Warner Classics, the label of her recorded legacy, with the hologram images created by means of a complex, cutting-edge technology that involves the use of the movements of a meticulously choreographed body double. (The singer is clearly captured in her post-diet phase. Initially quite the formidable figure, she famously lost a great deal of weight in the early 1950s in order to forge a glamorous image, but that physical transformation became the subject of much controversy about the effects her dieting might have had on her voice.)
The evening began with the orchestra's vibrant performance of the overture to Rossini's melodrama, "La gazza ladra (The Thieving Magpie)," followed by Callas' grand entrance and rendering of "Je veux vivre (I wish to live)," an aria from Gounod's "Romeo and Juliet," in which the young Juliet rejects the notion of an arranged marriage, and the singer sends a spiral of high notes soaring.
Then it was on to a more mature woman – Lady Macbeth in Verdi's interpretation of Shakespeare's play. First, Callas gave a psychologically compelling rendering of the scene in which she reads a letter from her husband about the witches' prophesy that he will be king, and she forcefully decides to drive him to action. Later, in the sleepwalking scene, she slowly rubs her hands, trying to remove the stains of guilt left by the murders she has encouraged her husband to commit. Callas makes her breakdown palpable.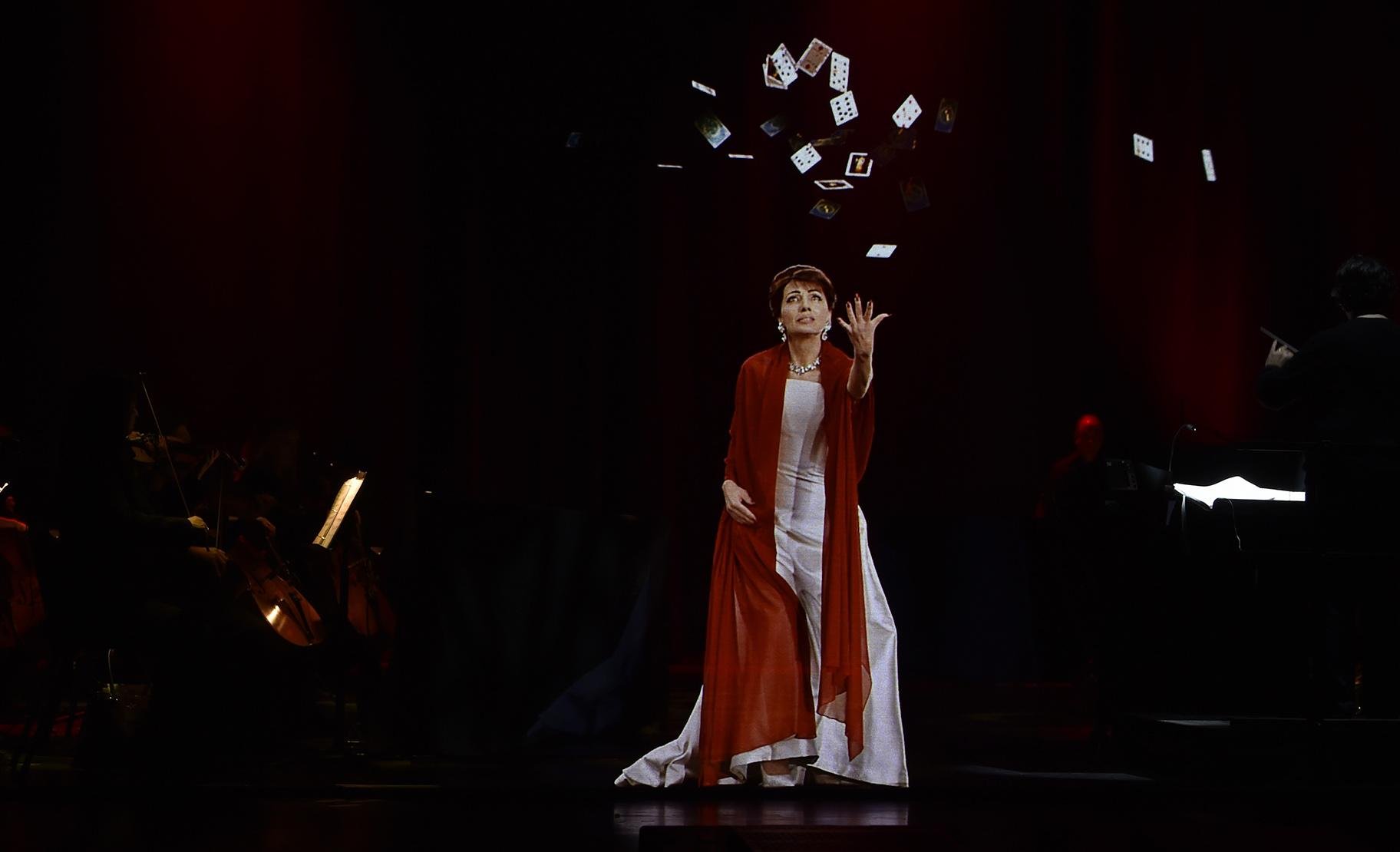 (Credit: BASE Hologram)
A fiery red shawl is Callas' expertly choreographed "prop" in scenes from Bizet's "Carmen," in which she captures the gypsy girl's tempestuous, devil-may-care nature in the "Habanera," and then, in the card scene, discovers her fate. As she angrily tossed the cards in the air, a glittery technological trick holds them momentarily suspended before letting them slowly trickle to the ground. Perfect.
Callas also brought great passion and a sense of desperate madness to the death-haunted arias from Alfredo Catalani's "Wally," Ambrose Thomas' "Hamlet," and Ponchielli's "La Giacoconda," with its stratospheric cry of "Suicidio!"
And of course there were encores, including the wholly apt "Vissi d'arte" ("I lived for my art … and for love)," from Puccini's "Turandot" and her trademark aria, "Casta diva (Chaste goddess)" from Bellini's "Norma," the opera in which Callas made her Lyric debut in 1954.
Without a doubt, the "real Callas" would have received many more curtain calls and armfuls of flowers after such a performance. But the ecstatic reception at Lyric was real. And the technological feat was wondrous, if altogether strange. It left me wondering what Callas herself might have thought of the whole thing.
Follow Hedy Weiss on Twitter: @HedyWeissCritic
---
'The Band's Visit' Captures the Special Magic of an Unexpected Encounter
Chicago Dance Crash's Wonderfully Fresh 'Lil Pine Nut' Deserves a Remount
Jeff Award Nominations a Reminder of the Season Spotlighted as 'Year of Chicago Theater'
---