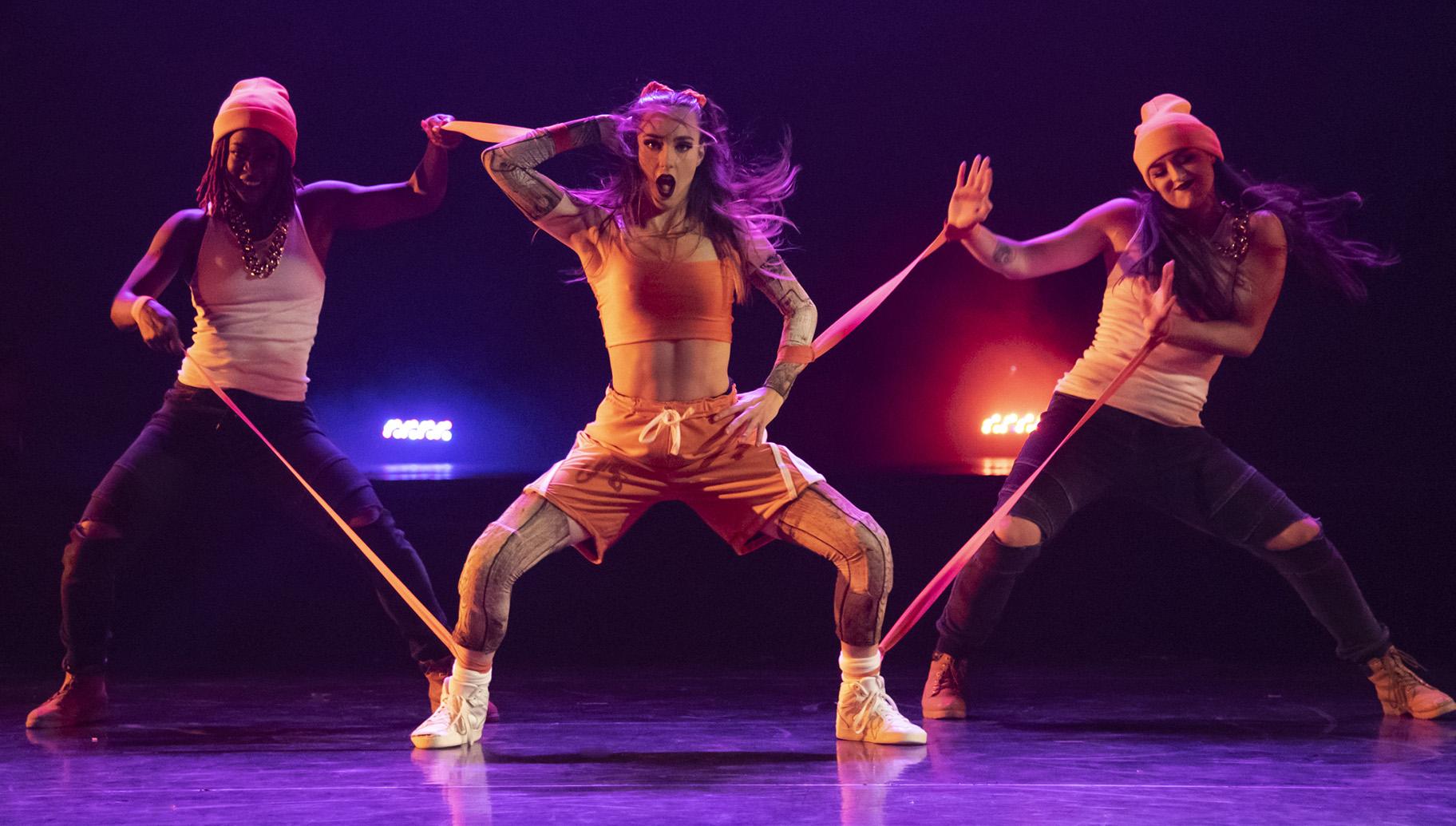 From left: Porscha Spells, KC Bevis and Kelsey Reiter in the Chicago Dance Crash world premiere production of "Lil Pine Nut: The Learning Curve of Pinocchio." (Photo by Ashley Deran)
Chicago Dance Crash's "Lil Pine Nut: The Learning Curve of Pinocchio" – a full evening work that puts a wonderfully fresh and ingenious contemporary spin on the classic 1883 Italian children's novel by Carlo Collodi – ended its brief run at the Ruth Page Center for the Arts this past weekend. But this 90-minute dance-theater piece is so clever and beguiling, and such a savvy mix of thoughtful storytelling and hip-hop and contemporary dance moves, that it deserves to be remounted, and not only for the adult audiences it has already attracted. It also would make an ideal touring show that could easily win over the middle school and high school crowd, and inspire discussions about everything from father and son relationships, to peer pressure, self-defeating risk-taking and the art of forgiveness.
As highly animated as the show might be, this is no Disney-style version of a universally popular story. Rather, the choreographic contributions of KC Bevis, Dionna Pridgeon, Jessica Deahr, Jim Morrow and an ensemble of fearlessly acrobatic dancers turn break dance and hip-hop moves into a highly expressive language. And the story itself has been given just enough of an imaginative twist away from the original tale of a puppet boy whose penchant for lying results in an ever-elongated nose. Here, there is more of a suggestion of real-life consequences for rebellious behavior. In addition, the show demonstrates how the hip-hop movement vocabulary can be used to create a clear narrative, distinctive characters and formidable emotional punch.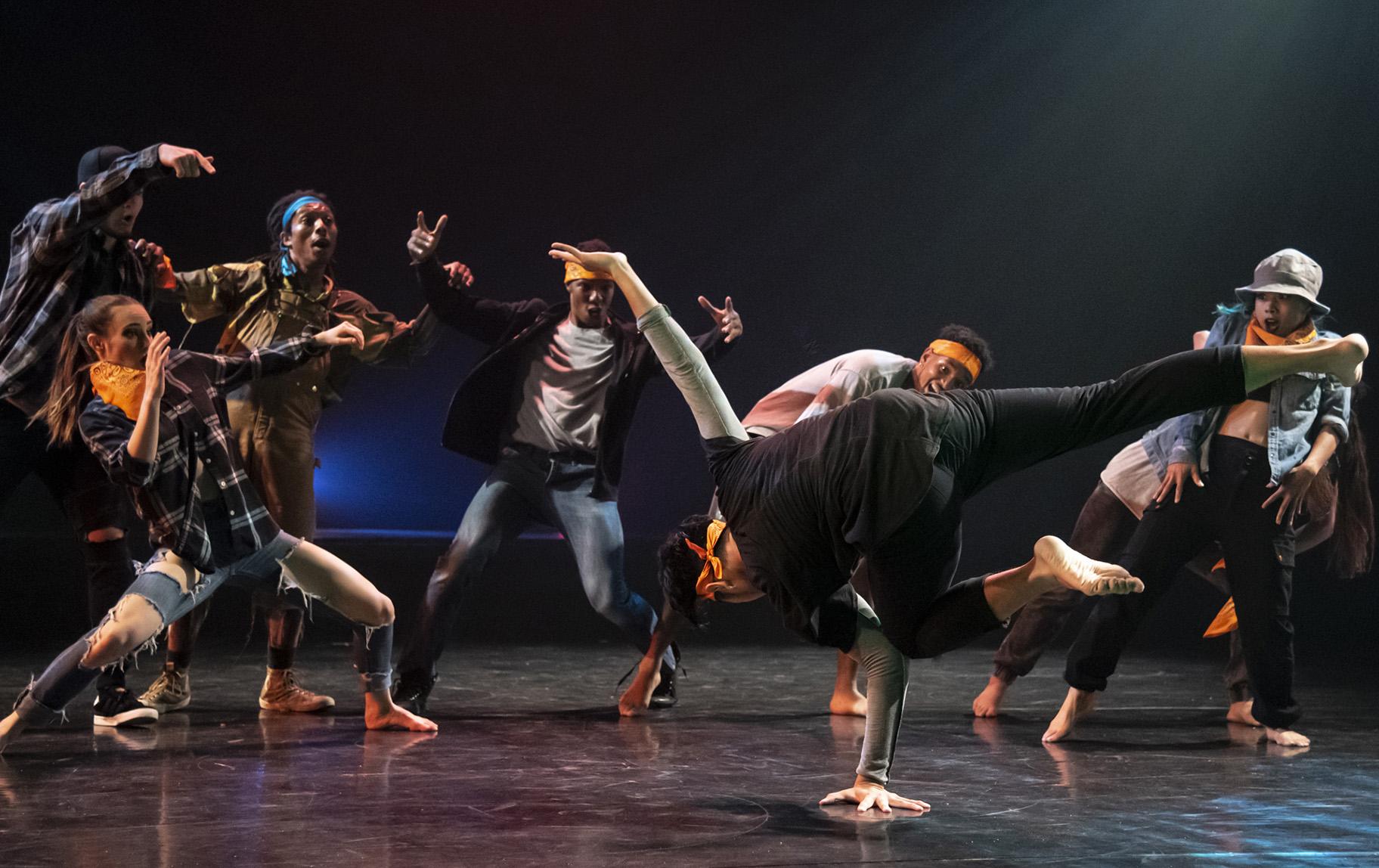 From left: Logan Howell, KC Bevis, Elijah Motley, Monternez Rezell, Diamond Burdine, Kristi Licera and Jasper Sanchez, front, in "Lil Pine Nut: The Learning Curve of Pinocchio." (Photo by Ashley Deran)
Of course there is something innately puppet-like about many of the moves in hip-hop and break dance. So when the marionette master, Geppetto (the richly expressive Monternez Rezell), uses stretch bands rather than strings when training his beloved "son" Pinocchio (Elijah Motley, a superb dancer-actor, masterful in a highly demanding role) it all makes perfect sense. So does the fact that dad "scratches" a record. And when Pinocchio (winningly nicknamed Lil Pine Nut) is enticed to venture out into the world by the seductive Turquoise Lady (Kristi Licera) and her sidekicks, he is just like any other adolescent chomping at the bit to break free of a parent.
The Talking Cricket (a notably stylish turn by actor Logan Paschall), knows that Pinocchio is on the road to trouble, yet cannot be stopped. And trouble is precisely what Pinocchio finds when he is scammed by a pair of con artists – Porscha Spells and Logan Howell as the slickly conniving Jo Fox and Side Cat – and left penniless.
When Pinocchio returns home, Geppetto gives him a boxing lesson for self-defense. But while he makes a bit of an impression once he's back on the street, his luck soon runs out. Geppetto tries to rescue him, but things go very badly for him, too. Only then does Pinocchio realize how much he loves his "father." And the father-son reconciliation is beautifully realized.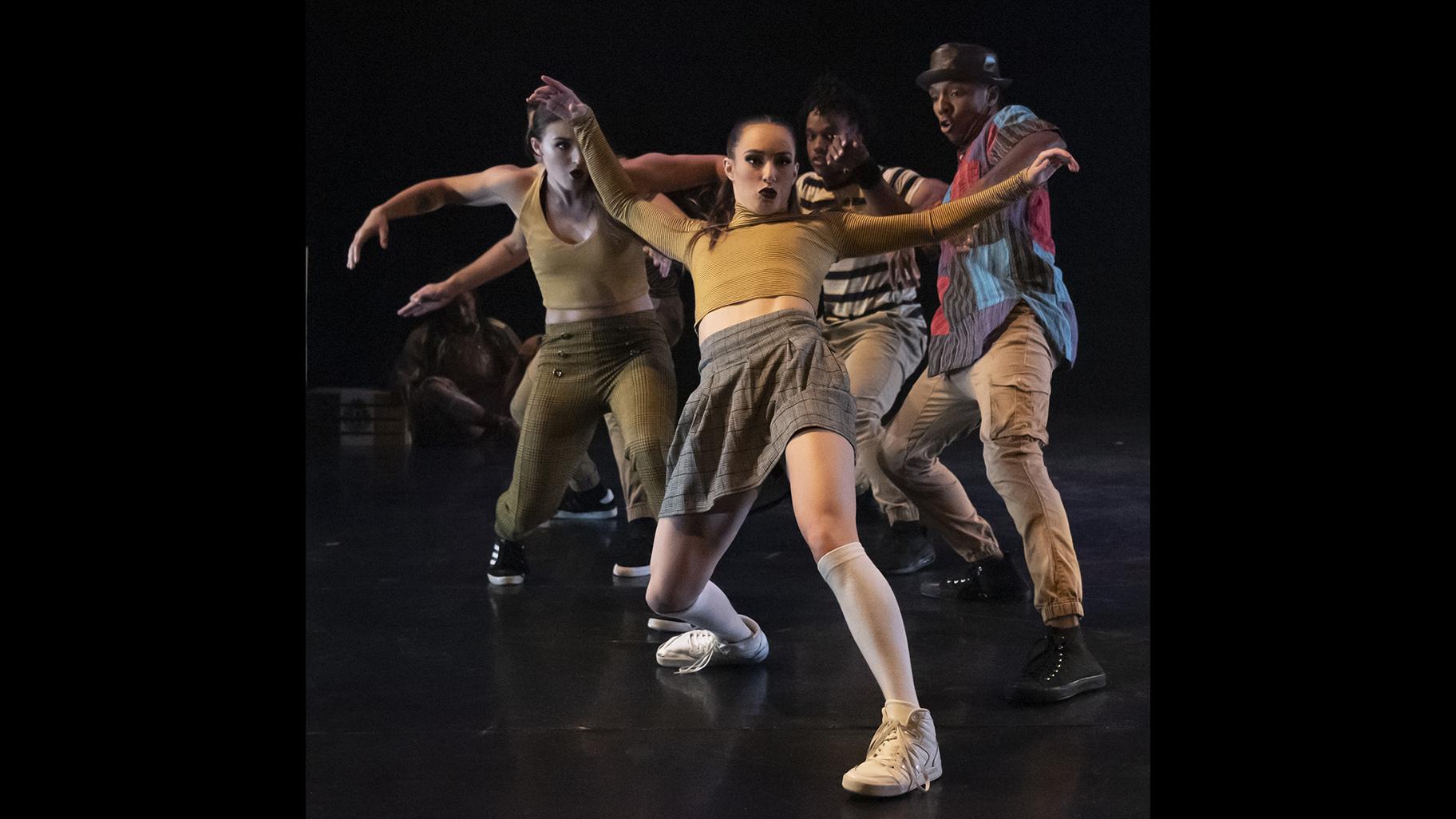 From left, Kelsey Reiter, KC Bevis, Logan Paschall, Monternez Rezell and Elijah Motley, background, in "Lil Pine Nut: The Learning Curve of Pinocchio." (Photo by Ashley Deran)
The Dance Crash ensemble (which also includes Charles Cutler, Diamond Burdine, Kelsey Reiter and Bevis), skillfully dances in and out of a slew of different roles. The show's mix-tape score by Johnny Nevin and Heart & Soul Productions is exceedingly clever, ranging from Bill Withers, Kid Rock, Sevdaliza and Marvin Gaye, to The Beach Boys, Sigur Ross and more. And the costuming (by Jeff Hancock, Jae Jordan and Stereo Soul Clothing) and lighting (by Erik S. Barry) add just enough pizzazz.
As "Lil Pine Nut" joins Chicago Dance Crash's rep along with the hugely engaging 2017 work, "The Bricklayers of Oz," it might leave you wondering what classic the company might "break" into next. Maurice Sendak's "Where The Wild Things Are" comes to mind. So does "Bonnie and Clyde." Any other suggestions?
Note: The company's next production will be a more "back-to-basics" event as it presents "KTF: Boss Battle." (KTF is short for "The Keeper of the Floor.") Described as "a pairing of competitive dance with the spectacle of sports entertainment," it will feature a face-off among local legends on the hip-hop and contemporary dance scenes. The performance will be at 10 p.m. on Sept. 21 at The Den Theatre, 1331 N. Milwaukee Ave. For additional information visit chicagodancecrash.com.
Follow Hedy Weiss on Twitter: @HedyWeissCritic
---
Jeff Award Nominations a Reminder of the Season Spotlighted as 'Year of Chicago Theater'
'Dance for Life' Celebrates Multifaceted Brilliance of Chicago's Dance Scene
'Into the Woods' a Musical Reminder to Be Careful What You Wish For
---