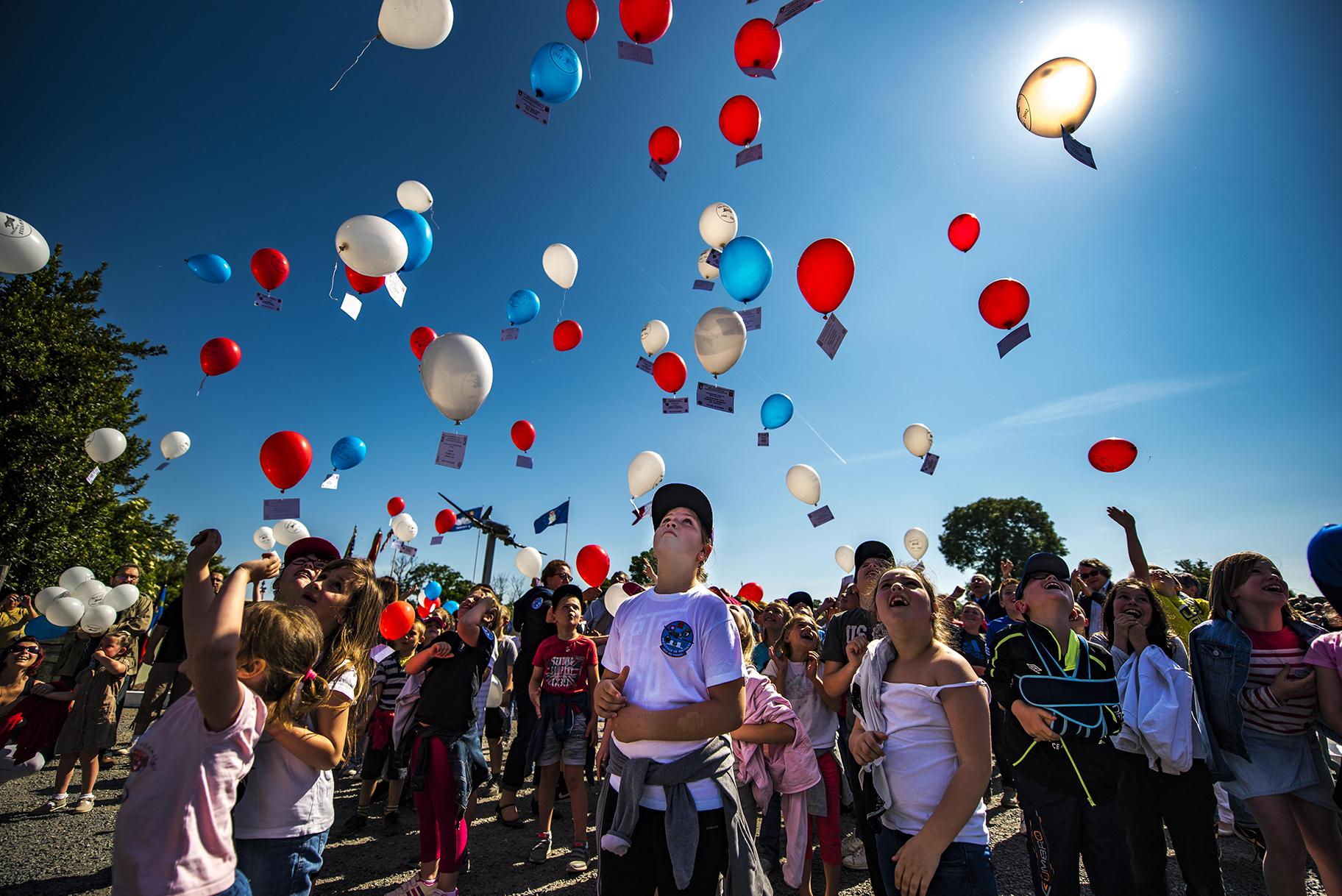 French children release balloons into the air during a D-Day remembrance ceremony at the United States Army Air Forces Transport Memorial in Picauville, France, June 1, 2017. (U.S. Air Force photo / Senior Airman Devin Boyer)
Necks crane to follow a cluster of colorful balloons that have been set free, each one appearing as a smaller and smaller dot as it floats up, up and away.
It's a common scene, associated with graduations, birthdays, sporting events and other celebrations. And no matter how many times you've witnessed a balloon release, it's hard to ignore such a graceful, carefree voyage.
But there's one big problem: Those balloons eventually come down, at which point they become deadly for animals, particularly marine wildlife, which can mistake balloon debris for food or become entangled in their strings.
A recent analysis by the Chicago-based Alliance for the Great Lakes found more than 18,000 balloons or balloon pieces along Great Lakes shorelines between 2016 and 2018, as highlighted by the Detroit Free Press. To continue tracking the issue, a graduate student at the University of Michigan's School for Environment and Sustainability created a website where anyone can report balloon debris findings along the Great Lakes.
Concerns over balloon-related pollution on the East Coast and in other areas have led five U.S. states – California, Connecticut, Florida, Tennessee and Virginia – to enact laws that regulate the intentional release of balloons. A number of cities have also adopted ordinances prohibiting balloon releases, including Baltimore, San Francisco and Louisville, Kentucky.
Illinois could be one of the next states to take action. Marc Ayers, Illinois director for the Humane Society of the United States, said a handful of state lawmakers are considering sponsoring legislation to address the wildlife and environmental impacts caused by balloons.
"You release these things into the atmosphere and they're beautiful, but you don't know where they land," Ayers said. "There seems to be interest among various lawmakers in the region to begin looking at the issue."
Ayers said he is not aware of any municipalities in Illinois with an ordinance against balloon releases.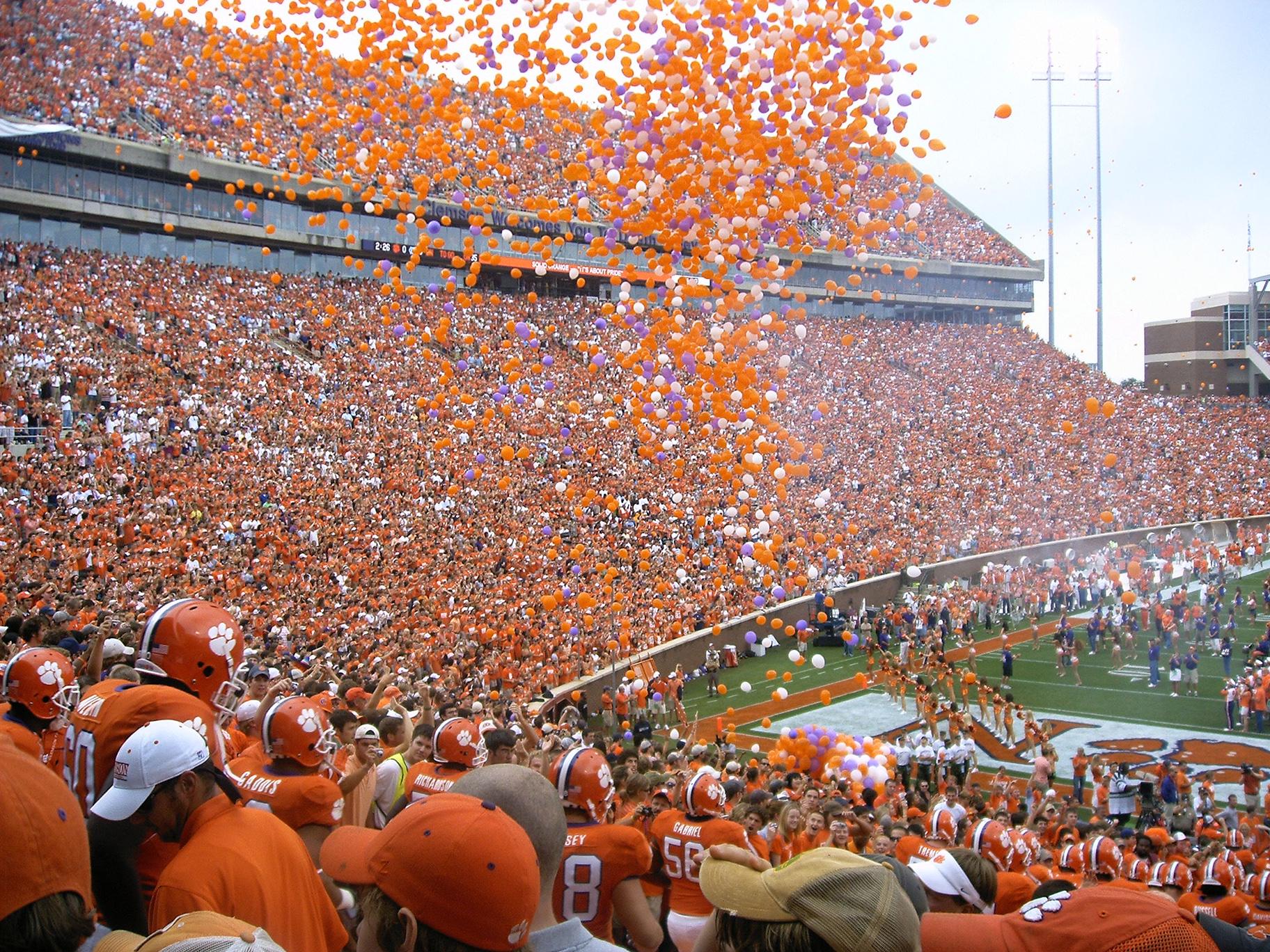 Clemson University ended a 30-year tradition of releasing thousands of orange balloons before football games last year after facing pressure from environmental and animal rights groups. (Jason A G / Flickr)
Although some types of balloons are marketed as biodegradable, it can take months or even years for them to break down.
In response to reader complaints over the longstanding balloon release at the Indianapolis 500 auto race, the IndyStar tested balloons that race officials said were completely biodegradable and therefore of minimal risk to animals. The newspaper found that while some of the balloons degraded, they still posed a risk to wildlife.
Experts say balloons do not rank among the world's top 10 pollutants found in oceans. But a study published in March found that balloons are the most dangerous plastic debris item for seabirds, which are 32 times more likely to die from ingesting balloon material than from swallowing hard plastics.
In addition to environmental and animal welfare advocates, Ayers said that legislation to regulate balloon releases could also receive support from groups like utility companies, given that balloons can get caught in electrical lines, and even farmers. Ayers mentioned a story posted online by a Wisconsin farmer whose cattle had tried to eat balloon strings that landed in barrels of hay. If ingested, Ayers said the strings could wrap around a cow's stomach, causing gastrointestinal issues or even killing the animal.
Efforts to ban balloon releases have been met with resistance from the Balloon Council, a trade group that represents balloon manufacturers, distributors and retailers. The organization advocates "smart balloon practices" but has expressed concerns that balloon release bans could lead to outright bans on balloons.
On the other side of the Balloon Council is the Florida-based advocacy group Balloon Blows, which seeks to educate people on the "destructive effects released balloons have on animals, people and the environment."
The group's website includes a page with "environmentally-friendly alternatives" to balloon releases for celebrating special occasions, such as planting a tree or garden, hanging a reusable flag or banner, displaying pinwheels or blowing bubbles.
Contact Alex Ruppenthal: @arupp | (773) 509-5623 | [email protected]
---
Related stories:
Photos: Shedd Debuts Giant Sea Life Sculptures Made From Ocean Trash
Shedd Takes Aim at Plastic Bottles in New US Effort to Cut Pollution
---