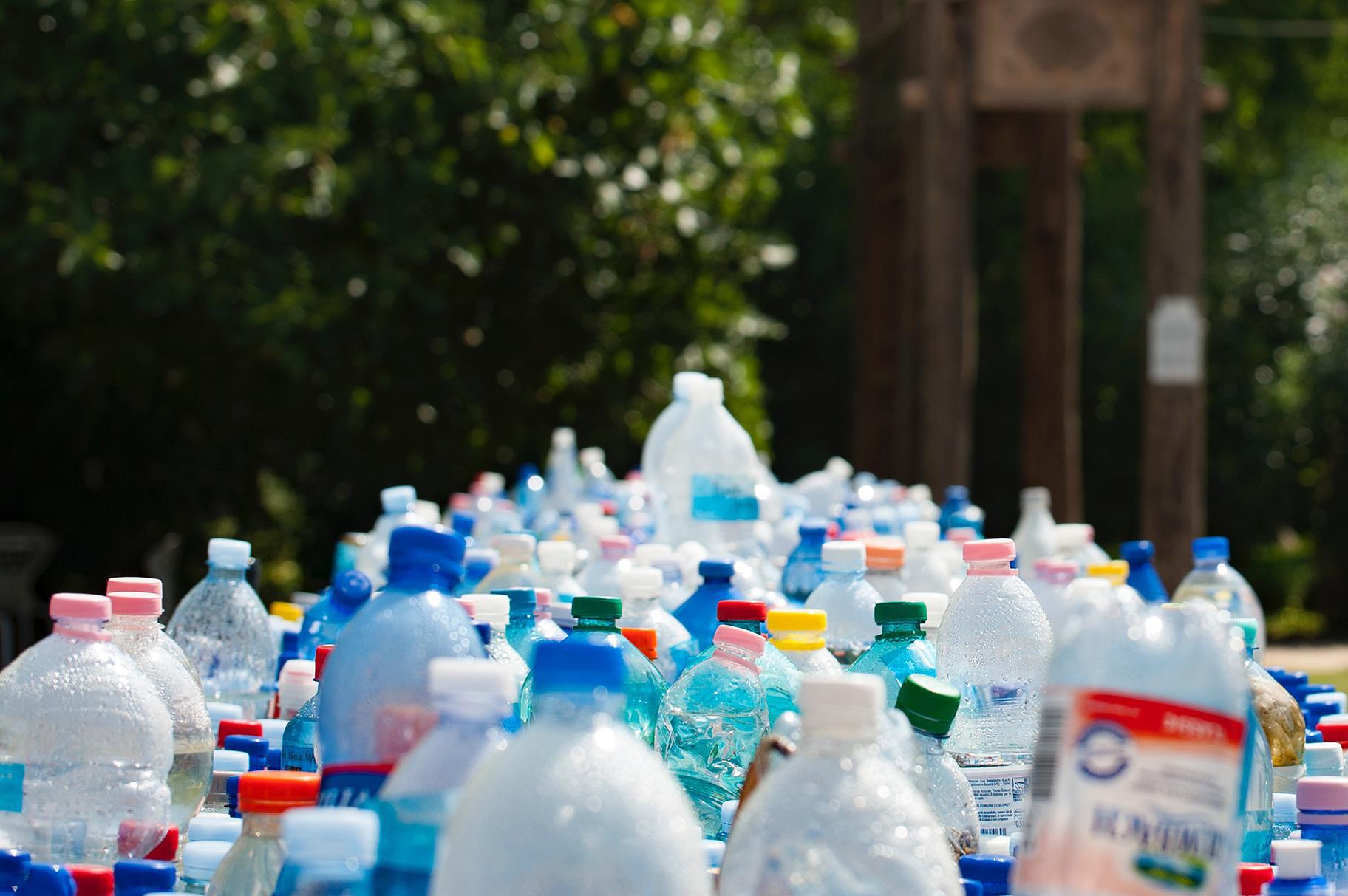 (mali maeder / pexels)
Since mass production of plastics began more than a half-century ago, 8.3 billion metric tons of the stuff has been created. According to a recent study, only 9 percent of that – less than 750 millions metric tons – has been recycled.
The vast majority of plastics created on Earth, 6.3 billion metric tons, have wound up as waste.
Which countries are contributing most to this problem? We are.
Those living in the U.S. (and Western Europe) generate an average of 220 pounds of plastic waste per person each year, according to the research organization Worldwatch Institute. That's the highest rate in the world.
(Ourhands.org)
As the scope of the plastic waste crisis has become clearer in recent years, local organizations, including Chicago's Shedd Aquarium, have begun sounding the alarm. Two years ago, the aquarium launched a campaign encouraging consumers to ditch single-use plastic draws, while also committing to significantly reduce or eliminate the use of disposable bottles by 2020.
Shedd's role in the movement to reduce plastic waste makes sense, given that 8.8 million tons of plastic enter the ocean each year – roughly a dump truck full of plastic every minute – which has deadly consequences for marine life. At the current rate, the amount of plastic in the world's bodies of water is expected to outweigh all the fish in the sea by 2050, according to the Center for Biological Diversity.
Clearly, we need to do better, especially in places like the U.S., where the use – and waste – of plastics is rampant.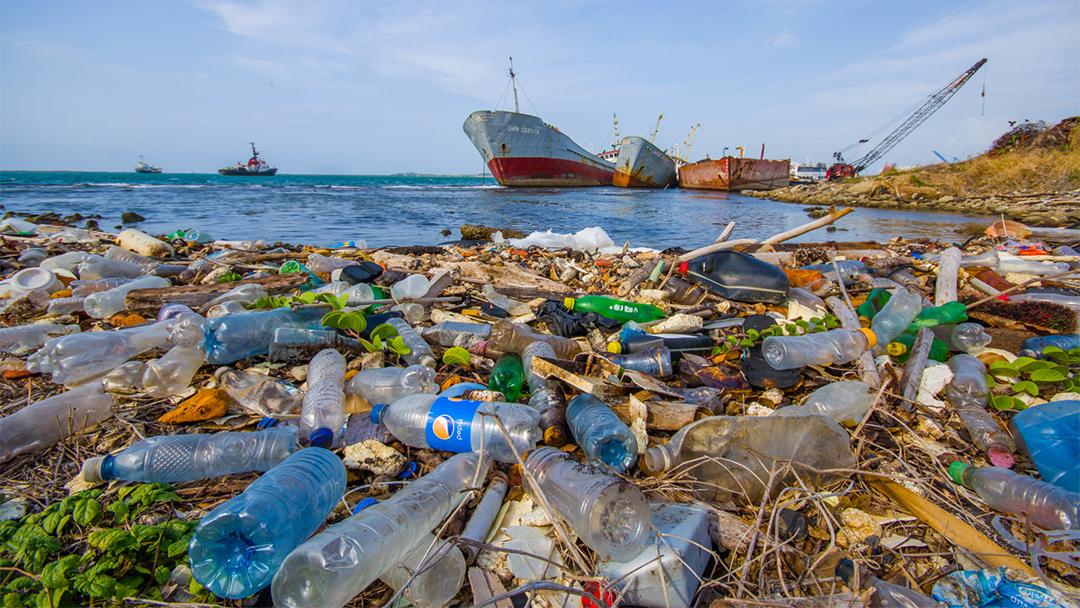 (Shutterstock)
Here are some tips to help you become a plastic recycling warrior – or, at the very least, arm you with some interesting material for a future dinner party (and subsequent cleanup).
For additional information, check out Recycle by City's Chicago Recycling Guide. 
The Do's and Don'ts
Why aren't more plastics recycled? Laziness and apathy may play a role for some, but figuring out whether this or that type of plastic can be recycled leaves many consumers feeling disoriented.
To start, here are some basic do's and don'ts when it comes to recycling plastics.
Do recycle:
Water bottles, soft drink bottles
Peanut butter jars (cleaned out)
Bottles for salad dressing, cooking oil and other related products
Milk and juice jugs
Laundry detergent, bleach and shampoo (in most cases) 
In general, all plastic bottles, jugs, containers and buckets up to five gallons (empty and re-cap; for bathroom, laundry and cleaning products, discard pumps and nozzles, which may contain metal)
Don't recycle:
Plastic bags or wrap
Disposable plastic utensils (even the biodegradable ones)
Plastic plant pots (return to nurseries for reuse)
Coffee pods
Large or odd-shaped plastic items, such as laundry baskets and crates
Lawn furniture
Plastic toys (donate them)
VHS tapes
Syringes
Bubble wrap and all forms of shipping plastics
Plastic case wrap on water bottle packages, toilet paper, paper towels, etc.
Plastic drinking pouches
Soft plastic packaging, such as plastic bread sacks, water bottle packaging, paper towel and toilet paper packaging, etc.
Drinking straws
While some items in the "don't" list cannot be recycled using Chicago's blue carts, some of them (such as plastic bags, bubble wrap and film wrap) can be recycled at grocery stores.
Sources: Chicago Department of Streets and Sanitation; Recycle by City; Illinois Environmental Protection Agency
---
Deciphering the 'Chasing Arrow' Symbols
Despite the symbol's association with recycling, the existence of a "chasing arrow" emblem on a plastic container does not necessarily mean that the product is recyclable.
To determine whether an item can be recycled or if you need to pitch it into the trash, you'll need to look at the tiny numbers inside the triangle formed by the arrows.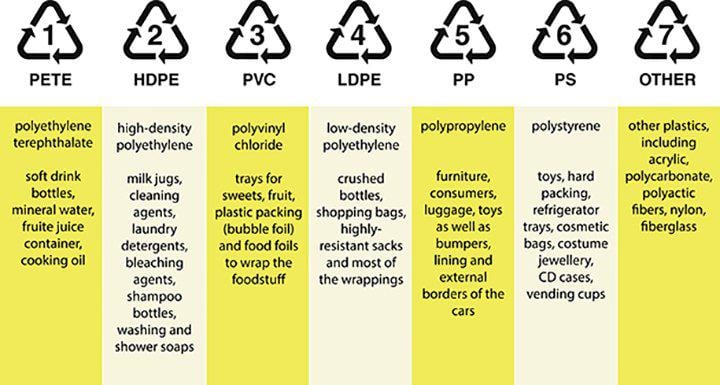 The purpose of each number (and series of letters below the symbol) is to identify the type of plastic used in a given product – because not all plastics are created equal. 
Here's a quick primer on the seven classifications for plastics.
No. 1: Polyethylene Terephthalate ("PET" or "PETE")
• Can I recycle products made using this type of plastic? Yes.
Most single-use bottle beverages are made of PET plastic, which is cheap, lightweight and easy to recycle. 
You'll find this symbol on soft drink and water bottles, peanut butter containers, salad dressing and vegetable oil containers, oven-ready food trays and containers for packaging food. 
PET plastic can be recycled into polar fleece, fiber, carpet, furniture and tote bags.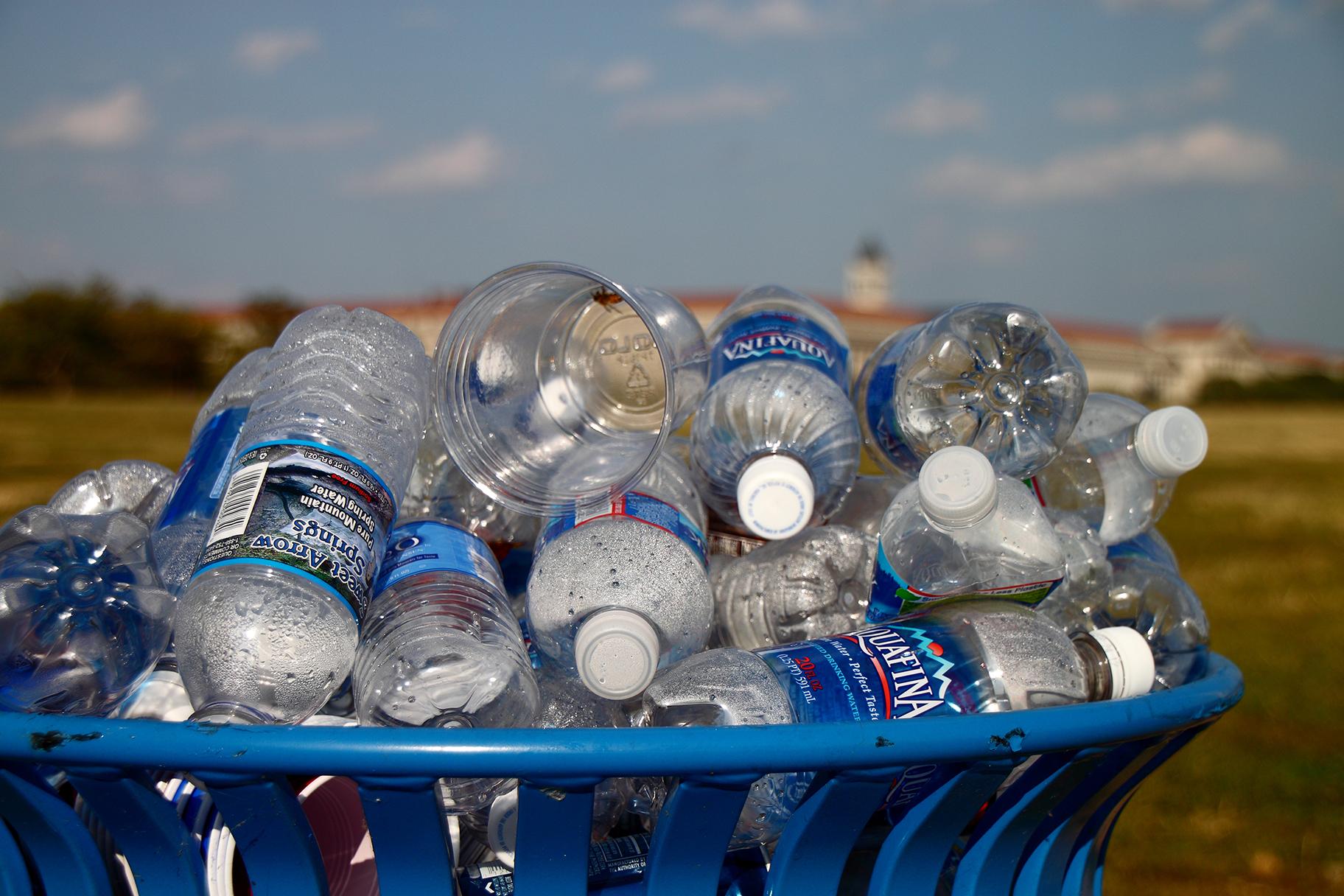 A recycling bin overflowing with water bottles on the National Mall in Washington, D.C., on Sept. 25, 2010. (Mr.TinDC / Flickr)
No. 2: High-Density Polyethylene ("HDPE")
• Can I recycle this type? Yes.
This stiff form of plastic is the most commonly recycled plastic and is also considered one of the safest plastics. Its sturdiness makes it a versatile material that is often used in packaging. 
HDPE is found in milk jugs, juice bottles, laundry and household cleaner containers, shampoo bottles and butter and yogurt tubs. 
This type of plastic can be recycled into laundry detergent bottles, pens, lumber, benches and fencing. 
---
​No. 3: Polyvinyl Chloride ("PVC")
• Can I recycle this type? No.
Polyvinyl chloride, commonly known as vinyl, contains a number of toxins that can leach throughout the material's life cycle, which has earned it the designation as the "poison plastic." 
This soft and flexible plastic is found in some window cleaners and detergent bottles, clear food packaging, medical equipment, piping and children's and pet toys. 
Although PVC is rarely recycled, it can be sometimes be repurposed for flooring, cables, mats and paneling.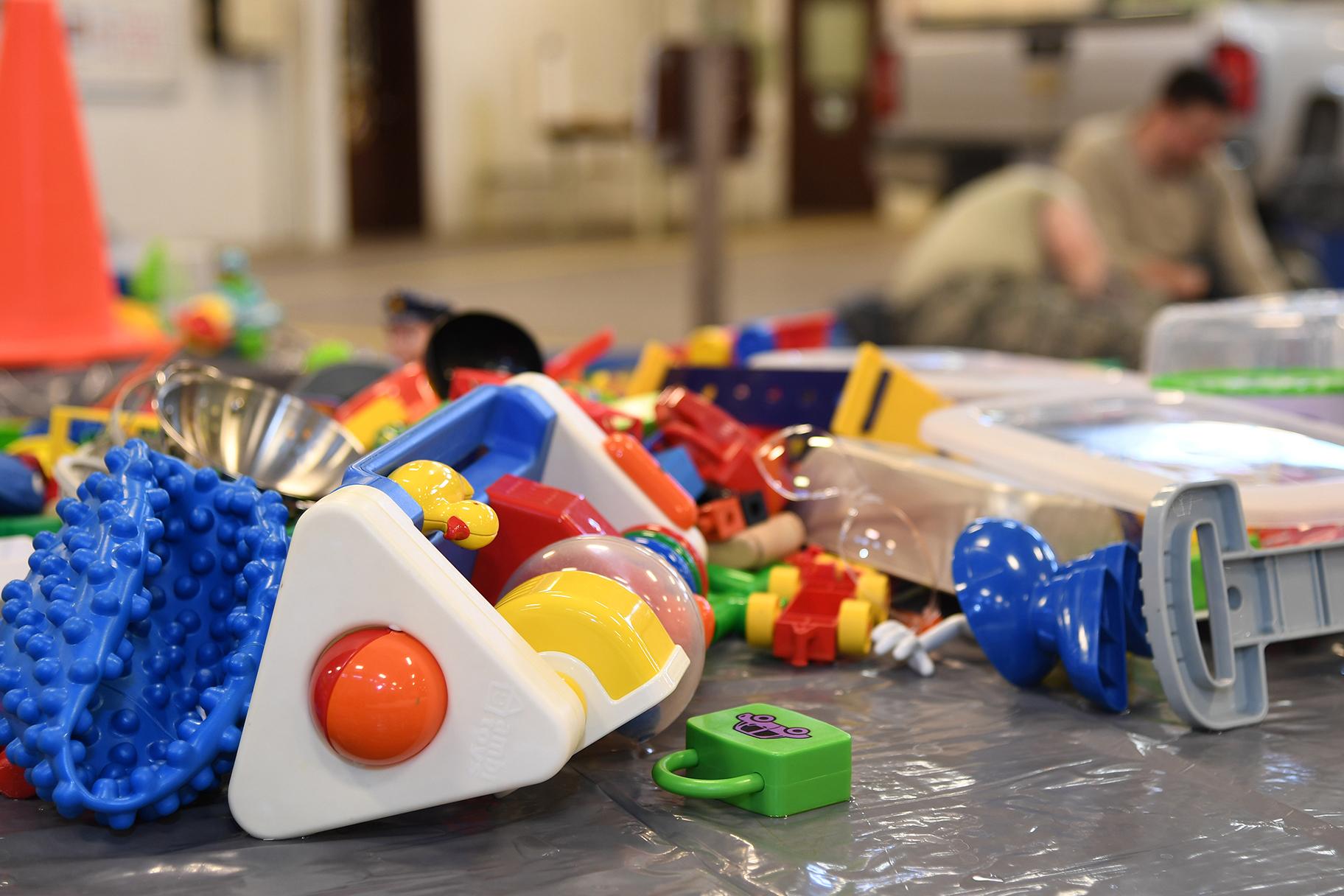 Polyvinyl chloride, which is found in items such as children's toys, is typically not able to be recycled. (U.S. Air Force photo by Senior Airman Elora J. Martinez)
No. 4: Low-Density Polyethylene ("LDPE")
• Can I recycle this type? Generally not.
LDPE is a flexible plastic that is considered less toxic than other forms of plastic, though it is not typically recycled.
Products made using LDPE include shrink wrap, dry cleaner garment bags, squeezable bottles, shopping and tote bags, furniture and carpet.
This material can be repurposed into trash can liners and cans, compost bins, floor tile and lumber. 
Products with this symbol should generally not be recycled. However, items made using LDPE can often be taken to drop-off centers that are able to recycle them. 
Additionally, plastic shopping bags can be brought to many grocery stores to be recycled. 
---
​​No. 5: Polypropylene ("PP")
• Can I recycle? Yes.
Polypropylene is a tough yet lightweight plastic that is resistant to heat and can act as a barrier against moisture, grease and chemicals. 
Products made using this plastic are disposable diapers, straws, medicine bottles and syrup bottles.
Polypropylene is safe for reuse and can be recycled into bins, rakes, trays, brushes and ice scrapers.
Only about 3 percent of products made using PP is currently recycled in the U.S. However, once rinsed and dried, items with this symbol can and should be recycled.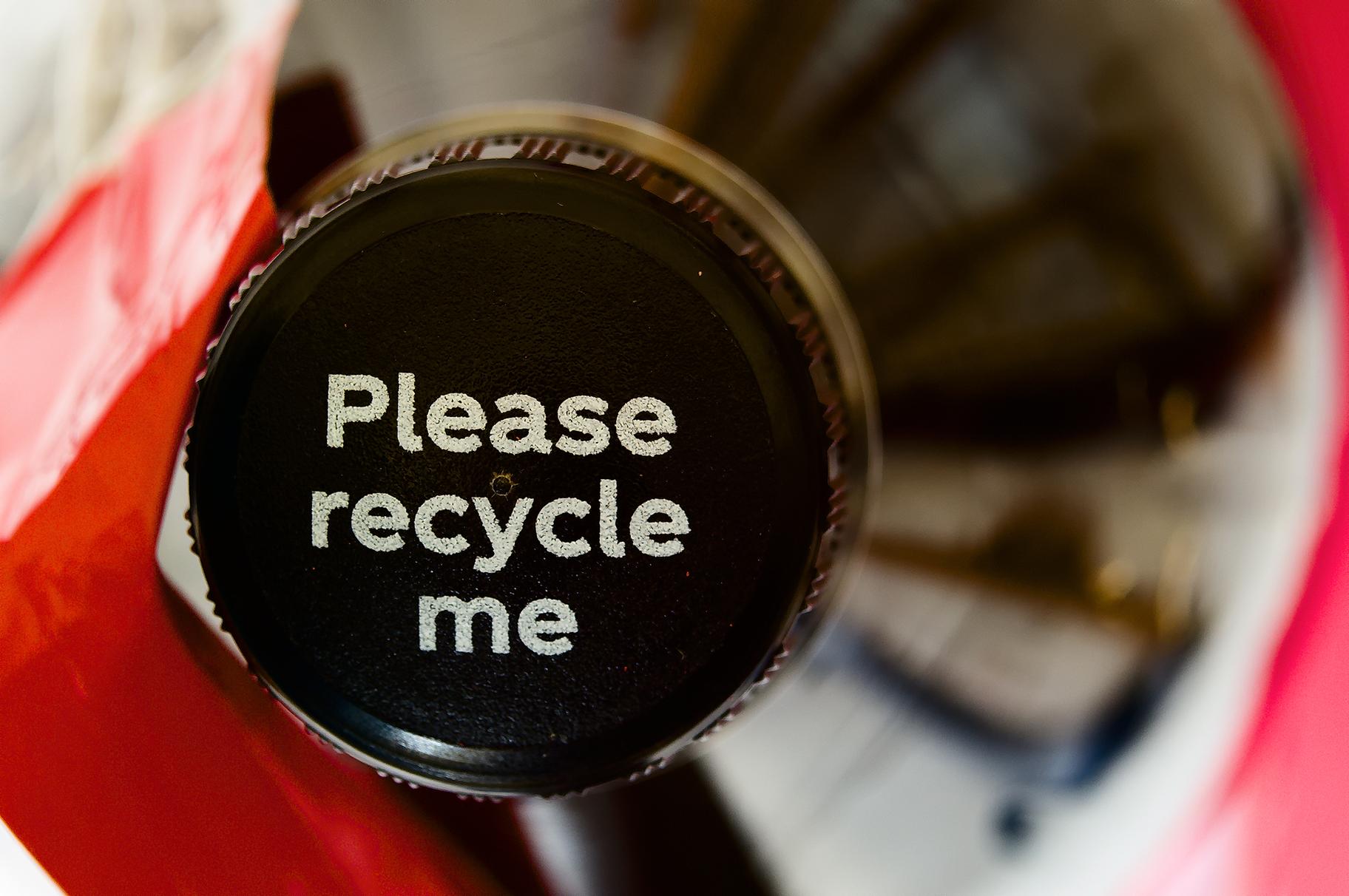 (Filip Patock / Flickr)
No. 6: Polystyrene ("PS")
• Can I recycle this? No.
Polystyrene, or PS, is a lightweight and cheap form of plastic that is easy to produce but difficult to recycle. In fact, this plastic makes up more than one-third of the waste in U.S. landfills. 
Products made using PS include egg cartons, disposable cups and plates, carry-out containers and compact disc holders. 
In some cases, this plastic can be repurposed into foam packing, insulation, vents and rulers.
---
No. 7: Other plastics ("OTHER")
• Can I recycle this? Generally not.
All forms of plastic that do not fit into one of the above classifications are labeled as "OTHER." 
Products that fall into this category include sunglasses, nylon, electronic cases and baby bottles.
This plastic can sometimes be used to make plastic lumber. 
Products with this label should generally not be recycled, though there are exceptions, such as with items that contain the letters "PLA" near the symbol, indicating a compostable plastic.
Contact Alex Ruppenthal: @arupp | [email protected] | (773) 509-5623
---
Related stories:
Study: Chicago Not Only City in Illinois Struggling to Boost Recycling Rate
New Campaign Aims to Boost Chicago's Dismal Recycling Rate
Chicago Recycling, Garbage Pickup Schedules Now Available Online
Recycling 101: How Clean Do My Containers Need To Be?
Chicago Recycling, By the Numbers