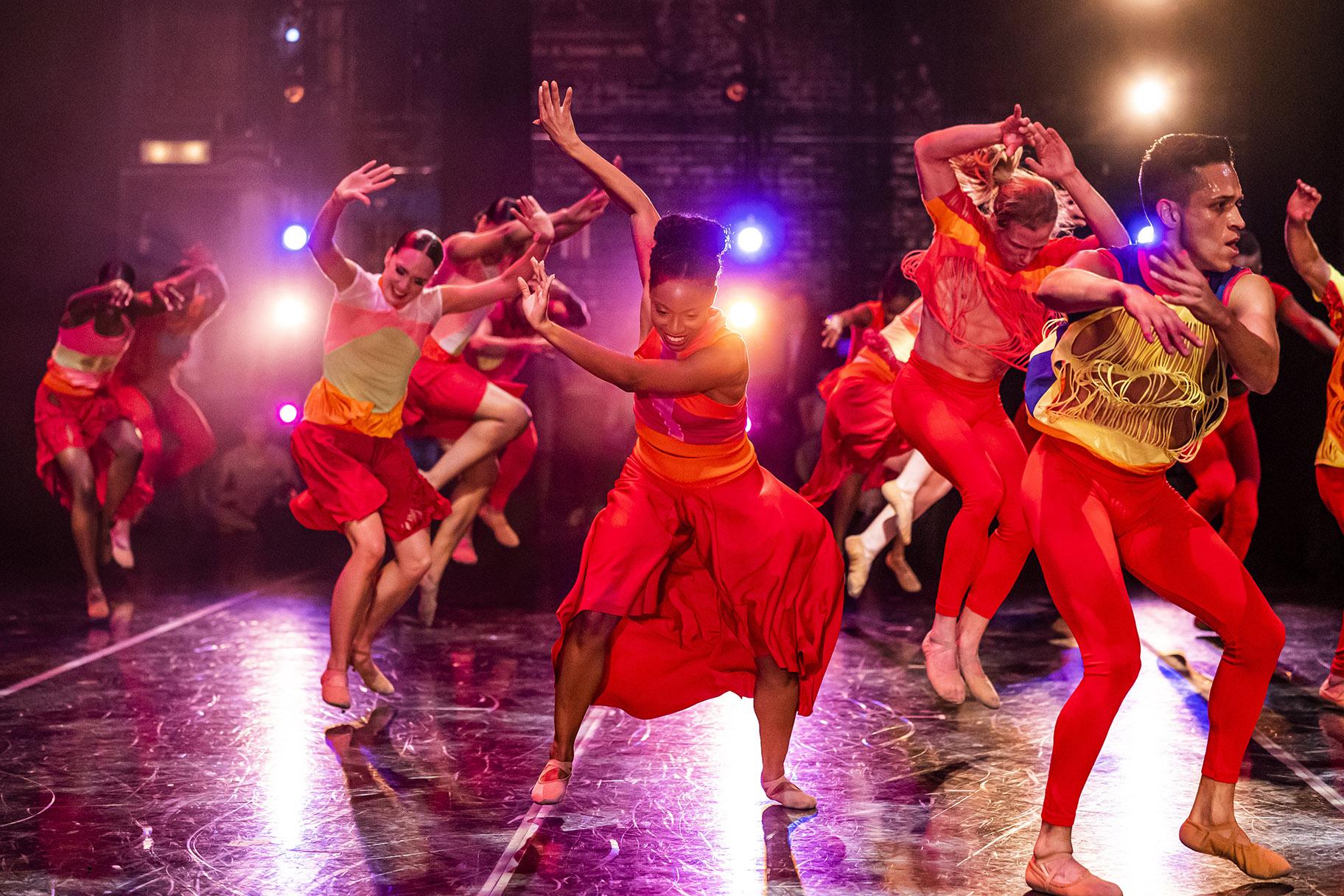 Randy Duncan's "Release," the finale for Dance for Life 2019. (Credit: Todd Rosenberg)
"Dance for Life," the grand-scale gala concert that showcases a vast cross section of Chicago's exceptional array of professional dance companies and independent dancers, began 28 years ago as a benefit designed to help defray the medical costs of those suffering from AIDS.
But as anyone familiar with the lives of dancers and the many other artists involved with dance production knows, despite the intensive training and unrelenting discipline involved, the salaries for these artists are low, benefits often are nonexistent, jobs can be sporadic, and injuries and illness can hit at any moment. So the existence of Chicago Dancers United, which now assists with all critical health care issues faced by dancers (as well as stagehands, lighting and costume designers and stage managers working in the field), is of immeasurable importance. And Chicago dancers seem to perform in its honor with a special intensity and sense of gratitude.
This past Saturday's "Dance for Life" concert at the Auditorium Theatre not only proved the point with a slew of bravura performances, but was in many ways the sharpest production to date with less talk and more dance. And the tone was set from the opening moment which featured a thrilling, altogether prize-worthy video montage of Chicago dance created by HMS Media.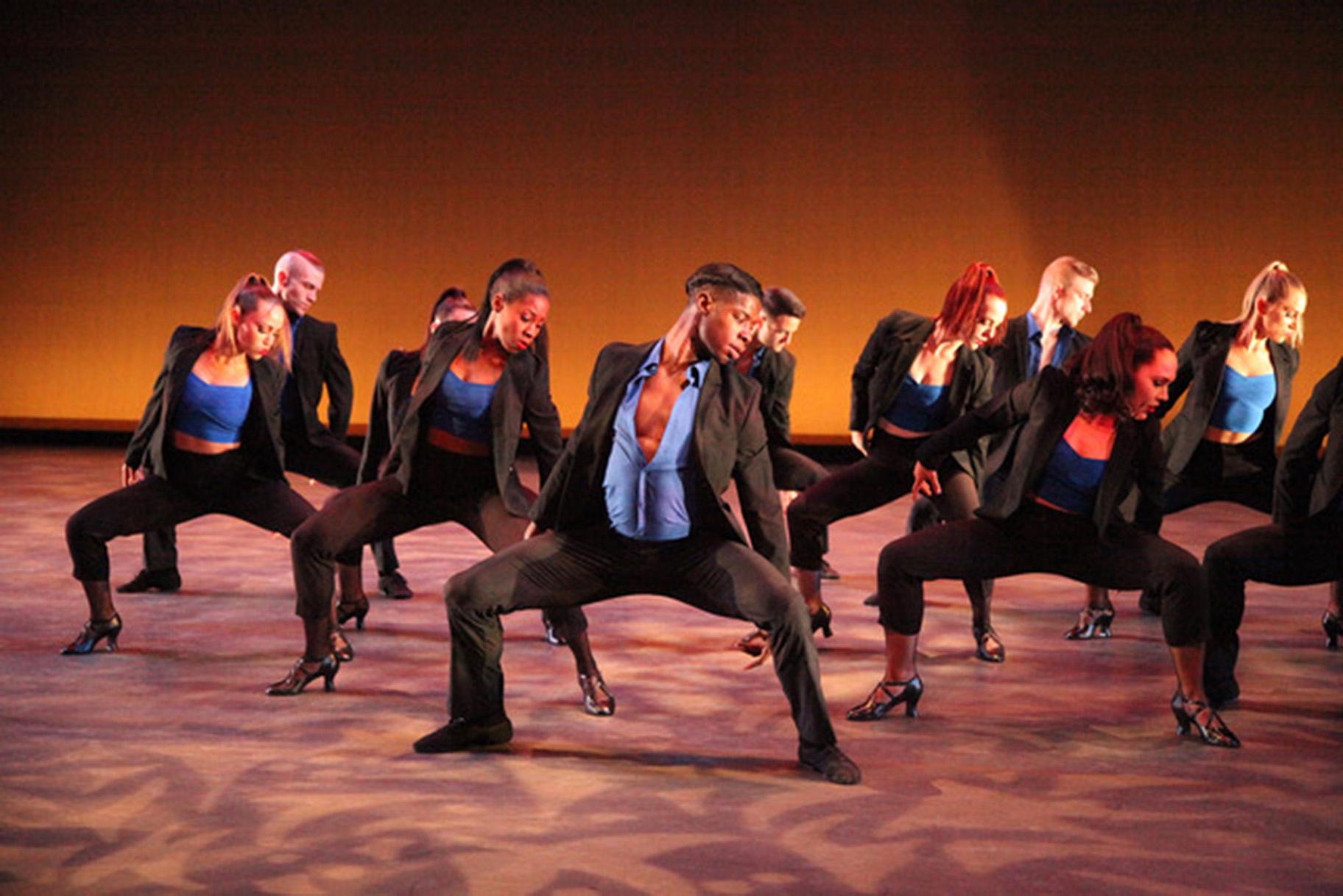 Giordano Dance Chicago performs Ray Leeper's "Soul."
First up on the program was Giordano Dance Chicago, a company with a special knack for selecting a high-propulsion kickoff piece that invariably makes you hope there is an oxygen machine waiting in the wings. And there could be no better example of this sort of attack than Ray Leeper's flashy, sexy, hard-driving 2018 work, "Soul," a jazz-meets-classic rock work for 11 altogether electrifying dancers that is set to the music of Gladys Knight and the Pips, Al Green and Tina Turner, with sparkling costumes by Jordan Ross and lighting by Jacob Snodgrass.
The dancers of Chicago Human Rhythm Project/Stone Soup Rhythms kept the beat going in a multiplicity of ways as they tap danced on individual square platforms in Dani Borak's "Movement 11," and beautifully suggested the shifting moods that can be evoked through percussive dance. At times their footwork was almost balletic in its delicacy.
Next came the first of two beautiful tributes to beloved Chicago dance icons who died recently – Claire Bataille, a founding member of Hubbard Street Dance Chicago (HSDC) who became a revered teacher, and Dame Libby Komaiko, the founder, teacher and driving force behind Chicago's Ensemble Espanol Spanish Dance Theater.
In a moving introductory video, dancer-turned-choreographer Robyn Mineko Williams explained how, at the age of nine, she first saw Bataille (1952-2018) dance with Hubbard Street and subsequently studied with her and then joined the company herself. Williams teamed up with current HSDC dancer Jacqueline Burnett and former HSDC dancer Meredith Dincolo (a trio of exquisite artists) to perform an excerpt from her hauntingly lovely "Echo Mine," which she described as more of a love story than a tribute. Part search, part elegy, part mystery, it captured the essence of Bataille's elegance as a dancer and her quiet stoicism and persistence in the face of cancer, although nothing in the piece was literal.
Carlos Rodriguez, "Mar de Fuego."
Choreographer Carlos Rodriguez dedicated his grand-scale, contemporary-style flamenco-infused piece, "Mar de Fuego/Sea of Fire," to Komaiko (1949-2019), who he said "connected us all." A superb example of the way Komaiko's company mixes powerful technique and ensemble spirit with great theatricality, the work (set to the fiery music of Nicholas Britell, Ketama and Rai Kyao), was inspired by an East Asian legend about the connection among all things in the universe.
Joffrey Ballet dancers Victoria Jaiani and Temur Suluashvili in Yuri Possokhov's 2011 "Bells." (Photo by Cheryl Mann)
Two intensely intimate, erotic and acrobatic pas de deux were performed impeccably by dancers of the Joffrey Ballet. First came Nicolas Blanc's 2018 "Lorelei," set to the music of Jessica Rose Weiss, in which Jeraldine Mendoza and Dylan Gutierrez (a couple offstage as well as on), perfectly suggested the push-pull of the myth from which the work takes its title – the tale of a siren on the Rhine River who lures sailors to abandon ship and ultimately to their doom.
Next was Yuri Possokhov's 2011 "Bells," set to the music of Rachmaninoff, and danced with their usual elan by Victoria Jaiani and Temur Suluashvili (a married couple in real life). No doubt about it: Something special invariably happens when both these physically and emotionally ideal pairs dance together.
Hubbard Street Dance Chicago
Another kind of magic happens when you pair the bravura dancers of Hubbard Street with a particular segment of Israeli choreographer Ohad Naharin's masterpiece collage, "Decadance/Chicago." The excerpt performed – a section of "Minus 16" set to the cumulative Passover song, "Echad Mi Yodea," and featuring 18 dancers in black suits who are seated in a great semi-circle of folding chairs – is a stunner that invariably brings down the house. And so it did.
For sheer ultra-athletic, streetwise exhilaration there was Chicago Dance Crash performing "Leap of Faith," a work of elaborate break-dance moves choreographed by Jessica Deahr and her nine bold and fearless dancers. Set in part to "Dream Remix," the music of the experimental hip-hop group Clipping, it is about making a split-second choice between imprisonment or escape. These dancers would easily make it over any wall.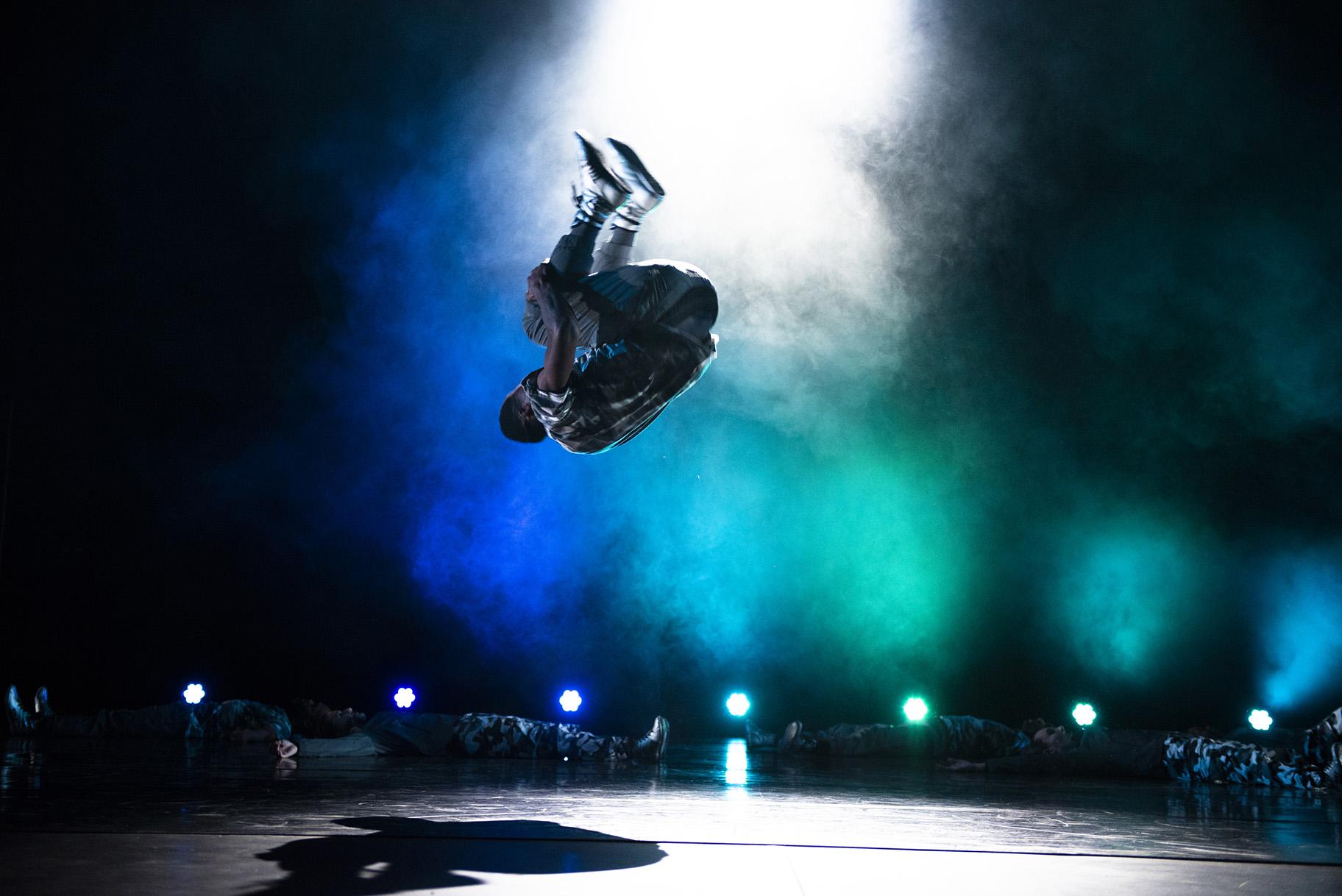 Chicago Dance Crash
Finally, as has been the tradition for years at "Dance for Life," choreographer Randy Duncan gathered together an "instant ensemble" of 19 dancers (members of many different companies, as well as freelancers) and created a work so highly polished that it seemed as if they'd all been dancing together forever. This year's piece, "Release," set to the music of Andy Mitran (with vivid orange-patterned costumes by Jeff Hancock and lighting by Margaret Nelson) was one of Duncan's best as he fused a swirl of modern dance movement with African rhythms and dance styles. A perfect finale to an exemplary evening in which everyone danced as if their lives depended on it. And of course they do.
Follow Hedy Weiss on Twitter: @HedyWeissCritic
---
Mark Larson's 'Ensemble' Captures Chicago Theater History in Creators' Own Words
At Teatro Zinzanni, Life is an Old-World Cabaret, Circus, Comedy and Restaurant
In 'Come From Away,' Discovering the Kindness of Strangers at a Traumatic Moment
---