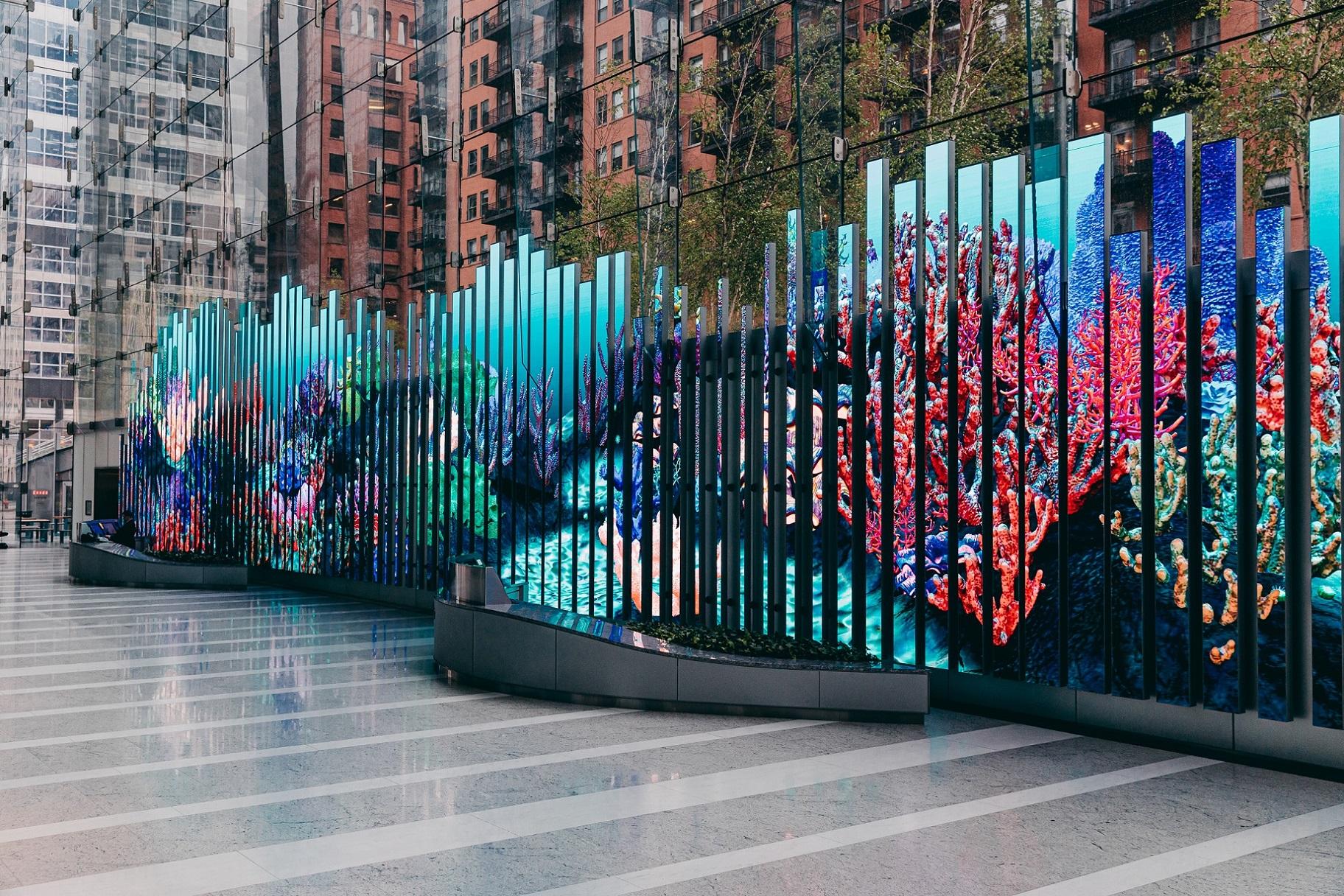 "Choral" combines visuals depicting reefs with a musical score designed to spark curiosity about the underwater coral ecosystem. (Courtesy Northwestern University)
The Great Barrier Reef, the planet's largest coral reef habitat spanning some 136,000 square miles, has experienced devastating levels of bleaching in recent years due to warming sea temperatures. Scientists warn that the reef is at risk of dying.
That's the reality, but it's not the message that the designers of an impressive new installation are going for.
Combining art, architecture and technology, "Choral" offers an immersive look at the underwater world of reefs – a world often overlooked by humans, they say – using 89 vertical LED panels and a musical score of celestial harmonies. Reefs, formed of colonies of coral polyps that have mouths but no larynx, are vital to marine habitats, and they also provide protection for coastal shorelines during storms.
The installation, on display through Sept. 30 at the curated art space on the ground floor of 150 North Riverside Plaza, is the work of composer Jay Alan Yim and video artist Marlena Novak. Their interest in coral was sparked by personal encounters with reefs, in addition to news coverage about the massive bleaching of coral that first came to light in 2016.
"At some point it seemed obvious that something seriously problematic was going on with respect to corals worldwide," said Novak, an adjunct associate professor of film, video, new media and animation at the School of the Art Institute of Chicago, in a statement.
To capture the beauty of the reefs, Novak created computer-generated video depicting the coral ecosystem in all its vivid colors, including aqua blues and bright greens. The video plays out on a wave-shaped row of LED panels that stretches 153 feet wide and 22 feet tall.
Accompanying the video display is a score written by Yim, an associate professor of composition and music technology at Northwestern's Bienen School of Music. The score is mysterious yet upbeat, reflecting the tone that Yim and Novak sought to create.
"We wanted to create an artwork that engendered hope and fostered public engagement rather than despair and cynicism," Yim said in a statement.
Coral researchers Luisa Marcelino and Timothy Swain from Northwestern's McCormick School of Engineering advised Yim and Novak on scientific research that shows the factors impacting coral reef habitats. The team behind the installation also worked with experts in coral reef conservation from the Shedd Aquarium.
150 Media Stream, which runs the media art space hosting "Choral," is hosting a public reception for the installation from 6:30 p.m. to 9 p.m. Thursday at 150 N. Riverside Plaza. More information about the event is available online.
Contact Alex Ruppenthal: @arupp | (773) 509-5623 | [email protected]
---
Related stories:
'Warning High CO2': Navy Pier Art Installation Heeds 'Climate Crisis'
Why a Chicago Building Appears to be Cracked Like a Melting Iceberg
Climate Scientist Swaps NASA for School of the Art Institute
---