People commonly adopt dog and cats from the pound, but there's a new phenomenon in Chicago: stray chickens and roosters are being rounded up for fostering and adoption.
The rescue effort is being led by a trio of groups: Chicago Animal Care and Control, the city animal shelter, and nonprofits Chicago Chicken Rescue and Chicago Roo Crew.
On a recent trip to Chicago Chicken Rescue, a number of chickens were going to their forever homes. Co-founders Christina Zelano and her husband, Vincent Hermosilla, created the nonprofit sanctuary for a variety of domestic birds.
"We get mostly chickens, mostly roosters specifically," Zelano said. "We also get peacock. We get ducks. We have one turkey. They're often coming in injured or sick."
Rescuers say there's been an uptick in abandoned birds in Chicago over the last two years. Some think it's related to the boom in backyard chicken keeping.
"In areas such as Logan Square, we're seeing a lot of dumped birds," said Julia Magnus, Chicago Roo Crew general counsel. "I think what happens is people get them and they don't know what they're getting into. They think it's cool or something."
"A lot of what we're seeing more recently is people are dumping them in the forest preserves around the city and some in the city," said Angela Rayburn, a Chicago Animal Care and Control rescue coordinator.
Schools are adding to the problem when they hatch eggs without a plan for the chicks, rescuers say.
"A lot of people get them as babies, think that they're hens because they were told so and then they end up as roosters," Rayburn said.
"What a lot of people don't know is that hens will only lay eggs typically for a few years and when they get older, their egg production tends to drop," said Lucy Milling, a Chicago Roo Crew board member. "And of course roosters don't lay eggs at all."
It takes a village of volunteers, vets, foster homes, adopters and sanctuaries to save these dumped animals. Volunteer Goodwin Lane, 14, has been helping at the Chicago Chicken Rescue for two years. He's a skilled hand at wrangling the birds, having had chickens in his Hyde Park backyard since he was 4 years old. He and is family are now fostering fowl.
"Our main goal and our main focus is to find them good homes and good places for them to live," Lane said.
All three agencies were pushed to their limits in June when more than 100 chickens and roosters were rescued from a cockfighting ring in West Englewood.
"I went there, my ward superintendent joined me," said 15th Ward Ald. Raymond Lopez. "And as we looked inside just a crack in the wall you could see that there were cages upon cages."
"I got a call from Alderman Lopez's office," said CACC Executive Director Kelley Gandurski. "So we immediately sent our animal control inspectors out to investigate along with Chicago police."
"As the hours progressed throughout the night the number [of rescued birds] kept increasing. And that's when we started a little bit of panic mode," CACC's Rayburn said. "The first day we had 80 birds and it was so loud."
"I took five of the sickest hens to an emergency vet and got them urgent that care that they probably wouldn't have survived without," said Chicago Roo Crew's Milling.
"Many municipal shelters in the same situation would have euthanized the roosters," added Gandurski. "I took one look at them and I felt terribly, terribly sorry for them and I thought we, as a society, owed them a second chance."
All 114 birds were placed in homes and sanctuaries across over the country in about four weeks. It was the first time Chicago Animal Care and Control had put roosters or hens up for adoption.
The owner of the house where the bust took place is facing a number of felony charges. This is the second time he's been arrested for cockfighting and animal cruelty, according to Lopez.
Currently there are no restrictions for owning roosters and chickens in Chicago. But after the cockfighting bust, Lopez thinks the city should consider rules.
"I don't think people should think I'm 100% against farm animals," he said. "I am an animal lover. I've had dogs and all kinds of an assortment of animals my entire life. But I think we owe it to our neighbors and to our communities that if we're going to allow that, that we're all on the same page with that. … The community will ultimately be the most impacted by those roosters in the morning."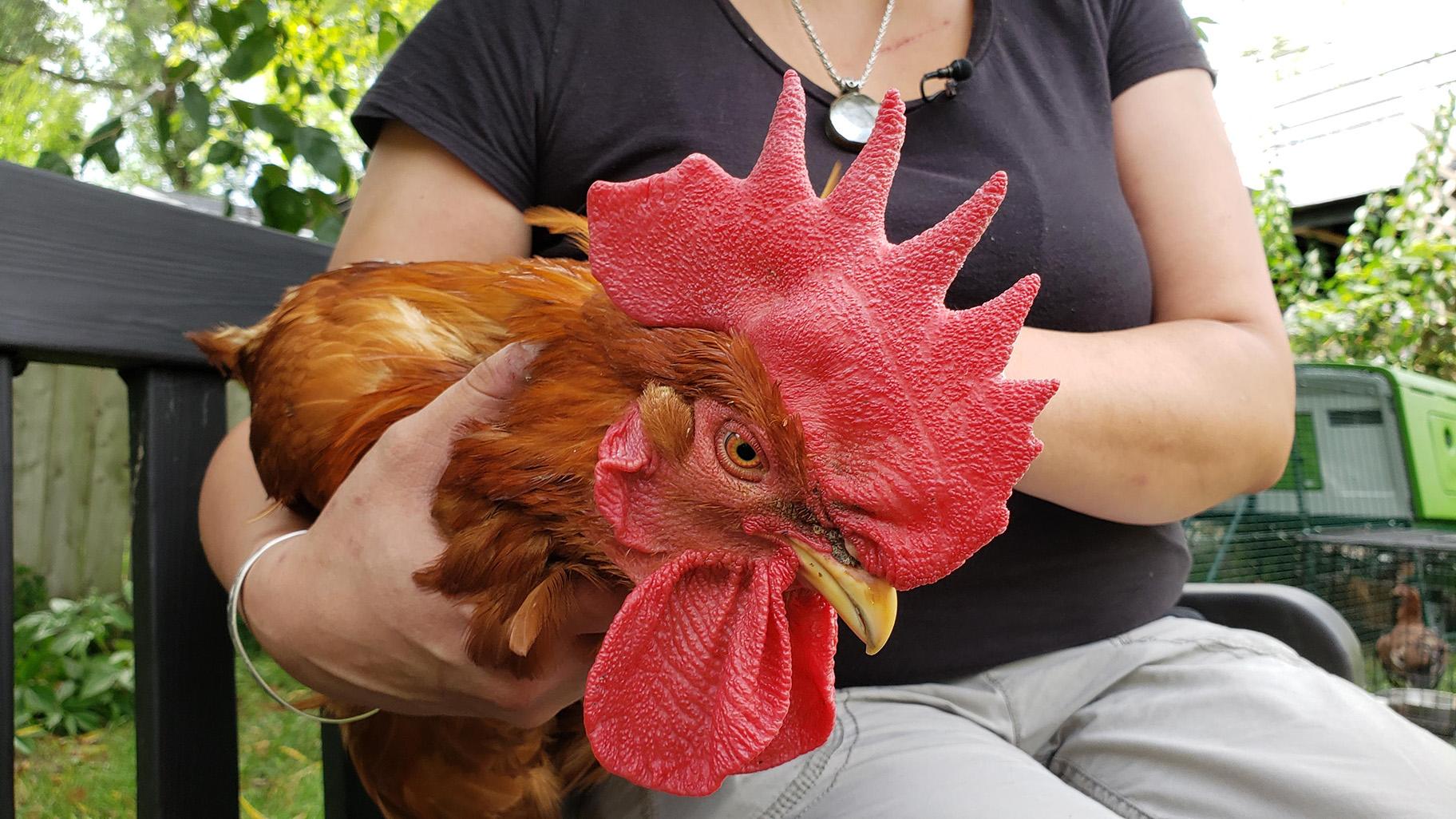 (Alex Silets / WTTW News)
Others worry that regulations will hurt rescue efforts.
"Sanctuaries such as the Chicago Chicken Rescue should not be policed in the same way as people who are dumping backyard birds or people who are fighting roosters," said Magnus. "[Rescuers'] function is critical. I mean they're fixing the messes that those people make. So it's hard to envision regulation that would curtail the one without harming the other."
Can chickens co-exist with the city environment and neighbors?
"They have a very beautiful song that they sing during the day. They go in at night on their own. So there's not noise during the night," said Zelano. "We don't let them out till later in the morning."
"I think they make great pets," she added. "They're really fun to watch."
"People misunderstand and fear them. They think they're aggressive and mean," said Magnus. "They think that they're loud and they think that they're you unfriendly or something. I mean clearly [Leonard Crowen] is very personable and he's not yelling or anything and he's certainly not attacking me. So there are a lot of misconceptions about them."
Rescue workers and animal advocates say if you can't manage any animal you've taken in, seek help finding it another home.
"Please don't dump that animal in a public way," said Gandurski who spearheaded the weeklong effort to capture the elusive "Chance The Snapper" alligator in Humboldt Park last month. "Please, please come to Chicago Animal Care and Control our call 311 for help."
The man who was arrested for owning and running the cockfighting ring will be arraigned on seven felony counts this week.
Edilberto Saucedo-Torres is charged with three counts of animal torture, three counts of aggravated cruelty to animals and one count of owning an animal for sport, according to court records.
Meanwhile, Chicago Chicken Rescue currently has about 65 birds available for adoption.
---
Related stories:
Bald Eagles, Owls and Other Birds Rehabilitated at Illinois Raptor Center
Artificial Light is Changing Animal Behavior in Chicago, Study Finds
Rescued Sea Otter Pups Make Behind-the-Scenes Debut at Shedd Aquarium
Business is Buzzing This Summer for a Chicago Beekeeper on Wheels
---