Struggling Illinois farmers are expecting some relief after the U.S. Department of Agriculture declared a disaster in all 102 of the state's counties following near-record levels of flooding in the spring.
The declaration on Thursday means that farmers and other agricultural businesses will have access to low-interest loans through the USDA's Farm Service Agency.
"You never want to be declared a disaster area because that really means you have adverse conditions," said Mark Tuttle, a farmer for the past 40 years in Somonauk, Illinois, located a little over 60 miles west of Chicago. "But the fact that the federal government is there, that's a security blanket."
Tuttle, president of the DeKalb County Farm Bureau, expects farmers without crop insurance to be the biggest beneficiaries of the disaster declaration.
"I think those who don't have any crop insurance will be the first group to be helped because they have nothing to back them up," said Tuttle. "Those who have crop insurance, sometimes sourcing money is a problem so this will give them an outside place to get more additional funding for next year's crop."
But Tuttle emphasized that having crop insurance is not a panacea.
"Crop insurance does not really put money in your pocket," said Tuttle. "It's kind of like having car insurance. If you have car insurance and you go out and wreck your car, you get your car back but you didn't make any money on the deal."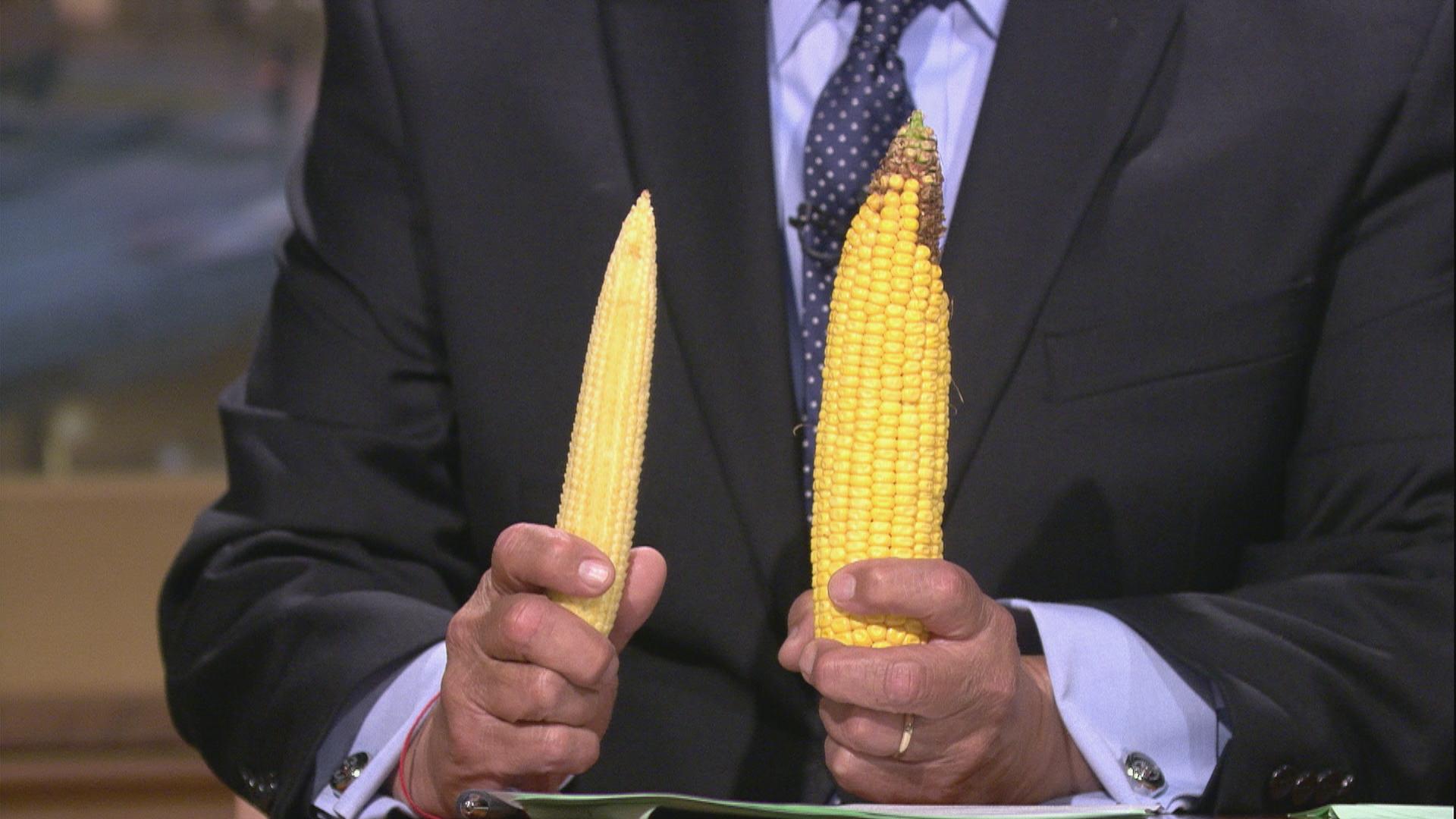 Two ears of corn planted in different months: June 12, left, and April 26, right. The larger ear is "close to normal," farmer Mark Tuttle said.
Tuttle's crops include both corn and soybeans; it's a tough time to be farming either. While flooded fields delayed or entirely prevented some farmers getting a corn crop into the ground, Trump administration tariffs that have targeted China have led to reciprocal measures that have also hurt American soybean growers.
China confirmed last week that is was canceling all U.S. agricultural imports after President Donald Trump imposed a new 10% tariff on $300 billion of Chinese goods.
"The weather issue is more of a corn issue and the tariff issue is more of a soybean issue," said Tuttle. "We ship so many beans to China that the tariff has affected our bean price more than anything and the weather has affected our corn price. So if you're farming both corns and beans it's a double whammy."
And in a business that is not easy at the best of times, the combination of bad weather and geopolitical turmoil makes a tough job even harder.
"You know the average age of a farmer is 58 in the United States," said Tuttle. "So you take a 58-year-old farmer and he's working round the clock for three weeks – that's tough on a guy. And it does affect your plans for the future because if you have loans because you are trying to expand your operation and you want to try and bring your son or daughter back into the operation and then you have a year like this where you have no income, that's not possible."
That inevitably makes farmers question whether to stay in the business. And Tuttle notes that while past disaster declarations he's experienced have impacted only a few counties, the current problems are widespread.
"It's not just a few farmers, this year it is affecting the whole Corn Belt," he said.
---
Related stories:
Free Soil Tests Offered as U. of I. Studies Lead's Impact on Urban Farming
USDA Declares Agriculture Disaster in Illinois Following Floods
Pritzker Announces Help for Flood-Hit Farmers, Aims for Emergency Declaration
China Threatens Retaliation for Trump's Planned Tariff Hike
---