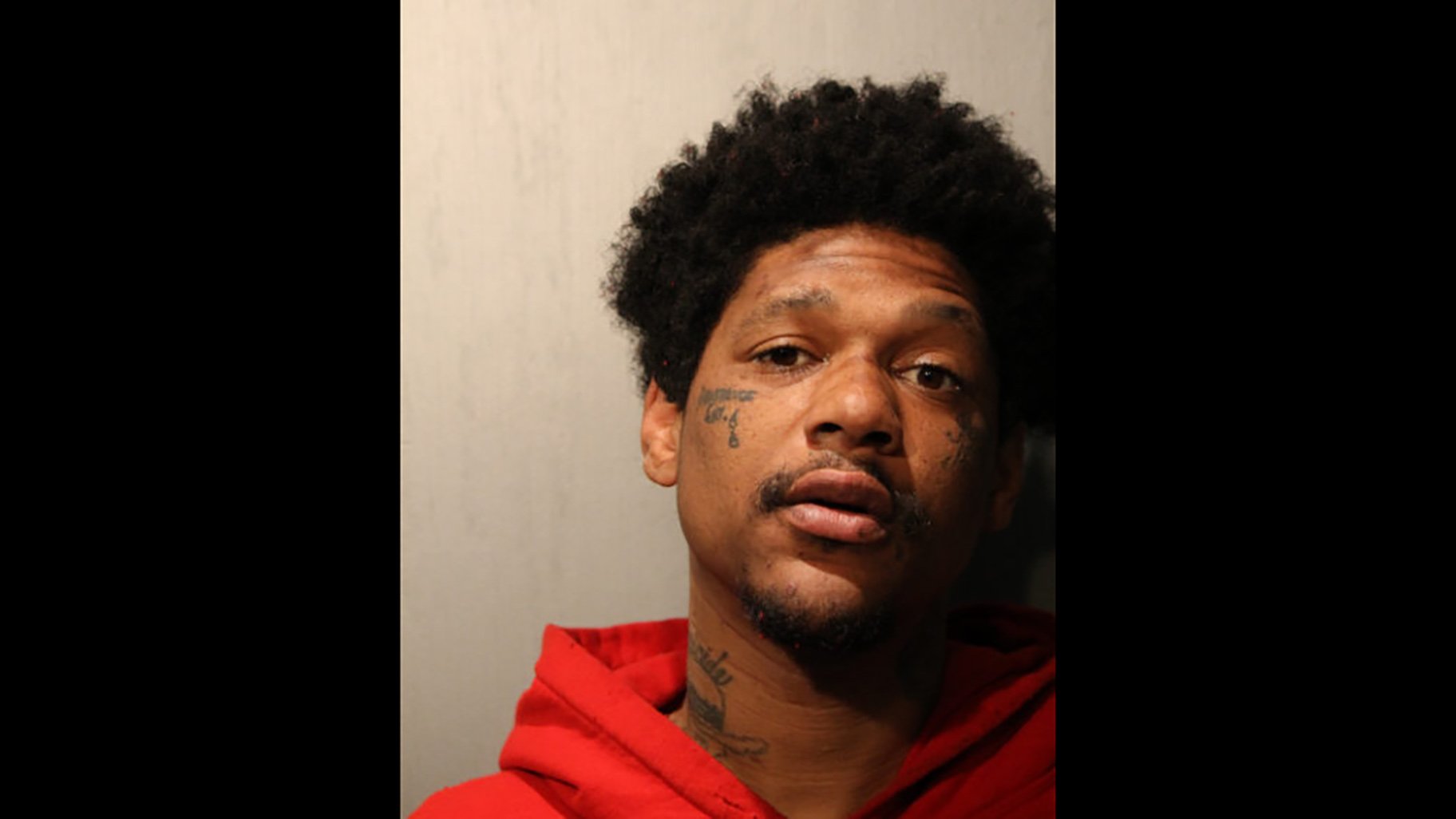 Jovan Battle (Chicago Police Department)
UPDATE: Guilty Verdict for Homeless Man Charged With Killing Off-Duty Chicago Officer
The man accused of pointing out an off-duty Chicago police officer who was killed in an apparent case of mistaken identity earlier this year says he was trying to diffuse the situation and insists he is a victim because he got involved in the incident.
Jovan Battle, 32, told jurors Tuesday morning he has "full remorse" for the March 23, 2019 killing of 23-year-old John Rivera, who was shot inside his vehicle following a night out with friends in the River North area.
But Battle repeatedly claimed he doesn't know the gunman and has been mischarged by the Cook County State's Attorney's Office.
"I became a victim because I tried to stop it," Battle said during his opening statement in a courtroom filled with a handful of Rivera's fellow officers. "I got three children, ladies and gentlemen. I'm not a killer."
Battle, the first of three men to go to trial for Rivera's killing, is acting as his own attorney as he faces charges of first-degree murder, aggravated battery and aggravated discharge of a firearm. Jaquan Washington, 23, and alleged gunman Menelik Jackson, 24, are facing similar charges, but have not yet gone to trial.
All three have pleaded not guilty.
Battle didn't shoot Rivera, but prosecutors allege he repeatedly pointed out the off-duty officer's vehicle to Washington and Jackson, erroneously claiming its occupants had been involved in a fight with the defendants earlier that night.
Dressed in a grey suit coat and khaki pants, Battle sat alone at the defense table taking notes throughout the first day of his trial.
Cook County Judge Dennis Porter, who allowed Battle to proceed without an attorney, spent time Tuesday explaining to him the basic rules of procedure, such as how to question witnesses, present evidence and deliver an opening statement.
After informing Battle that he could not ask a specific question of Jackson, Battle sniped back at the judge, telling him, "You're not gonna sit here and tell me what to ask." Jackson had been sworn in as a witness before the trial began, but exercised his Fifth Amendment rights and refused to testify in Battle's case.
Porter eventually admonished Battle late in the day after he continued "mouthing off" to the judge while complaining about the quality of photo evidence he'd been given by the prosecution. 
"The problem is you're not going to be mouthing off to me in front of that jury," Porter exclaimed after sending away the jury. "You're not gonna do that. You continue to do that, you're not gonna be out here for the rest of the trial."
'Is that them?'
According to the prosecution's bond court proffer, Jackson and Washington were involved in a physical altercation with a group of Hispanic men at the Rock 'n' Roll McDonald's on Clark Street just before 2:30 a.m. on March 23. Washington was punched during the fight before he and Jackson left and walked to a room at the nearby Hotel Felix where three women they met that night were staying.
Jurors on Tuesday were shown footage of the altercation taken from a security camera outside the restaurant.
After the fight, Jackson and Washington retrieved a firearm before getting into a white Ford pickup to look for the group they'd fought with, according to the proffer.
About an hour later, Rivera, along with his girlfriend, another off-duty police officer and a friend – none of whom were involved in the McDonald's incident – exited a bar and headed to Rivera's car at the corner of Huron and Clark streets.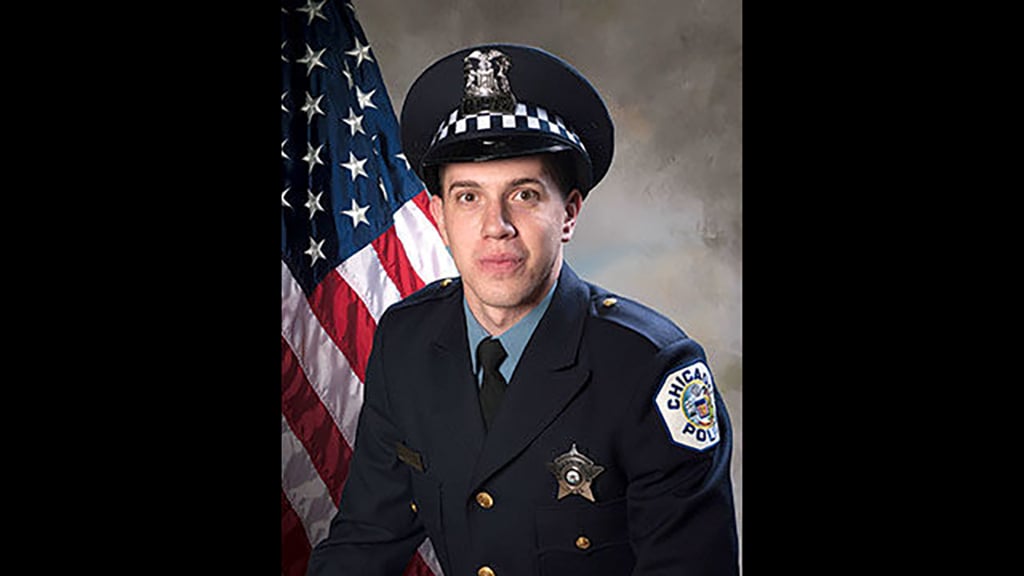 Chicago Police Officer John Rivera (Chicago Police Department)
"Is that them?" Jackson and Washington asked Battle upon locating Rivera's parked vehicle – the only car in the area – according to the proffer.
Battle, who was armed with a bottle, indicated it was, apparently believing the car belonged to the Hispanic men from McDonald's. He wanted to assist the pair, the proffer states, because they were fellow Gangster Disciples gang members.
Jackson then allegedly opened fire, striking Rivera in the face, back and shoulder as the officer leaned over to protect his girlfriend. Another man in the car was struck in the shoulder and chest, but survived.
Just before the shooting began, surviving victims inside the vehicle heard one of the men state, "Let's blow this bi**h up," according to the proffer. Prosecutors say eight .40 caliber shell casings were recovered from the scene and matched to a handgun recovered from Jackson.
Battle was seen on surveillance video "calmly" walking away from the car, the proffer states. He was quickly located by police after the shooting. CPD Superintendent Eddie Johnson believed the men were intent on "murdering the first Hispanic man" they could find.
Jurors viewed surveillance video of the shooting and the immediate aftermath as police arrived on scene and paramedics attempted life-saving measures on Rivera.
In the months since his arrest, Battle has reportedly been found mentally fit to stand trial and, in a more unusual twist, allowed to represent himself after refusing to accept a court-appointed attorney.
He described for jurors his life as a homeless father who's been "falsely convicted" of other crimes in the past because, he believes, his attorneys weren't looking out for his best interests.
Battle claimed Tuesday he didn't know Washington or Jackson, and only approached Rivera's car in order to warn him and tell him to leave.
"I walked off hoping to God that (Jackson) didn't shoot me," he said. "Because he didn't know me."
Porter granted Battle wide latitude during his cross-examination of prosecution witnesses. Battle sparred with a McDonald's security manager about why he'd been barred from specific restaurants. He also berated an assistant state's attorney handling security footage from the Rock 'n' Roll McDonald's as she attempted to locate the correct time stamp.
'I was in denial'
After opening statements, prosecutors called Rivera's mother, Catalina Rivera Ortiz, as their first witness. She tearfully recalled the moment she learned her son had been killed.
Rivera Ortiz works as a nurse and testified that she had expected to see her son on Friday, March 22 for an allergy appointment at a clinic where she works. He had to postpone until the following week, but apparently texted his mother that evening warning her of a shooting that had occurred in her neighborhood.
She was awoken around 5 a.m. the following morning by officers who told her what had happened.
"I guess I was in denial," Rivera Ortiz said, sobbing on the witness stand. "I thought they were coming to tell me John was in an accident or hurt at work and they were going to tell me what hospital he was in."
Contact Matt Masterson: @ByMattMasterson | [email protected] | (773) 509-5431
---
Related stories:
Third Man Charged in Fatal Shooting of Off-Duty Chicago Officer
Police: Gunman in Officer's Murder Sought to Kill 'First Hispanic Man' He Found
2 Charged in Fatal Shooting of Off-Duty Chicago Police Officer
---