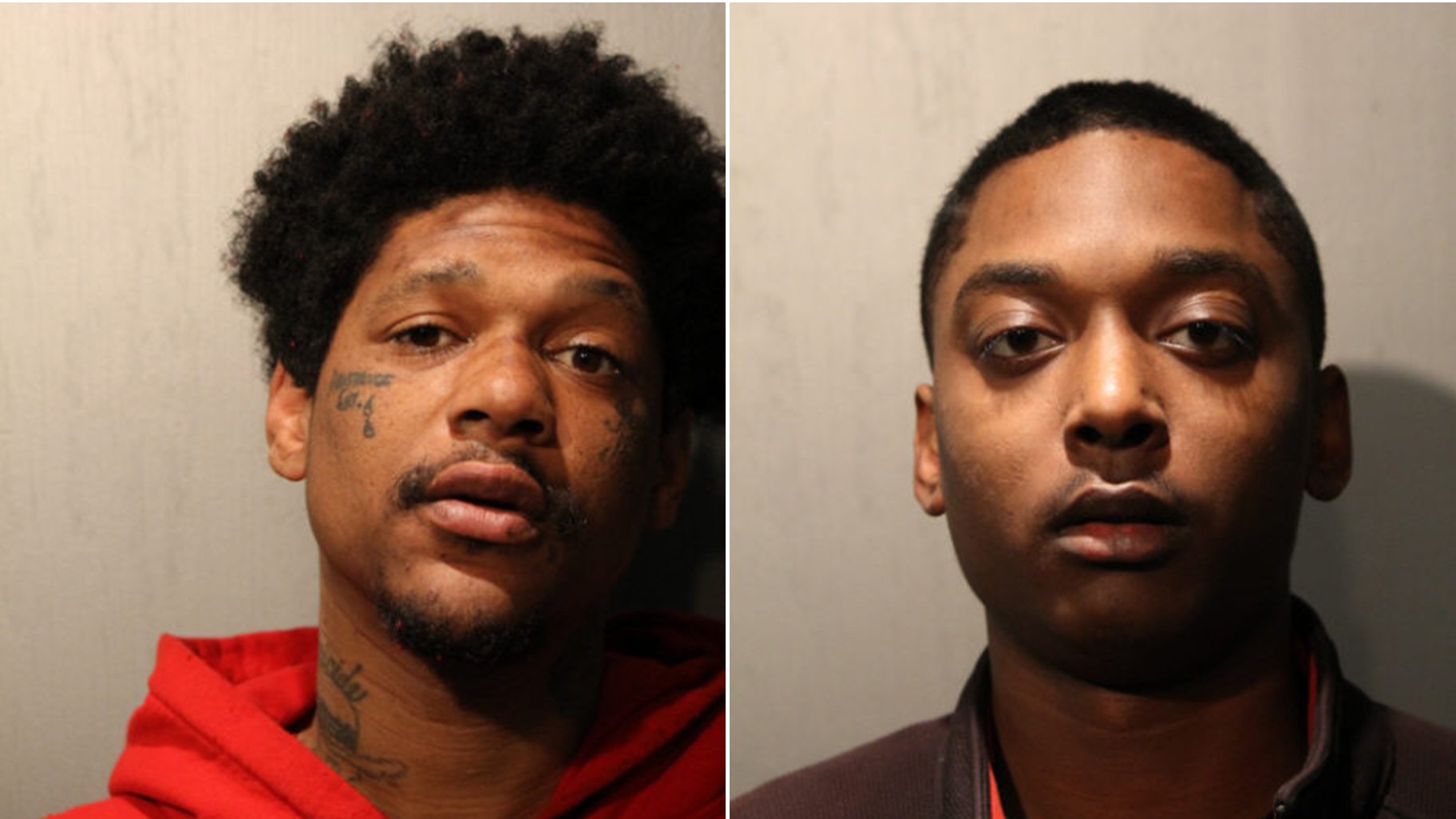 Jovan Battle, left, and Menelik Jackson (Chicago Police Department)
The gunman accused in the weekend slaying of an off-duty Chicago police officer was looking to shoot the first Hispanic man he could find, according to CPD Superintendent Eddie Johnson, following a violent encounter earlier in the night at the Rock 'n' Roll McDonald's in River North.
Chicago police say additional hate crime charges are being considered against Menelik Jackson, 24, and Jovan Battle, 32, who have been charged in the early Saturday morning murder of 23-year-old Officer John Rivera.
Jackson allegedly opened fire on Rivera's car following a fight with an unrelated group of men.
"Those officers over there who were in Officer Rivera's class, they're suffering right now," Johnson told media Monday morning. "They lost a friend and Chicago lost a young guardian who wanted nothing else but to dedicate his life to making the city that he grew up in safer."
Jackson and Battle each face one count of first-degree murder and three felony counts of attempted murder. Additionally, Jackson faces another charge of resisting police after he allegedly attempted to flee during his arrest. Both men were reportedly denied bond during their initial appearance in court Monday.
Police say Jackson has already confessed his involvement in the shooting.
According to Johnson, Rivera's death stemmed from an incident he was unaware of and had no involvement in.
Around 2:20 a.m. Saturday, Jackson and another man were involved in a physical confrontation with a group of Hispanic men who arrived at the iconic McDonald's restaurant at 600 N. Clark St. in a party bus.
Jackson was punched in the face and can be seen on video leaving the scene immediately to retrieve a gun, Johnson said. By the time he returned, the party bus and its occupants were gone.
Jackson and the other unidentified man then got into a white Ford pickup and began searching the area for the group.
An hour later, Rivera and his girlfriend, along with another off-duty police officer and a male friend, left the nearby Stout Barrel House & Pizza at 642. N. Clark St. They got into Rivera's vehicle at 3:28 a.m., at which point Jackson, Battle and the third man approached them.
Jackson then allegedly opened fire with a .40-caliber handgun, killing Rivera and wounding the male friend. The second victim, who was struck in the shoulder and chest and had a bullet lodged in his neck, is expected to survive.
According to the bond proffer read in court Monday, Jackson was searching for the men from the party bus when he asked Battle, "Where they at?" and, "Is that them?" as he pointed to Rivera's vehicle near the intersection of Huron and Clark. Battle repeatedly indicated that it was the men from earlier, the proffer states.
Just before the shooting began, surviving victims inside the vehicle heard one of the men state, "Let's blow this bitch up," according to the proffer. Prosecutors claim eight .40 caliber shell casings were recovered from the scene and matched to a handgun recovered from Jackson.
The reason Jackson shot into that particular vehicle, Johnson said, was because he was intent on "murdering the first Hispanic man" he could find.
"It appears that he was just looking for a Hispanic person (to shoot)," Johnson said.
When arresting the shooter Jackson, Detectives used Ofc. Rivera's handcuffs to place him into custody. Also, we learned from those in the car that when shots were fired, Rivera leaned over and shielded his girlfriend with his body from the gunfire. pic.twitter.com/DB1AvxbFhk

— Anthony Guglielmi (@AJGuglielmi) March 25, 2019
---
With that in mind, the superintendent said hate crime charges remain a "very real possibility." Investigators are also seeking the third man who they believe was present during the shooting. While Battle and that third man did not fire any shots, Johnson said they are "complicit" in Rivera's murder.
Jackson had previously tried to join the Chicago Police Department. But he was disqualified after being arrested and convicted in an armed home invasion during his application period.
"The most egregious part about him is that he actually once thought he had what it took to wear a Chicago police star," Johnson said. "Today he stands accused of committing the ultimate disgrace to everything that this star stands for."
Jackson has two previous convictions for domestic violence and another for attempted residential burglary, according to police. Battle has 10 previous convictions for crimes including assault, battery and felony narcotics possession.
The shooting was captured on surveillance video and CPD spokesman Anthony Guglielmi said the department's license plate reader technology allowed investigators to identify the getaway car, which led police to the shooter's vehicle and, eventually, his apartment.
Rivera was nearing his two-year anniversary as a Chicago officer, working the city's 6th District. He had worked on a homicide investigation on the South Side hours before his death. Guglielmi said the slain officer's own handcuffs were used to place Jackson under arrest, adding that Rivera had attempted to shield his girlfriend inside the vehicle when the shooting began.
"All he wanted to do was help people," Rivera's 6th District Commander William Bradley said Monday. "He went out there every day trying to make the city safer and better."
Contact Matt Masterson: @ByMattMasterson | [email protected] | (773) 509-5431
---
Related stories:
2 Charged in Fatal Shooting of Off-Duty Chicago Police Officer
Illinois State Police Face 2nd Lawsuit Over Aurora Warehouse Shooting
Police: Woman Attacked, Sexually Assaulted in Rogers Park
35 Charged in Connection to Chicago-Based Heroin Trafficking Ring
---