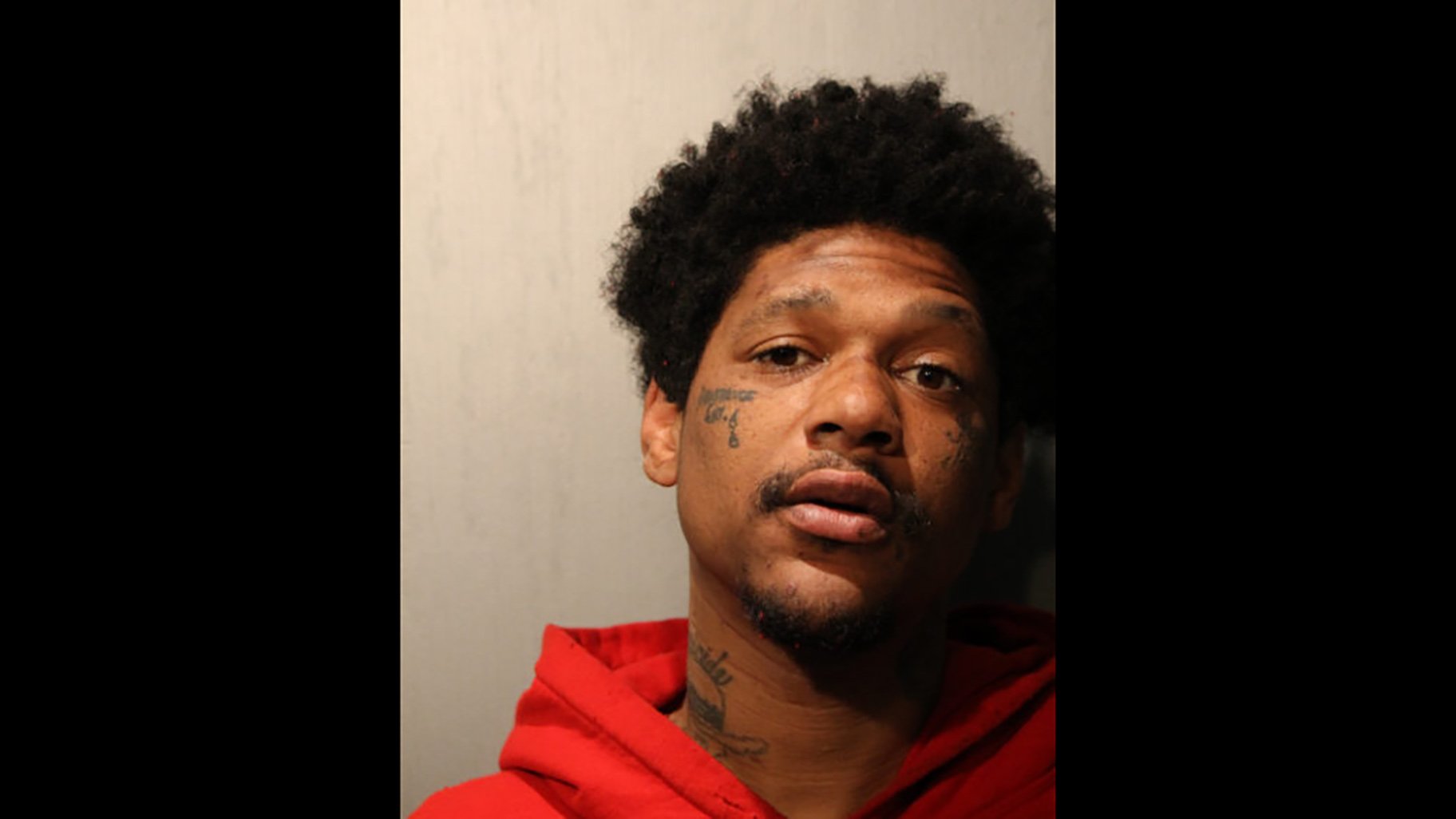 Jovan Battle (Chicago Police Department)
A homeless man who represented himself while on trial for the killing of a 23-year-old off-duty Chicago police officer has been found guilty of murder and multiple other charges.
A Cook County jury on Friday convicted Jovan Battle, 32, of first-degree murder, aggravated battery and aggravated discharge of a firearm for the March 23 killing of Chicago Officer John Rivera, who was shot and killed inside his car after a night out with friends in the River North area. He faces 77 to 150 years in prison, according to Cook County prosecutors.
Battle was the first of three men to go to trial for Rivera's death. Jaquan Washington and the alleged gunman Menelik Jackson are also charged.
Battle never fired any shots at Rivera's car, but prosecutors allege he's accountable for the killing because he pointed out the vehicle to Jackson in a case of mistaken identity.
Washington and Jackson were allegedly seeking to shoot a group of Hispanic men they'd fought with earlier outside the Rock 'n' Roll McDonald's in the early morning hours of March 23, 2019. Battle, who happened to be staying in the doorway of a nearby hotel, wanted to assist the two men because he believed they were fellow members of the Gangster Disciples gang.
Rivera, his girlfriend Sara Garcia and two other friends, Jack Hightower and Ruben Sierra, had just left a nearby bar and entered Rivera's parked car at the corner of Huron and Clark streets.
Battle, carrying a bottle, and Jackson, a .40 caliber handgun, then approached Rivera's car. Prosecutors claimed surveillance footage then showed Jackson walk to the driver's side door and open fire on the occupants inside.
"Life can turn on a dime," Cook County Assistant State's Attorney Nina Ricci said during her closing arguments Friday.
"On March 23, 2019, life turned on a dime for John Rivera, Jack Hightower, Ruben Sierra and Sara Garcia. Life turned on a dime when Jovan Battle inserted himself into a situation that he really had very little to do with and which John and Jack and Ruben and Sara had nothing to do with."
Rivera, who was not involved in the earlier incident at McDonald's, was shot in the face, back and shoulder as he leaned over to protect his girlfriend inside the car. Sierra was also struck but survived and still has a bullet lodged in his neck.
Hightower testified this week that seconds before the shooting, he heard someone outside the car say "blow that b**ch." Ricci claimed that was Battle, who had involved himself in the situation out of some "weird moral code" that he believed required him to assist his fellow gang members.
"He led death and destruction to that car and those young people," Ricci said during her closing arguments, "and in an instant John lost his life."
Battle declined to call any witnesses or testify himself during the weeklong trial.
But during a rambling, aimless and often profane closing argument Friday, he claimed he had not received a fair trial because he's black and had decided to represent himself. He also took issue with the specific charges against him, stating that, if anything, he should have been charged with accessory to murder because he did not personally kill anyone.
"I'm not saying I didn't commit a crime," he said, seemingly admitting his own culpability to jurors during the closing moments of trial. "What I'm saying is they wrongfully charged me."
But no such charge exists in Illinois, a point prosecutors and Cook County Judge Dennis Porter made abundantly clear throughout the trial. Battle was charged with first-degree murder under the law of accountability, which holds that a group of people acting together are each equally responsible for any criminal acts any one of them may commit.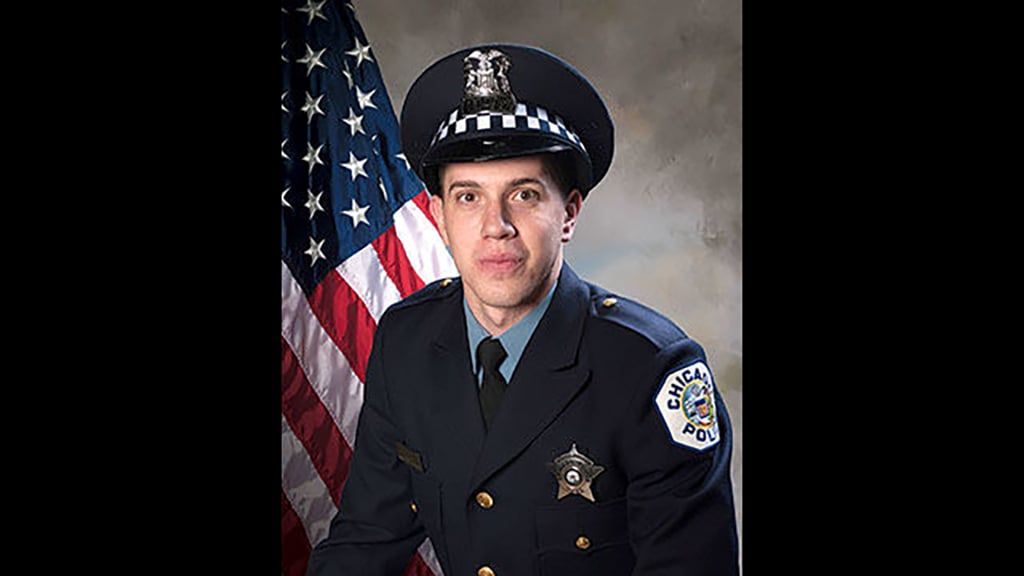 Chicago Police Officer John Rivera (Chicago Police Department)
Final witness
The state's final witness, CPD Det. Robert Graves, testified earlier on Friday about the initial interview he conducted with Battle a day after the shooting.
Video of that conversation was shown to jurors in court, depicting a disheveled Battle offering his sometimes incoherent description of the events leading up to Rivera's murder.
After waiving his right to an attorney, Battle described how he recognized Washington and Jackson from different clubs in the area, but couldn't offer their names. He told detectives he had armed himself with a bottle because he initially thought the pair was coming to harm him.
Battle, a high school dropout who has struggled with mental illness, described himself as a "Good Samaritan" wanting to help the men out after the earlier McDonald's incident.
"They GD, I'm GD. I got a heart," Battle said on video, referring to the shorthand for the Gangster Disciples gang to which he believed all three were affiliated.
Throughout the 30-plus minute video shown in court, he repeatedly stressed that he hadn't done anything wrong.
"I'm not involved and I don't know them," an exasperated Battle told the detectives. "I'm telling you that to your face."
On cross-examination, Battle noted the shooting was not labeled as being "gang related" in Graves' report. The detective agreed, saying it was a case of mistaken identity before he was cut off by Battle and his comments stricken from the record.
Battle also tried to bury the notion that the Gangster Disciples are a gang, claiming instead they are an "organization" akin to the Knights Templars, and that "GD" actually stands for "growth and development."
One additional segment of video was played for jurors: After the detectives left the room, Battle made another statement to an empty room, apparently implying he got involved with Jackson and Washington to make it a "fair fight," stating he didn't want it to be "four on two," referring to the four victims and his two co-defendants.
Battle asked Porter to sentence him immediately after the verdict was read. Porter said that wouldn't be possible for weeks.
"I would (sentence you now) if I could, believe me," Porter said. "But I can't."
Contact Matt Masterson: @ByMattMasterson | [email protected] | (773) 509-5431
---
Related stories:
Witness Describes Moments Leading to Chicago Officer's Fatal Shooting
Man Charged in Officer's Killing Claims He's a 'Victim' Because He Tried to Help
Third Man Charged in Fatal Shooting of Off-Duty Chicago Officer
Police: Gunman in Officer's Murder Sought to Kill 'First Hispanic Man' He Found
2 Charged in Fatal Shooting of Off-Duty Chicago Police Officer
---