The Chicago Architecture Biennial begins next week. Fifty-eight miles outside of Chicago, a photography show at a historic home site is a prelude to the biennial.
At the Farnsworth House in Kendall County, photographs focus on that famous maker of modernist architecture: Mies van der Rohe.
---
TRANSCRIPT
Jay Shefsky: Insects are in the air, tourists are on the ground, and the Farnsworth House seems to levitate above it all at its isolated site along the Fox River in Plano, Illinois.
Made of steel, glass and concrete, the house is one of the most significant works by the architect Ludwig Mies van der Rohe.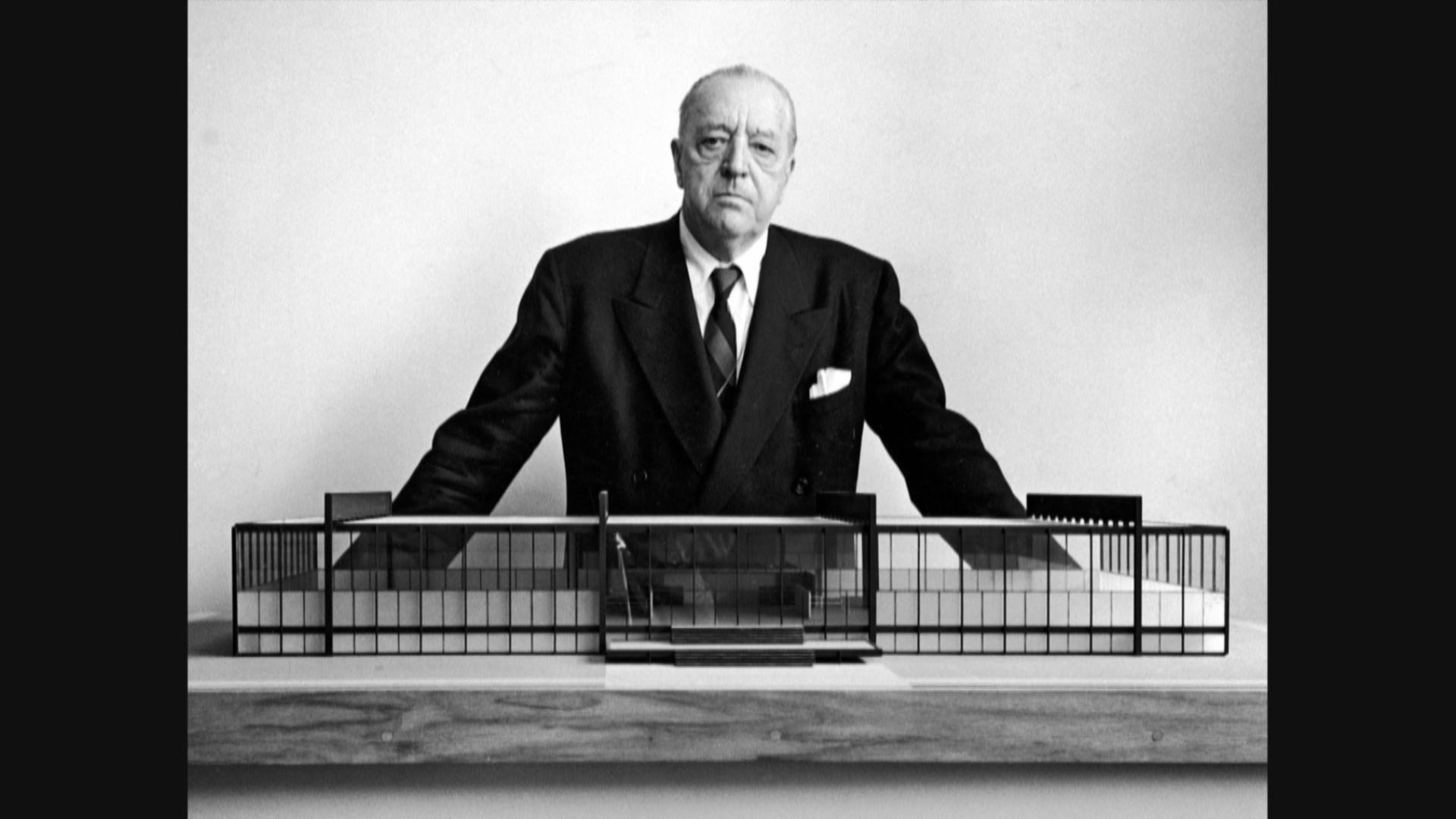 Ludwig Mies van der Rohe
It was commissioned by a prominent Chicago doctor, Edith Farnsworth.
Scott Mehaffey, executive director, Farnsworth House: In 1949 they started construction and it was finished in '51.
She gave Mies a very strict budget and he went over and so they sued each other in court and it became a love-hate relationship.
Shefsky: Dr. Farnsworth found her new see-through house problematic, but …
Mehaffey: As much as she complained about the house being impractical, she really enjoyed it. She was out here every weekend and she enjoyed the house for over 20 years.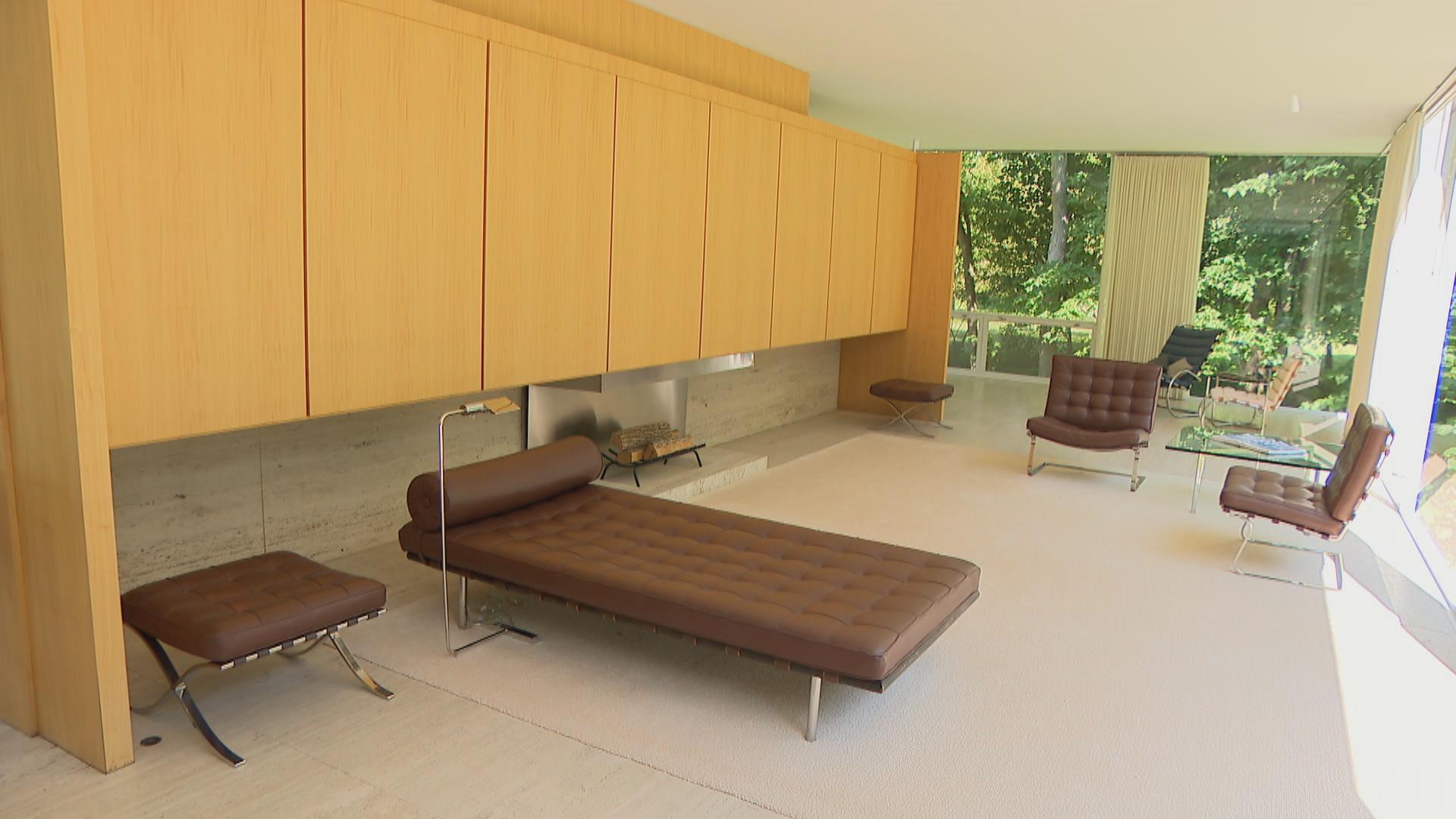 Shefsky: Mies was the last director of the Bauhaus, the influential school of modern architecture. He emigrated from Germany in 1937 and became the head of the architecture department at IIT, where he later designed another of his masterpieces, Crown Hall.
Previous to Crown Hall, he designed the twin glass-and-steel apartment towers on 860-880 North Lake Shore Drive.
But his first big American commission was in Plano, Illinois. It was here that he advanced his minimalist approach.
Mehaffey: This was a design-build project for Mies. He worked out a lot of the details on site that he then used at Crown Hall, at 860-880 and throughout his career. He'd done a couple very utilitarian brick boxes on the IIT campus but really hadn't built anything until the Farnsworth House. So this was seminal for his American career and therefore for the history of modern American architecture and the international style.
Shefsky: Elsewhere on the 60-acre property, an artist prepares a show of photographs of Mies buildings from Chicago and around the world.
We spoke with the Berlin-based photographer who took the pictures for what she calls The Mies Project.
Arina Dähnick, photographer: When I feel open, good, creative. I can't imagine a better place than a Mies place.
To me, it is a very special experience of place and space, being there. And what was so interesting concerning the Mies Project is that I got the same feeling being in different cities, even different continents and it was always a similar feeling.
I found an invitation for being inside and outside at the same time.
Shefsky: Her photographs take advantage of the highly reflective surfaces of Mies buildings.
Dähnick: It was a combination of that feeling of space and the reflections in the glass which made the project.
I don't change anything in the images. I don't manipulate them later, so I have to take what I get.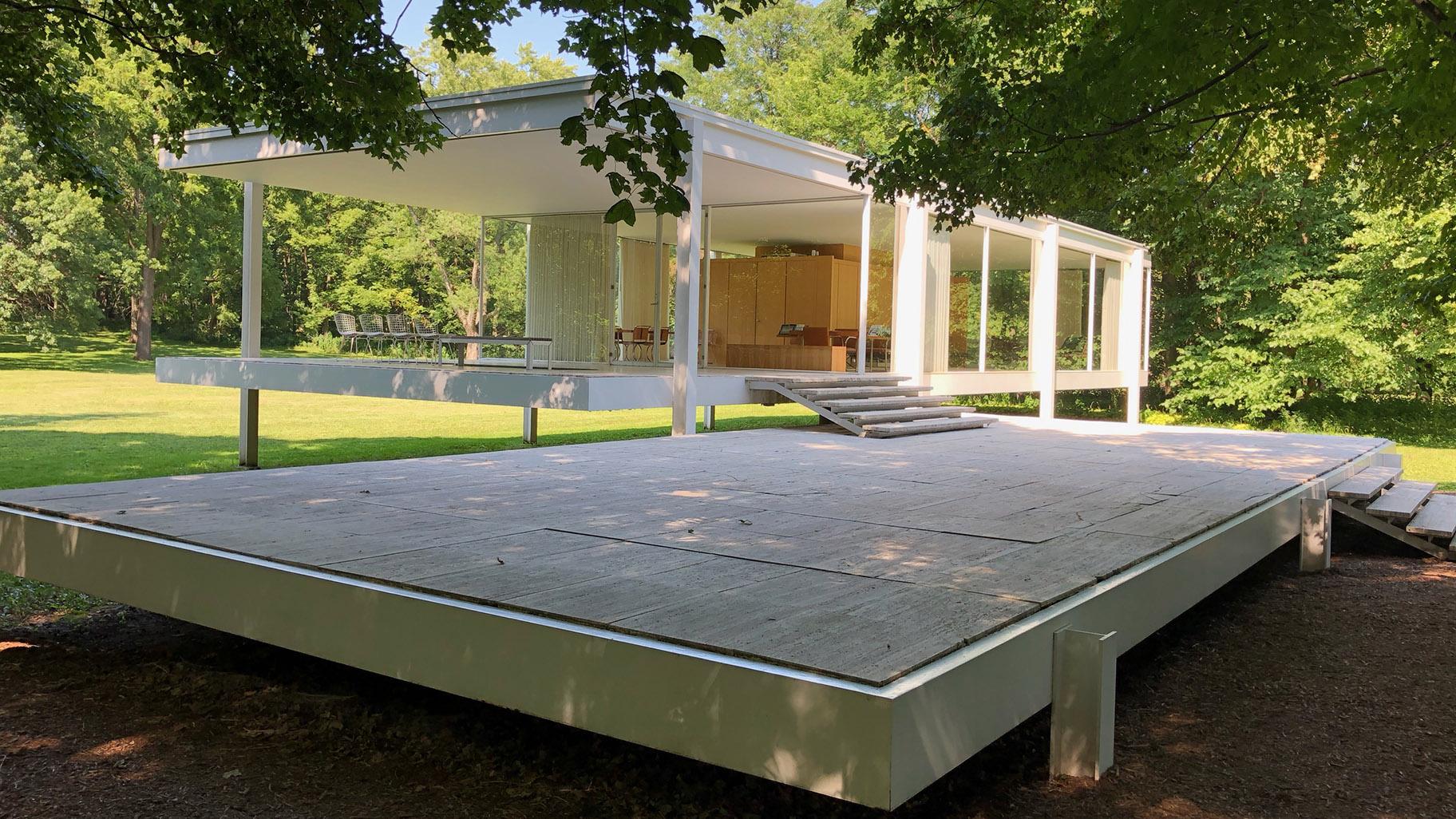 Ludwig Mies van der Rohe's Farnsworth House in Plano, Illinois.
Shefsky: Development along the Fox River watershed has made flooding an increasing threat.
The Farnsworth House has flooded seven times in 70 years, the worst being in 1996.
Recent studies suggest different ways to mitigate the flooding – including installing a hydraulic lift that would raise the entire building, and moving the entire structure to higher ground.
A more in-depth analysis has been requested.
The house remains a destination for international fans of modern architecture.
Mehaffey: It is definitely a pilgrimage site. We have over 10,000 visitors a year. A full third come from outside of the United States.
Dähnick: Mies worked with inside/outside. He (dealt) with culture and nature, and this building is so much about nature, being in nature.
---
More on this story
The National Trust for Historic Preservation and Landmarks Illinois acquired the Farnsworth House at auction in 2003. It opened to the public the following year. 
Note: This story was first published on Aug. 8, 2019. It has been updated.
---
Related stories:
Terra-Cotta Treasures Tell Chicago's Neighborhood Stories
Ask Geoffrey: What's the 'Polish Cathedral' Architectural Style?
Renowned Architect Robert A.M. Stern Builds His First Chicago Tower
---