When driving along the Kennedy Expressway, you may have noticed massive churches that seem to almost line up with the curves and bends of the highway.
While they may only get a quick look from commuters – or perhaps a longer one if there's traffic – these churches have acted as centers of community and worship for generations of Chicagoans. And their legacy goes back even further.
Geoffrey Baer explains.
---
What is the "Polish Cathedral" architectural style and why are there so many examples in Chicago?
– Agnes Sobczyk, Portage Park
You probably won't find the term "Polish Cathedral" in many architecture textbooks – it's mostly anecdotal.
St. Mary of the Angels (Credit: Archdiocese of Chicago's Joseph Cardinal Bernardin Archives and Records Center)
Generally, the Polish cathedral style is used to describe the very large and opulent churches originally built to serve immigrant Polish communities, in Chicago and elsewhere.
Some of the first in Chicago, like St. Stanislaus Kostka, are around the Wicker Park and Bucktown neighborhoods where Poles first settled in large numbers in the late 1800s.
Along with several other Polish churches, Stanislaus Kostka is visible from the Kennedy Expressway. In fact, if you're driving downtown in the right lane, you come within feet of it. The Kennedy was actually routed around it so it didn't have to be torn down.
The church was built in 1881, for a parish founded in 1867. It's often referred to as the mother of Polish churches in the city, and at its peak in the late 19th and early 20th centuries – according to an architecture historian we talked to – had over 35,000 parishioners, and held 12 masses every Sunday to accommodate them all.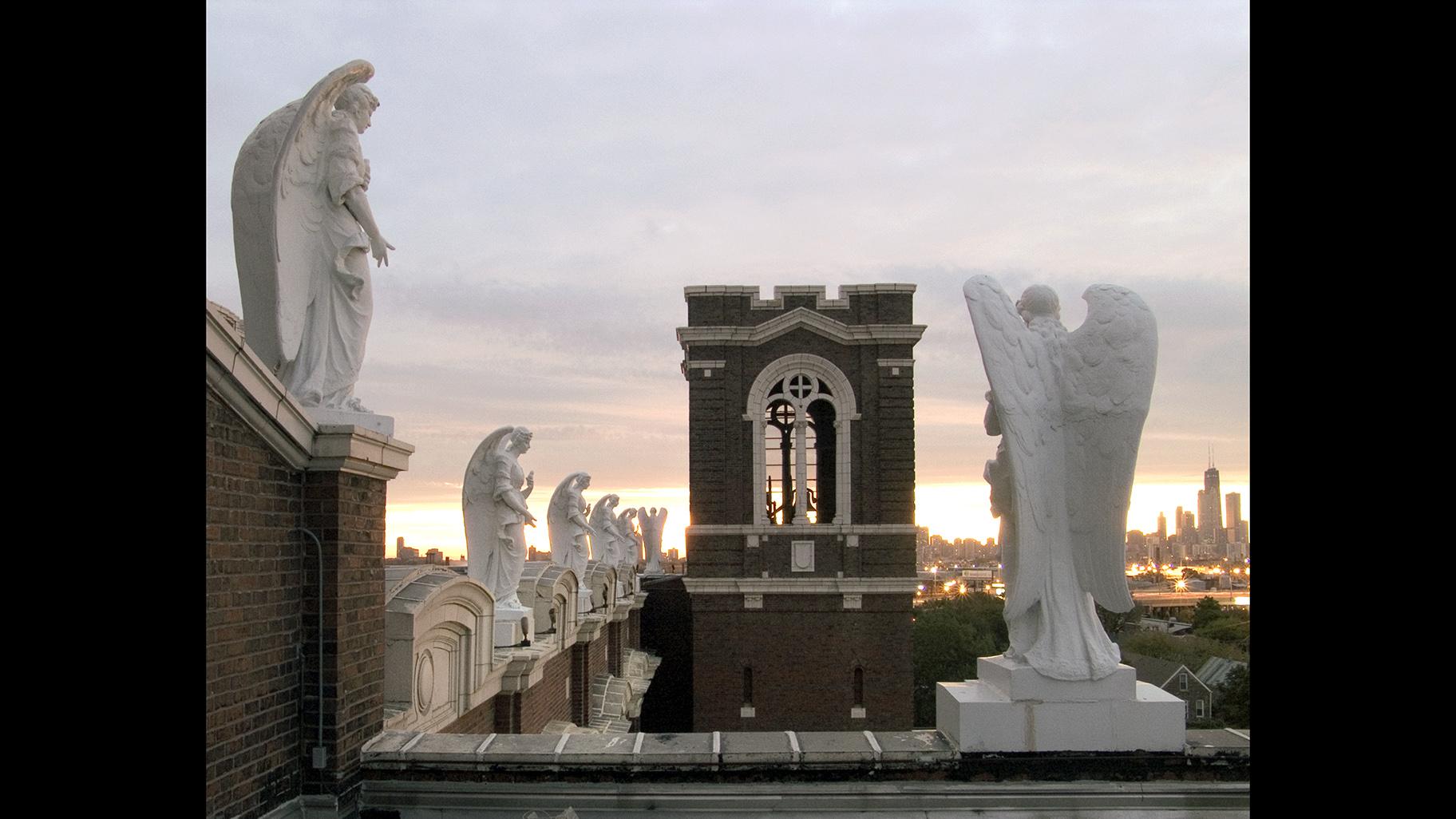 St. Mary of the Angels (Credit: Archdiocese of Chicago's Joseph Cardinal Bernardin Archives and Records Center)
Another classic example visible from the Kennedy is St. Mary of the Angels in Bucktown, which opened in 1920. It has twin steeples – a hallmark of the Polish Cathedral style.  
Inside, you'll find heavy ornamentation and the imagery all over the walls. There are expansive murals and paintings depicting saints and angels, bordered by golden trim and ornate patterns and mosaics.
Unlike the typical Gothic-style cathedrals from the 12th and 13th centuries with their elaborate stonework, soaring arches, pointy steeples and flying buttresses, Polish Cathedrals owe more to the highly ornate Renaissance and Baroque traditions of the 16th and 17th centuries.
And while there are many churches in Chicago familiarly called "Polish cathedrals," there's only one Catholic church in the city formally recognized as a cathedral. That's Holy Name on the Near North Side, and it's called a cathedral because it's the seat of the Archdiocese of Chicago.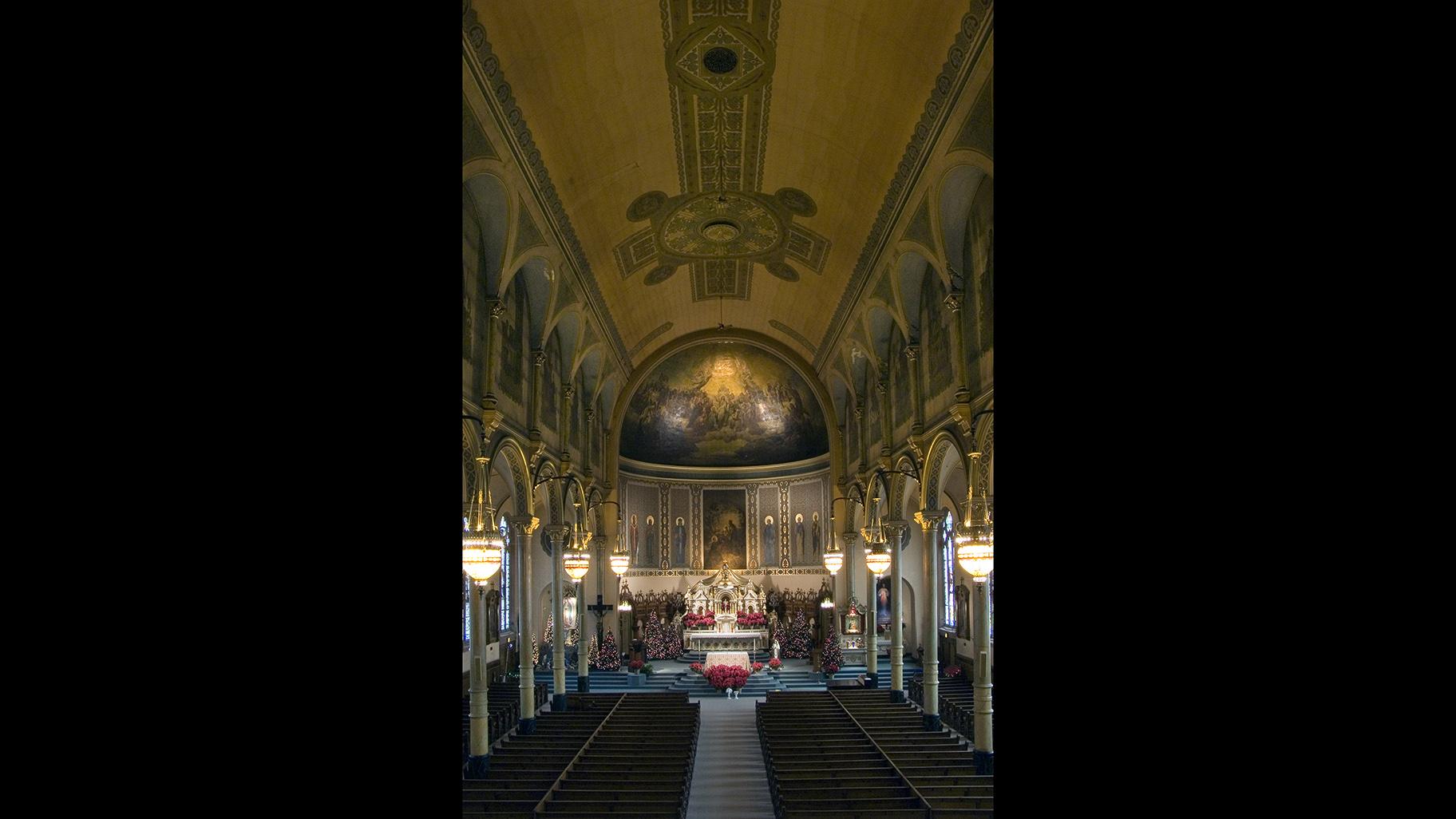 St. Stanislaus Kostka (Credit: Archdiocese of Chicago's Joseph Cardinal Bernardin Archives and Records Center)
The design behind the Polish cathedrals harkens back to a style that was popular during the Polish Golden Age in the 16th and 17th centuries. It was a brief period of peace and security compared to much of Polish history, when the country was constantly under threat from its neighbors. Poles in the Golden Age hired architects from Italy, who constructed extravagant buildings in the Renaissance and Baroque styles of their native country.
The Polish cathedral-style churches in Chicago can be found all over the city, not just in Wicker Park and Bucktown. One common characteristic is that they're all really, really big. That's stems from Chicago's huge Polish immigrant population.
The claim that Chicago was the largest Polish city outside of Warsaw has been debated, but the city was absolutely the center of Polish life in the United States for many years. Polish newspapers and organizations flourished here, and of course, so did the churches.
All these new immigrants needed places to worship. And these opulent churches like St. Mary of the Angels and Stanislaus Kostka became stakes in the ground for Polish communities, ways to honor their heritage and history in a new country.
Note: This story was first published July 31, 2019.
---
More Ask Geoffrey: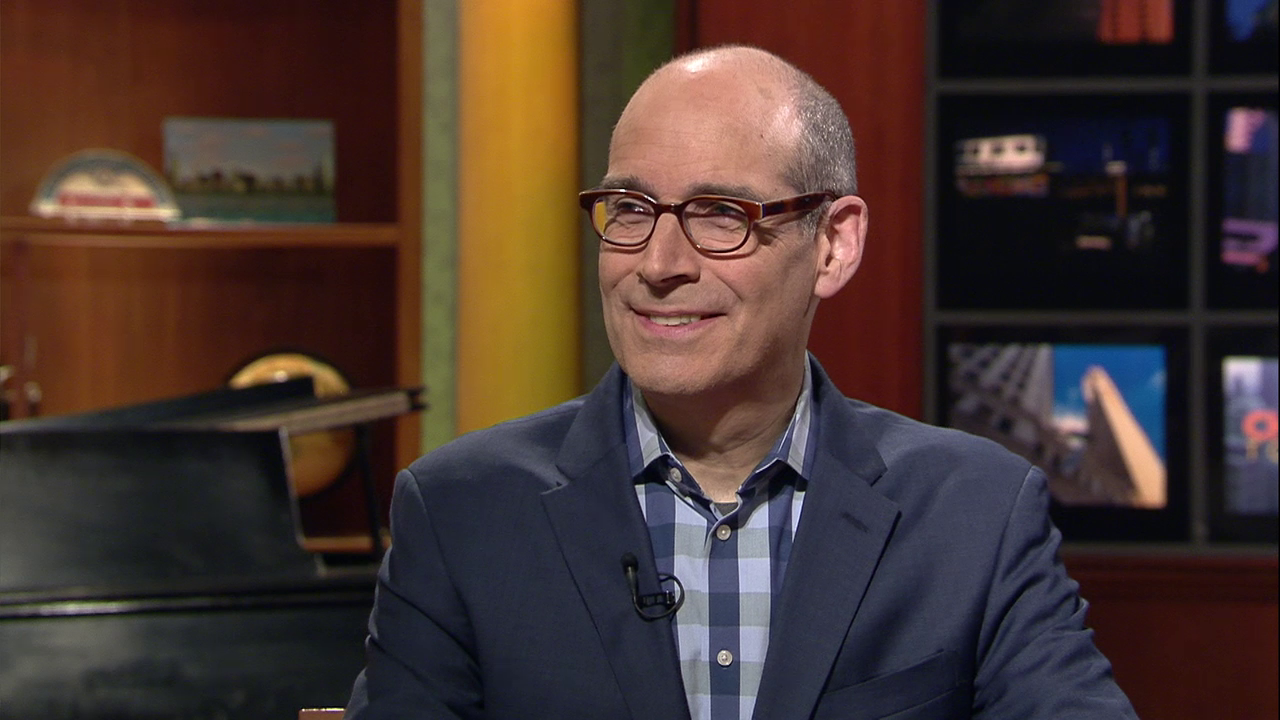 Did you know that you can dig through our Ask Geoffrey archives? Revisit your favorite episodes, discover new secrets about the city's past, and ask Geoffrey your own questions for possible exploration in upcoming episodes. Find it all right here.
Do you have a question for Geoffrey? Ask him.
---