Last weekend was Chicago's deadliest of 2019, with seven people fatally shot and 52 wounded. In the last few weeks, Mayor Lori Lightfoot and Chicago Police Superintendent Eddie Johnson have increasingly turned their ire toward judges. They want to know why so many people arrested on gun charges end up back out on the street to possibly commit another crime.
Timothy Evans, Cook County's chief judge, is vigorously defending bail reform measures he ordered in 2017 and refuting details about bond for two suspects with illegal guns mentioned this week by Lightfoot.
"This is a continuing pattern that we're seeing every weekend. People with extensive criminal histories who are caught with firearms who are given bail," Lightfoot said at a press conference Tuesday at City Hall. "I need to understand from the judges who think that these people are not dangers to the community, how I explain that to people on the West Side and on the South Side who, in many instances, are living in a war zone."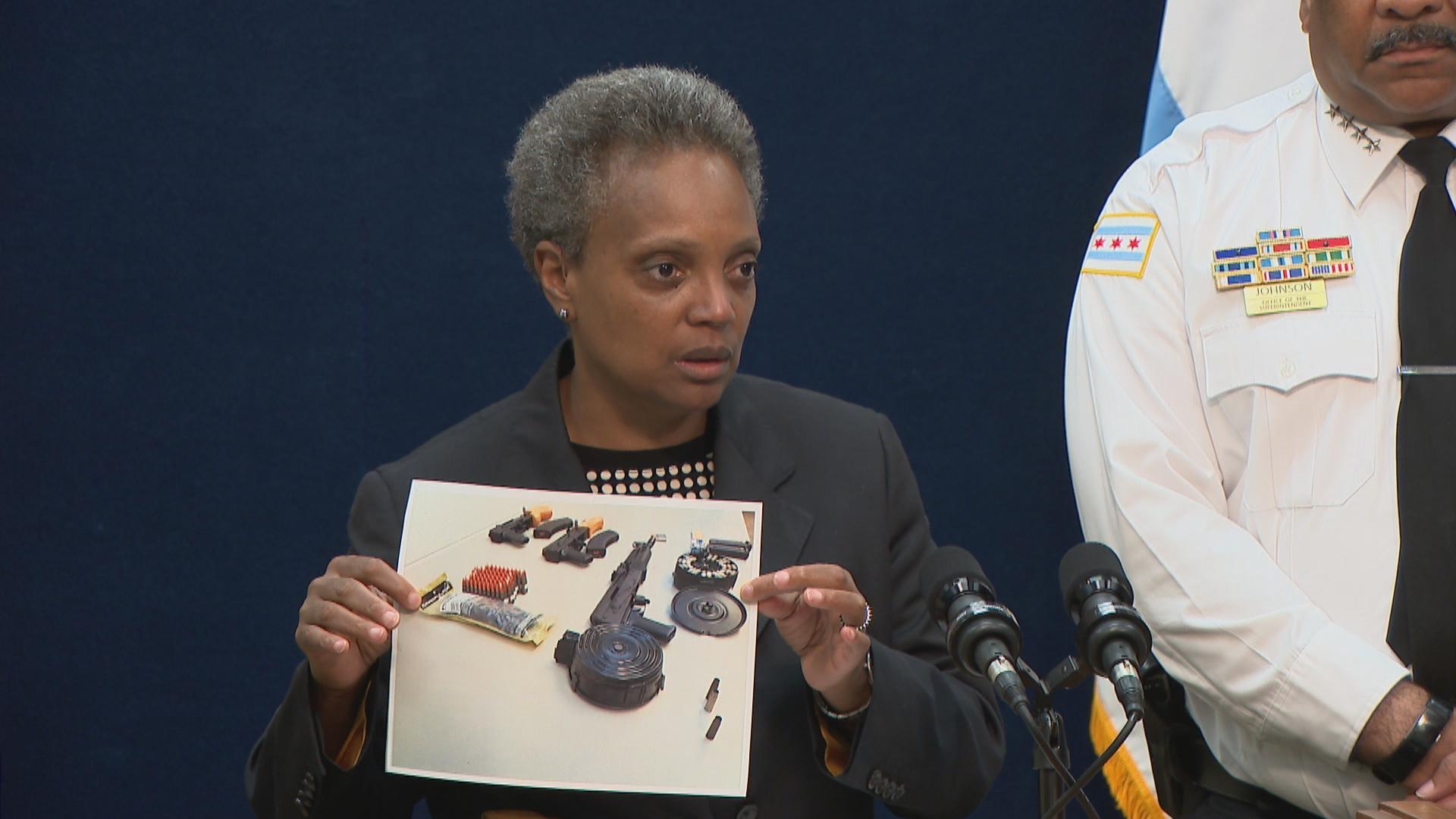 At a press conference Tuesday, Aug. 6, Mayor Lori Lightfoot holds a photograph of evidence seized from two suspects, including armor-piercing bullets and a gun with a customized "drum magazine that can hold 200-plus bullets." (WTTW News)
But the mayor got some of the facts wrong about the adjudication of those particular suspects. The two were given different pretrial determinations. The defendant with an extensive criminal history was denied bail and taken to jail, according to court transcripts. The other defendant posted $1,000 bond and was sentenced to home confinement with an ankle-monitoring bracelet. 
A spokesman in Evans' office emphasized that bail isn't about punishment or accountability. The law states that a person is innocent until proven guilty. Judges assess whether a defendant poses a clear and present danger when determining bail, not guilt or innocence. 
"As the city continues to face violent weekends, blame is being placed on the pretrial justice practices in the Circuit Court of Cook County," Evans wrote in a Chicago Sun-Times op-ed.
"The criticism is misleading because pretrial defendants released on bond are not driving the weekend crime statistics. In fact, 99.8% of felony defendants released on bail do not receive charges of new gun-related violent crime while their cases are pending," Evans wrote.
"We keep arresting 'em," Johnson said Tuesday at the press conference with Lightfoot. "The mayor showed you the firepower. Look at this. This is ridiculous. You're telling me it's OK for somebody that possesses something like this to be right back out in a day? I don't think so."
Evans' office has collected a number of statics on bail reform. His May report shows the number of no bail orders increased from 267 to 2,192 in 15 months. And over those same 15 months, 30,466 defendants were released. Only 70 of those were charged with a new "violent offense with a gun" while their case was pending during those 15 months – which comes out to about four a month.  
---
Related stories:
Mother of Man Fatally Shot by Chicago Police Suing City for Wrongful Death
Research Collaborative Partners with Communities to Address Chicago's Gun Violence
Gun Control Proponents Demand Action in Wake of Mass Shootings
Chicago Responds to Weekend Carnage With Condolences, Calls for Action
---