They are acrobats. They are contortionists. And they are happily married. A Chicago couple is part of an international team bringing a flashy new take on "dinner and a show."
Teatro ZinZanni opened this week in the Loop. Chicago Tonight went behind the curtain to meet the stars of a Vegas-style vaudeville show that promises love among the chaos.
TRANSCRIPT
Jay Shefsky: In a small theater 14 stories above Randolph Street, the husband-and-wife team Duo Rose rehearse a stage act that combines athleticism and artistry.
Samuel Rose of Duo Rose: So I work as a welder when we're not on stage. I make circus equipment for different artists and Sylvia makes all of our costumes.
It's a duo trapeze act that we conceived about 12 years ago. We started working together and the act has grown over time. It's kind of a mix between contortion and dynamic elements.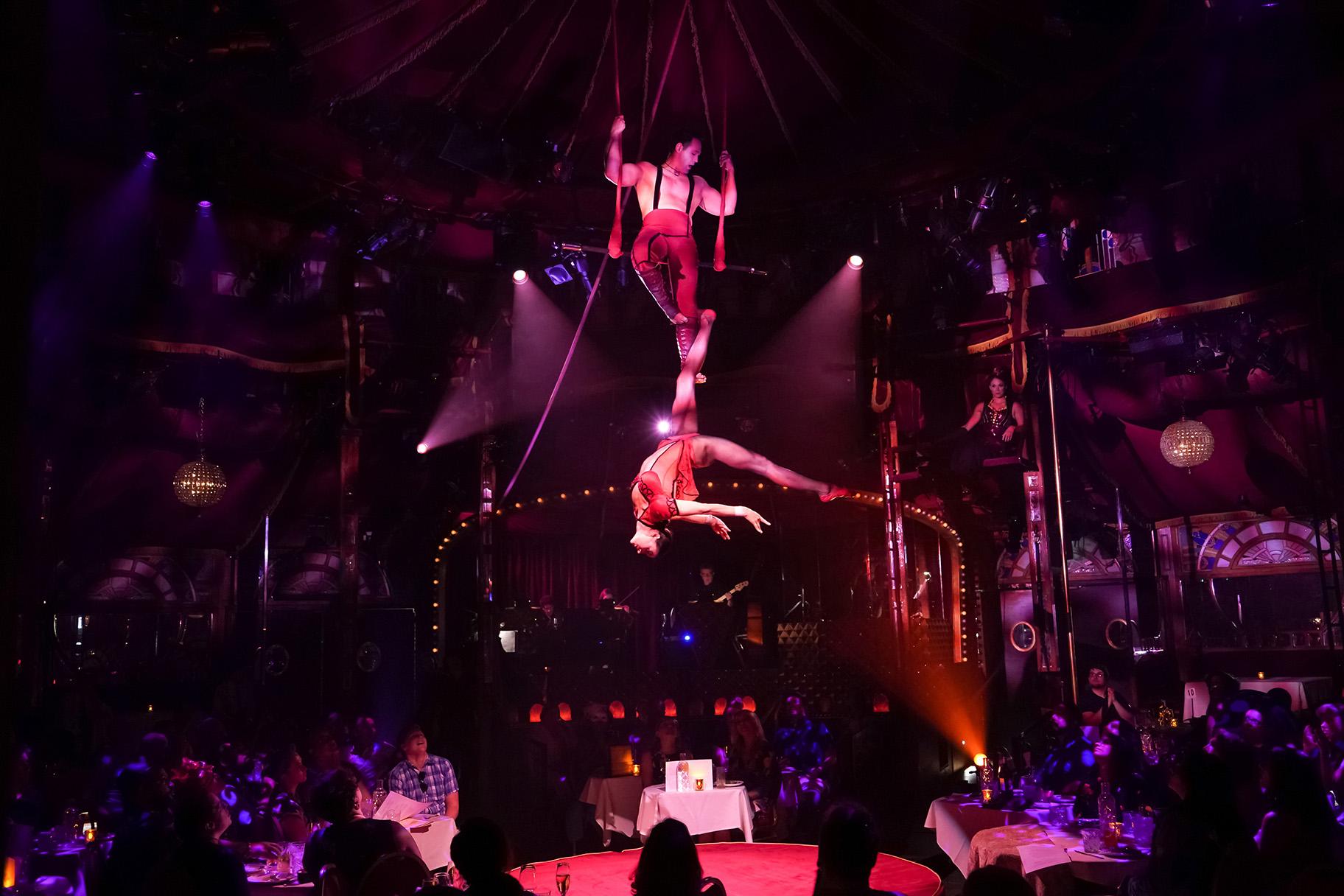 Duo Rose (Photo by Alan Alabastro)
Sylvia Rose of Duo Rose: We like to keep it growing and changing, so we like to always be working on something new.
Shefsky: They grew up in the Chicago area. And wait till you hear how they met.
Sylvia Rose: I grew up in Evanston. As a kid I did classes over at the Actor's Gymnasium. I was there for about eight years and then I went to take contortion lessons and therefore met Sam.
Samuel Rose: Yes, I was living at her contortion coach's house. The coach called and said, "I can't make my next class, can you stretch the next person that walks through the door?" And that was Sylvia. That's how we met, and we started training together from there and started dating soon after.
Shefsky: Duo Rose is just one of the many acts in this unusual show, a sort of European circus arts cabaret with spectacle, live music, comedy – and dinner.
One of the ringmasters is an agent of chaos called "Caesar."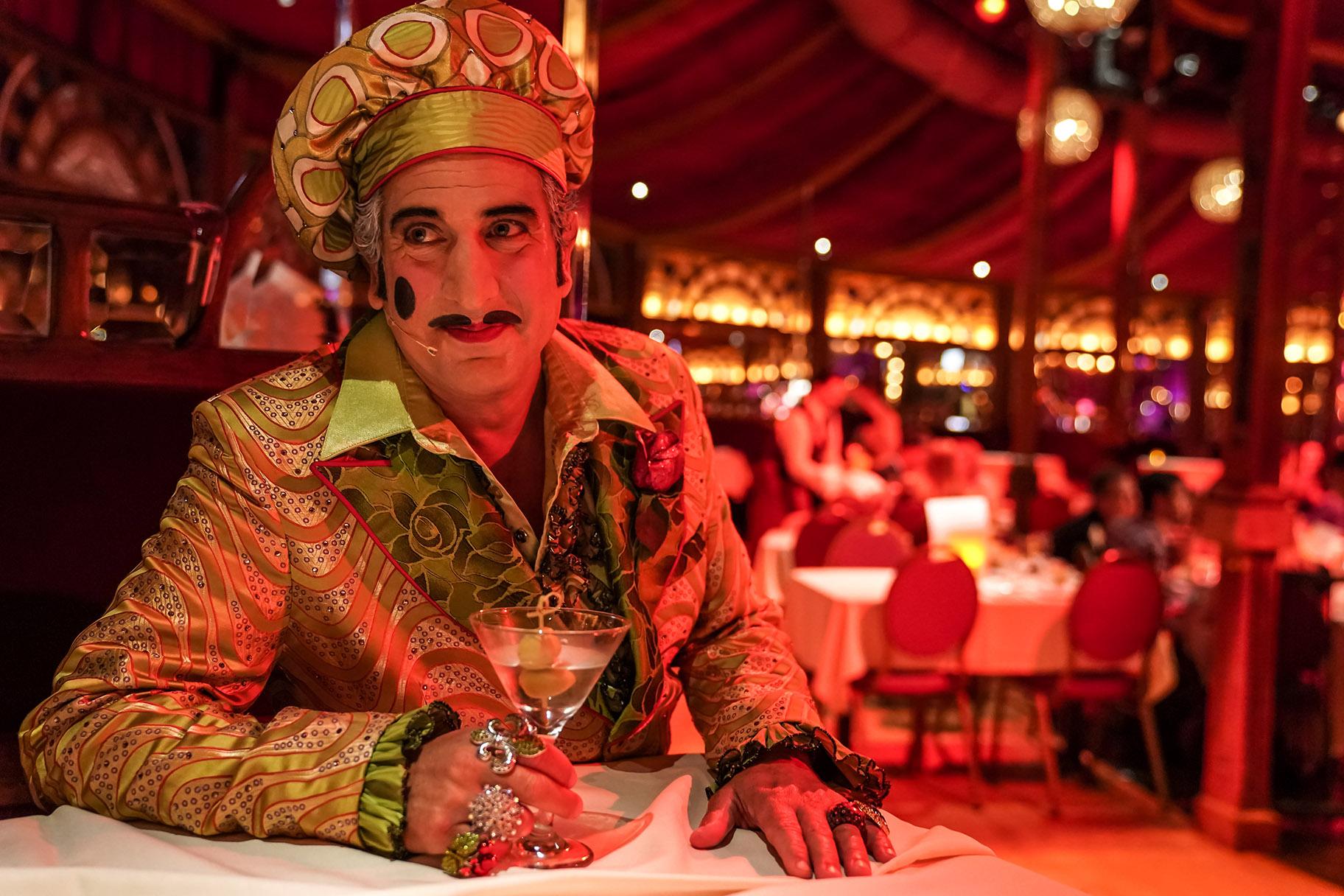 Frank Ferrante (Photo by Alan Alabastro)
Frank Ferrante, "Caesar": He's a wild, over-the-top Latin lover. He loves the ladies, the gentleman, dogs, cats, he's really not discerning. But his job, in a way, is to facilitate the party.
He's unfiltered. He's a joyous character. He's outrageous, and I was basically a shy kid growing up, so he's a great outlet for me, a great catharsis for me.
Shefsky: For 30-plus years, Frank Ferrante has portrayed Groucho Marx on stage – and on PBS.
In fact, Groucho Marx's son chose him to portray his famous father. Ferrante reflected on his impact and influence.
Ferrante: Groucho Marx is a verbally and physically -- probably the greatest comedian the country has produced.
And there's a fearless quality to Groucho Marx, and I try to bring a fearlessness into the tent, into the center ring.
Shefsky: The lavish tent was built in the 14th-floor space of what was once an auditorium for a Masonic hall.
It makes for an intimate hideaway.
Ferrante: This great American tradition of burlesque and vaudeville is happening right here under the tent.
Acts will literally happen over your head.
Shefsky: Duo Rose has performed in circuses and festivals all over the world – but never in their hometown.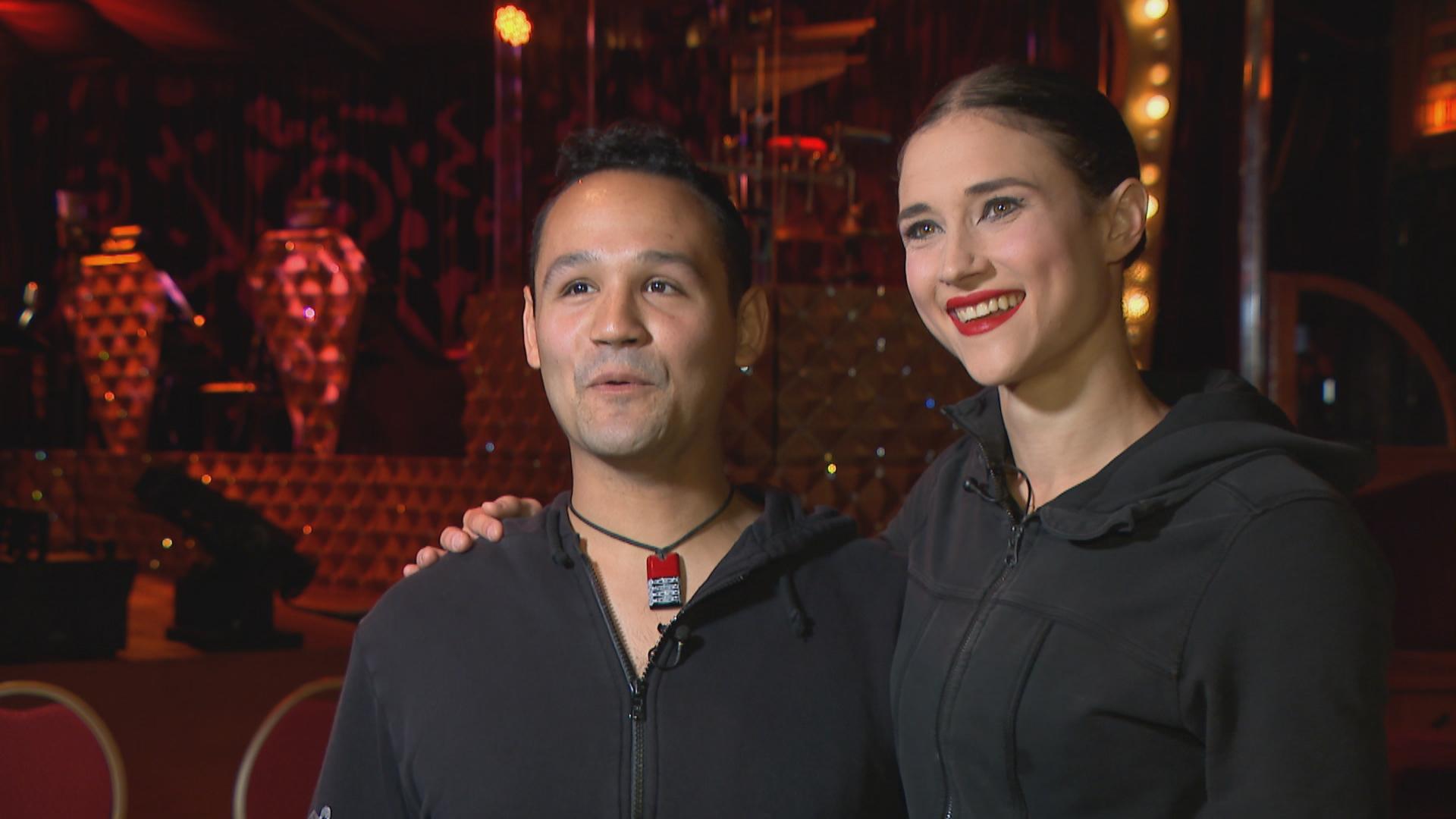 Sam and Sylvia Rose (WTTW News)
Samuel Rose: We really haven't had a chance to perform in Chicago. We started, developed our act, and then immediately started doing the festivals.
Sylvia Rose: It's really exciting for us to be here where our friends and family can actually come and see us sometimes. And also to be here with this cast – I'm proud to be on stage with every member of this cast.
Shefsky: And these world-renowned circus artists make the case for experiencing entertainment not on screens but live.
Sylvia Rose: We can make eye contact even from the trapeze to the back row.
Samuel Rose: One of my favorite things is being on the trapeze and styling down to someone and just seeing their face, and how we're affecting them, the emotion that we're kind of imparting to them.
Sylvia Rose: People don't remember necessarily what you did, but they remember how you made them feel, and that is really only accessible in live shows.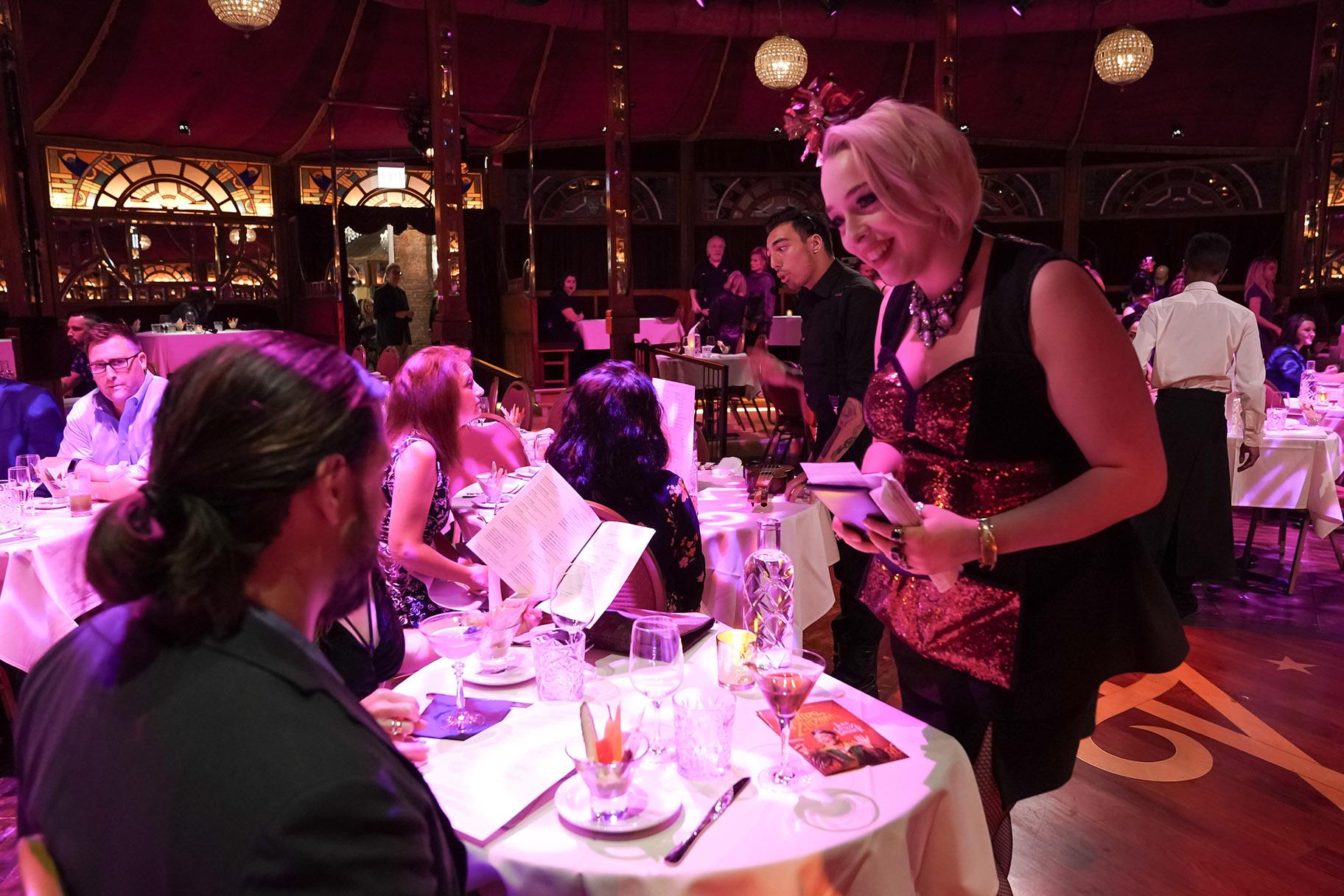 Teatro ZinZanni service staff (Photo by Alan Alabastro)
More on this story
Teatro ZinZanni was a hit in Seattle and San Francisco – where guest artists included Joan Baez and Ann Wilson from the band Heart. Their dedicated Chicago show – called "Love, Chaos and Dinner" – opened this week.
---
Related stories:
Festival inspired by Marvel's 'Black Panther' Returns to Chicago
'Volta' Performer With Local Roots Tumbles Back to Chicago
5 Chicago Theater Recommendations: 'Music Man,' 'True West' and More
---