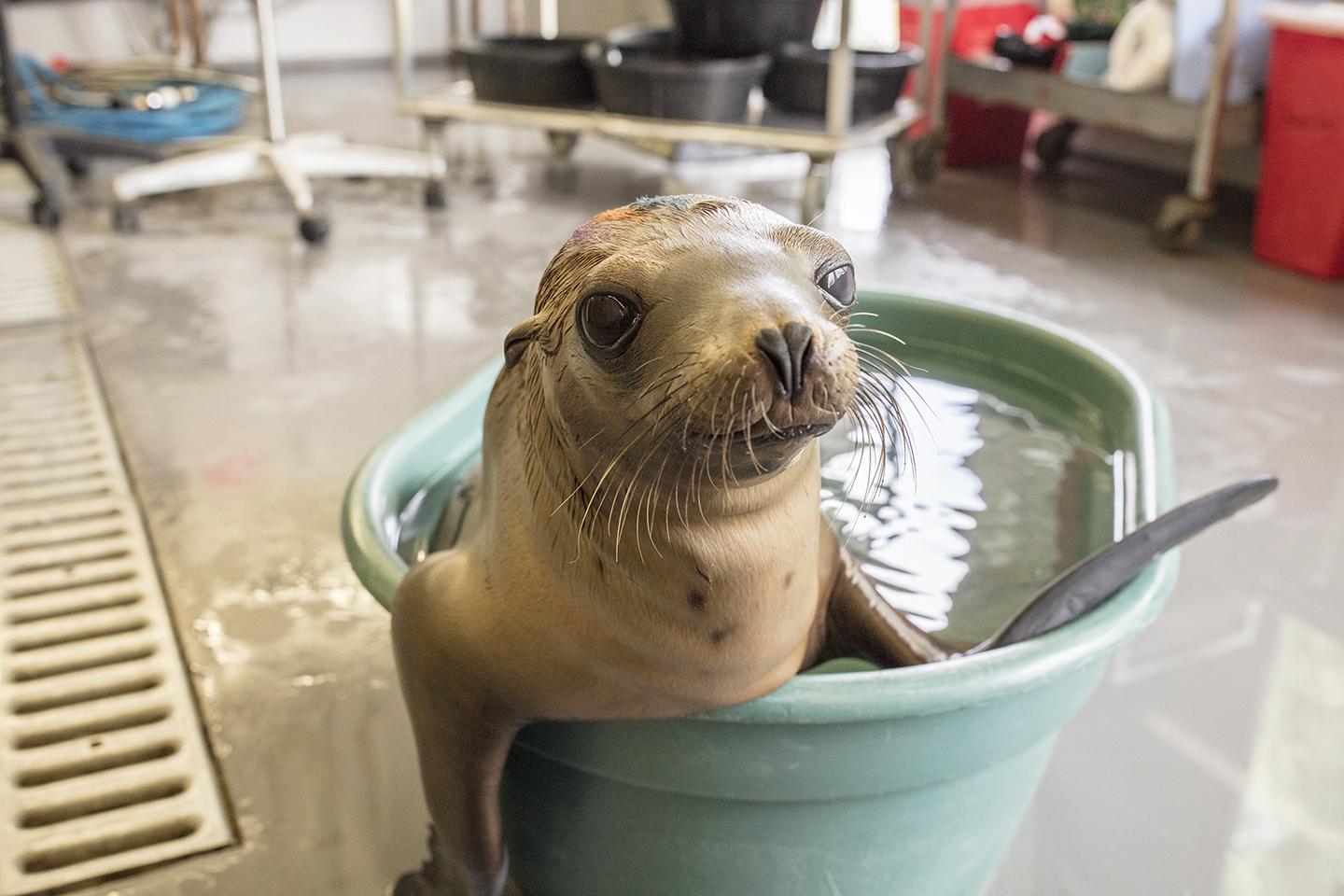 A rescued sea lion pup receives fluids in a warming pool at Channel Island Marine & Wildlife Institute in California. (Brenna Hernandez / Shedd Aquarium)
Animal care specialists from Chicago's Shedd Aquarium are providing medical care to more than 55 sea lion pups rescued over the past few weeks off the coast of California.
Shedd's response comes amid reports of an abnormally large number of sick adult California sea lions and malnourished pups. Experts still don't know why so many abandoned sea lion pups are being found, though they note that early summer is the time of year when mothers begin weaning their young.
The process can leave pups weak and make it difficult for them to hunt for their own food. If a pup is weaned prematurely or loses its mother, the pup becomes even more vulnerable, according to Shedd.
"Our work is changing by the hour, and days are filled with several duties from prepping fish and facilitating feedings to performing checkups and administering medicine," said Sage Rosenbrock, veterinary technician at Shedd, in a statement.
Rosenbrock and other specialists from Shedd and across the country are caring for the rescued pups at the Channel Islands Marine & Wildlife Institute, a rescue and rehabilitation center based in Santa Barbara, California. The goal is to eventually return the animals to the wild once they are recovered and have regained weight.
Sage Rosenbrock, a veterinary technician at Shedd Aquarium, administers IV fluids for a rescued sea lion pup in a warming pool. (Brenna Hernandez / Shedd Aquarium)
In addition to caring for admitted animals, Shedd's Animal Response Team is responding to calls about animals in distress in Santa Barbara and Ventura counties in southern California. CIMWI Director Ruth Dover said in a statement that the rescue center is receiving about 10 calls each day related to animals along a 155-mile stretch of coastline.
Many of the calls are in regard to abandoned and malnourished sea lion pups, according to Shedd.
"Animals in the wild face increasing threats – many a result of human activity – and we are thankful for our dedicated volunteers, staff and partners like Shedd Aquarium who are helping us give these pups and adults a second chance at life," Dover said in a statement.
There have also been reports of adult sea lions showing symptoms of confusion, head bobbing and lethargy, all of which are caused by a condition linked to the high quantities of domoic acid released from toxic algae blooms, according to Shedd.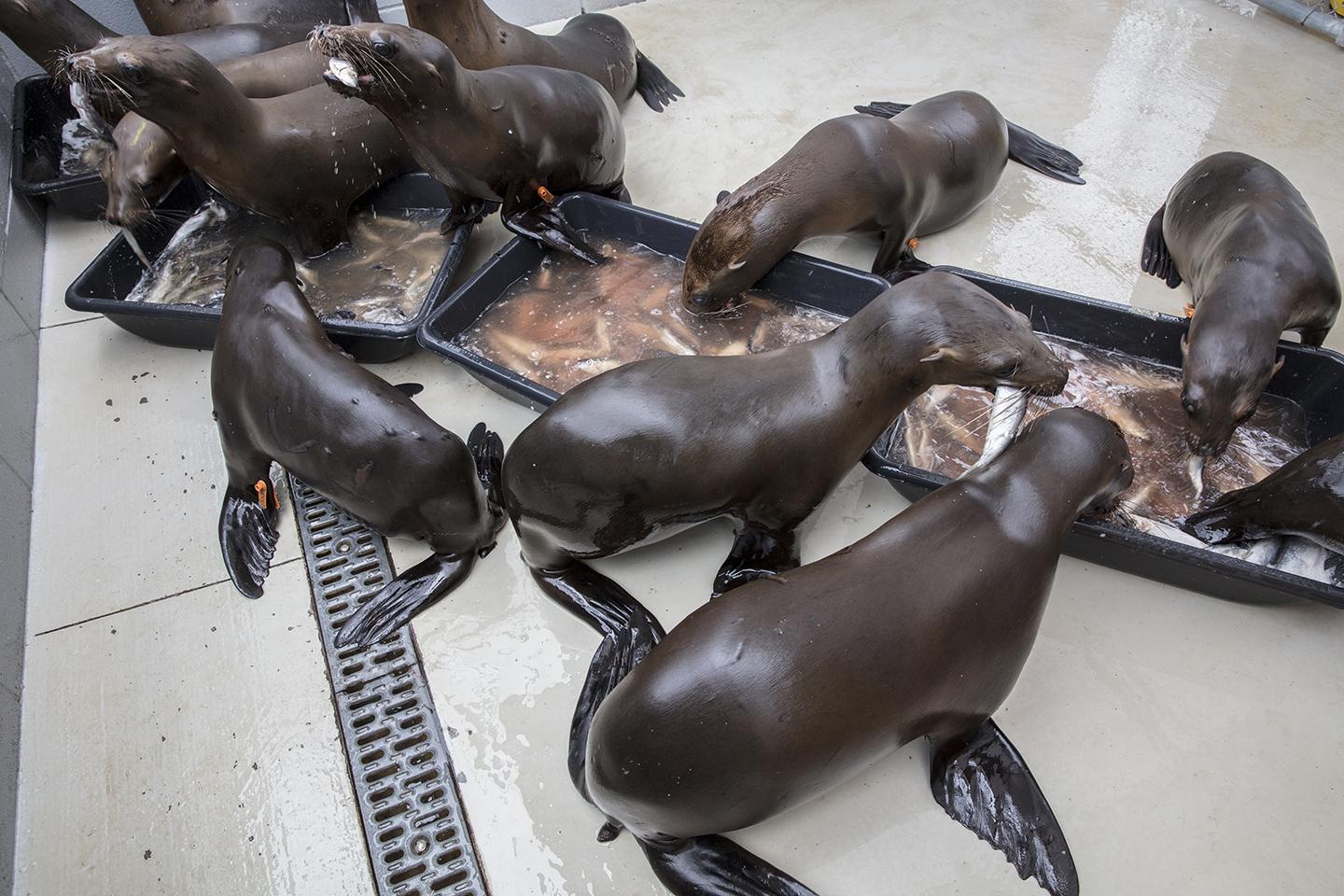 Malnourished California sea lion pups are fed at Channel Island Marine & Wildlife Institute in California. (Brenna Hernandez / Shedd Aquarium)
Experts say that climate change and nutrient pollution caused by runoff water are two of the main factors behind the explosive growth of the algal blooms. The blooms produce a neurotoxin that is consumed by anchovies, sardines and other filter-feeding fish. The neurotoxin does not affect those fish but does harm others up the food chain through a process called biomagnification.
Some of the rescued sea lions are affected with pox that appear as lesions on their skin and is a virus that puts them in a weakened state.
According to Shedd, there is no cure or treatment, and the toxin can be deadly at high levels. Sea lions exposed to lower levels of the toxin can sometimes recover within 72 hours.
Contact Alex Ruppenthal: @arupp | [email protected] | (773) 509-5623
---
Related stories:
Chicago's Shedd Aquarium, by the Numbers
Shedd Vet in Madagascar to Treat 10,000 Confiscated Tortoises
Shedd's Rescued Animals: How Are They Doing?
---