Thirty-four teams competed Saturday in the Dragon Boat Race for Literacy in Chinatown's Ping Tom Park – the most competitors in the event's 19-year history.
Paddlers feverishly rowed to the rhythm of a drummer, racing down a 750-foot length of the Chicago River between the Canal Street Railroad Bridge and the 18th Street Bridge.
The American Dragon Boat Association provides dragon boats and sterns, important team members who direct paddlers and steer from the back of the boat. The Midwest volunteer organization promotes dragon boat races and events.
"This position controls the boat," said stern Neil Schlader during practice runs Friday. "I'm in charge of making sure we don't run into the other boats and anyone else on the river and keep a straight line."
Teams came from all over the area and represented different companies, agencies and nonprofits, including the North Lawndale-based UCAN, a social service nonprofit that assists at-risk children in Chicago.
"So this is our first time, but what I love about it is people are just here hanging out," said Andrea Lee of UCAN. "We've gotten to meet a lot of great people and found ways we might be able to work together."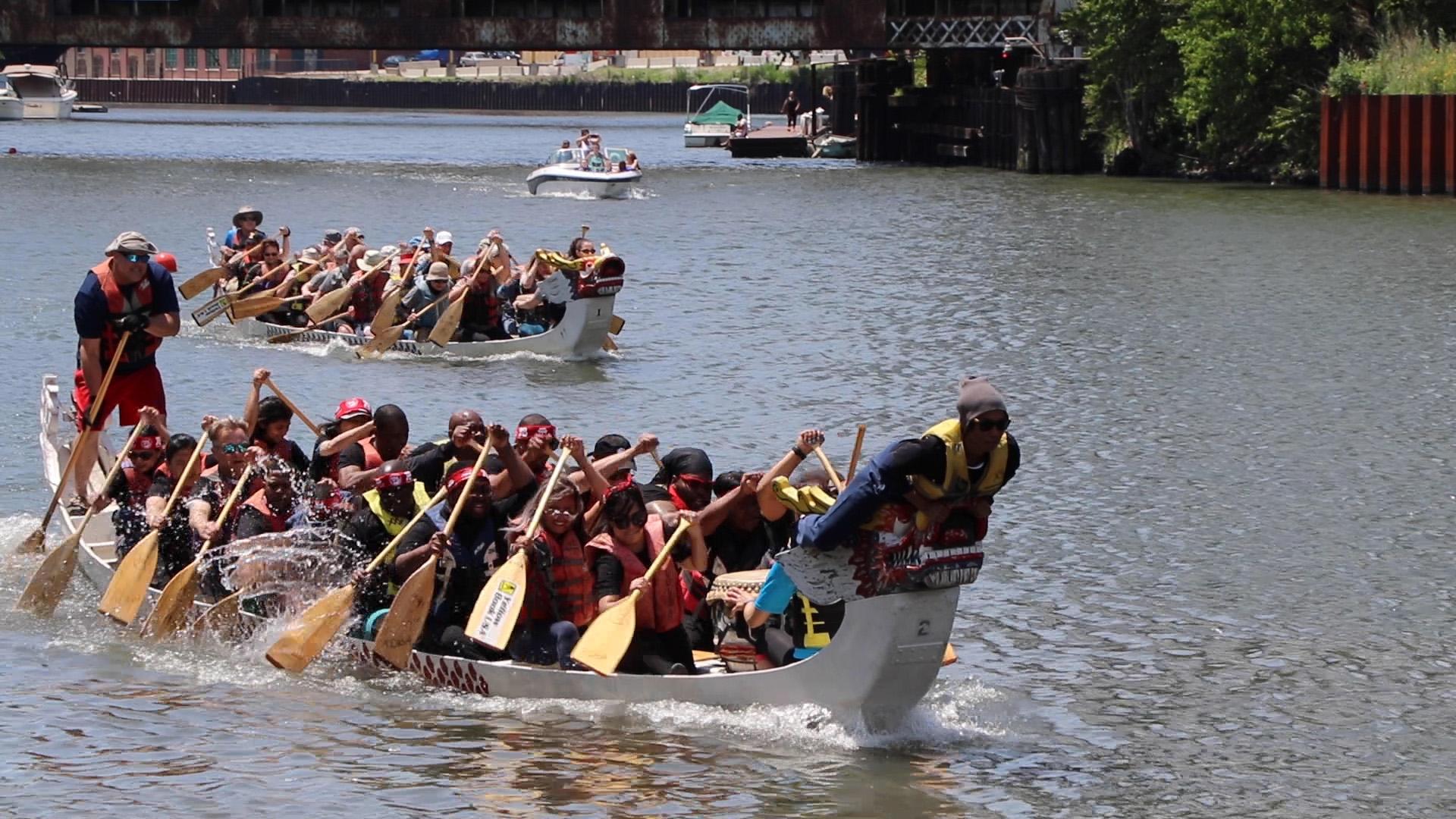 Team UCAN, a North Lawndale-based nonprofit, used the chant "UCAN!" (or "You can!") to paddle in sync with each other. (Evan Garcia / WTTW)
The sport has roots in the Dragon Boat Festival, a traditional Chinese holiday dating back some 2,000 years.
Race director Darryl Tom said the event, which is hosted by the Chicago Chinatown Chamber of Commerce, raises money through sponsorships for literacy efforts in the neighborhood.
"We give money to schools in and around Chinatown and they're supposed to report back with how they use the funds," Tom said. "A lot of them buy books."
The event typically nets about $5,000 per year towards literacy, according to Tom, who is the son of Ping Tom, the Chinatown civic leader for whom Ping Tom Memorial Park is named.
 Follow Evan Garcia on Twitter: @EvanRGarcia
---
Related stories:
2019 Chicago Summer Festival Guide
Take it Outside: 10 Summer Activities In and Around Chicago
Bubbly Creek: An Environmental Quagmire for Federal Agencies and Local Activists
Shedd Kayak Trips Encourage Paddlers to Explore and Restore Chicago River
An 'Open Swim' in the Chicago River is in the Works for September
---