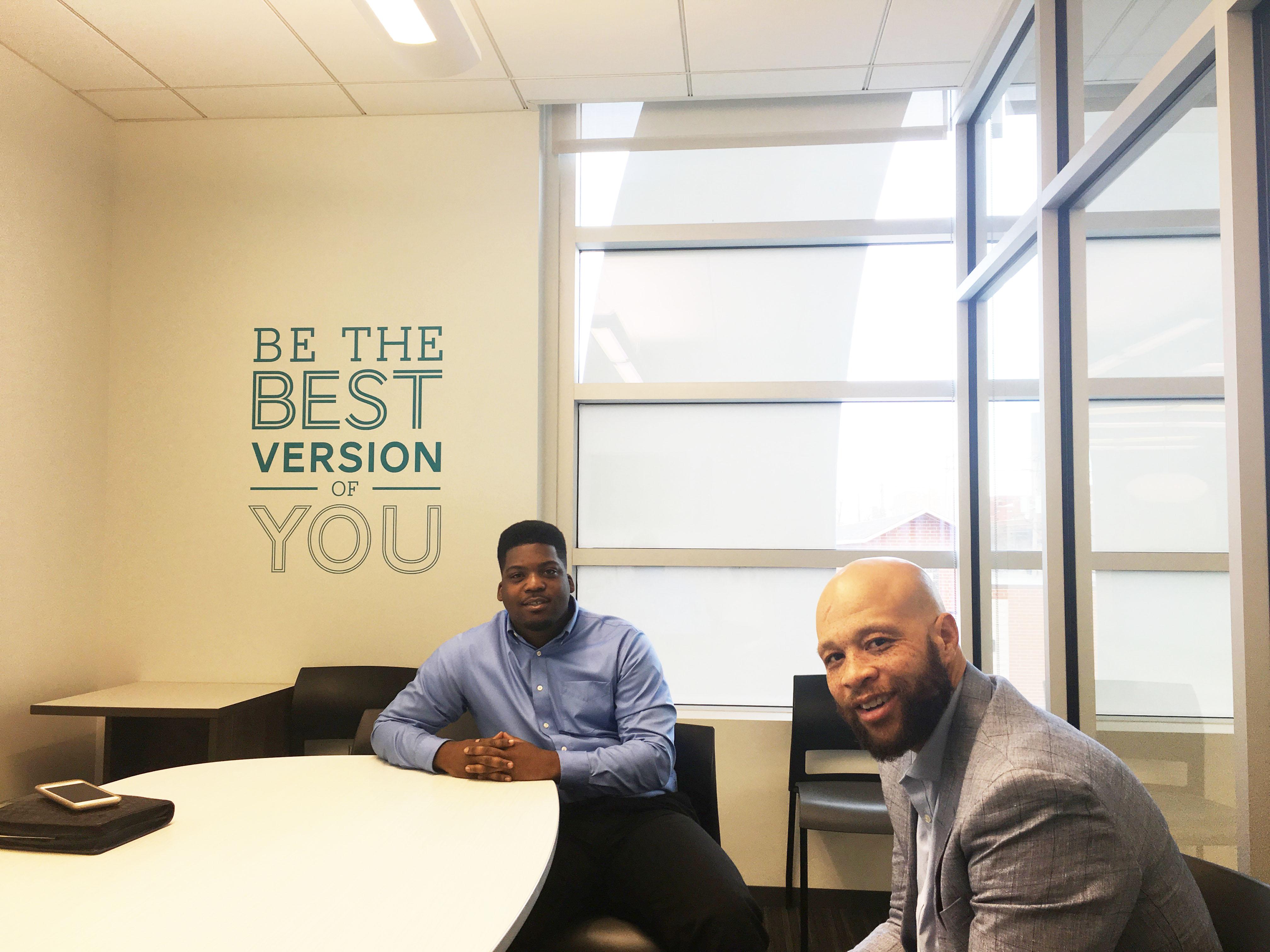 Anthony Green, left, and his youth development coach Patrick Daniels at the UCAN headquarters in North Lawndale. (Maya Miller / Chicago Tonight)
Behind the Headlines: This Chicago Tonight series spotlights individuals and organizations working to diminish gun and gang violence in their communities.

North Lawndale native Patrick Daniels says his neighborhood is defined by more than violence.
"So for me actually, it's just the sense of community," the youth development coach told Chicago Tonight.
But type "North Lawndale, Chicago" into a search engine, and you're likely to find news stories about crime, not community. The West Side neighborhood has become synonymous with gun and gang violence, with 282 shooting victims in the neighborhood in 2016 and 35 through Feb. 17, according to the Chicago Tribune.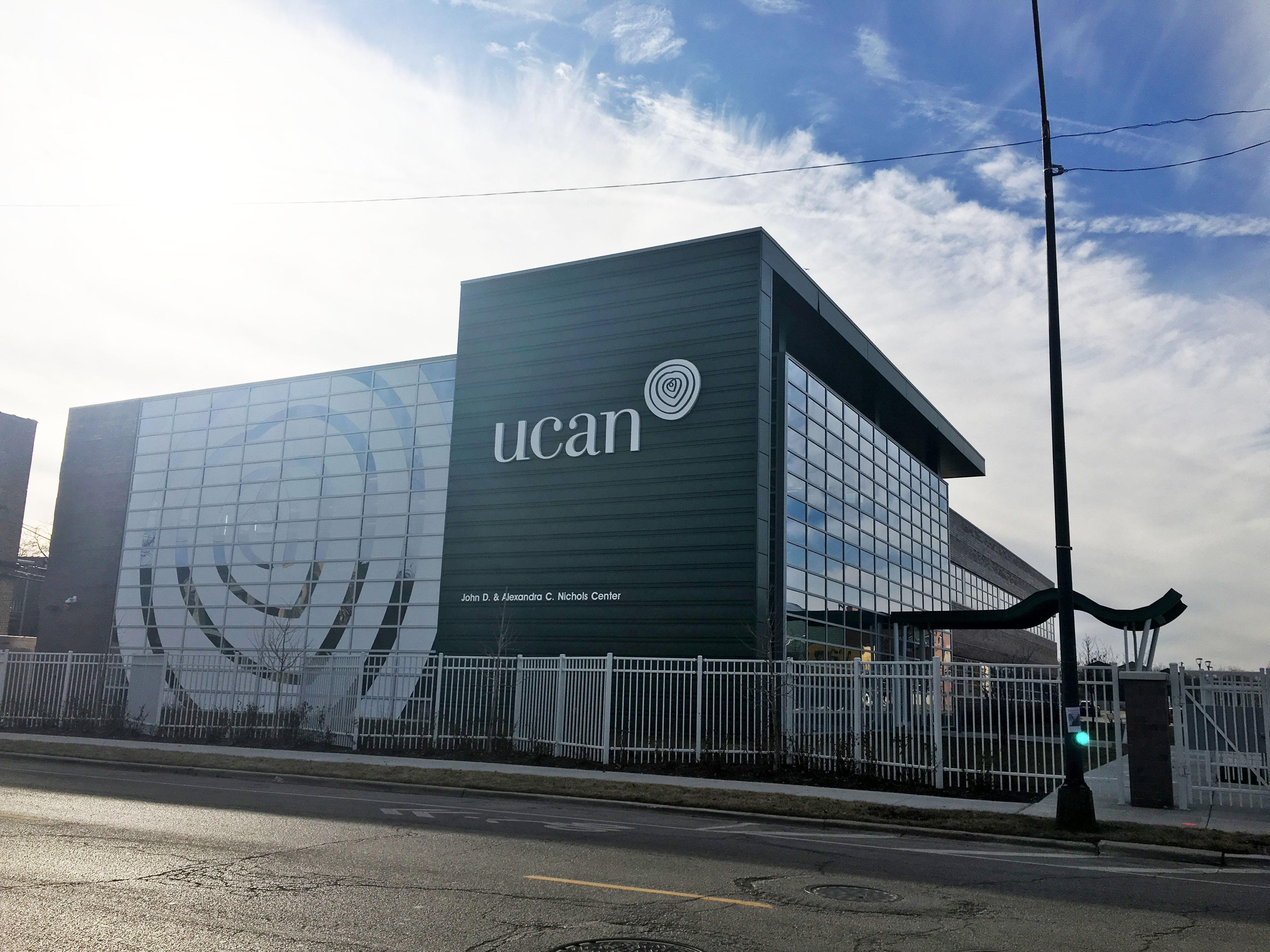 The Drost Harding Campus in North Lawndale is made up of two buildings: the Nichols Center Headquarters, pictured here, and the Diermeier Therapeutic Youth Home. (Maya Miller / Chicago Tonight)
Daniels aims to change that narrative through his work at the sprawling 7.5-acre UCAN campus. A social services organization with headquarters tucked into the northern boundaries of North Lawndale, UCAN offers 11,600 area youth and families access to therapeutic homes and more than 30 programs to address issues ranging from coping with trauma to unemployment.  
Daniels, 35, first became involved with the organization when he participated in one of its male mentorship programs, Project Visible Man. He was 21 years old at the time.
He remembers it as a "warm place to be" and said it was beneficial for him to be surrounded by smart black men and engaged in "positive activities."
Now, he's mentoring others from the area, like Anthony Green, who also grew up in North Lawndale, often surrounded by gangs and violence. 
"For me, it was always around because I've always had family members that were involved in gangs," Green, 21, said. "But I've learned you don't have to fall victim to certain things in life."
Green credits UCAN for helping him learn that lesson, for building his confidence and surrounding him with overall "positive vibes." This wasn't always the case for Green, who moved out of the city when he was 12 years old with his mother and 12 siblings to "leave behind the Chicago violence."
But in 2014 Green returned to the city, and, through Daniels, was introduced to UCAN and potential employers. He now works at the local Walgreens, a six-minute walk from UCAN's campus.  
"Anthony is like, he's like the symbol of hope for a generation of people," Daniels said.
"If you see Anthony, a guy who lives on the same block as you, a guy who walks through the same gunfire that you walk through, but he's walking to Walgreens? Like, man, how'd you get that job?"
Unemployment has hit North Lawndale particularly hard. According to recent Census data, its unemployment rate ranks 63rd among the city's 77 neighborhoods.  
That's one of the reasons UCAN decided to move its headquarters from the Irving Park neighborhood on the city's Northwest Side more than five years ago, officially opening the new facilities in July 2016. Of its 450 full-time and 108 part-time employees, 71 are from North Lawndale.
"We made the move here to North Lawndale as a very visible and substantial investment in the neighborhood," UCAN CEO Zachary Schrantz said. "We're not going to transform the neighborhood, but we're going to be in it with the community, trying to figure out ways to make more opportunities for young people and families here."
Green may be a "symbol of hope" in the community, but there are also difficult stories at UCAN, including participants who fall victim to gun violence or gangs. Laquan McDonald, who was fatally shot by a Chicago police officer in 2014, is one of many who passed through UCAN's doors.  
"When you're working with a person and you hear that family members are getting shot, or even the person you're working with is getting shot, you ask yourself, 'Man, what did I do? Did I do everything I can do?'" Daniels said.
Map: Blue pins mark approximate shooting locations in North Lawndale between Jan. 1 and Feb. 8, 2017, according to the Chicago Tribune's database. The yellow pin shows the location of UCAN.
---
UCAN knows its employees are strained, and they're working to address the burden. Schrantz says that flat funding and "a human services recession" have forced the organization to trim down its staff, adding additional pressure on those who remain.
While UCAN is tracking Illinois budget negotiations, a majority of its state funding has been protected by consent decrees that run through the end of the fiscal year. Schrantz is also encouraged by the level of community engagement he's seen.
"The piece of optimism we have is that there are a lot of people who do care, and that are not only wanting to see different portrayals of what's going on in neighborhoods like North Lawndale, but also wanting do something, and that's invest," Schrantz said.
"It's about people and the relationships, and there's a lot of really good people here."
Schrantz believes local and federal investment in programs like those offered by UCAN is the most effective way to deter violence in the city. But he said individuals can also make a difference, through mentoring and also hiring people from neighborhoods that have faced increased violence.
But he said that bringing in federal authorities, a suggestion President Donald Trump made on Twitter in January, could hamper community relations rather than bolster them.
Green and Daniels agree.
"I just think it would have everyone looking over their shoulders even more," Green said. "Bringing in the feds would just invoke more fear for the communities, and fear doesn't help anybody."
Green, whose goals extend beyond his job at Walgreens, remains excited about his future, and the future of his city.
"I feel good about this year," Green said. "This city needs a lot of help, but there's been a lot of good things going on, a lot of positive stuff."
Though gun and gang violence have continued to impact the neighborhood, it won't deter Daniels from looking forward.
---
Related stories: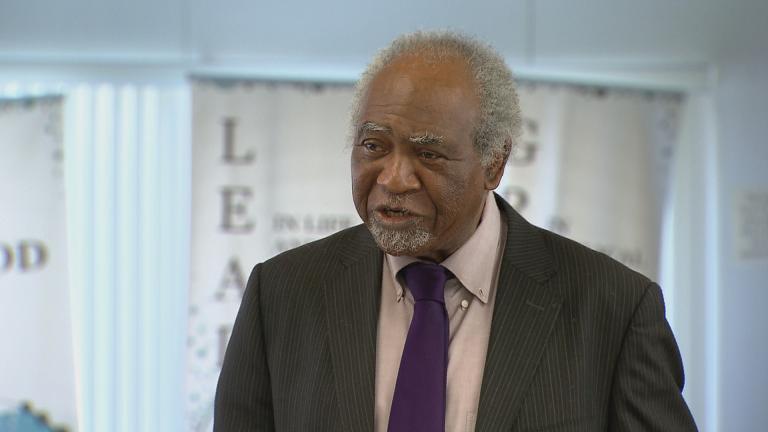 Data: Upward Battle for African-American Males in Chicago
Feb. 20: Unemployment rates for African-American males in Chicago are nearly three times higher than the national average, according to data released Monday by U.S. Rep. Danny Davis.
---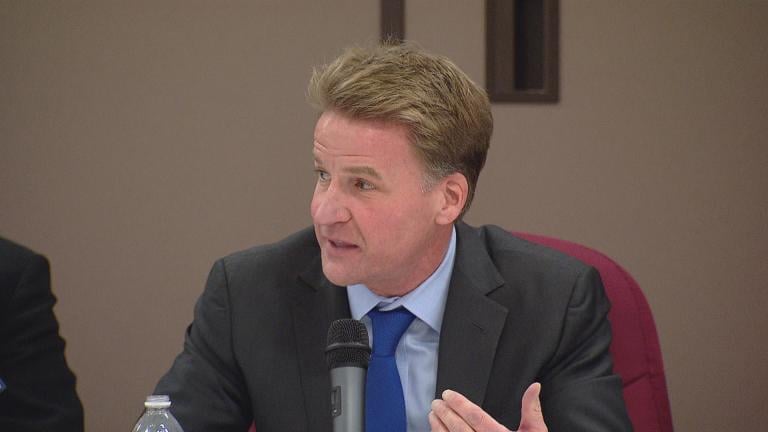 Summit to Decrease Violence Addresses Kids' Sense of Hopelessness
Jan. 19: How can Chicago stem the surge of violence? Police, prosecutors, and judges offered ideas Thursday for dealing with troubled youth, some of whom offered ideas of their own.
---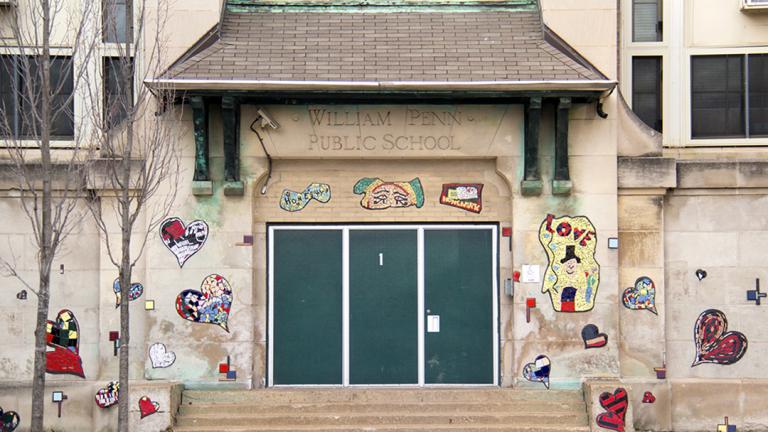 Inside 'The View From Room 205': A Q&A with Reporter Linda Lutton
Jan. 18: WBEZ reporter Linda Lutton spent the 2014-15 school year examining the impacts of poverty on a fourth-grade class in North Lawndale for a new story published this week. She spoke with Chicago Tonight to discuss that process.
---
Creating Green Space in the Lawndale Triangle
June 30, 2015: Neighbors in an area of North Lawndale called the "Lawndale Triangle" feel cut off. They have no park or green space, and very few places where they can come together as a community. Now, neighborhood leaders and a local nonprofit have joined together to create a community park and garden on a lot that's sat empty for years.
---