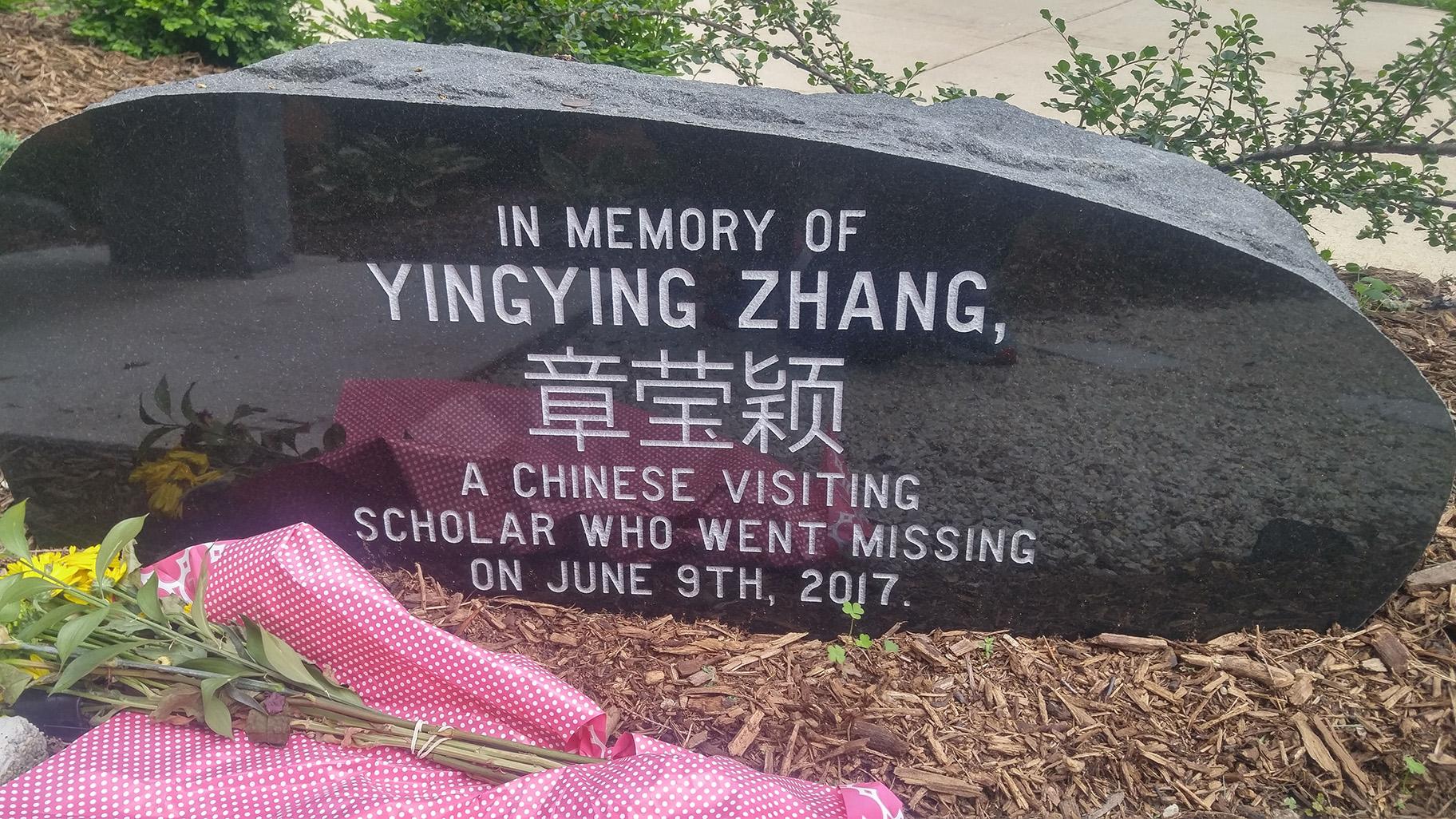 A memorial stone engraved with Yingying Zhang's name in both English and Chinese is adorned with flowers on the campus of the University of Illinois at Urbana-Champaign on Friday, June 7, 2019. Zhang was last seen alive at a nearby bus stop on Friday, June 9, 2017. (Photo by Mark Van Moer)
Yanyi Xie had just returned to the campus of the University of Illinois at Urbana-Champaign when she learned that a visiting scholar, a Chinese woman like herself, had gone missing. It was June 2017.
"It was huge," said Xie, now a senior undergrad studying media and economics at the university. "I just got back from Chicago and it just blew up on the Chinese social media like group chats and the news following the search for her. Everyone is like posting every day and keeping a close eye on the situation to see if we can find her or not."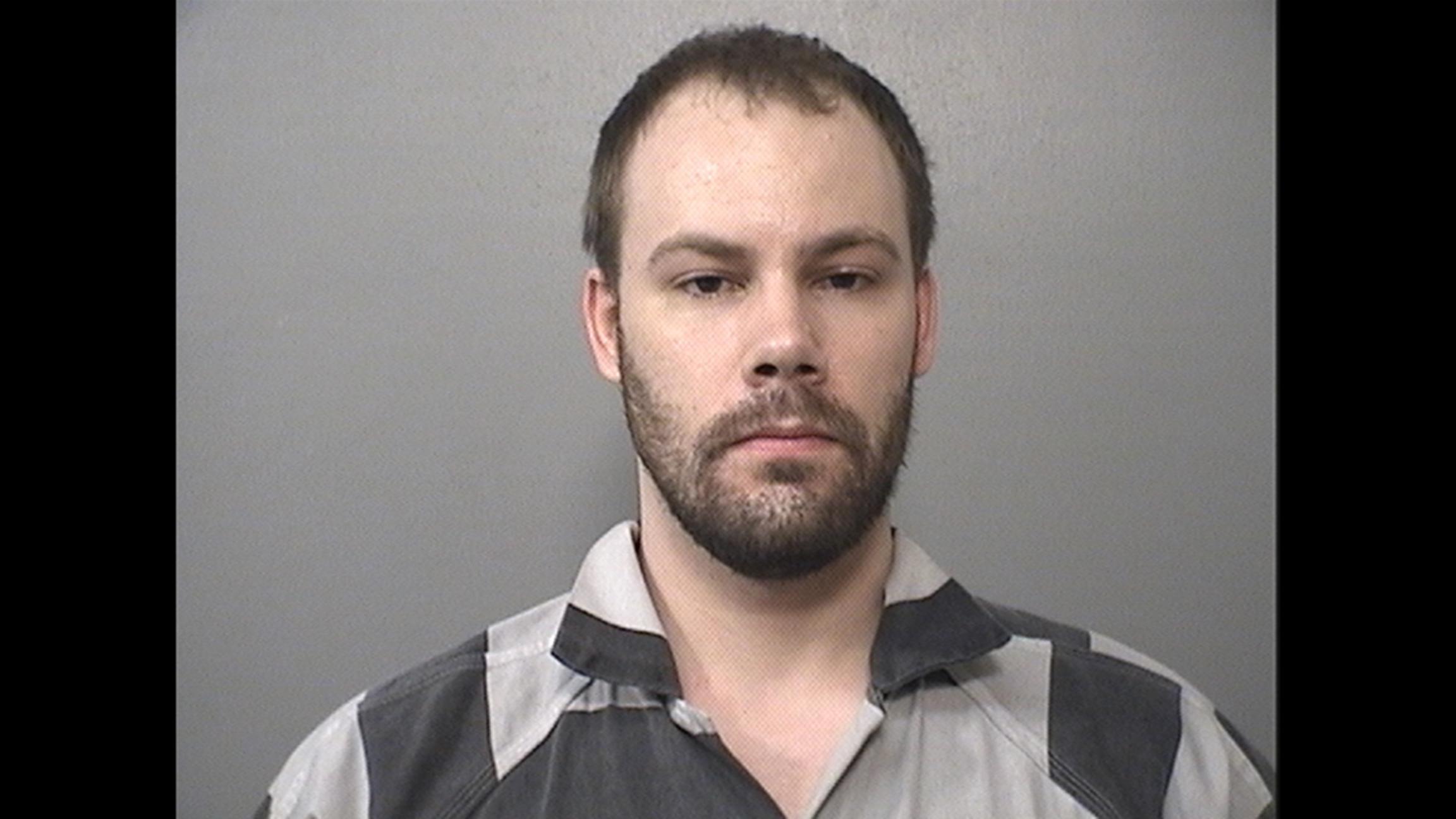 Full coverage: Get the latest on the trial of Brendt Christensen
---
Sunday marks two years since 26-year-old Yingying Zhang was last seen alive. Surveillance footage shows her getting into a black Saturn Astra at 2 p.m. near the corner of Goodwin Avenue and Clark Street in Urbana. That vehicle was allegedly driven by Brendt Christensen, who faces a possible death sentence after he was arrested and charged with Zhang's disappearance and death.
Zhang's remains have never been found. The FBI, which investigated her disappearance, believes she is deceased.
The high-profile kidnapping shocked the campus – which has among the most Chinese international students of any university in the U.S. – and the twin cities of Urbana-Champaign that can go a full year with barely a murder between them.
It also made significant headlines in Zhang's home nation of China.
"At first people thought it was a big deal because she was a scholar from a very well-known university in China and she just went missing the first month she got there," Xie said. "Then it becomes a story of a university student here kidnapped and killed, so it's getting worse."
Zhang had studied previously at Peking University and the Chinese Academy of Sciences before continuing her education in the U.S.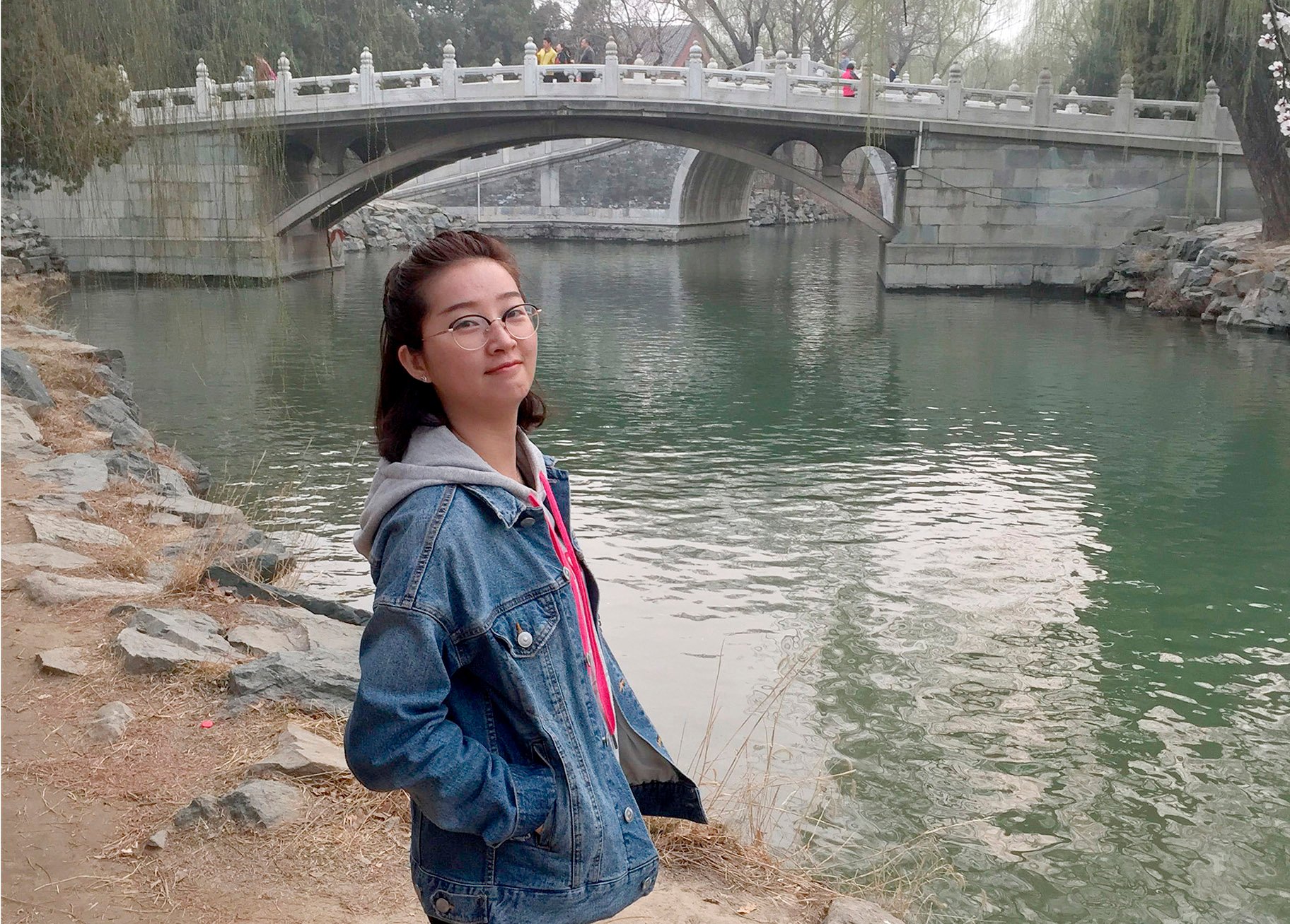 This undated photo shows Yingying Zhang. (Courtesy of the University of Illinois Police Department via AP)
On the day she disappeared – Friday, June 9, 2017 – Zhang was late for an appointment with a property manager. She had planned to sign a new apartment lease for the 2017-18 school year just a month after arriving on campus, where she was researching photosynthesis and crop productivity.
After missing a bus, Zhang can be seen on surveillance video getting into Christensen's vehicle. He apparently spotted her as he drove past before looping around back toward her, according to investigators.
Jury selection began this week in Christensen's trial. He is charged with kidnapping resulting in death, a capital charge, as well as two counts of making false statements to the FBI. He has pleaded not guilty.
What exactly happened to Zhang following her disappearance remains unclear.
An FBI spokesman would not comment when asked recently if there are ongoing efforts to recover Zhang's remains. The University of Illinois Police Department also declined comment, citing the ongoing trial.
Prosecutors have alleged Zhang was tortured before her death, but they haven't yet outlined what they believe happened. The judge handling Christensen's trial this week in Peoria, about 90 miles northwest of campus, told potential jurors they would be hearing evidence of "kidnapping, sexual assault and murder."
The community outpouring of support after the kidnapping was immense.
Hundreds of students and locals took part in the search for Zhang and various events held in her honor shortly after her disappearance. A GoFundMe campaign created to support Zhang's family has raised more than $150,000.
Xie recalled a flurry of activity on Chinese social media apps like WeChat and Weibo in the days after Zhang disappeared, with students sharing their concerns over the kidnapping as well as general safety on campus.
"We are the students here, so what we're really concerned about is just our local international student community," she said. "She's missing and … parents would keep a very close eye on this. And then when we (learned) the suspect actually was a student in the university and it's a murder, it was just getting so scary and horrible."
Yingying Zhang was last seen alive at the intersection of Goodwin Avenue and Clark Street in Urbana, seen here on June 7, 2019, nearly two years after her disappearance from the U. of I. campus. A memorial garden dedicated on Oct. 11, 2018, now marks the spot. (Photo by Mark Van Moer)
Christensen, now 29, was a former Ph.D. candidate at the U. of. I who earned his master's degree there in the weeks before the kidnapping.
The international population at the university's flagship campus has steadily grown in recent years, driven largely by an influx of Chinese students. More than half of the 10,000-plus international students currently there hail from China.
Last fall, just over half of the 3,200-plus incoming international students were Chinese (1,649). A decade earlier, there were fewer than 700 Chinese students enrolled at the U. of I., and 2,137 international students.
Total Chinese enrollment is actually down slightly this year, according to the most recently available numbers, following that steady rise. But Xie doesn't believe that's a result of Zhang's kidnapping.
"I think like when a new student is choosing a school, they are going to take that into account, that this (incident) happened, so their parents might advise them not to come here," she said. "So that may be, but I don't feel like a drastic decline of Chinese international students coming here in the last two years."
Xie said students on campus still talk about the kidnapping, though discussion is less frequent than it was in the immediate aftermath. With the trial getting underway, friends who have since left the school have reached out, looking for updates. Other students have talked about heading to the federal court building in Urbana where a live feed of Christensen's court proceedings is being fed back daily.
Last fall, the university dedicated a memorial garden to Zhang outside Campbell Hall, which is located just feet from the bus stop where she went missing.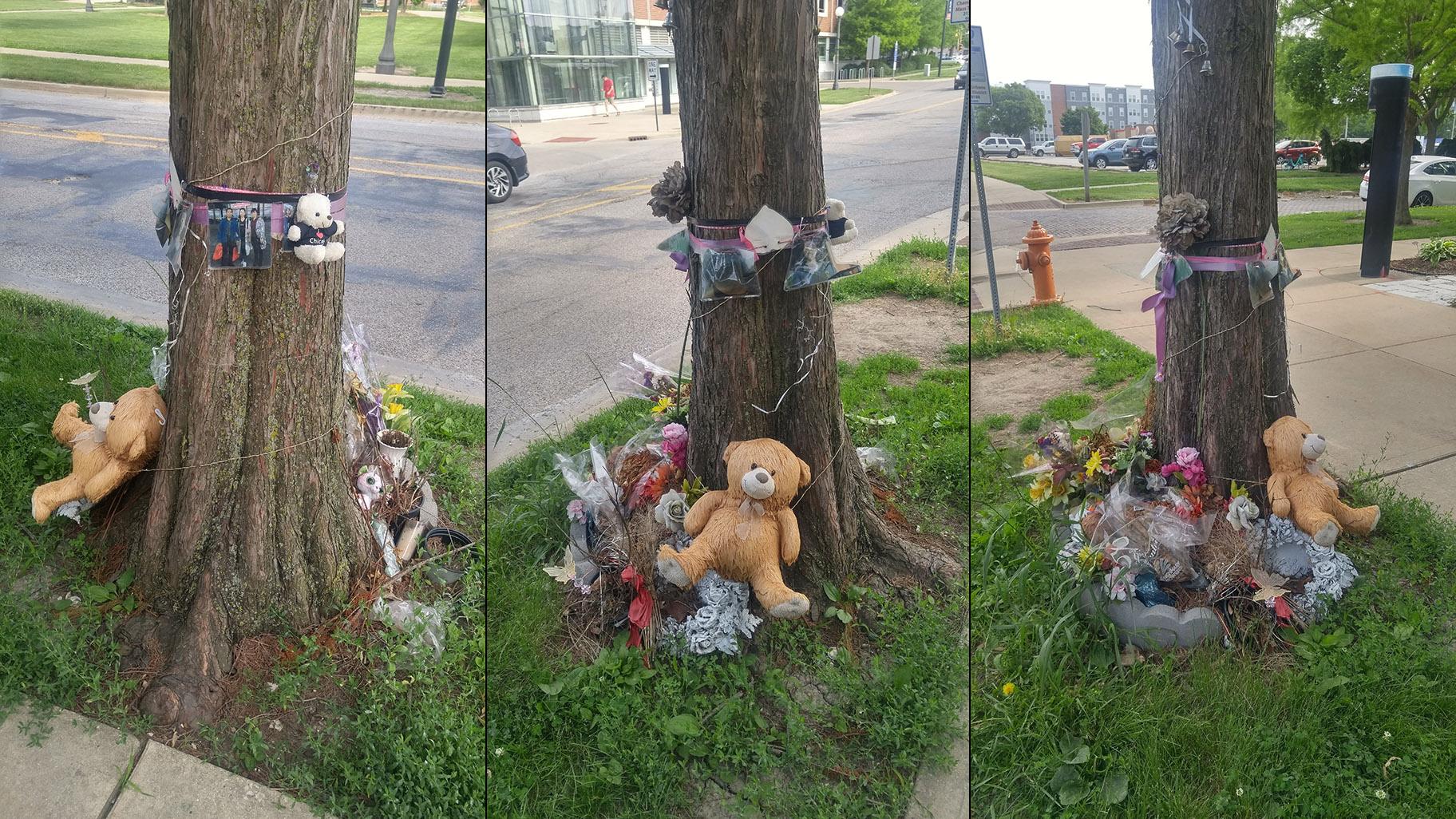 Flowers, photos and a teddy bear are among the items left at a makeshift memorial at the intersection of Goodwin Avenue and Clark Street in Urbana, seen here on June 7, 2019, nearly two years after Yingying Zhang's disappearance from the U. of I. campus. (Photos by Mark Van Moer)
"The University of Illinois family continues to grieve with Ms. Zhang's family, and we are keeping them in our thoughts during this very difficult time," U. of I. spokeswoman Robin Kaler said in a statement this week. The university did not make anyone who worked with Zhang available for comment, saying they "prefer not to speak publicly as they continue to grieve privately."
Jury selection remains ongoing in Christensen's trial. Opening arguments are expected to begin next week.
Contact Matt Masterson: @ByMattMasterson | [email protected] | (773) 509-5431
---
Related stories:
Death Penalty, Religious Questions Highlight Day 1 of Brendt Christensen Trial
Attorney: Family of Missing U. of I. Scholar Wants to Believe She's Alive
Mental Health Defense Dropped in Chinese Scholar Case
Defense: Accused in China Scholar's Death Denied Proper Care
Judge Sets June 3 Trial in Missing Chinese Scholar Case
Bloody Handprint Among Evidence in Chinese Scholar's Case
---