Labeling a work of art a "masterpiece" is a dangerous business, but on rare occasions there can be no doubt that such a tag is unavoidable. And Court Theatre's world premiere production of "The Adventures of Augie March" – Pulitzer Prize-winner David Auburn's ingenious stage adaptation of Saul Bellow's nearly 600-page novel, which has been brilliantly directed by Charles Newell, and is being performed by a uniformly virtuosic cast – is an example of just such a case.
When Court's plan to put Bellow's career-making 1953 novel on the stage was first announced it triggered one question: Given the novel's grand scope, exhilarating flights of language, panoply of eccentric, larger-than-life characters, and deeply searching soul, how could you even begin to imagine it in a form other than "on the page"? But fueled by an uncanny blend of verbal, physical and emotional invention, that monumental challenge has been met in ways that bring the book to roaring life in a whole new form. A unique achievement, and one that, most crucially, leaves you questioning the meaning of life, and love, and family, and success, and restlessness, and responsibility in the most fundamental ways.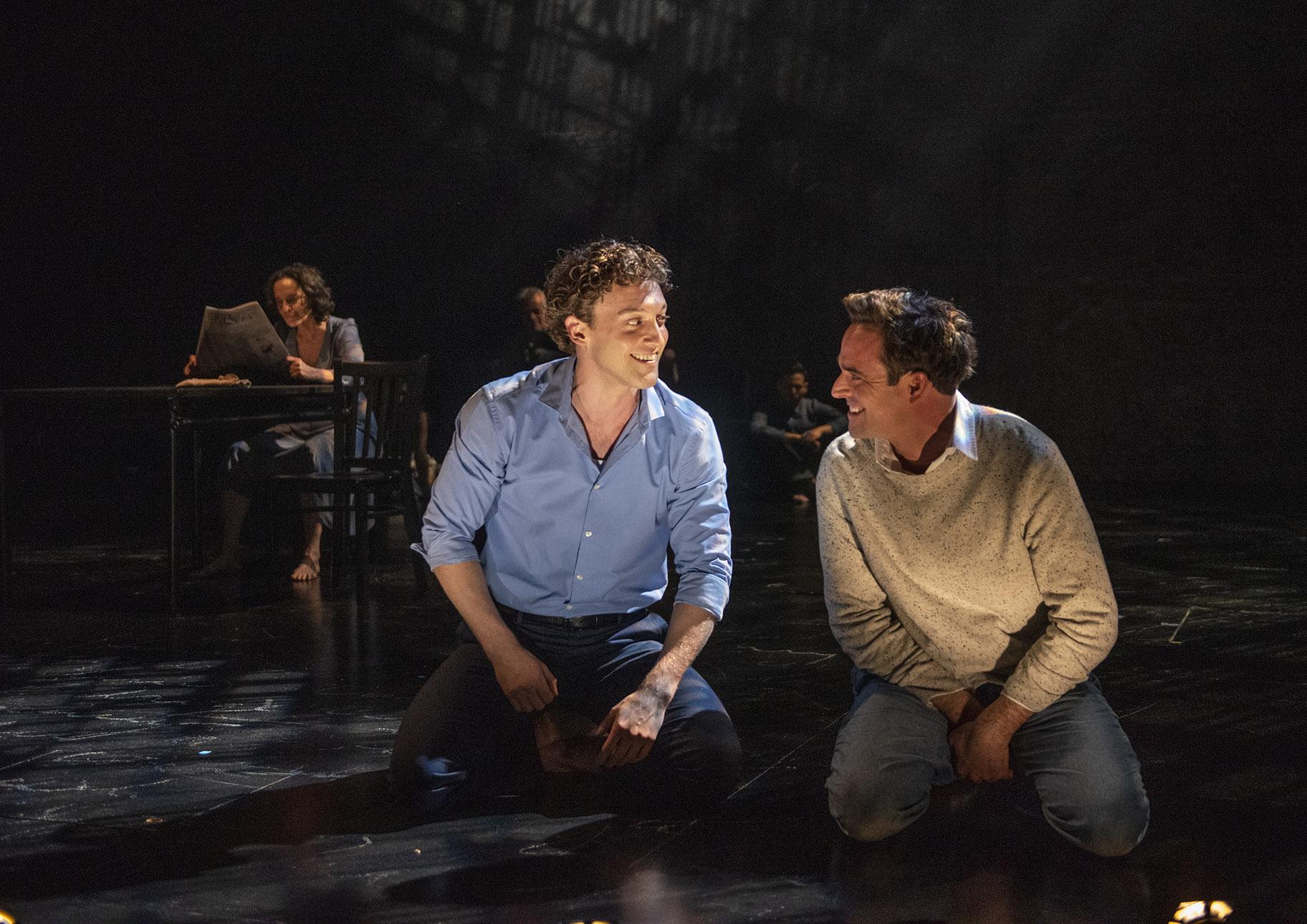 Luigi Sottile, left, and Patrick Mulvey. (Photo by Michael Brosilow)
At the center of the story is Augie (Patrick Mulvey in a marathon performance of impressive subtlety and honesty). He is one of three sons in a penniless Eastern European Jewish immigrant family that has settled in Chicago shortly before the Great Depression. His father has long since fled, and his mother (the consistently transcendent Chaon Cross), is semi-blind and overworked as she tries to manage her three teenage sons: Augie, a smart but directionless fellow with a good heart and a vulnerability when it comes to engaging in petty crime schemes; his older brother Simon (the ideally slick Luigi Sottile), a shrewd, handsome, cynical social climber obsessed with money; and Georgie (a riveting portrayal by Travis Turner), a developmentally disabled boy beloved by Augie. Holding a strange power over them all is the woman known as Grandma Lausch (a wonderfully wicked turn by Marilyn Dodds Frank), a cold-hearted, pragmatic boarder in their household, and a woman whose actual relation to the family is somewhat mysterious.
In his epic but formidably condensed adaption, Auburn has cannily framed the story as a look backward at Augie's chaotic youth and young manhood, with the show opening at the pivotal life-or-death moment near the end of the book in which, during World War II, he finds himself afloat on a lifeboat in the Atlantic Ocean after the merchant marine vessel he was on is torpedoed. His only fellow survivor is Basteshaw (the sublime John Judd), a clearly mad biophysicist-turned-ship's carpenter. Augie is determined to be rescued.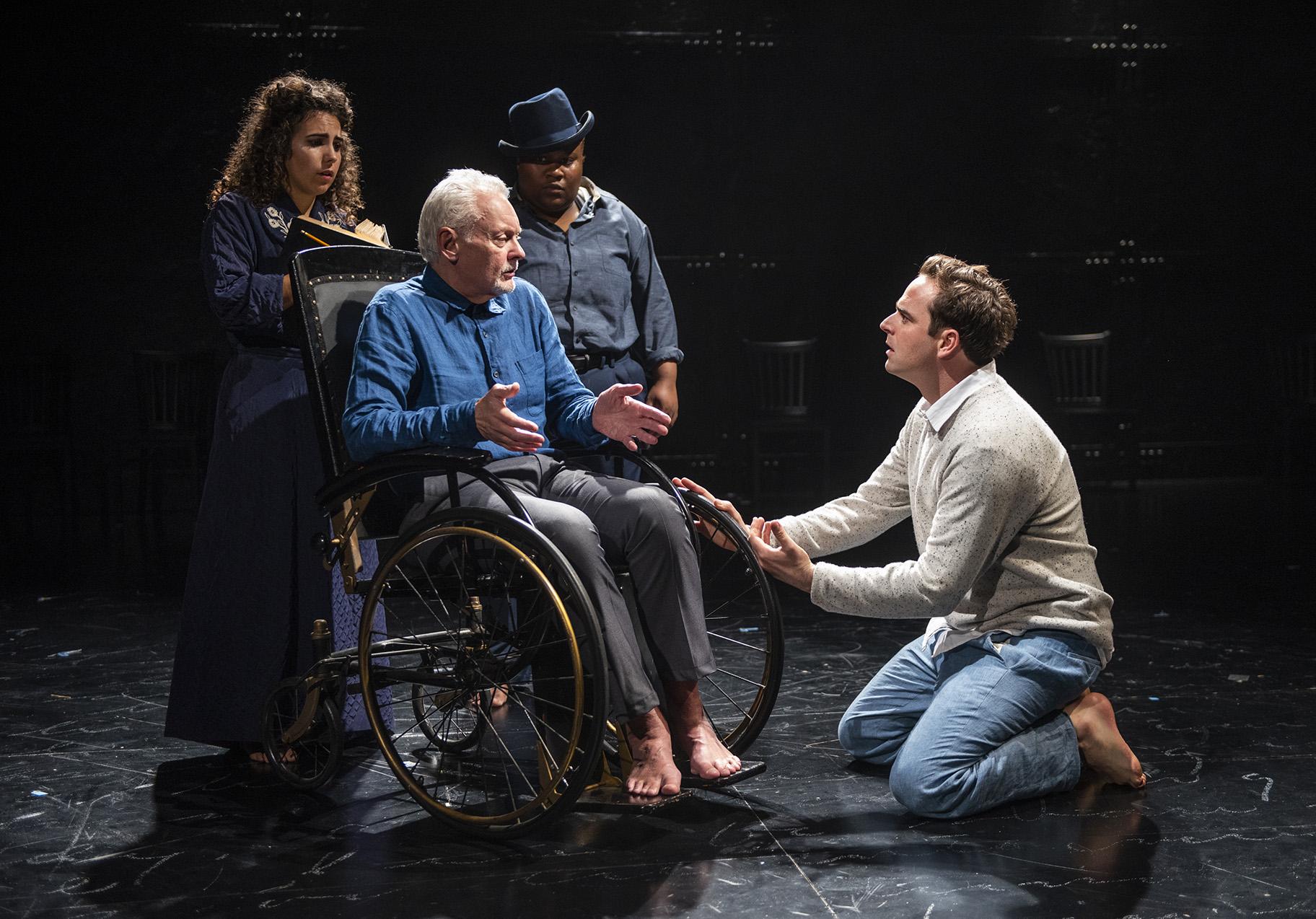 From left: Aurora Real de Asua, John Judd, BrittanyLove Smith and Patrick Mulvey. (Photo by Michael Brosilow)
And then it's back to the beginning, as he comes under the influence of a series of unreliable but invaluable mentors, friends, lovers and eccentrics. All will mold him in one way or another, even as he ultimately forges his own destiny, defines his own values and holds on to a certain sense of freedom.
Without tracing Augie's full odyssey here, it should suffice to note some of the show's most vivid scenes which Newell has devised in collaboration with choreographer Erin Kilmurray, and Pascal Merighi and Thusnelda Mercy (former dancers with Germany's fabled Pina Bausch Tanztheater). Bellow's lush, slang-infused language finds its ideal counterpart in the show's powerfully expressive movement, which becomes a richly emotional language all its own.
There is, for example, the moment when Georgie, all but mute, suddenly erupts in a barrage of profound speech, and is later led away in a wrenching scene in which he is led off to an institution.
There are the encounters between Augie and his earliest mentor, Einhorn (Judd, in an ideally canny portrayal of a savvy huckster and slumlord with a deep streak of decency), for whom he works as an errand boy and more. Einhorn, who is confined to a wheelchair, sees Augie's potential, but doesn't coddle him. In fact, he has him help out his brother-in-law, Dingbat (a sensational comic turn by BrittneyLove Smith), who hopes to win a fortune by backing a hopeless boxer, Clem (another fine comic turn, this one by Stef Tovar).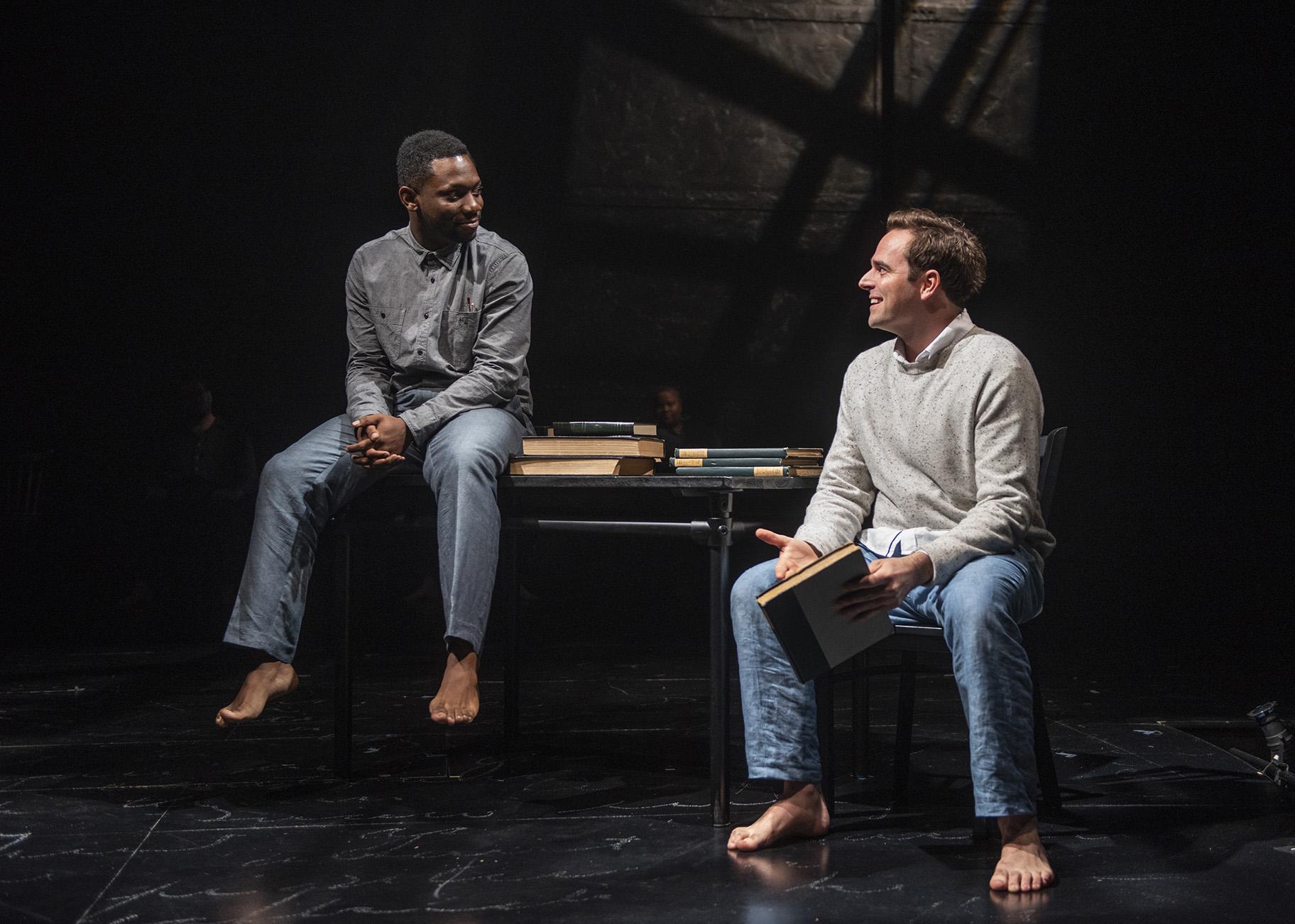 Kai Ealy, left, and Patrick Mulvey. (Photo by Michael Brosilow)
And then there is the valuable book-theft scheme that Augie is introduced to by his friend, Padilla (the excellent Kai Ealy), who robs the university library where he is a brilliant student. (Augie can never quite settle into the university world.) There also is Kreindl (Neil Friedman), the March family's warm-hearted immigrant neighbor.
Most crucially of all, there are the women introduced to him by his status-seeking brother Simon. They include the wealthy, beautiful and very different Fenchel sisters – with Cross, in a dazzling about-face from her earlier role as Augie's frail mother, as the fiery, willful, spoiled and sexually adventurous Thea, and Abby Pierce as the elegant, perfectly restrained Esther.
The wild and uninhibited Thea ends up pursuing Augie, and, in one of the story's most bizarre and blackly comic sequences, the pair head to Mexico with a big black eagle she is hell-bent on training to catch giant iguanas. (Lizi Breit's puppet design for the eagle briefly steals the show.)
While Thea still connects with her ex-lover in Mexico, the handsome Talavera (Sebastian Arboleda), Augie has other attachments, too, including his friend, Mimi (the tempestuous, earthy Aurora Real de Asua), who he helps out when she needs an abortion. (Auburn has excised most of the politics in Bellow's novel, but given current events, the panic and desperation of this particular scene is palpable.)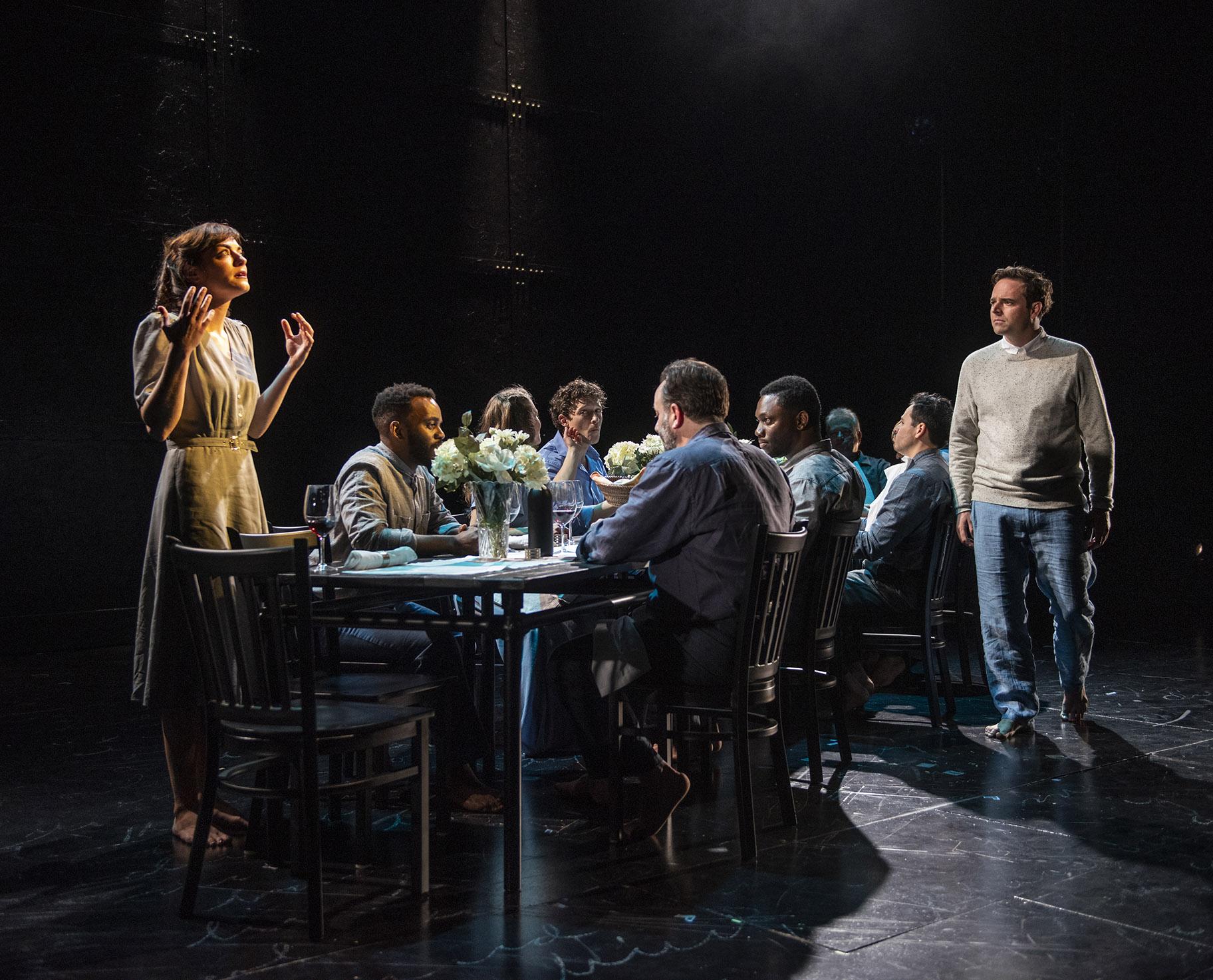 Abby Pierce, left, Patrick Mulvey, far right, and the cast of "The Adventures of Augie March." (Photo by Michael Brosilow)
All this complex storytelling is accomplished in the most seamless and dramatically inventive ways, with John Culbert's minimalist but effective set and lighting (black walls and floor, and a movable black table and straight-backed chairs) all that is needed to conjure countless locations.
Ultimately, the inner turmoil and eroticism is generated by the exceptional acting, and by Bellow's portrait of a man in search of himself, and a way to be true to that self in a world in which everything is up for grabs.
The production is a monumental achievement on every level – and a highlight of what has been declared "The Year of Chicago Theatre." Its transfer to New York would be the ideal proof that this city is the stage where it happens. Or as Augie famously says: "I am an American, Chicago born … and go at things as I have taught myself, freestyle."
Note: Seated in the audience on opening night was Janice Bellow, the author's fourth wife and widow, and executor of his estate, who granted permission to Court to create this production – the first time a Bellow novel has been adapted for the stage.
Also at the show, and keeping a very low profile, was Rahm Emanuel, who was just about to end his tenure as Chicago mayor. He looked exhausted, and also quietly moved by what he had seen on the Court stage.
"The Adventures of Augie March" runs through June 9 Court Theatre, 5535 N. Ellis Ave. For tickets ($50-$74) call (773) 753-4472 or visit CourtTheatre.org. Running time is 3 hours and 10 minutes including two intermissions.
Follow Hedy Weiss on Twitter: @HedyWeissCritic
---
In 'Next to Normal,' Mother's Mental Illness Wreaks Havoc with Family's Health
Bravura Revival of 'West Side Story' Marks Lyric's Finest Broadway Venture
A Tragicomic Reckoning With the Past, Present and Future in 'The Children'
---