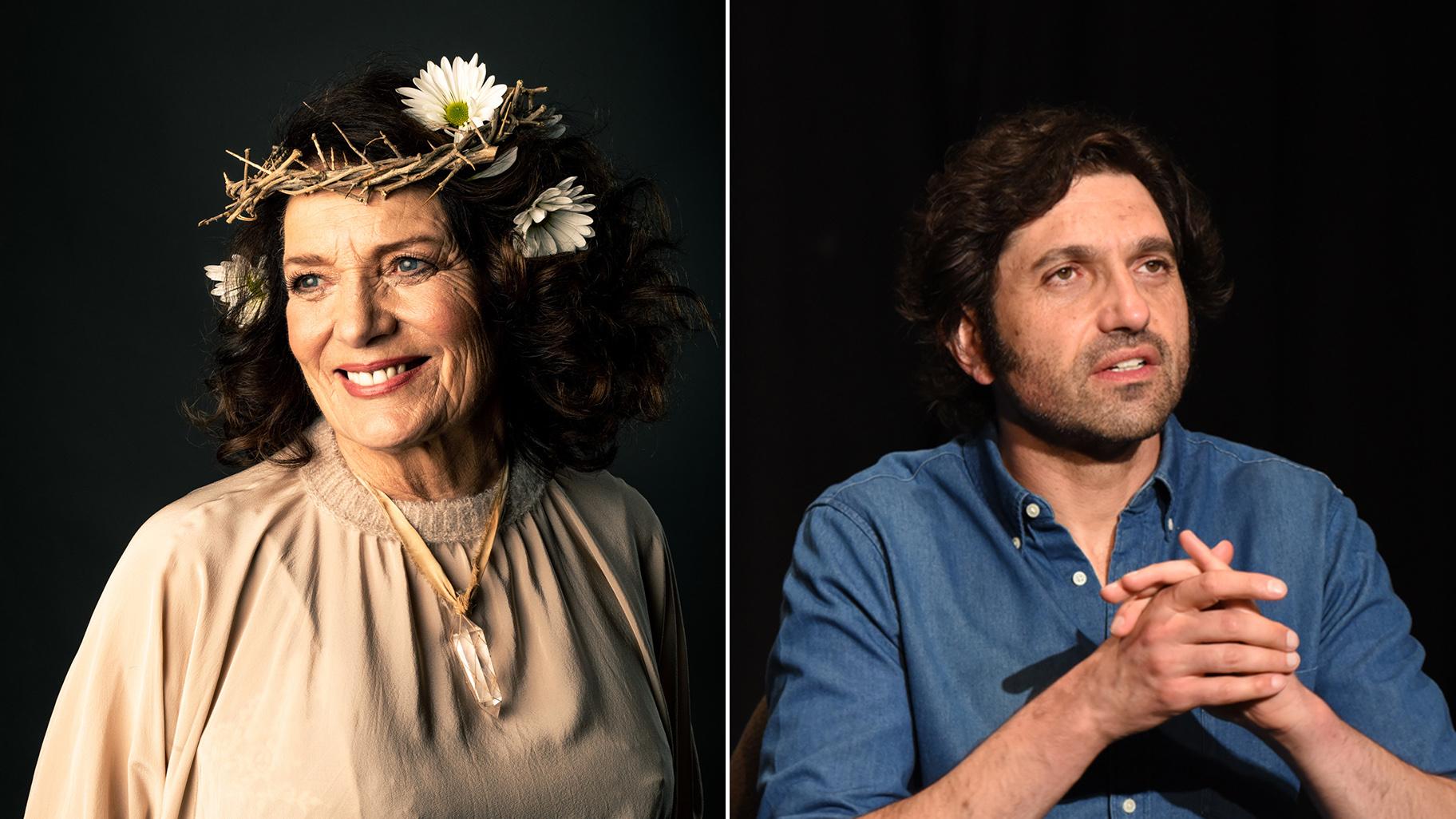 Margaret Trudeau and Adam Strauss (Credit: Kirsten Miccoli, left, Michael Courier)
In what is clearly a case of pure happenstance, two autobiographical solo shows about mental illness arrived on Chicago stages this weekend.
One, "The Mushroom Cure," is the work of New York-based actor, writer and stand-up comedian Adam Strauss, and is a brilliantly written and performed tale of his battle with obsessive-compulsive disorder (OCD). It will run through June 9 at the Greenhouse Theater Center.
The other, "Certain Woman of an Age," which completed a four-night run at The Second City's UP Comedy Club on Sunday, is Margaret Trudeau's chronicle of her life with bipolar disorder. And while it received the lion's share of attention simply because she was the former wife of Pierre Trudeau, the prime minister of Canada during 1968-1979, and is the mother of Justin Trudeau, the country's current prime minister (who came to see the show Saturday night), it felt more like a glossy lecture-demo for a mental health convention than a work of theater.
Strauss is a highly skilled performer with an impeccable sense of timing. Trudeau may be an engaging "personality" advocating for a worthy cause, but she is no actress. Here is a closer look at both productions.
"The Mushroom Cure"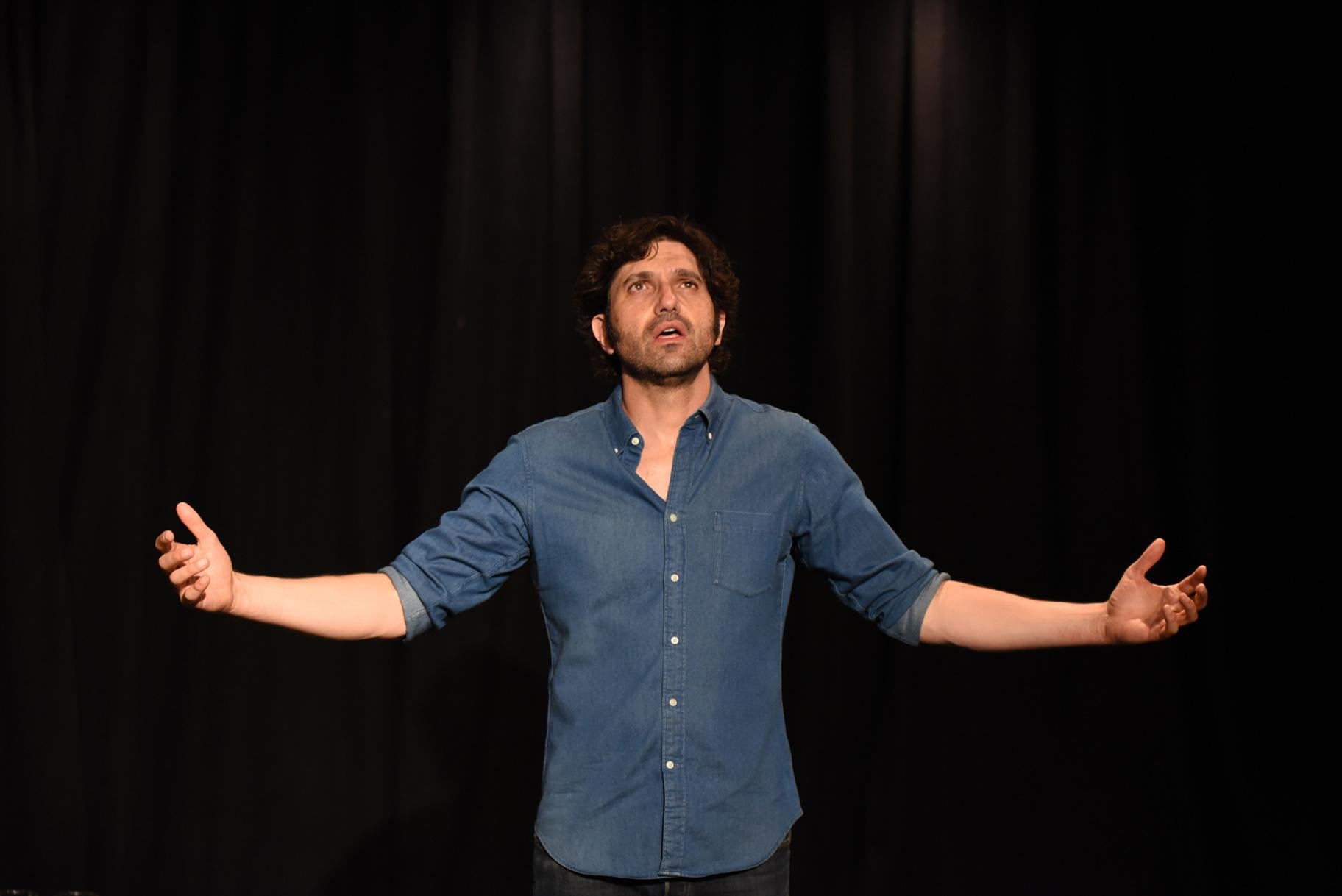 Adam Strauss in "The Mushroom Cure" (Photo by Michael Courier)
Written and performed by Adam Strauss, and conceived and directed by Jonathan Libman, this darkly comic, 90-minute show explores Strauss' frenzied attempts to cure, or at least control, his OCD – a condition that can cause debilitating anxiety as a result of the involuntary quest for perfectionism that comes with it, and makes decision-making nearly impossible.
After trying countless meds, and therapy and "alternative" remedies packaged in China, Strauss learns that some research suggests the use of hallucinogenic psilocybin mushrooms seems to have a beneficial effect. And so the pursuit to that largely banned substance gets underway. (Ironically enough, just days before this show opened in Chicago, Denver became the first city to pass an ordinance decriminalizing the mushrooms.)
The effects of OCD are suggested from the start as Strauss enacts the manic panic attack triggered when he tries to decide between two brands of audio equipment. That obsessive quest for the perfect choice also figures into everything else he does – from his choice of a shirt, to his upending interior debate about whether to walk on the sunny or shady side of a Manhattan street. It might all seem absurdly funny and eccentric from a distance, but the pain and distraction of his compulsions are palpable.
Most touchingly (and chronicled to hilarious and ultimately touching effect) is Strauss' pursuit of Grace, the pretty Kansas-bred girl he picks up while barking for one of his comedy gigs in Times Square and about whom he discovers many surprising things in the process of taking her to bed. Not only is she super-smart, incredibly knowledgeable about arcane biological subjects, and ready to head off to grad school in California, but she is open about her past bouts with depression. None of this entirely mitigates his having his OCD-driven doubts about her (all described with self-mocking exactitude).
When Grace tells Strauss about the potential mind-altering effects of cactus plants, the two embark on a trip to Martha's Vineyard that has them cooking up something horribly green. But when that doesn't work, his pursuit of mushroom therapy becomes even more imperative. It also very nearly kills him – an event that ultimately saves him.
Strauss, 44, slim and a bit scruffy, and younger looking than his age, possesses a razor sharp self-awareness and delivery despite all the chemical intake. And on a stage decorated with nothing but an ergonomic office chair and a small table full of glasses of water – he brings a series of scenes to vivid physical and emotional life.
"The Mushroom Cure" runs through June 9 at the Greenhouse Theatre Center, 2257 N. Lincoln Ave.. For tickets ($29-$35) call (773) 404-7336 or visit greenhouse.org. Running time is 85 minutes with no intermission.
"Certain Woman of an Age"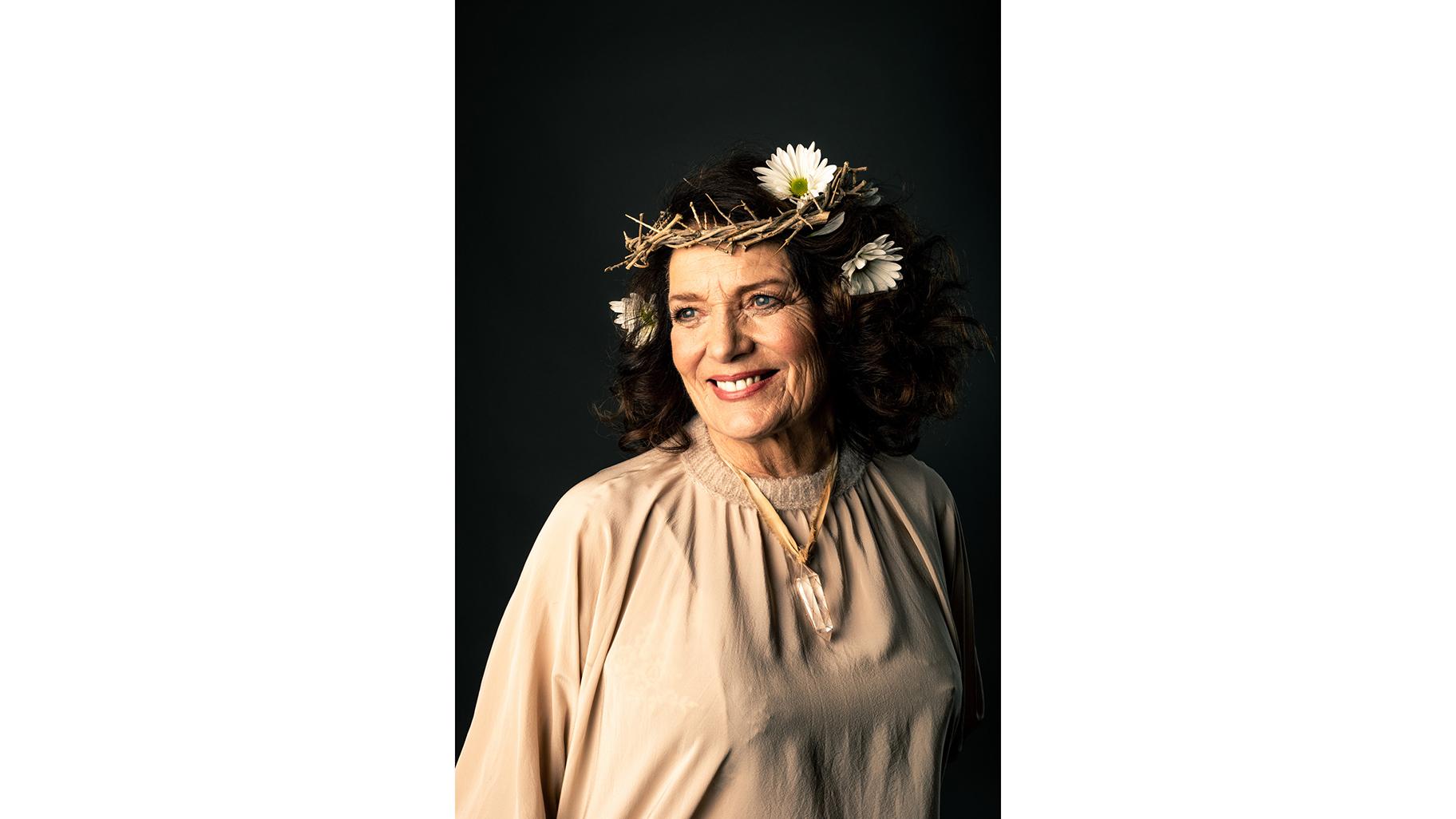 Margaret Trudeau (Photo credit: Kirsten Miccoli)
For the world premiere of her tell-all show, Margaret Trudeau, now 70, arrived on stage in tight-fitting jeans, a chic white blouse, and red patent leather flats. And she reached out to her audience with the sort of "let's be pals" friendliness she couldn't abide when she was the wife of a politician, but seems to have mastered in the intervening decades. The fact that she mostly read her script, which was perched on a music stand (and which was too often delivered in a song-songy manner) didn't help forge an emotional connection, although she seemed to warm up to the task at hand as her 90-minute "recitation" – supported by projections from photo album pictures – unfolded.
Listening to her life story in this piece co-written with Alix Sobler and directed by Kimberly Senior, you might get the sense that Trudeau was the Zelda Fitzgerald of the "flower child" generation of the late 1960s and early '70s. Although by the age of 23 (and cutting quite a figure in a bathing suit) she was already married to a man 30 years her senior – a head of state progressive in his public views but not at all supportive of his wife's craving for independence and what, in retrospect, she describes as her feminist spirit. And while on the one hand she was clearly turned on by her high-profile life, and her encounters with everyone from Queen Elizabeth to Jimmy Carter and Fidel Castro, and also gave birth to three sons, on the other hand she felt hemmed in by her formal role. She also clearly suffered from mood swings, with her diagnosis as bipolar something she only fully accepted many years later.
And Trudeau certainly could act out – flying off, with no announced plan, to Paris, Morocco and elsewhere, and racking up a bill of $60,000 for the designer fashions she fancied. (She makes no mention of whether her husband, or Canadian taxpayers, ended up footing the bill for that escapade.) During the course of the marriage, which began in 1971 and officially ended in 1984, she ran the manic-depressive gamut and underwent a couple of hospitalizations, made a serious effort to help her husband in the 1974 election (for which she said she received no thanks), and enjoyed a number of tabloid-worthy adventures.
Along the way she also met the reigning Pope (who much to her annoyance more or less ignored her), and later sat with the Dalai Lama, who she found to be charming. She had brief liaisons with Teddy Kennedy and Jack Nicholson, hung out with Andy Warhol at Studio 54, and frolicked with the Rolling Stones. When the divorce from Pierre was finalized she received no alimony and had to get a job. She soon found a second husband, had two more children (the matter of who raised her first three sons was left somewhat opaque), and had a major breakdown after one of those sons died in an avalanche. (Her remembrance of how he hugged her before he went off on what became a fatal adventure is the most moving moment in the entire show.)
The narrative is structured around five questions handed out to willing audience members in advance, and read aloud by them when signaled during the course of the show. Are you a feminist? Was it hard to be so beautiful your whole life? When did you first know you were bipolar? Do you believe in God? How were you able to survive and have a happy life?
Trudeau may have been a flower child plucked far too early to lead a high-profile adult life. But if nothing else this "certain woman of an age" has now made herself quite at home in the era of "too much information."
Follow Hedy Weiss on Twitter: @HedyWeissCritic
---
Why One Musical Works, and Another Doesn't
Bravura Revival of 'West Side Story' Marks Lyric's Finest Broadway Venture
A Tragicomic Reckoning With the Past, Present and Future in 'The Children'
---