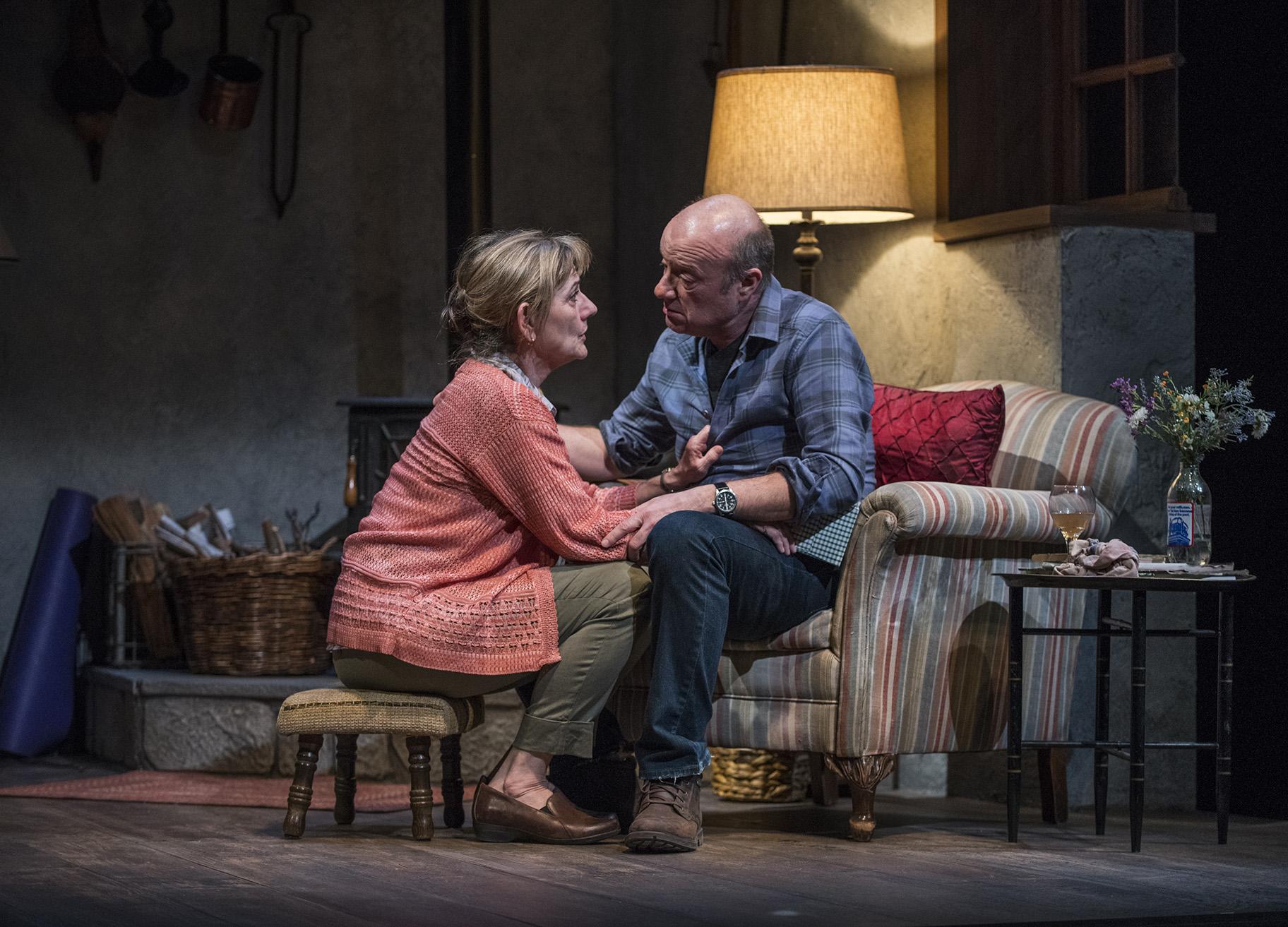 Janet Ulrich Brooks and Yasen Peyankov in Steppenwolf's Chicago premiere production of "The Children" by Lucy Kirkwood. (Photo by Michael Brosilow)
As the familiar saying goes: None of us are going to get out of this life alive. And these days, the same might be said about Mother Earth herself. So eat, drink, flirt, do some yoga, and, if you have kids, try to see to it that you die at just the right moment to insure they will be forced to find their own way on the planet.
That is the essential takeaway from "The Children," British playwright Lucy Kirkwood's quirky three-character tragicomedy about aging, sexual competition, parenting and the catastrophic result of certain scientific and engineering "advances" that have been devised by humans and end up ravaging both them and the planet they call home.
The play, now receiving its Chicago premiere by Steppenwolf Theatre, where director Jonathan Berry has gathered three sublime Chicago actors (Janet Ulrich Brooks, Ora Jones and Yasen Peyankov), is set in a rustic cottage – a formidable design by Chelsea M. Warren – perched on a massive rocky foundation on the east coast of England where the sound of waves and chirping sea birds can be heard.
The cottage is serving as the rented home of a long-married couple of retired nuclear scientists – Hazel (Brooks) and Robin (Peyankov) – who decades earlier worked on the creation of a nuclear plant built by the sea that at some point was destroyed by an earthquake and tsunami. (This aspect of the scenario clearly echoes the 2011 disaster that occurred at Japan's Fukushima Daiichi nuclear plant.) The couple have moved from their farm and home in the toxic "off limits" zone to a place not far away from that poisoned area that suffers from a shortage of electricity, clean water and proper plumbing. And for some strange reason Robin feels compelled to regularly visit the old site and even carry home remnants of their past life there.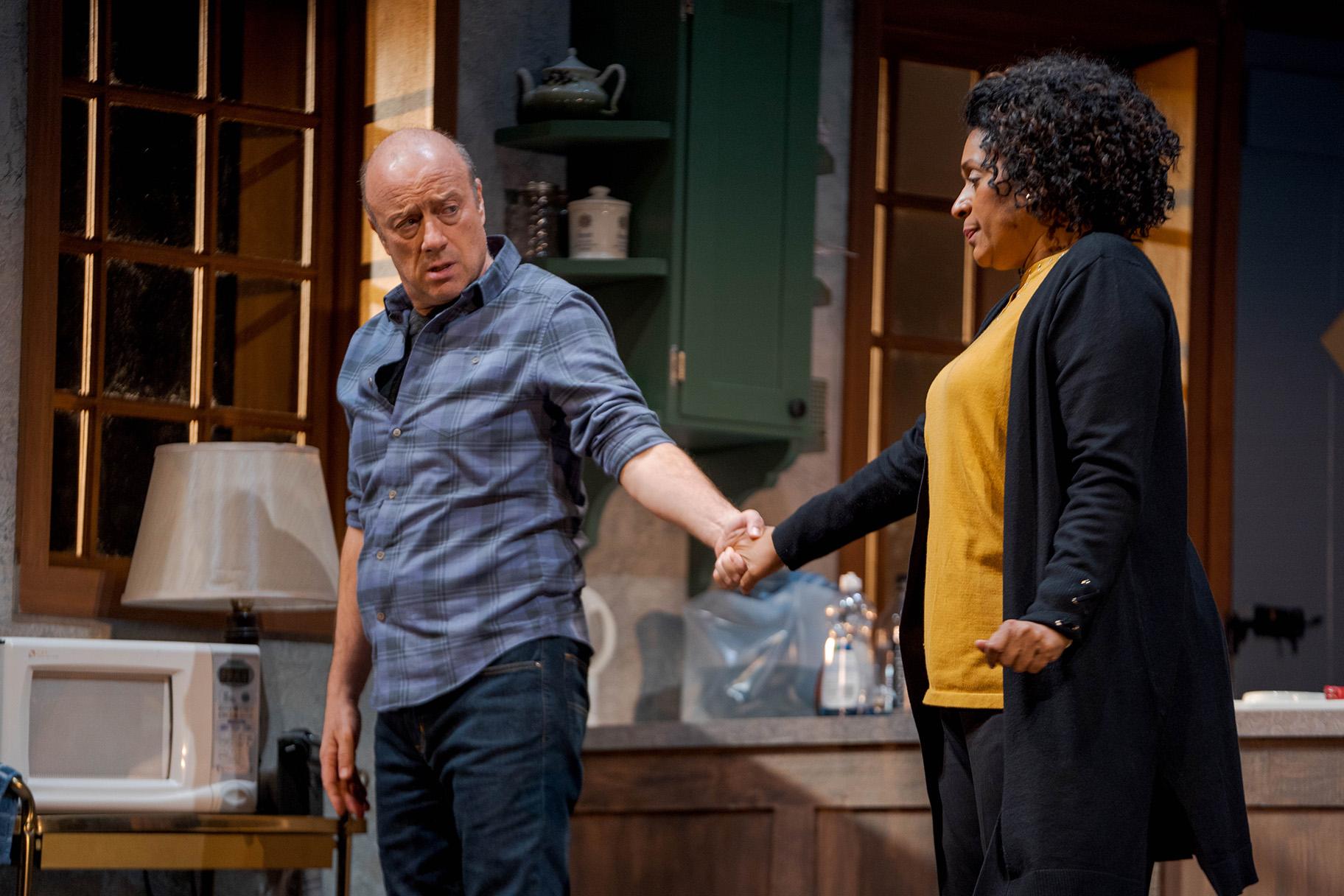 Yasen Peyankov and Ora Jones in "The Children." (Photo by Michael Brosilow)
Enter a surprise visitor, Rose (Jones), a former scientific colleague of the couple who Hazel has not seen for many years, and who she knows had an affair with her husband. The initial "reunion" between the two very different women is awkward and tense, to say the least, as each talks about getting older and the shape their lives have taken. (Rose has moved to America and never married, while Hazel and Robin raised four children.) The dynamics shift quite dramatically once Robin enters the house. And certain quasi-secrets become obvious as the chemistry between Rose and Robin is briefly reactivated.
But Rose has come back to England primarily because she is on a rather radical mission designed in some way to alleviate a bit of her guilt for being involved in a misguided project whose long-term outcome was so calamitous. In fact, she is proposing a very palpable way to help save those of a younger generation.
The intriguing aspect of Kirkwood's play (whose various time frames are rather opaque), is how skillfully she has managed to mix comedy and tragedy, often in the same breath, and to explore how the survival instinct can operate so differently in different people. At the same time, she subtly suggests how love, eros and selfishness – and the conflicting pressures of time past, present and future – drive human beings in very different ways, even if they all have a keen sense of their own mortality.
From left: Janet Ulrich Brooks, Yasen Peyankov and Ora Jones in "The Children." (Photo by Michael Brosilow)
There are a number of spoiler alerts not to be divulged here. But the one thing that should not be kept secret is the brilliant interplay of the cast, whether it's Brooks' edgy mix of confidence and resentment (and physical ease), Jones' flawless timing (listen to her recall a moment of erotic bliss), or Peyankov's droll wit (as when he recounts his unrequited lust for a farm girl). The play is not without its flaws, but the performances are peerless. And there is a dance sequence that, all by itself, is easily worth the price of admission.
"The Children" runs through June 9 at Steppenwolf Theatre, 1650 N.Halsted St. For tickets ($20-$99) call (312) 335-1650 or visit steppenwolf.org. Running time is 1 hour and 50 minutes with no intermission.
Follow Hedy Weiss on Twitter: @HedyWeissCritic
---
'Cambodian Rock Band' Traces a Musical Line Back to Genocide of 1970s
Trio of Superb Chicago Productions Highlight Language of Dance
Instantly Joyful 'Djembe!' Encourages Everyone to Bang on a Drum
---