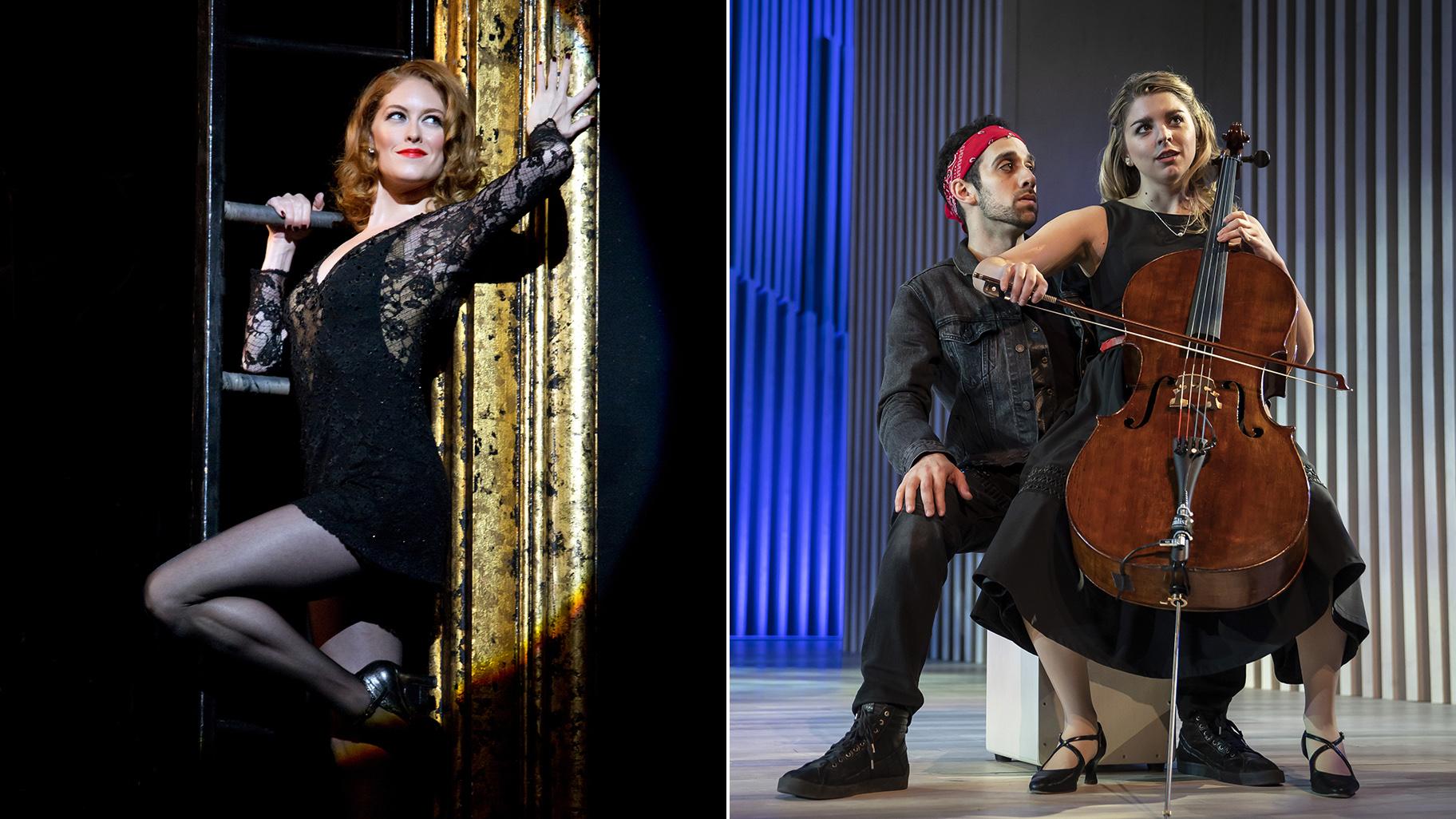 Dylis Croman in "Chicago, The Musical," left, and George Abud and Sydney Shepherd in "August Rush: The Musical." (Credit: Jeremy Daniel, left, Liz Lauren)
One of them – "Chicago, The Musical" – is a Broadway classic by that ever-brilliant team of John Kander and Fred Ebb (the creators of "Cabaret," and "Kiss of the Spider Woman"). First staged in 1975, and revived in 1996, it now holds the record as the longest-running American musical in Broadway history (eclipsed only by that British juggernaut, "The Phantom of the Opera").
The other – "August Rush: The Musical" – is a world premiere. This entirely New York-bred "tryout" production also marks the first time Aurora's formidably successful Paramount Theatre has served as the stage for a new work. Unfortunately, the show doesn't work.
Here's a closer look at both musicals that suggests why one has been such a "keeper," while the other is such a misbegotten experiment.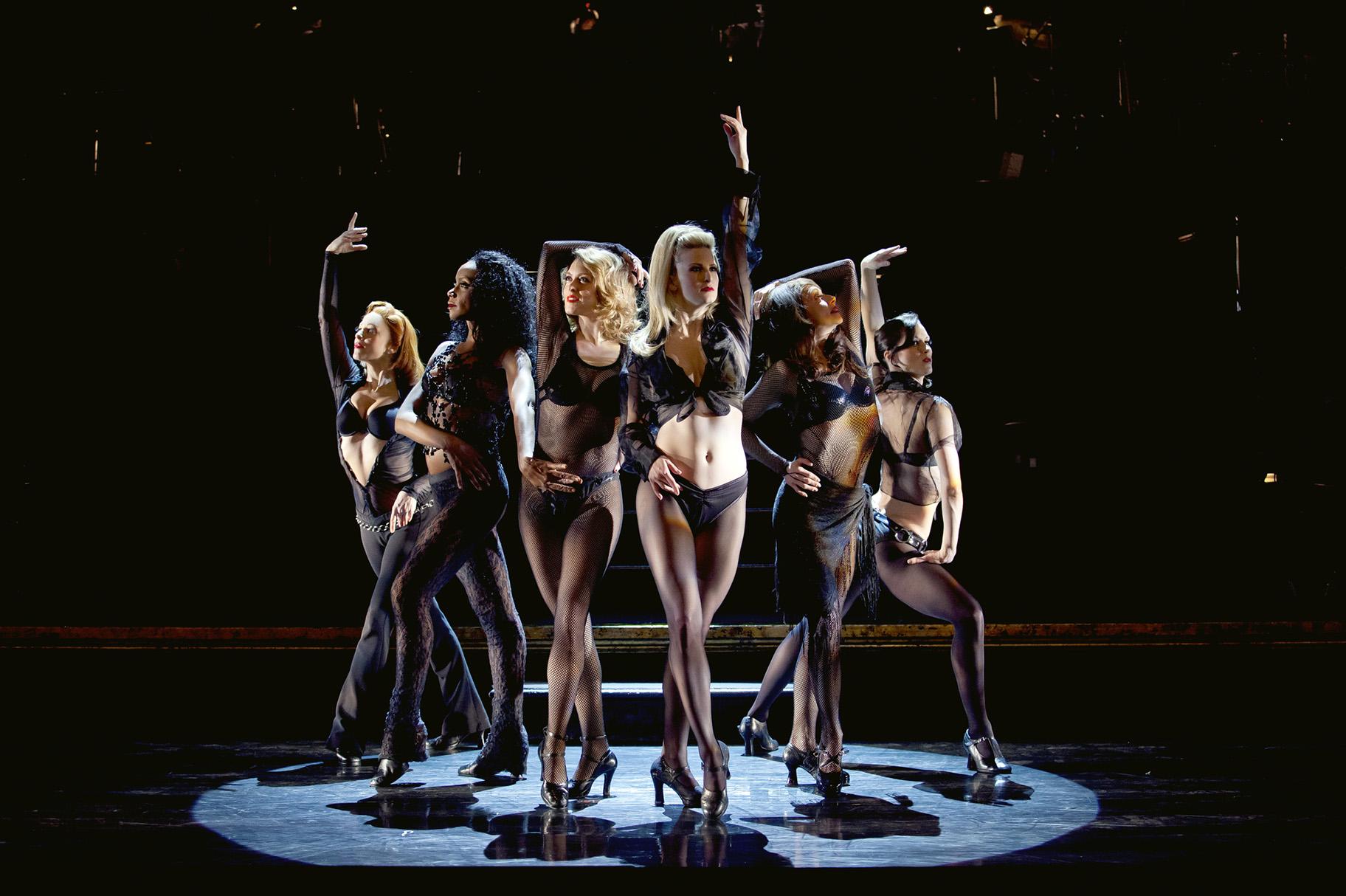 The cast of "Chicago, The Musical" (Photo credit: Jeremy Daniel)
"Chicago, The Musical" was created by director-choreographer Bob Fosse (and dancer-choreographer Ann Reinking) nearly two decades after Jerome Robbins made dance a driving element in "West Side Story." (This production, like the 1996 revival, has been superbly staged by Walter Bobbie.) And seeing productions of both those musicals within just a few days of each other suggested that Fosse understood exactly how he, too, could use dance to tell his story – a tale bluntly described by a leggy murderess at the very start of the show as one of "murder, greed, corruption, violence, exploitation, adultery and treachery."
Of course the musical – now in a knockout national touring production at Chicago's Cadillac Palace Theatre that has an inexplicably brief one-week run (and arrives just as the "Fosse/Verdon" TV series airs) – is much more than that blunt litany of debauchery suggests. With its ferocious, 1920s-style jazz score (played in bravura style by a 13-piece onstage band led by Andrew Bryan), a cast of brilliant singer-dancers (who have some of the best legs in the business, and have ideally mastered the Fosse style, from suggestive pelvic rotations to snap-crackle-and-pop isolations), it is undeniably hard-edged and sexy.
But most importantly, it has a slew of hugely engaging, sharply etched characters caught up in a story (based on the 1926 play by Chicago newspaper journalist Maurine Dallas Watkins) about a group of unrepentant female inmates who are accused of killing their husbands or boyfriends. Among them are Roxie Hart (Dylis Croman) and Velma Kelly (Lana Gordon) – who compete in a cutthroat quest for celebrity. Throughout, Croman and Gordon set the stage on fire in their marathon turns, and something even more special happens when they dance together as they do in their terrific finale, "Hot Honey Rag."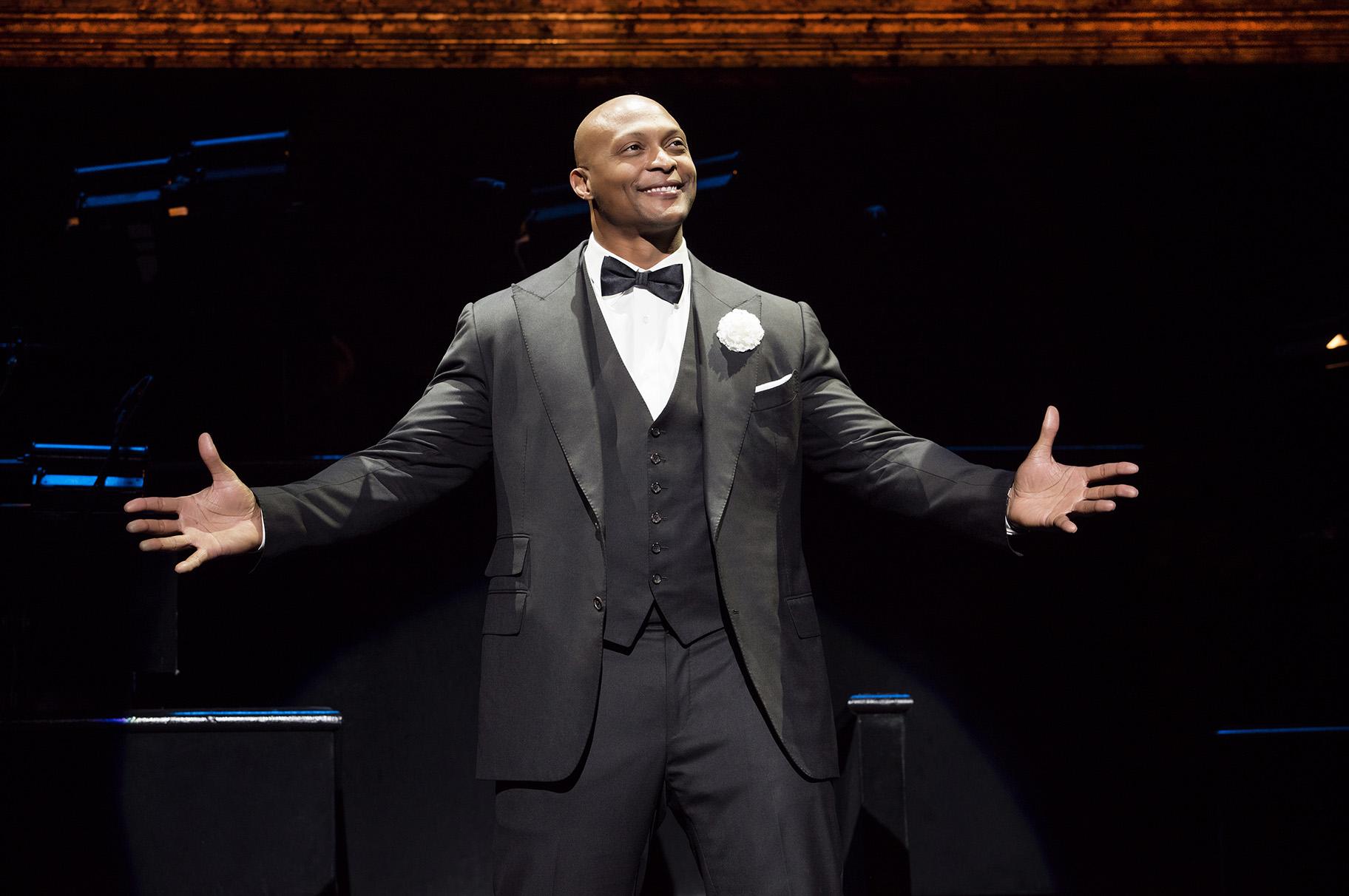 Eddie George in "Chicago, The Musical" (Photo credit: Jeremy Daniel)
Along the way we also encounter "Mama" Morton (a wonderfull sophisticated portrayal by the power-voiced Jennifer Fouche), the women's profit-driven prison matron; Billy Flynn (the cucumber-cool Eddie George), the women's high-profile, money-hungry defense attorney; Amos (a most winning Paul Vogt), Roxie's good-hearted, painfully gullible, often-betrayed husband, who dubs himself "Mr. Cellophane"; Mary Sunshine (D. Ratell), a gossip columnist in drag; and, among the uniformly notable group of prisoners, Hunyak (Alexa Jane Lowis), the Hungarian immigrant who goes to the gallows still pleading "not guilty." (The show is, in its way, quite an indictment of both the so-called American "justice" system and tabloid journalism.)
Tawdry, teasing, blackly comic and knowingly cynical, "Chicago" was inspired by a Roaring 20s story, and created in the wake of Andy Warhol's 1968 prediction that "in the future, everyone will be world-famous for 15 minutes." As it plays now, it seems to possess a whole new subtext (deftly underlined by the leading actresses at one particular moment), while maintaining every bit of its "Razzle Dazzle."
"Chicago, The Musical" runs through May 12 at the Cadillac Palace Theatre, 151 W. Randolph St. For tickets ($30-$100) call (800) 775-2000 or visit www.broadwayinchicago.com. Running time is two hours and 30 minutes with one intermission.
"August Rush: The Musical"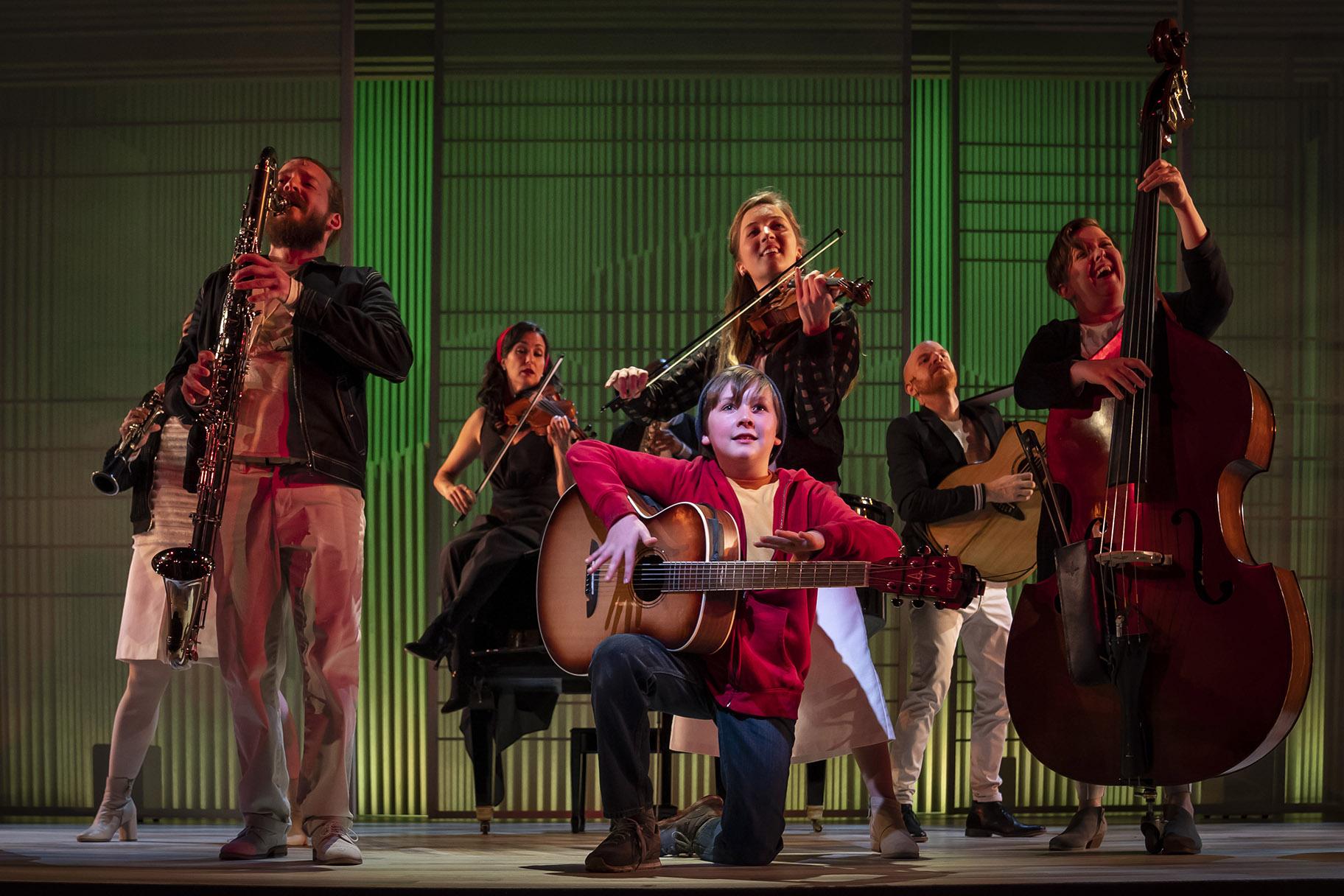 Jack McCarthy, center, plays August Rush/Evan Taylor in Paramount Theatre's world premiere of "August Rush: The Musical." (Photo credit: Liz Lauren)
What happens when the concept for a musical far outweighs the storytelling, which is exactly what occurs in "August Rush"? You end up with the feeling that there is "no there there," and with an emotional disconnect from what might have been the moving story of an illegally orphaned young boy whose feel for music is his salvation, even if it was his birth parents' curse.
With a score by Mark Mancina and Glen Berger, the musical (based on the 2007 film, with its story by Paul Castro, a screenplay by Castro and James V. Hart, and a score of many existing hit songs, as well as others by Mancina), the new musical has been directed by the Irish-bred, Tony Award-winning John Doyle. His approach to the work is often questionable at best, and creepy at worst, and ultimately unsatisfying. And while he has employed the use of musicians as storytellers (a technique that proved so galvanizing in the musical "Once"), and he was given a story about the allure of music for a lost boy that in some ways parallels the passion for dance of the child in "Billy Elliot," the dramatization ends up feeling like just so many disconnected traffic patterns.
In addition, Glen Berger's book for the musical strips away most of the movie's detailed storytelling, and in the process denudes it of much of the human connection and sense of rootedness needed to create empathy. On top of everything else, the character of the Wizard (played in the film by Robin Williams, and at the Paramount by John Hickok), now comes off as more of a predator/pervert than anything else.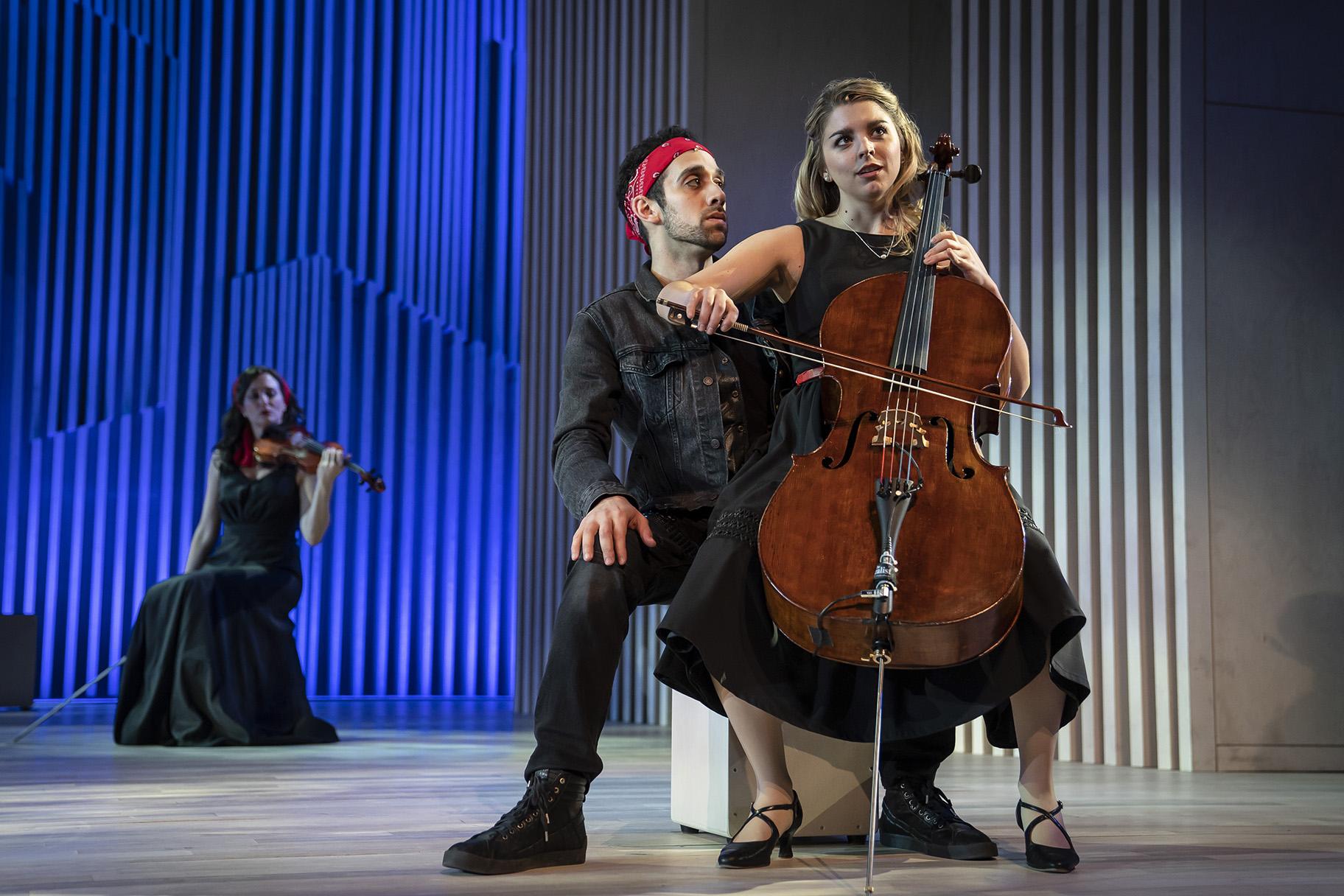 George Abud and Sydney Shepherd Paramount Theatre's world premiere of "August Rush: The Musical." (Photo credit: Liz Lauren)
The bare bones of the tale are quite bare, and the sense of time is scrambled. We first meet Lewis (George Abud), a scruffy, somewhat blocked singer-songwriter, and Lyla (Sydney Shepherd), a cellist whose relentlessly hard-driving father has made her musical life a misery. We also meet an 11-year-old orphan boy (played in opening night by the very skilled young actor Jack McCarthy, who alternates in the role with Huxley Westemeier). The child – whose dialogue often makes him sound like a professional psychologist – has an almost mystical connection to music and sound. And this drives him to run away from the orphanage in which he has grown up and make his way to New York where, eventually, he will assume the name of August Rush.
As it happens, August was the result of a brief relationship between Lewis and Lyla, whose unintended pregnancy is not at all welcomed by her father. In fact, when his daughter gives birth, he tells her the baby has died, and he manages to finesse its disappearance. (Clearly he is as twisted and evil a father/grandfather as anything the Brothers Grimm might have devised, and he will turn up again as the warped Wizard.)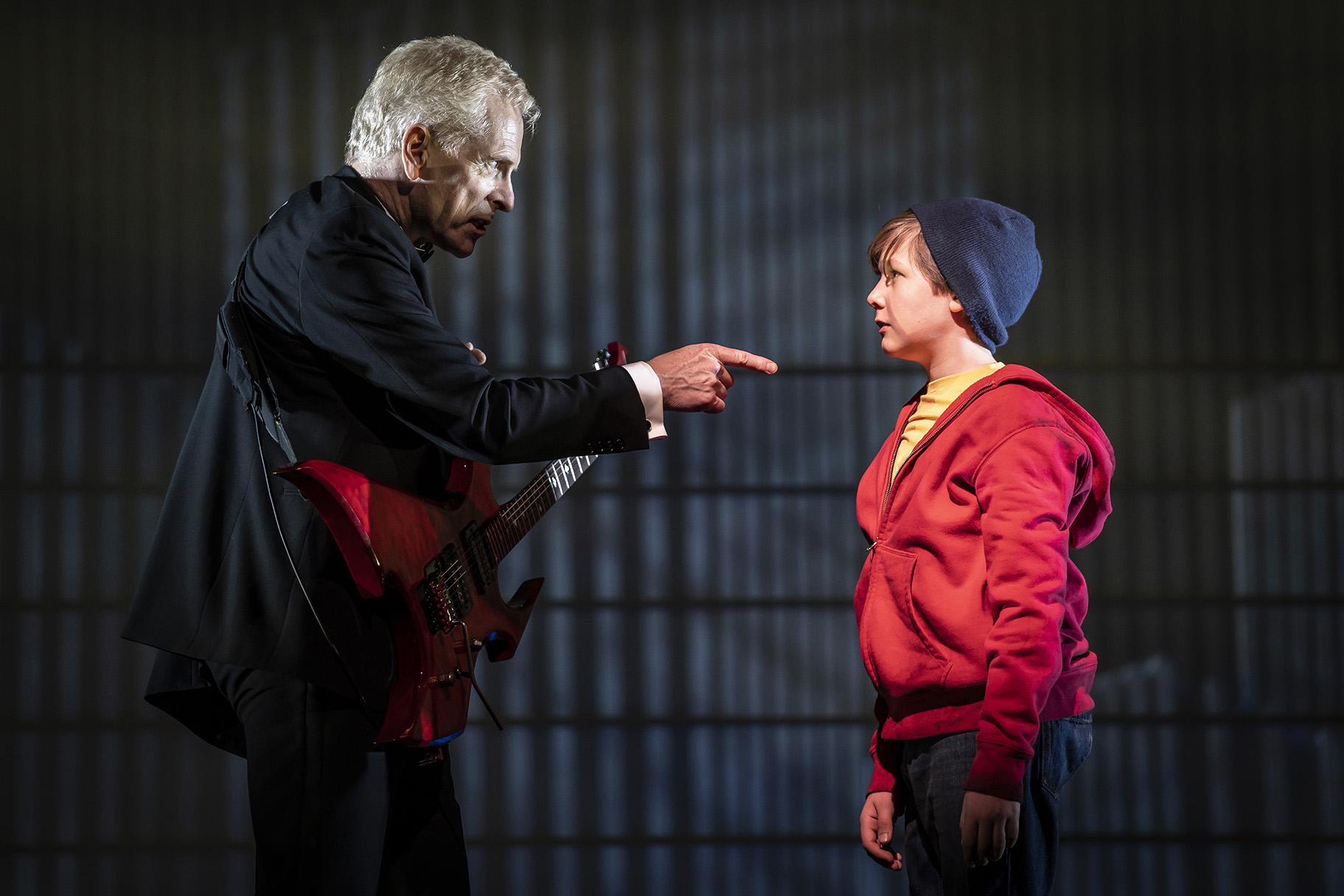 John Hickok, left, and Jack McCarthy in "August Rush: The Musical." (Photo credit: Liz Lauren)
In what is a mostly failed attempt to weave the musical's narrative into something cohesive, the cast features an ever-recombining ensemble of 10 excellent musician-singers (with Greg Jarrett as conductor and music director). They move gracefully around the stage, but rarely clarify anything aside from the fact that music is August's inherited inner force and the key to his identity.
Two finely etched scenes in the production (whose set design, by Scott Pask, takes the form of a wall of dense, stylized, Manhattan high-rise facades lit by Paul Toben), do stand out. One involves the aptly named character, Hope (very beautifully played by the elegant actress/musician Leenya Rideout), who teaches August the fundamentals of chord structure while artful projections float across moving screens in the background. The other is Lyla's frantic efforts to cut through bureaucracy as she makes phone calls to child welfare and adoption services she hopes will help her locate her lost son.
Those scenes might suggest a starting point for reworking "August Rush." But there is a great deal to be done before this musical ever hits enough of the right notes.
And one final note: This is definitely not a show for young audiences.
"August Rush: The Musical" runs through June 2 at the Paramount Theatre, 23 E. Galena Blvd., Aurora. For tickets ($36-$69) call (630) 896-6666 or visit paramountaurora.com. Running time is 90 minutes with no intermission.
Follow Hedy Weiss on Twitter: @HedyWeissCritic
---
Bravura Revival of 'West Side Story' Marks Lyric's Finest Broadway Venture
Instantly Joyful 'Djembe!' Encourages Everyone to Bang on a Drum
'Little Shop' Grows Deep Roots at Mercury Theater
---