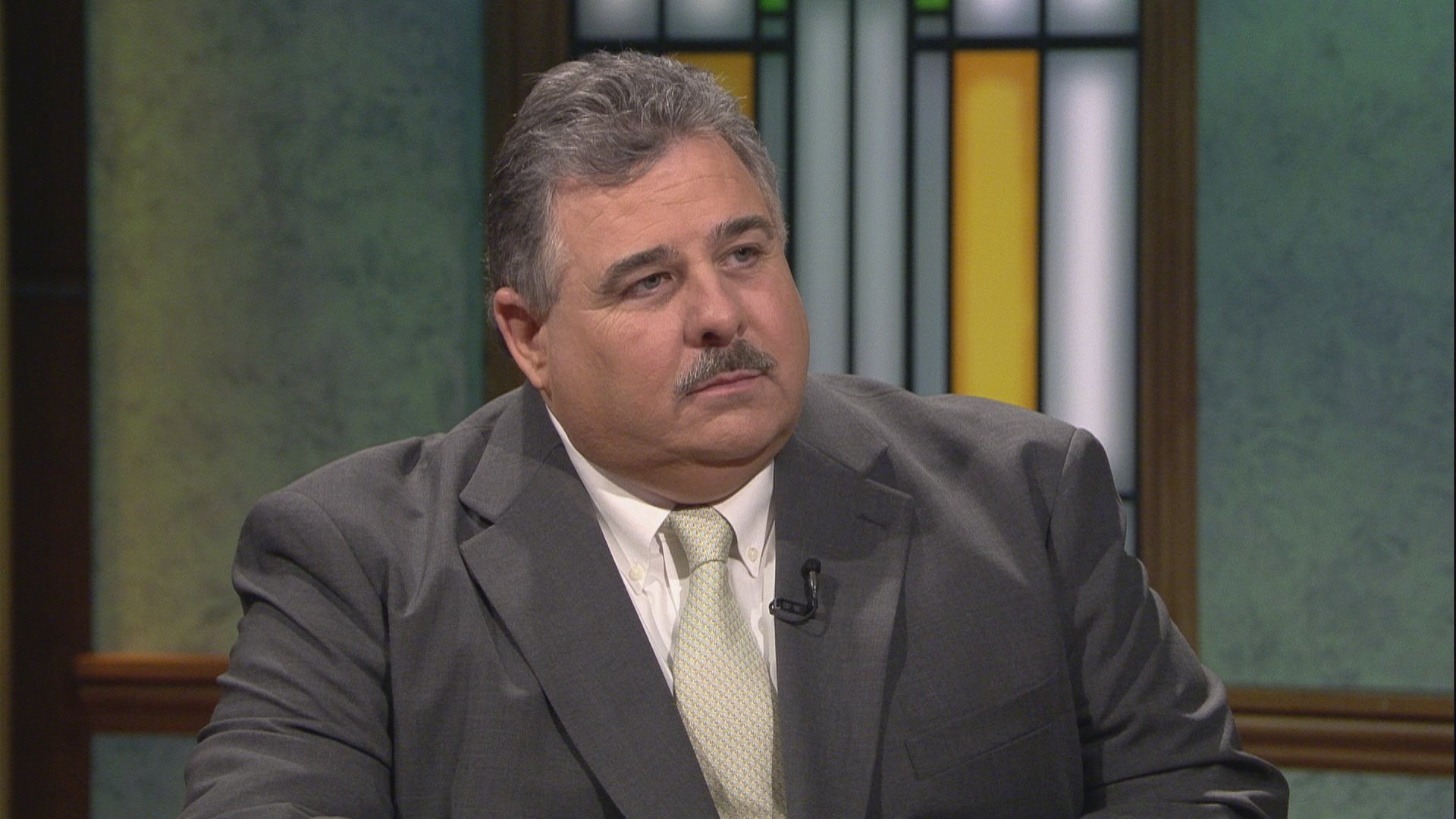 Kevin Graham appears on "Chicago Tonight" on Feb. 7, 2019.
Kevin Graham, president of the Chicago Fraternal Order of Police, is again telling Cook County State's Attorney Kim Foxx to "do your job" or step aside.
"What we've asked for from Kim Foxx and her office is to prosecute people, not to be the defense attorney," Graham said Tuesday during a speech at the City Club of Chicago. "I hope that she suddenly realizes that this is what her job is and that she needs to do it. If she can't, she needs to step down and let somebody else do it."
Earlier this month, Graham and dozens of suburban police chiefs called on Foxx to resign, citing her office's handling of the Jussie Smollett prosecution and its work to exonerate people who have been wrongly convicted of crimes.
Foxx has faced continued blowback after her top assistant decided to drop felony disorderly conduct charges against Smollett last month. The case made national headlines after Smollett, an actor best known for his role on the television show "Empire," said he had been beaten by two men in a racist and homophobic attack.
Chicago police detectives determined Smollett orchestrated the attack on himself, but the actor has maintained his innocence. Early on in the investigation, Foxx recused herself after she had contact with Smollett's family and associates about the case.
But text messages obtained through a Freedom of Information Act request this month showed Foxx continued speaking about the case with her top assistant after she had recused herself.
Graham didn't mention Smollett's name during his speech, but said the FOP had requested an investigation into Foxx's actions because they believed there were "some improprieties going on."
"I do recognize the FOP has been outspoken on our criticisms of the state's attorney's office," he said. "We do believe that those are justified."
Foxx has said she has no intention of resigning. While she has reportedly welcomed an independent probe into her office's handling of the Smollett case, Foxx filed a motion Tuesday opposing retired appellate judge Sheila O'Brien's demand for a special prosecutor. Foxx has also sought to quash a subpoena calling for her appearance at a hearing in that case Thursday.
Beyond Foxx, Graham also spoke about how the FOP is dealing with police reforms demanded in a new consent decree between the city and the state of Illinois, its collective bargaining with the city and the mental health issues affecting officers.
He said the FOP needs to be at the table when police reform talks are held, but said he's had an "unprecedented" level of communication with Chicago Police Superintendent Eddie Johnson over the past two years, which he called a "better step for everyone in the city of Chicago."
One of the first issues Graham said he discussed with Johnson was mental health. At least six Chicago officers have committed suicide since last summer, sparking calls for an increased focus on officer wellness.
Graham said he's been told the police department will be hiring multiple clinicians as early as next month.
"I know that we have to protect this city, but we also have to make sure that the mental health and the stress of the officers are taken into account," he said. "We need to address those things and we need to address them now."
The Associated Press contributed to this report.
Contact Matt Masterson: @ByMattMasterson | [email protected] | (773) 509-5431
---
Related stories:
Chicago Police Union, Suburban Chiefs Call on Kim Foxx to Resign
Head of Chicago Police Union Sounds Alarm on Consent Decree
Emanuel: City Seeks to Recover Investigation Costs from Smollett
2 Major Cases Add Up to Big Doubts About Chicago Prosecutor
Confused by Jussie Smollett Case? Here's What You Need to Know.
---