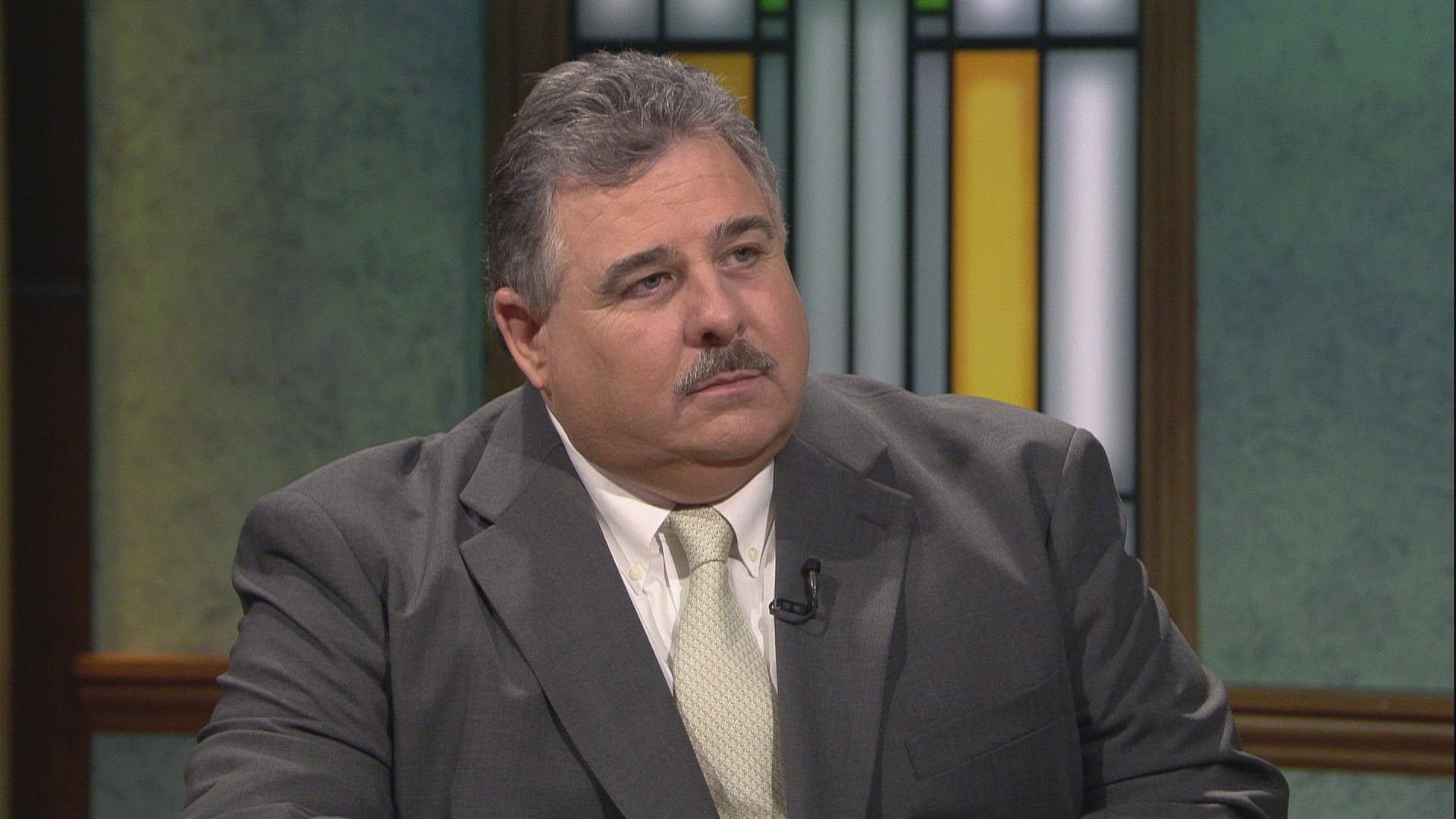 Kevin Graham appears on "Chicago Tonight" on Feb. 7, 2019. (WTTW News)
Officers in Chicago's largest police union will have a choice in their leadership next month as the organization enters its third straight year without a contract, a department overhaul and an impending decision on a new superintendent.
Four challengers have lined up to unseat Kevin Graham, the incumbent president of the Chicago Fraternal Order of Police Lodge 7, in an upcoming election that will also feature races for each position on the union's board of directors. Ballots were sent out to union members last week, and the election results will be tallied March 5.
According to the FOP, the challengers in the presidential race include: former FOP 1st vice president Ray Casiano, John Catanzara Jr., current 2nd vice president Martin Preib and Michael Seiser.
Candidates must be active lodge members below the rank of sergeant who have maintained good standing for two years and attended at least half of their regular business meetings over the past year, according to the FOP constitution.
While a plurality of votes is all that's needed to secure other FOP leadership positions, the winning presidential candidate must receive 50% plus one vote. If no candidate reaches that mark, a runoff is held between the top two vote-getters.
That's what happened during the FOP's previous election in March 2017, when incumbent Dean Angelo received the most votes of six candidates in the initial election, but did not clear the 50% threshold. In a runoff held the following month, he was defeated by Graham, who has held the office since.
The city's contract with the FOP expired just months after Graham took over and has not yet been renewed. He's told WTTW News any new deal needs to include a significant raise as well as additional mental health and wellness resources for police. With the election less than a month away, Graham said that remains the biggest issue facing the union.
"We have agreed upon nothing," he said. "The city has been difficult."
"Certainly we don't want to take anything less than what the teachers got," he continued. "We also have some issues about having a choice between arbitration and the Police Board. There are some intricacy things such as specialty pay for field training officers. We are certainly looking at improving our medical plan, and those are all things that are protecting the rights of officers."
Chicago Mayor Lori Lightfoot has denied stalling negotiations.
In his term as president, Graham has been a vocal critic of the consent decree that outlines reforms within the Chicago Police Department and pushed for the FOP to be included further in that process. He also called on Cook County State's Attorney Kim Foxx to resign her position, citing the Jussie Smollett case and her office's decision not to prosecute certain cases.
The CPD itself is also facing major changes as interim Superintendent Charlie Beck announced a sweeping organizational restructuring that's set to take place this year and the Chicago Police Board continues its search for Beck's permanent replacement.
Graham said the FOP is still evaluating Beck's plan to ensure "our members' rights are being adhered to." Asked for his thoughts on the superintendent search, Graham said he prefers the new top cop come from within the CPD. But he said he's open to an outsider if they are the best candidate for the job.
"We do need the best person to lead this police department," he said. "Regardless of sex, regardless of religion, regardless of race – we need somebody who is the best person because I think a lot of officers feel as if the department has let them down."
Contact Matt Masterson: @ByMattMasterson | [email protected] | (773) 509-5431
---