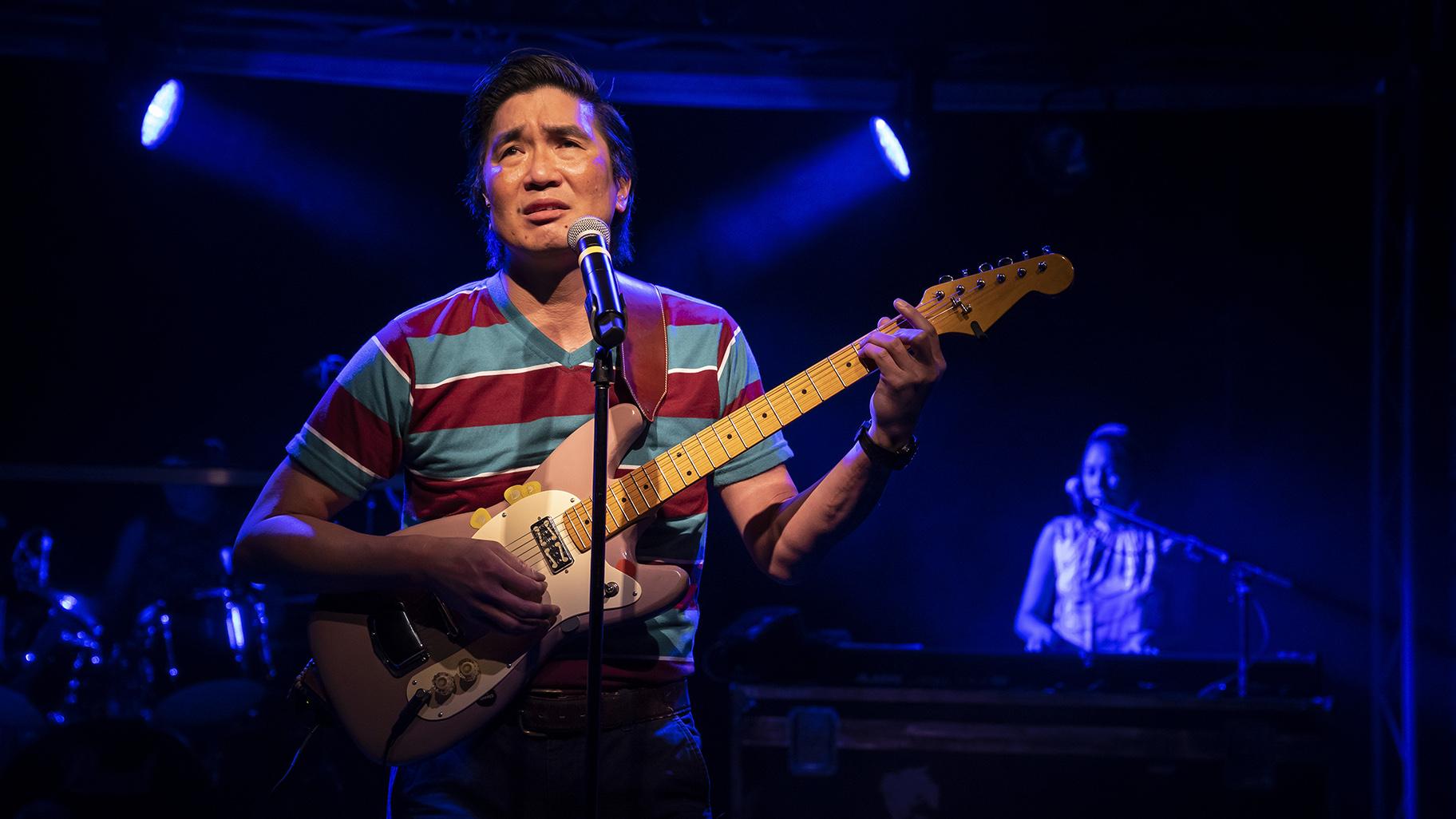 Greg Watanabe in the play "Cambodian Rock Band." (Photo by Liz Lauren)
Studies of survivors of the Nazi Holocaust have found that they chose to communicate with their children about the horrors of their past in very different ways. Some revealed everything about their nightmarish experiences while others sought to protect their children (and perhaps themselves) by remaining mostly silent.
"Cambodian Rock Band," Lauren Yee's intense, highly original, richly theatrical play with music is now in a brilliantly realized production at Victory Gardens Theater vividly directed by Marti Lyons. The play explores a father's efforts to shield his daughter from the darker truths of his experiences during the Cambodian genocide of the 1970s, and, most crucially, to prevent her from learning things about him that might result in his losing her love. At the same time, his adult daughter is involved in legal efforts to bring to justice the aged leaders of the Khmer Rouge - the brutal communist regime that, between 1975 and 1979 was responsible for the deaths of as many as 3 million of their fellow Cambodians.
These days, most Westerners think of Cambodia as a tourist destination - the site of Angkor Wat, the extraordinary complex of ancient temples, and (according to the play) a place where luxury hotels offer some decidedly exotic foot baths. But Lee's play serves as a powerful reminder of the horrific events that unfolded in Cambodia in the wake of the Vietnam War, and of the emotional baggage carried by at least some of the approximately 276,000 Cambodian immigrants who found refuge in this country.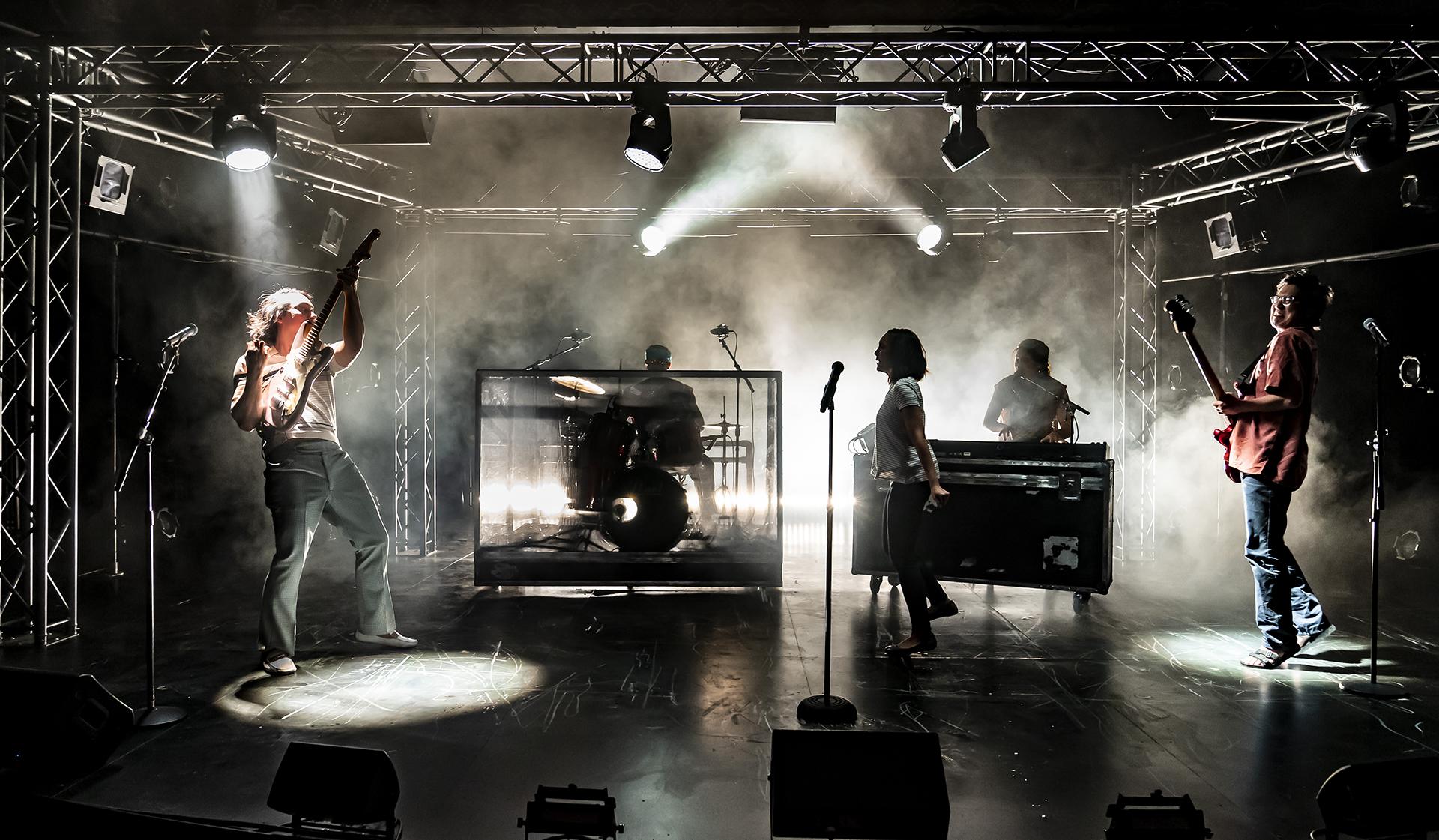 Cast of "Cambodian Rock Band." (Photo by Liz Lauren)
The play begins with a blast of rock music - a mix of "Cambodian oldies" from the 1960s and '70s and the contemporary hits of Dengue Fever, the intriguingly multicultural, L.A.-based band that draws on both eras, and sings in English as well as Cambodian, as do the actors in this production. (The performers received coaching by experts from Chicago's National Cambodian Heritage Museum.)
This opening scene (which also calls to mind the rock vibe in the musical "Miss Saigon") serves as a vivid reminder of the hip urban culture that existed in the Cambodian capital of Phnom Penh before the arrival of the Pol Pot regime. And to serve as the narrator/emcee there is Duch (played by the shrewdly charming and smarmy Rammel Chan), whose history turns out to be far more nefarious than one might initially guess.
But at the heart of Yee's story is a father and daughter relationship. The father is Chum (Greg Watanabe, in a remarkable performance during the course of which he morphs seamlessly from youthful Cambodian hipster and bass player, to prisoner in the notorious Tuol Sleng prison, to wise-cracking middle-aged survivor living in Massachusetts). His daughter is Neary (Aja Wiltshire, a petite actress of immense force who brings down the house with her volcanic singing). She is working in Cambodia with The International Center for Transitional Justice, an organization devoted to demanding accountability for mass atrocities and human rights abuses. When Chum surprises her with his first "return visit" to the country, their initially playful banter and awkwardness (she is sharing a hotel room with her boyfriend) gradually turns very dark. And some stunning revelations about what occurred in his life many decades earlier will soon be revealed.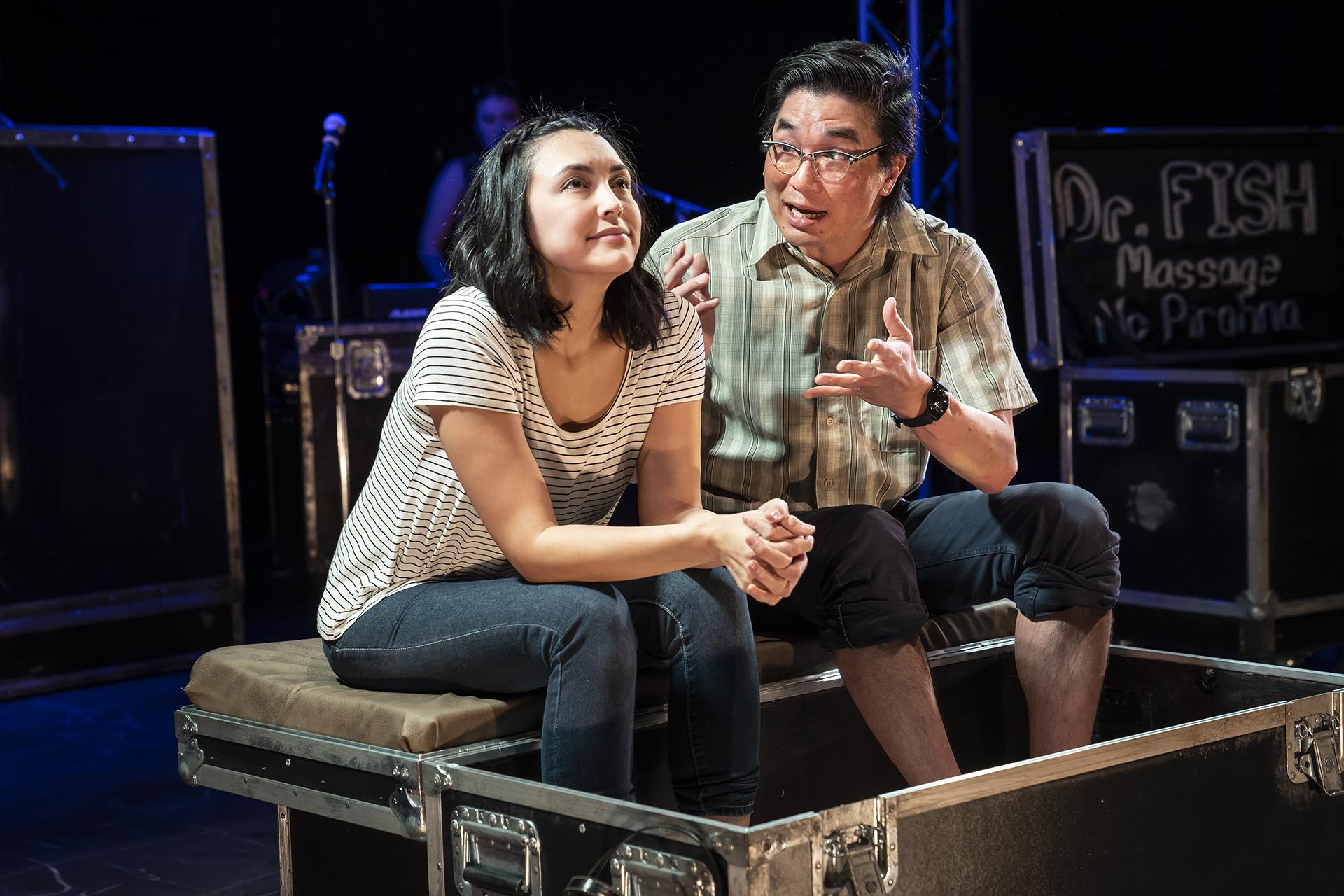 Aja Wiltshire and Greg Watanbe in the play "Cambodian Rock Band." (Photo by Liz Lauren)
Without giving away too much, it is enough to say that Chum was about to flee Cambodia with his family in 1975, but waited just a moment too long so that he could finish making what he believed would be a hit recording for his band, which included his good friend, the group's guitarist, Leng (the excellent Matthew C. Yee). And with the arrival of the Khmer Rouge, the two young men's fates diverged, only to intersect in a most extreme way.
Lauren Yee, whose previous plays include "King of the Yees" (a quasi-autobiographical, father-daughter story set in San Francisco's Chinatown, produced at the Goodman Theatre in 2017, and "Samsara," a quirky tale of a surrogate pregnancy, staged at Victory Gardens in 2015), has a wonderful gift for shifting from the tragic to the comic, for capturing both the worldly and naive elements of her characters' personalities, and for tapping into the way individual lives can be radically upended by sudden political and social shifts. And this production - with Matt MacNeally's superb musical direction, Mikhail Fiksel's expert sound design, and the work of an actor-musician cast that also includes Eileen Doan (on keyboard) and Peter Sipla (on drums) - thrillingly fuses her writing with the music that links two cultures and two eras in history.
"Cambodian Rock Band" runs through May 5 at Victory Gardens Theater, 2433 N. Lincoln Ave. For tickets ($32-$65) call (773) 871-3000 or visit www.victorygardens.org. Running time is 2 hours and 10 minutes with one intermission.
Note: In addition to several different post-show conversations at Victory Gardens on April 24, April 25 and May 3, there will be a special performance by Dengue Fever at 9 p.m. on May 1 at Lincoln Hall, 2424 N. Lincoln Ave. (across the street from the theater). For tickets, visit Lincoln Hall's website.
Follow Hedy Weiss on Twitter: @HedyWeissCritic
---
'Cambodian Rock Band' a Story of Joy, Survival
Trio of Superb Chicago Productions Highlight Language of Dance
Instantly Joyful 'Djembe!' Encourages Everyone to Bang on a Drum
---